This Is The Definitive Oral History Of The Dead Toronto Raccoon That Went Viral
Life and death on a Toronto street.
The story of Conrad and #DeadRaccoonTO is now world famous.
It started yesterday when a raccoon was killed on a busy Toronto street. He lay splayed out on the sidewalk for hours as people walked by, some taking pictures.
Then, at lunchtime, a group of co-workers at a local technology company decided to do something for the dead raccoon. They bought him a condolences card, and a rose. Crowds began to form around the animal.
Hours passed and the city never came to get the raccoon. In that time, a remarkable, spontaneous memorial sprung up and took flight with the #DeadRaccoonTO hashtag. Soon the raccoon had a name: Conrad. Now there is even a fundraiser in his name for the Toronto Wildlife Centre.
No one knew who started the memorial, or who birthed the hashtag. Until now.
This is the story of Conrad the dead raccoon, as told by the people who made it go viral.
Morning brought a dead raccoon.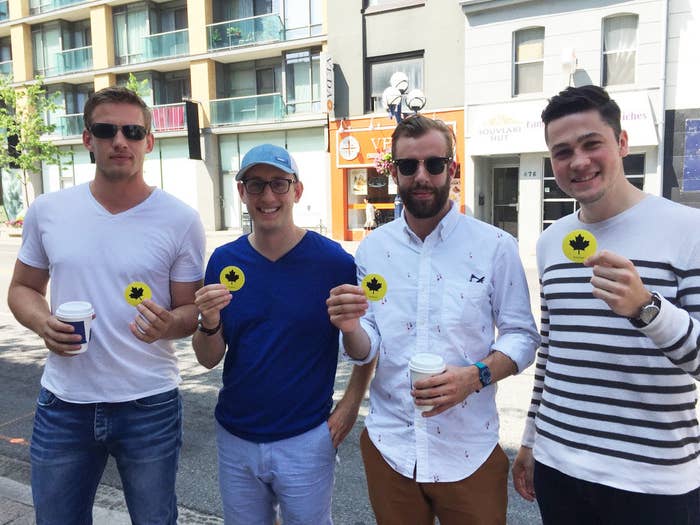 As the workers at the tech company watched Conrad from their windows, another Torontonian passed the body on his way to work.
Jason Wagar (works at a nonprofit in the area): I'm on my way to work and I see him. He's huge you can't help but see him on the sidewalk there, with his arms outstretched. My first thought was, "Man that raccoon had a bad night." So I tweeted 311 just to see if they couldn't come pick it up, and to make sure they are aware of it."
By lunchtime the raccoon was still there. Someone had placed a sticky note next to it saying, "Rest dear raccoon. Help is on the way from the city." The tech company workers passed by it on their way to get food.
Dave: We have a food court that a bunch of us went to for lunch and we walked by [Conrad] and that's when the idea occurred.
Geoff: We were talking about this big dead raccoon and the fact that it's now been over five hours and the city hadn't done anything about it. So just between the bunch of us we thought it would be interesting if we just put a "Get Well Soon" or condolences card there, to in a lighthearted way draw attention to the fact that there's still this dead raccoon here.
A few of us went into Shoppers [Drug Mart] and tried to find something and ended up with a condolences card. No one wanted to touch the dead raccoon, right? It's a dead raccoon. But someone just kind of slipped it under its foot.
Dave: We were worried about the fact that Animal Services hadn't come to pick it up yet. So we wrote, "Raccoon, hang in there! (heart) The Gang," and slid it under his leg. That was sort of the inception.
Andrew: We wanted to respect the animal in some way that we could, and that's how things started naturally growing.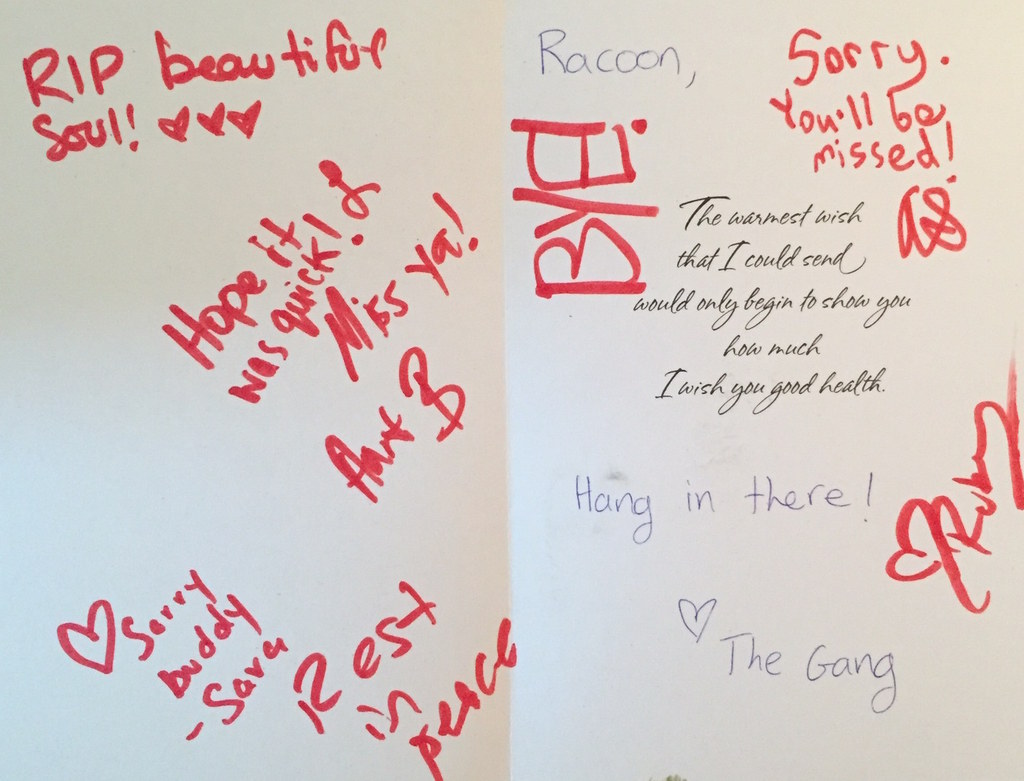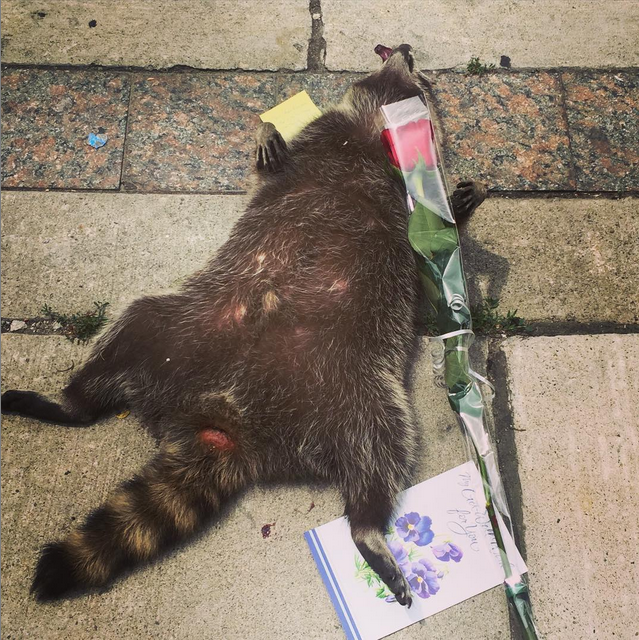 A framed photo was added around 2:15 p.m.
Geoff: We could see from our windows crowds of people taking pictures of it. And someone said, "Oh maybe tomorrow we can have something there to dedicate to the raccoon when it's gone."
I said, "Or we could frame a pic of a raccoon and put it there now."
The office we work in is fairly new and we had been doing some interior design. So we actually had some photo frames lying around. So Dave googled raccoon images and found...
Dave: The happiest-looking one. We wanted to portray him in a way that people would find him endearing rather than disgusting. There were so many mixed reactions to the thing both in the office and outside the office.
Geoff: That's when it went from individual people stopping and taking a picture to actual crowds forming around it.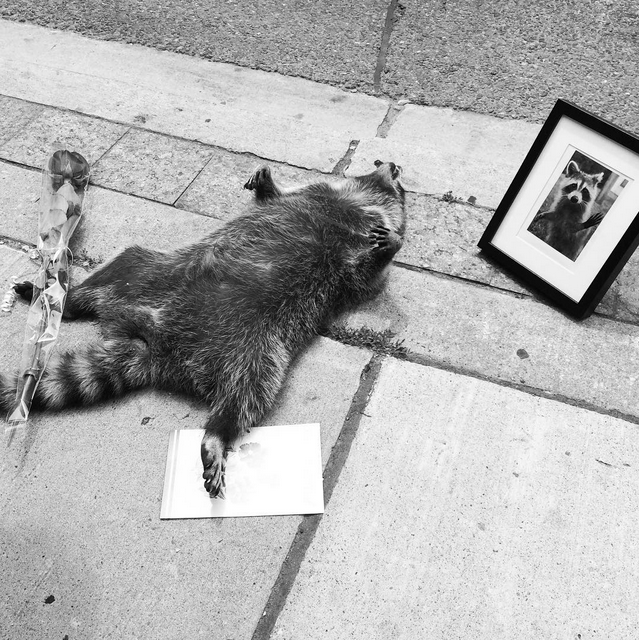 Jason Wagar was out for lunch and he passed by Conrad yet again.
Wagar: I was on my way back from lunch around 3 p.m. and I saw that somebody had started to build a memorial to poor Conrad, and that's when I sent a tweet to remind them that it was still there. I did find the memorial kind of funny. The framed photo really makes it.
A hashtag is born.
The reaction included an HR complaint.
Andrew: At the beginning it was 50/50 between people who were touched by it, warmed by it, and people who were disgusted by it. In the end, overwhelmingly the scales tipped in favour of it being a heartwarming thing.
Dave: Which was really our intention.
Geoff: I don't want to gloss over that there has been negative reaction to it, even in our office. Like, someone filed an HR complaint in the office calling it "vile." So there was actually a point in the afternoon where we were a bit down about it, like, "Maybe this has gone too far. Should we just abandon the whole thing?"
The day turned into night and crowd kept coming. Someone added a donation box next to the raccoon for its burial. Others lit candles.
A little past 8 p.m. Jason Wagar passed by yet again.
Wagar: I was getting ready to leave office and I saw there was more attention to it online, and as I walked to the subway on my way home I saw that the memorial had grown.
I thought it was kind of a cute touch that it was being memorialized. I think obviously people might disagree, but I thought it was kind of a nice touch at first that he got more attention than he may have if he'd just been left there.
Councillor Norm Kelly: I never thought a bit about the issue until sometime after 8 o'clock. I stared scrolling through the Twitterverse again that not only was the body still there, but unexpectedly a memorial was starting to form around it. And that's when my silly side kicked it.
The first thing I did was to put out a picture of Drake. If you're gonna play against people, pick the very best, the ones with the highest profile.
The evening wore on and the raccoon's legend grew. He also got his name.
Kris Pangilinan (a freelance reporter who went to visit Conrad late in the evening): I tweeted Norm Kelly asking for a name. He tweeted back, "Conrad the coon."
Kelly later deleted the tweet.
Pangilinan was on the scene when Animal Services arrived to remove Conrad.
Kris Pangilinan It was close to where I lived and so I grabbed my bike and made my way there.
Two men with fixed-gear bikes came riding in and brought a Jesus candle. This was at 11 p.m. Five minutes later, a City of Toronto van drove up. The crowd of about six to seven people sighed. The city worker pulled out two garbage bags.
The end of Conrad and #DeadRaccoonTO.
Andrew: It brought so many people together ... I saw people connecting and I think I saw people exchanging numbers at the site.
Dave: We wanted to spin this into something good and deliver not just smiles and laughs on Twitter and Instagram and stuff.... What we came up with was to enable people to donate in Conrad's name to the Toronto Wildlife Centre.
They help to rehab injured animals. Had the raccoon been injured they would be the first on the scene trying to bring it back to health and release it into the wild.
Geoff: Obviously the absurdity of the whole situation is not lost on us at all. We know that it's out of control and thought, "Hey, we might as well take this opportunity to make something positive come from it."
Norm Kelly: For most of today I've been thinking about it. Humor, I think, flows from tragedy. It also flows from the unexpected. And I think those two came together within the context of a very special animal. People can hate raccoons, but they respect them. They are intelligent.
It really speaks to the character of the city. In other places [Conrad] might have been ignored completely or kicked into the road. I think Torontonians came together.