Star NHL defenceman P.K. Subban was out for Sunday dinner at a Montreal restaurant. As he was leaving, he saw a bunch of kids playing street hockey. Subban got out of his SUV and yelled, "Ok, guys! Let's play some street hockey!"
Aaron Fraser lives on the street, which is located in lower Westmount. His son Jack, 8, plays centre for the Novice Westmount Wings. Jack put on the pads to get in net against Subban.
"I am a goalie so he keeps trying to get me to let him play net, but he is a natural goal scorer so I am reluctant," Fraser said.
Let's see how Jack did against one of the NHL's best.
Subban, wearing sandals, scored on Jack with a couple of one-timers. Never one to hide his emotions, Subban cheered his goals. But on the third shot, Jack stoned the Norris Trophy winner.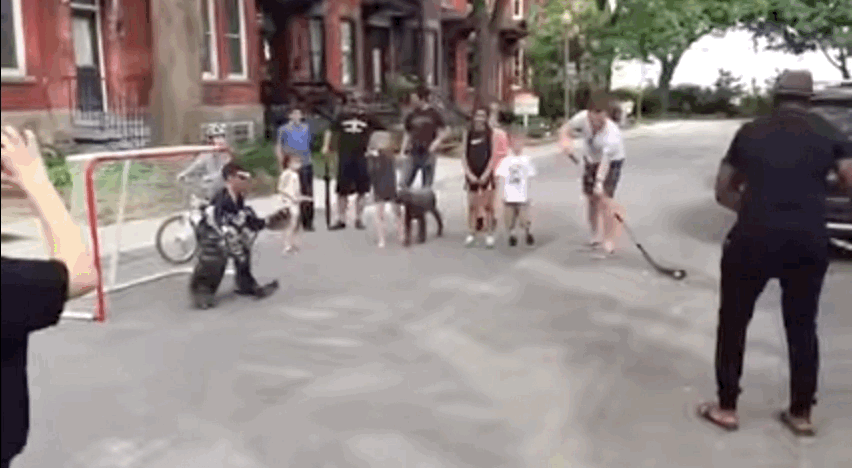 Subban moved in on Jack again, telling the crowd that he'd pull some moves like his teammate, forward Alex Galchenyuk. But Jack stopped him again!
Subban went for a trick shot the next time, bouncing the ball on his stick as he moved in. Jack handled that one, too. Subban said the next shot would be his last. He and his friend passed back and forth, with Subban finishing the play. Final score: Jack 3, P.K 3. Everyone gathered for pictures. This woman totally did the right thing and stole a kiss.
Watch the full video here. Meanwhile, we look forward to Jack's NHL career.