When violence erupted in the stands during a Euro 2016 match between England and Russia, one journalist had the scoop on an offensive chant that set off Russian fans:

Simon Rowntree's exclusive was soon picked up by several Russian media outlets, including the State-sponsored Russia Today, which cited his tweet in a story. Here's a translation from Google: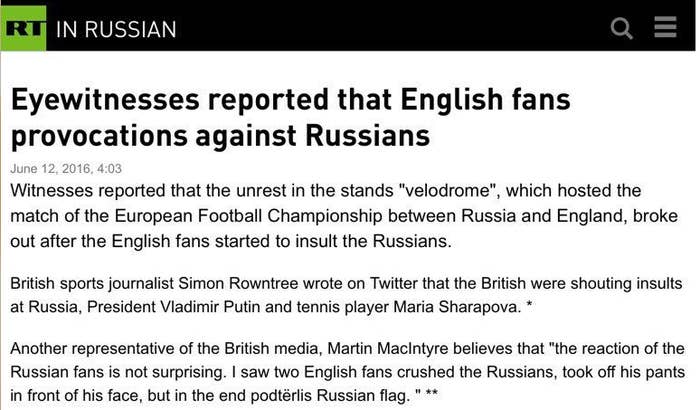 But here's the thing: Simon Rowntree is a completely fake account. His Twitter bio identifies him as a football writer for a site called Forest Echo News. That site's Twitter account clearly declares itself to be a parody.
Forest Echo News started last year when a group of friends set up three fake football journalist accounts to tweet rumours. Then other people created fake journalists and said they worked for @ForestEchoNews, too. Now they're all tweeting about Euro 2016 and things are getting out of hand.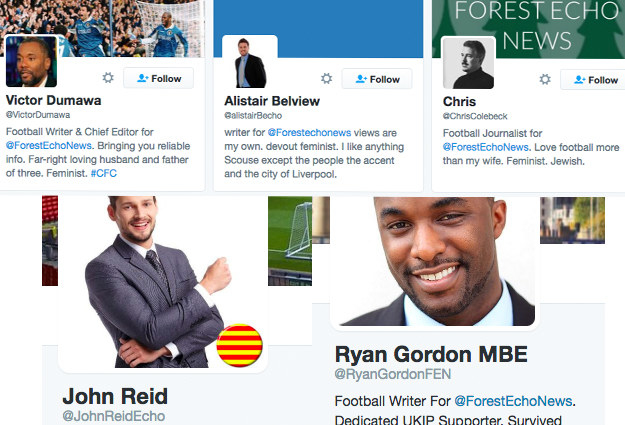 Their "reporting" often takes the form of inventing an offensive thing done by fans and declaring it to be disgusting: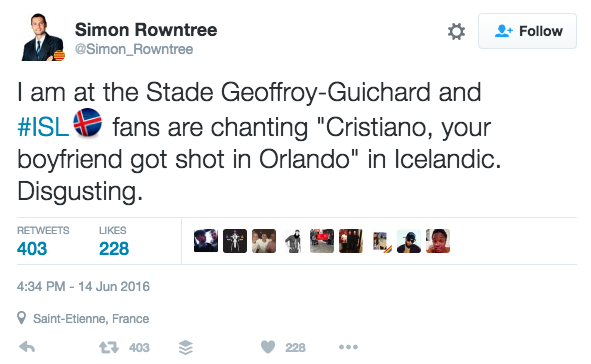 Or inventing an offensive quote from a team manager and declaring it to be disgusting:
They also tweet straight-faced rumors — and real news organizations keep getting fooled. A false Rowntree tweet about a Spanish player being removed from his team was picked up by a large U.K. media outlets.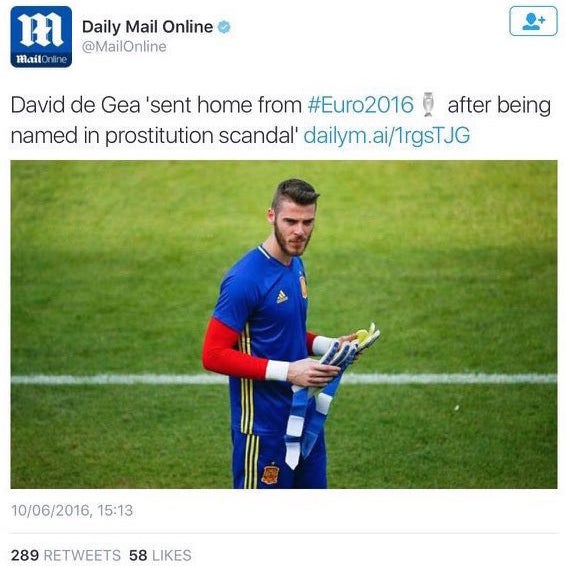 "We think it's hilarious that other media have stupidly fallen for our rumours and it just goes to show that we shouldn't trust everything the media spews at us," Sainsbury said.
Some media have tried to call out the fakes. SportsJoe.ie did an early debunking of Rowntree and Forest Echo News after the fake reporter tweeted that fans unveiled a banner that read, "IRA and ISIS: comrades in arms against Britain."
But the hoax accounts keep growing in number — and now there's even a rival fake football news organization on Twitter that's going after Forest Echo News. No, really.
On June 14 someone createdthe @WoodsEchoNews account, and the two fake news services are now at war. One hoax reporter claimed he left Forest Echo News to join Woods Echo News, and then tweeted a rumor about one of his former colleagues: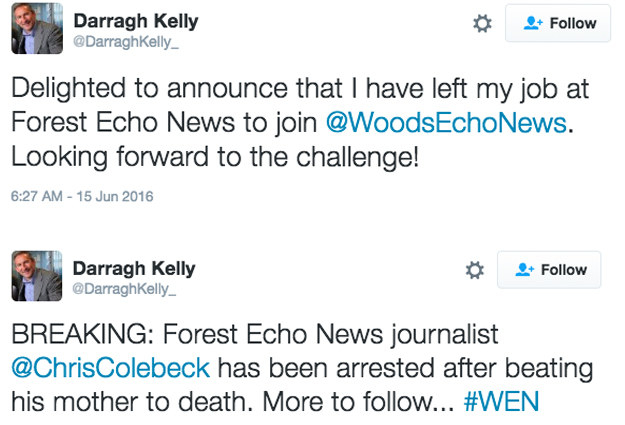 Asked via Twitter direct message why they decided to created a rival fake football news organization, the Woods Echo News account replied:
Rival to whom? We are unparalleled in our depth of reporting. We are here to go where no other news outlet has gone before.
Forest Echo News reporters are worried that their hard-fought reputation in the world of fake football journalism is being sullied by the newcomers.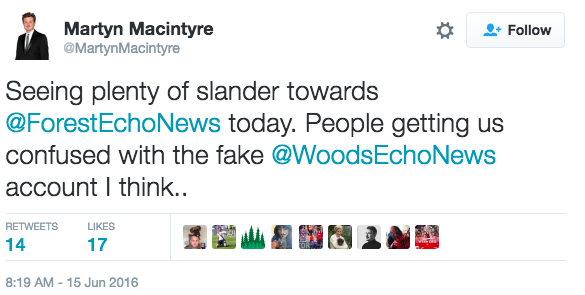 And real football fans are now taking sides.
Just so we're all clear: There are multiple, possibly adult people in different countries using fake Twitter accounts to insult other fake Twitter accounts, and to invent offensive football chants, all in the name of securing fake football news supremacy on Twitter.
Oh, and they're fooling supposedly legitimate media in the process.
The internet, man.