For at least the eighth time in recent months, a man grabbed a microphone from a female Canadian journalist and yelled, "Fuck her right in the pussy."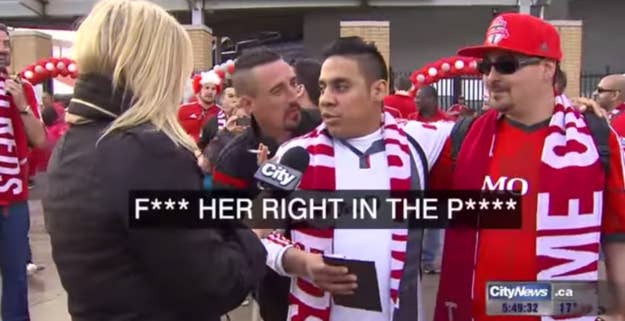 This most recent incident occurred Sunday when CityNews reporter Shauna Hunt was covering a Toronto FC soccer game. She was interviewing two fans when a third jumped in and yelled the line.
Hunt stopped the interview and confronted a group of men who had been waiting to see their friend shout the line. She asked one man why they would try to humiliate her by shouting such a degrading line on live TV. He responded, "But when else are you going to do it?"
Hunt also called them out on social media and has since received support from the public and from colleagues.
It appeared to show a Fox TV reporter using the line when speaking to his cameraman during what he thought was an off-the-air conversation. But it was staged. So too was a follow-up video that showed a man interrupting a female reporter on the job to grab the mic and yell the line.
Since then, random Canadian men have taken to yelling the phrase at female reporters. (There is also one known example of it being done to a male journalist in Canada, too.)
Here's a look at the FHRITP incidents in Canada, and their effect on primarily female reporters and their ability to do their jobs.
CBC Montreal reporter Tanya Birkbeck heard it twice while on the same assignment.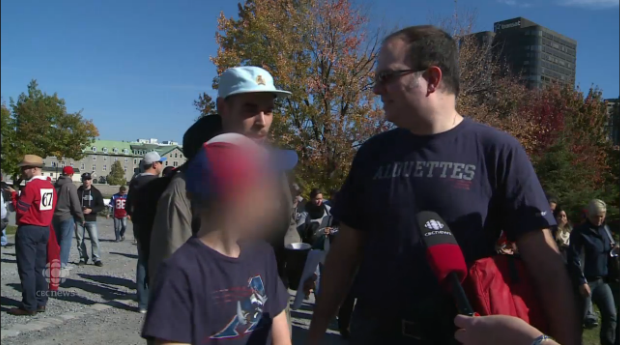 Birkbeck was interviewing football fans at a Montreal Alouettes game when the phrase was shouted into her microphone by two different men. This guy even did it in front of a young boy and his father.
Birkbeck wrote about the incident:
My reaction was visceral. People around me stopped and stared. I felt totally exposed.

It's violent and offensive. It suggests that a woman who is doing what can be a pretty serious and intellectually rigorous job can be reduced to simply a sexual object which can be taken at will.
This Toronto man yelled it at CityNews reporter Natalie Duddridge when she interviewed him about a World Cup game.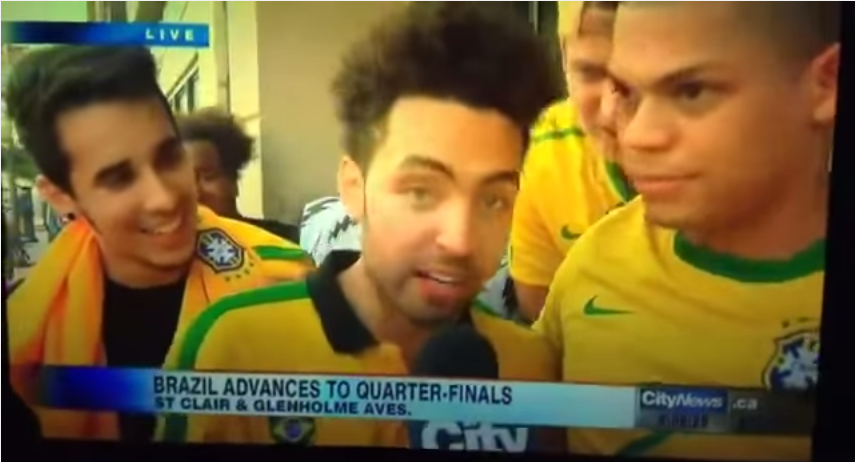 CBC Montreal reporter Morgan Dunlop had it yelled at her on live TV when she was covering an anti-austerity march.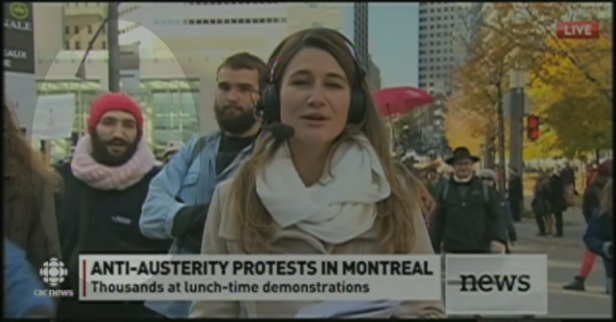 The man in the red toque yelled it and then moved on.
"The phrase is abusive," Dunlop wrote. "Maybe it has been shouted at men as well, but the wording clearly targets and objectifies women."
She continued:
The newsroom, like our society, is not equal and there are plenty of examples to draw from. One female journalist I know recounted one incident involving a male co-worker who said, "Wow, I didn't know you were smart. I thought you got this job because you were pretty." Another was recently attacked online for wearing a particular shade of lipstick.

This may have started as a silly prank, but this is sexist and if you participate, you are fuelling sexism.
Calgary Herald reporter Erika M. Stark had it yelled at her when out interviewing hockey fans.
She later wrote:
Here's the thing. When you invade my space , grab my mic and yell that, you're not just disrespecting me as a working journalist. You're disrespecting and harming me as an indiviual. And in this case, you're disrespecting someone who has survived sexual assault. When you yell FHRITP into my mic, I feel violated, not amused. I think of my assault, not a joke.
Stark's tweets caused two other journalists to share that they, too, have had it yelled at them.
Chris O'Neill-Yates of CBC Newfoundland & Labrador had it yelled at her by a man in a passing car.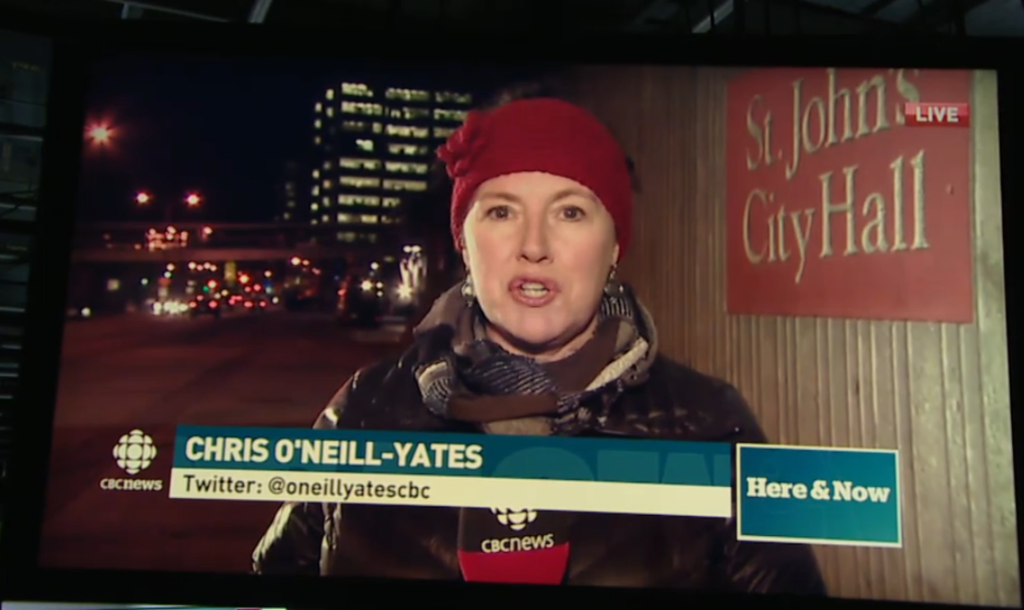 She wrote about the experience, saying that "abuse in all its forms needs to be challenged, and if those of us who can speak up don't, we are complicit in our silence."
O'Neill-Yates continued:
It's not funny. It's offensive, degrading and sick.

But every time we allow an act of violence to go unchecked we are enabling the abusers.

So for the first time in my life, I'm speaking out publicly about violence against women. I'd like all my colleagues to know about it and to keep their guard up. I'm just saddened that in 2014 we need to be having this conversation.
It's also happened to a male reporter in Canada. This hoser grabbed the microphone from Global Calgary's Stefan Keyes and yelled, "FHRITP."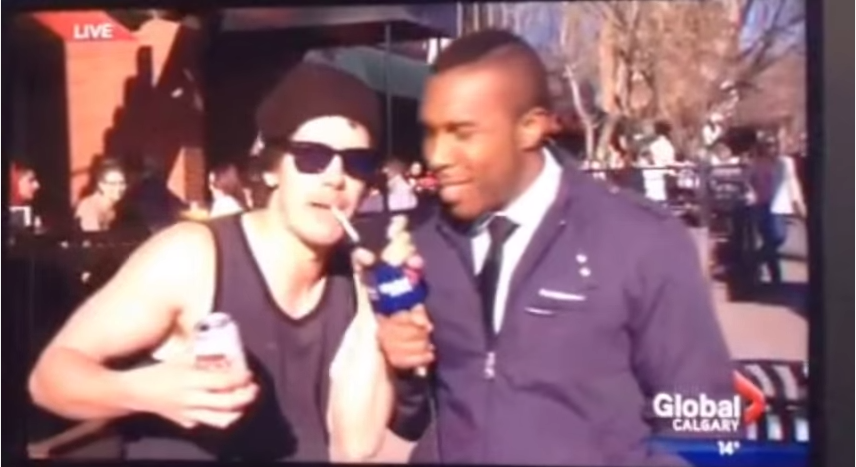 Erika M. Stark wrote, "Here's the thing. When you invade my space, grab my mic and yell that, you're not just disrespecting me as a working journalist." Due to a formatting error, a previous version of this article mistakenly attributed those comments to Chris O'Neill-Yates. Also, Tanya Birkbeck is the correct name of the CBC Montreal reporter. Her last name was initially misspelled Birbeck.