1.
A genius magnetic stove shelf for clearing out that very messy spice drawer or cabinet you've been losing sleep over. Plus, all your cooking staples will now be within reach and ready to use!
This shelf is completely magnetic, so this is a great renter-friendly option to avoid using nails and drilling!
StoveShelf is a US-based small business that specializes in stove shelves for various sizes of stoves. 
Promising review: "The shelf installed in a snap. It has two sturdy magnets that hold it securely onto the slightly rounded back of my stove. I felt comfortable setting a full jar of honey on it, and I haven't seen it move at all as I have been cooking. I have limited space in the kitchen, so I'm really happy to have an additional place to set things I need frequently. It doesn't look like an add-on; it looks like part of the stove. I'm really happy with it!" —Sylvia J.

Get it from Amazon for $39.99+ (available in three sizes and six colors).
2.
And a sleek magnetic strip if you secretly despise your knife block because of how much space it occupies on your counter. Swap it out for this, which will look lovely against your backsplash while storing your knives.
This is much better than storing knives in a drawer where they can scrape up against each other and dull the blades. This magnetic bar comes with mounting hardware and instructions to hang it up, and it is also compatible with Velcro or any kind of mounting tape.
Promising review: "I want to order another one!!! I wish I had thought to purchase one of these sooner. The magnet is strong and holds plenty of my everyday knives. I decided to put it on the side of my fridge and it holds perfectly when you remove the back and stick directly on. I didn't need anything extra to hold it in place either. Now I have more counter space." —RayJoni07
Get it from Amazon for $12.99+ (available in six sizes).
3.
A cap organizer to store your hats in a way that only takes up a tiny amount of room! Attach it to a hanger and it'll easily store up to 10 of your faves. Yep, this is what dreams are made of.
Each cap organizer can hold up to 10 items.
Promising review: "Just what I needed! Perfect visual organization and actually saves room. The cluttered haphazard box I had them stored in and could not see meant I only wore the same couple all the time. I will definitely order more as I have more hats!" —Anne Rhodes
Get it from Amazon for $6.39+ (available in five colors and multipacks).
4.
A broom and mop organizer that'll take your cleaning closet or storage area to the next level with impeccable organization. Hanging your tools also gives more usable floor space, so this one's a no-brainer.
5.
A towel rack when you don't have the luxury of a giant linen closet in your home. Mount this baby on the wall, roll up your towels, and you've got the next best thing!
Promising review: "Perfect for our bathroom! We recently moved and the new master bath doesn't have a linen closet, so we had to get creative with how to store everyday items like towels. Since they were going to be out in the open, I wanted something that was functional yet decorative. This fit the bill perfectly! We have towels from IKEA, and even tightly rolled, the rack was a bit tight, so I just used my hands and gently pulled each hook out a bit and now the towels fit perfectly. I am very happy with this purchase!" —Faye_Bon_Fury
Get it from Amazon for $22.99 (available in eight colors).
6.
A double-sided tea organizer for saving prime real estate in your cabinets by eliminating those bulky tea boxes. Reduce clutter and never struggle to find your preferred tea flavor? Sign me up!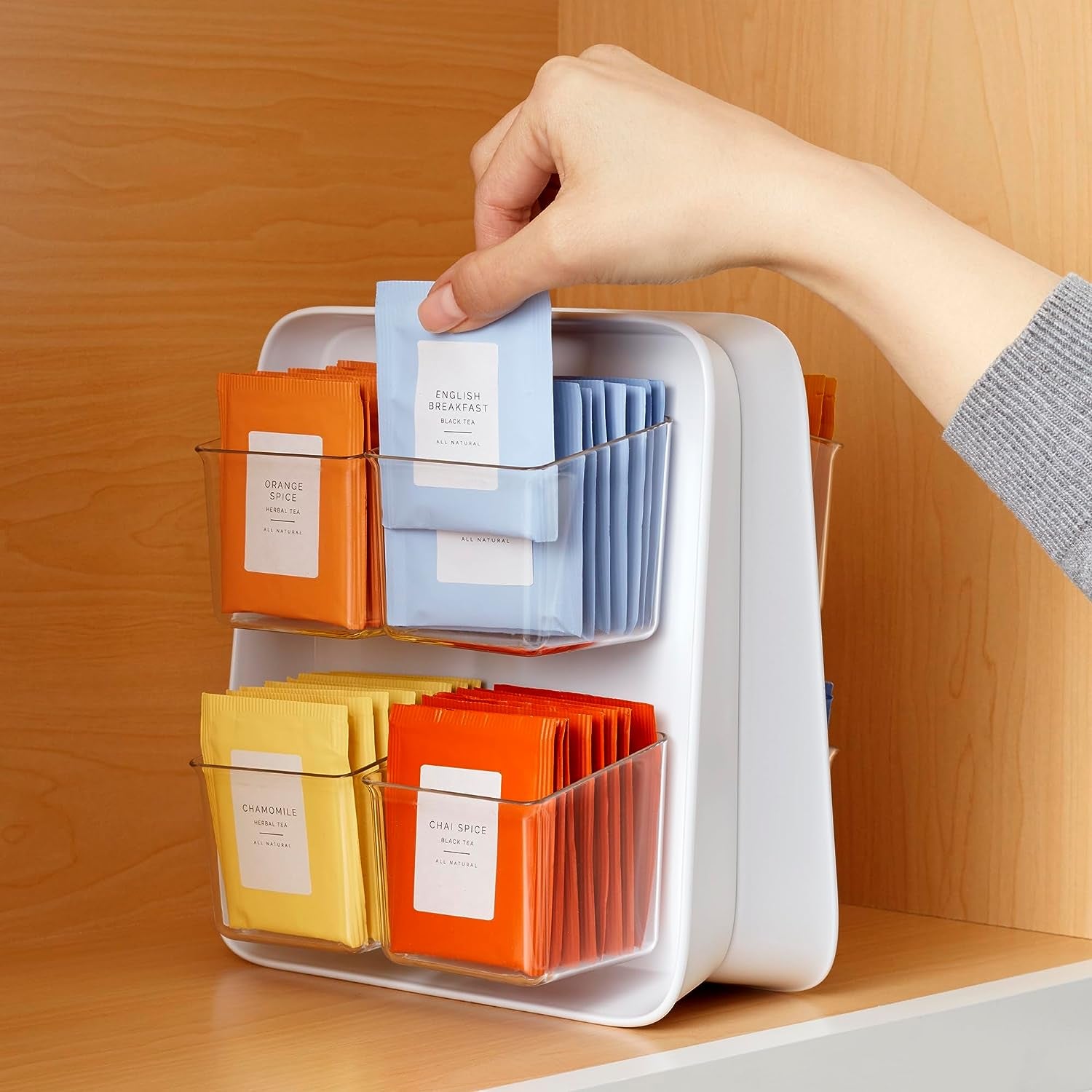 Promising review: "I'm very impressed with this product! My cabinet was overflowing with boxes of tea bags. This little container stores a lot of tea bags & takes up very little space. I highly recommend." —Beth McGarry

Get it from Amazon for $19.99+ (available in two sizes).
7.
A set of shelf dividers so you can take advantage of every inch of your closet while keeping your folded clothes perfectly organized. That also means no more piles toppling over onto each other like you just lost a game of Jenga.

They're also great for bulky items like linens and towels! The dividers are 12 inches tall and can slide over any standard shelf up to 7/8 inches thick.
Promising review: "I love these! They fit snugly over my shelf, so they don't shift or move around. I have a lot of handbags and it's been a mess on my closet shelf for the ones that are floppy. I have limited closet space in a small home so my choices of where/how to store them are limited. This was the perfect solution. I plan on buying more when I get around to rearranging sweaters on shelves." —BarbraGenie
Get a two-pack from Amazon for $17.99.
8.
And a laundry folding board because neatly folded items take up far less space than the giant mountain of clothes that's been haunting your dreams. You'll also feel *much* more organized, which is always a plus.
Promising review: "I have a bit of a T-shirt collection and this tool is a must-have! I had been folding by hand but could never get a consistent uniform look but problem solved. This shirt folder is easy to use and maximizes the space on my shelf. It works great on long-sleeve shirts as well. The plastic is durable and not flimsy to use. Even came with a nice storage bag. Highly recommend this item. My only regret is not getting one sooner." —Lois

Get it from Amazon for $16.99.
9.
An over-the-cabinet shelf to maximize kitchen storage space when it's *extremely* limited. Use it to store cutting boards and other essentials out of sight, which is better than shoving them into a cabinet only for them to fall out when you open it!
Promising review: "This organizer is so useful! I recently moved and ended up with a much smaller kitchen, so I've been doing everything I can to make sure there's a place for everything and no wasted space. Luckily, I have pretty wide cabinets, so this works out perfectly. I have one holding my cutting boards (four standard plastic boards) and another holding my foil, cling wrap, and parchment paper boxes. The organizer is super easy to assemble and it's completely versatile — hang it over the cabinet door or attach it to the wall/cabinet door, which means it's great for renters and owners." —Kerry
Get it from Amazon for $16.97 (also available as a two-pack).
10.
A TikTok-famous toothbrush holder and dispenser if you've been dreaming of a day when counter clutter is a thing of the past. This holds products *and* dispenses toothpaste, so you'll get plenty of use out of it.
This includes a toothpaste dispenser (that'll squeeze out every last ounce!), four cups and holders, and a place to store your toothbrushes.
Promising review: "Every household with kids should have this thing, actually EVERY HOUSEHOLD, REGARDLESS! No more finding toothpaste everywhere but down the sink drain, no more throwing half a tube away because of lost caps, insert your favorite brand in the dispenser, and voila! Simply press your brush against the lever and a perfectly portioned dollop every time. When it's time to rinse, grab one of the four cups that are hidden in the top and bottom of this little masterpiece. Rinse your brush, open the storage compartment, hang brush, and shut lid! Bristles are covered and protected from the wide array of germs that like to inhabit bathrooms." —Jen

Get it from Amazon for $17.77 (available in three colors).
11.
A plastic storage bag organizer when you're officially ~fed up~ with your snack bag situation. Get rid of the unnecessary boxes and store them in this organizer instead!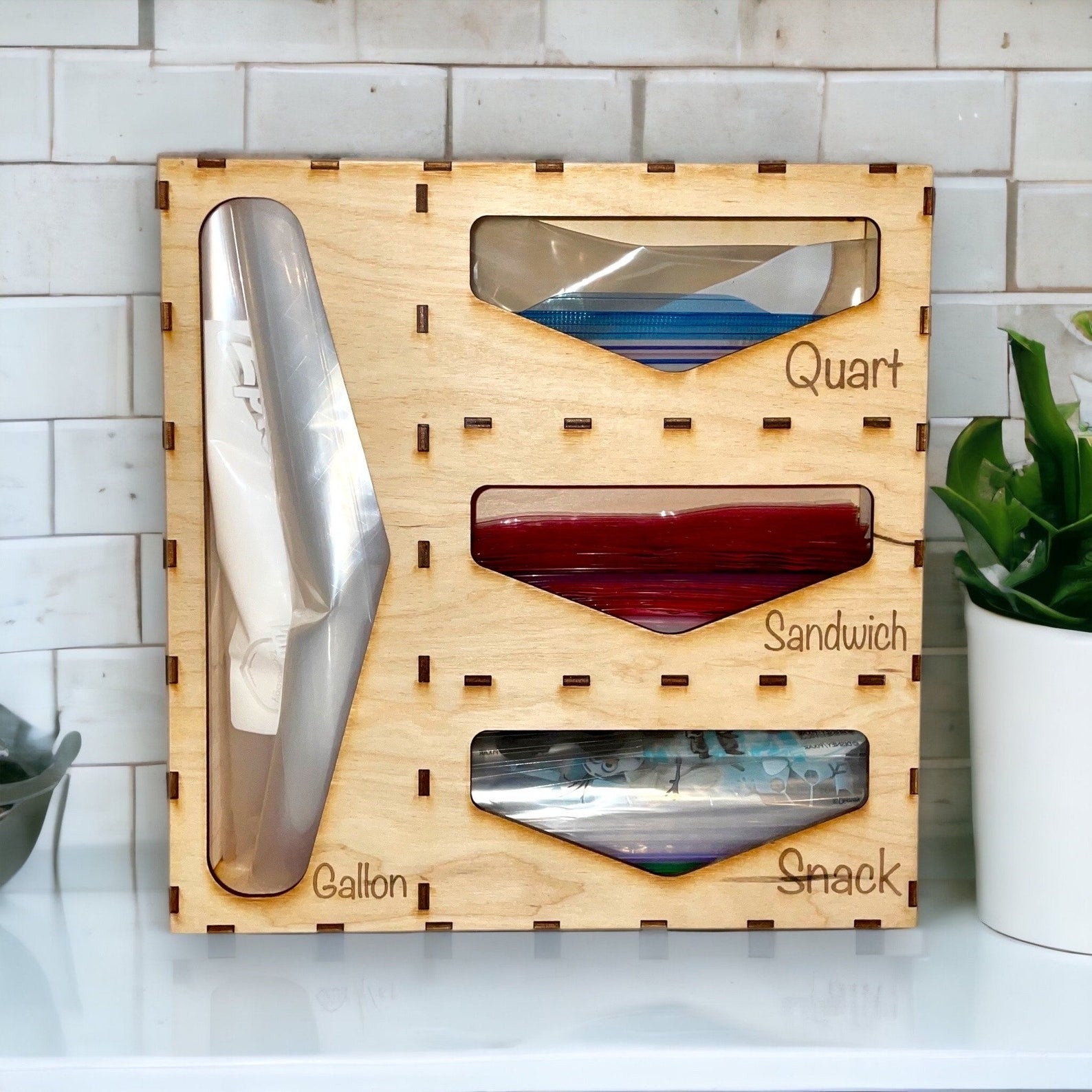 Southern Miss Design / Etsy
Each unit is made of solid birch wood. If you order the unassembled version, the seller recommends using wood glue to put it together.
Southern Miss Design is a small business based in Spartanburg, South Carolina, that specializes in handmade wooden signs and custom vinyl monograms.
Promising review: "I love organization and this is one of the most brilliant, space-saving, organizational items I have in my kitchen! I sent pictures to my family and friends because everyone needs one of these!" —Jesse
Get it from Southern Miss Design on Etsy for $42.50+ (available in three finishes).
12.
Some wooden hooks so you can ~hang your hat~ at the end of the day — and your coat, purse, etc. These are small, cute, and will complement your decor while adding storage to your space.
Promising review: "I love how large and substantial these hooks are. They definitely feel high quality and are super easy to install. I was able to screw them directly into a stud on my wall and know they'll be able to hold a lot of weight. I used them to hang some baskets which will store my incoming mail." —Evelyn Vang

Get a pack of four from Amazon for $16.99+ (available in walnut and beech wood).
13.
A shower curtain and bath organizer for those painfully tiny bathrooms with hardly any room for your products. AND you'll never have to deal with slippery bottles of shampoo falling off a ledge and onto your foot again.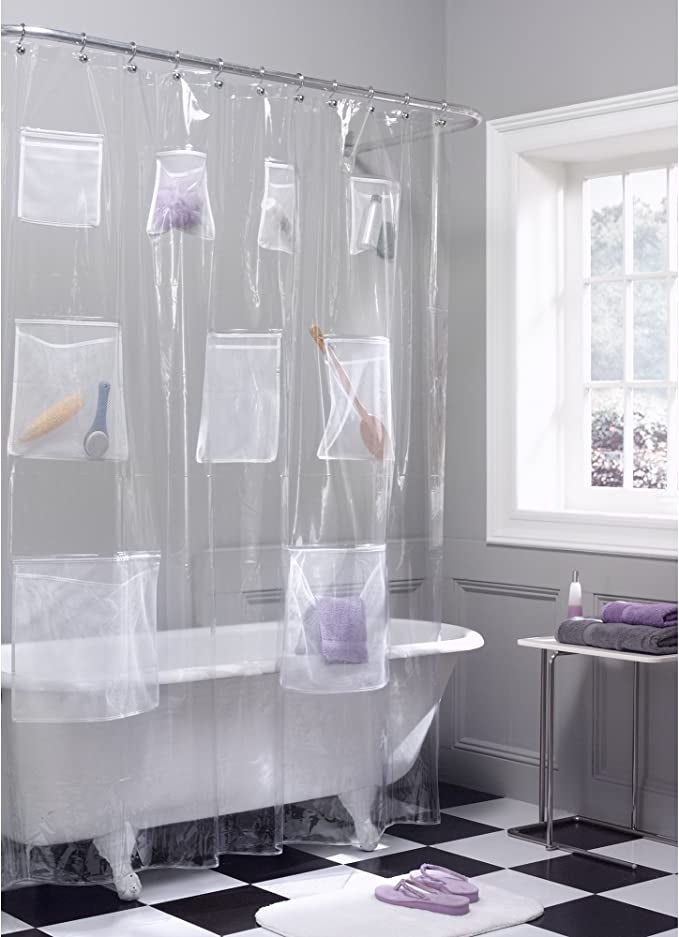 We've got you covered with some more recommendations for the Best Bathroom Accessories You Can Get On Amazon.
Promising review: "The most ideal organizer for your bathroom shower! No clutter and spacious enough pockets, no brainer, get it if you like everything to be visible and organized." —Daniela
Get it from Amazon for $20.14 (available in colors clear and grey).
14.
An ultra-slim rolling cart  because sometimes you gotta get creative when you're working with limited space. This lil' cart will fit almost anywhere and has three shelves that'll take you straight to organization town!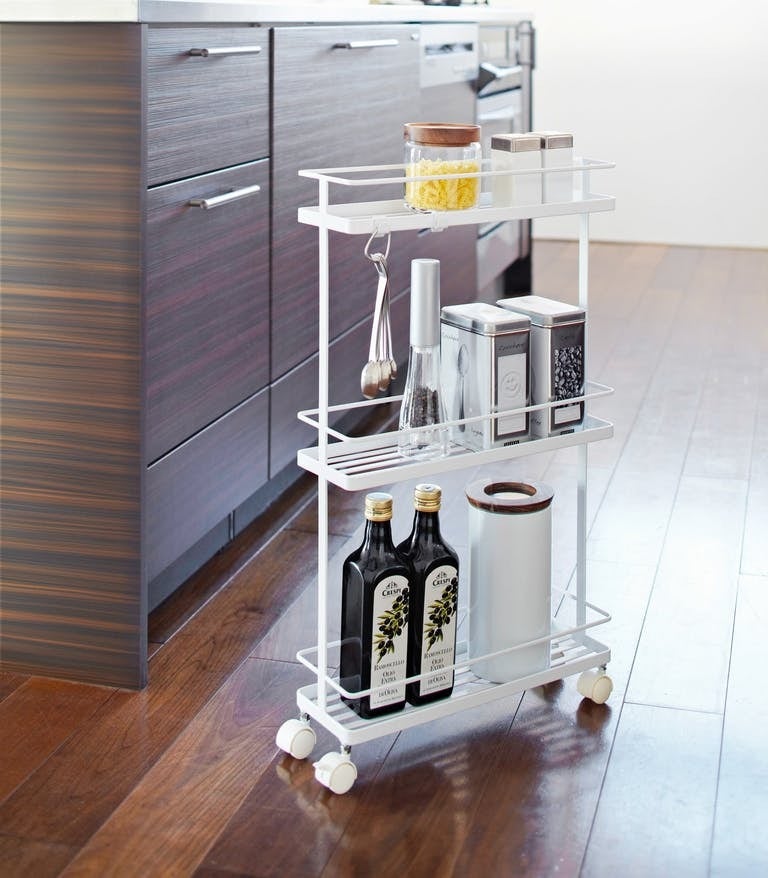 It comes with two moveable hooks for hanging tools and utensils!
Get it from our Goodful shop for $72 (available in colors white and black).