1.
A clever little luggage strap that's all about providing you with a hands-free travel experience. If you're packing and suddenly questioning how on earth you'll carry everything through the airport, this strap has you covered.
Promising review: "I love this little gadget. I used it to attach my jacket and computer bag to my luggage on an extended business trip. It made my airport walks so much easier. Now that I'm back home, I've been using it daily to attach my jacket or cardigan to my work bag or purse." —Michele
Get it from Amazon for $8.49+ (available in five colors, as well as packs of two).
2.
Or a travel belt for anyone who's carrying a heavier bag that's too big to hang from their luggage. Give your shoulders a break for a change and use this belt to secure your bag on top of your suitcase!
The travel belt is adjustable to 38 inches so it will fit most bags.
Cincha Travel is a Cali-based small biz started by a BIPOC couple that makes these adjustable straps from vegan leather. The brand also donates 100 airline miles for each purchase, which are used to reconnect separated migrant families.
Promising review: "My backpack was safe and secure with my Cincha belt! Loved that I was able to clip and unclip easily while going through security and while boarding and exiting the plane. I would definitely consider this a nice gift for anyone who enjoys travel!" —Michelle
Get it from Cincha Travel for $40 (available in 12 colors and designs; can be monogrammed for an additional $17).
3.
A tote organizer insert to keep your bag in order while you're traveling. Empty out that nightmare of a purse and turn it into an organized dream! It has multiple compartments of different sizes so you'll find a place for everything.
Promising review: "This thing is great! I have a large bag I use as a carry-on when I fly by plane. Unfortunately, it has very few pockets and is just like a bottomless pit. This fit in perfectly. I was able to organize all of my items quite well. They were easy to retrieve in flight and in the airport. I didn't use the zipper compartment at all but did put that piece in to use it as a divider. It is well-made and sturdy. Be sure to measure your inner bag space first!" —Susan
Get it from Amazon for $15.88+ (available in six sizes and 24 colors).
4.
A perfectly spacious Everlane weekender bag when you're taking a quick trip but still need a bag with plenty of room for your essentials! It's also a great bag to bring on the plane and the pass-through handle allows you to attach it to your rolling suitcase.
As if that weren't enough, it's also made of 100% recycled polyester!
Promising review: "I bought this bag to bring on my month-long trip to Europe. It served as a carry-on and as an addition to my medium-size suitcase. First of all, the quality of the materials is excellent, very sturdy, and perfect for those hectic travel days. Also, it fits great in a plane or train overhead compartment. In addition, the pass-through is a godsend; it ensured that my bag stayed in place when put on top of my suitcase and as both bags were lugged around those small cobblestone streets. Finally, the bag is super spacious; I couldn't believe the amount of things that I could fit in it, and the compartments allowed for great organization of those items. What more can I say, a great travel companion that I will be using for years to come and that I would highly recommend to anyone who is in the market for one. Thanks, Everlane!" —Sara Anne
Get it from Everlane for $67 (originally $95, available in five colors). 
5.
A genius Toptote hat clip so you don't have to worry about what you'll do with your hat when you're traveling because obviously you don't want to stuff it in a suitcase! This magnetic clip prevents you from losing your hat *and* it won't cause damage.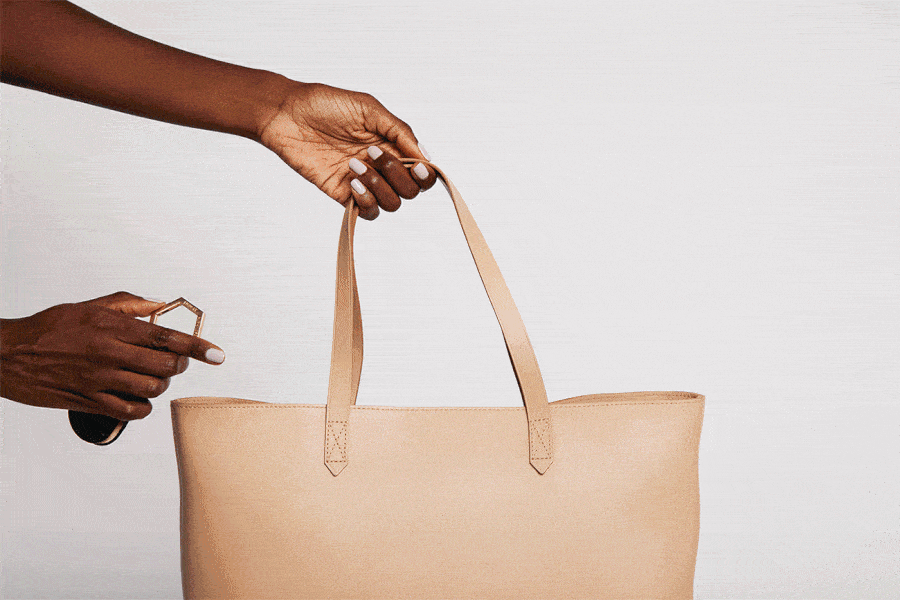 The magnetic clip securely attaches to your hat brim (damage-free) — just hook the gold hexagonal clip around the strap/holder of your choosing!
The Fileist is a woman-owned small biz, formerly known as Lindsay Albanese.

Promising review: "LOVE LOVE LOVE my TOPTOTE. As a frequent hat wearer, I was always having to figure out how to travel with my hat without holding it and then inevitably forgetting it somewhere. This has solved my problem! Great design, high quality, functional, AND cute. I have one on every bag. Can't get enough! Also great for bike riding and/or unexpected wind. :)" —ChefYJ
Get it from Nordstrom for $55 (also available in white and red). There are also even more cute styles on the The Fileist site.
6.
A travel laptop backpack if you're stressin' about where to pack your laptop. This backpack protects your laptop and has other compartments, too! Don't forget about the handy USB charging port for your external power bank.

This lightweight yet sturdy laptop backpack is made of water-resistant polyester and has a separate compartment for your computer. It can hold laptops that range from 13 to 15.6 inches. There's another spacious packing compartment for any other essentials you need to keep within reach. The front compartment has several pockets and a key fob hook. Don't forget about the USB port so you can plug in your external battery and keep your device charged *and* secure in the hidden anti-theft pocket!
Promising review: "Bought this backpack about a year and a half ago and I use it legitimately every day for work. I've traveled to Tahiti, San Diego, and the Dominican Republic and used it as my carry on and the amount of stuff it holds is crazy. I can fit one to two extra sets of clothes, ian Pad, chargers, a couple of books, glasses cases, and a ton of other odds and ends. The main compartments have small holes on the zippers for locks which is nice. The loop on the back to slide over your luggage handle is also super convenient. Definitely recommend this backpack for daily use and travel." —Amazon Customer
Get it from Amazon for $23.99+ (available in two sizes and 12 colors).

7.
Or a stylish and efficient anti-theft backpack that'll protect your valuables. It opens from the back rather than the front, so you won't be a pickpocket victim anytime soon. If packing for a trip typically involves worrying about things getting lost or stolen, this one is for you!
BuzzFeed Shopping writer Britt Ross says: "I recently returned from Italy, and as someone who prefers a small backpack over a purse most of the time, I thought this would be a great purchase, as it would give me some peace of mind as I spent hours wandering around different cities. I'm happy to report that after two weeks of daily use, I'm convinced I'll be bringing it on every trip I take from now on. It's small enough so that it doesn't feel bulky or uncomfortable throughout the day, but has plenty of space for everything you'd need on the go — I fit my wallet, sunscreen, glasses case, hand sanitizer, water bottle, snacks, and even a small umbrella, with room to spare! And the fact that it opens from the back means someone would literally have to pry it off of you to get to your valuables. I bought the medium size in black pebbled faux leather, and it's actually quite cute for the price!"
Promising review: "I bought this backpack to use as a purse while on vacation, and it worked perfectly. The main pouch is protected when you're walking around because the zipper is protected by your back. There are also two side zippered pockets, one of which kept my phone and the other perfect for sunglasses and a few other items that I wanted to access more easily. I loved that I could wear it as a purse to dinner but use it as a backpack during the day so that my shoulder didn't get tired. I highly recommend this item!" —Allison

Get it from Amazon for $20.79+ (available in two sizes and 17 styles).
8.
OR! a vibrant Brevite camera backpack for my photographer peeps who bring their DSLR cams on their adventures! It has designated compartments for the camera and three lenses. It also has a passport pocket, a laptop pocket, a tripod holder, a water bottle holder, and a side pocket. Packing for a trip with tons of camera gear can be easy.
Based in Brooklyn, New York, Brevite is a family-owned small business that makes both camera and everyday backpacks that don't sacrifice style for functionality.
Promising review: "Everything I've been looking for! I've purchased three or four camera backpacks over the past three years because I couldn't find one that had everything I need. This backpack has it all! So many pockets and so much space! I will definitely be purchasing another one!" —Taliena K.
Another promising review: "AMAZING! I've always complained about how I never seem to have my camera on me when I find myself in a situation with opportunities for incredible photos, but now I'll be able to carry my camera alongside everything I usually carry and always be ready! There's plenty of space inside, I love the color, and I love how it looks like a totally unsuspecting campus-type backpack so I'm not running around with a camera bag slung over my shoulder. Consider this to be my new favorite carry-on bag!!!" —Charles M.
Get it from Brevite for $135.99+ (available in two sizes and 11 colors).
9.
A three-piece luggage set so you no longer have to panic about whether you have the right-size suitcase for your trips. This set comes with a carry-on size, a smaller checked bag size, and a larger checked bag size for long trips.
They also have TSA-approved locks, 360-degree wheels, interior mesh pockets, and telescoping handles.
Promising review: "My family travels internationally, which means lots of airplane transfers, rail, ferry loading and unloading. Each member has their own set. Only one cosmetic scuff has appeared. About to order another set for my mother as we are taking her to London, Scotland, and Ireland for the holidays. We rarely use the middle size. The small size we carry on, and the largest size we check. Very pleased with maneuvering and durability of wheels on various rough surfaces. The retractable handle makes for easy storage on ferries and railway. We've had zero issues with locking mechanism. We are a family of four with kids age 8 and 12." —ChiefLaughALot
Get it from Amazon for $189.99+ (available in 17 colors).
10.
And a digital luggage scale to give you peace of mind when you leave for the airport. Is there anything better than knowing that you won't incur any overweight bag fees after you so strategically packed your suitcase? I'll wait.
Promising review: "Buy this if you travel a lot. I travel with scuba dive gear and this saved me from going over the weight limit both going to the island and returning. I was a hero with my friends. They had no idea how much their bags weighed. I helped them too from going over their weight limit. It's easy to use and worth the money." —Kindle Customer
Get it from Amazon for $11.98+ (available in five colors and a pack of two).
11.
An amazingly compact travel stroller if one of your major anxieties when packing revolves around your essential parenting items. This stroller is SO portable *and* it can count as your carry-on item!
The stroller is supposed to accommodate kids from 6 months up to 55 pounds (approx. 4 years old).
Promising review: "This stroller is great! So cool looking, too. I constantly have moms coming up to me asking where I got this! So easy to fold, so light, and barely takes any space in my trunk. We took it on a flight, and the flight attendants recognized the stroller and told me that I can just wheel the baby on and put the stroller in the overhead bin. I wish I had gotten this stroller with my oldest, but I was being cheap. This stroller is so worth the money. I regret not getting it sooner! But at least my youngest can enjoy it." —Nai Len
Get it from Amazon for $159.96+ (available in four styles and two colors).
12.
A mighty convenient collapsible water bottle that'll save you plenty of space in your suitcase/carry-on bag/personal item! Because you shouldn't sacrifice hydration just to save a bit of space in your bag.
Promising review: "Great water bottle for travel. It is durable, compact when not in use, and versatile. One of the main reasons I like this collapsible bottle over others is the sliding band on it. It allows you to hold it firmly without squeezing the bottle and squirting the contents out of the top and all over the place. I bought mine, and a friend liked it so much that she bought one." —Vivian

Get it from Amazon for $34.95 (available in eight colors).
13.
A cable and charger organizer perfect for keeping track of all your cords while traveling. If you're tired of pulling out a wad of tangled cords from your otherwise-pristinely packed suitcase, this organizer has your name written all over it.
Mister Crafter is a small business that creates handmade, personalizable travel products, wallets, and accessories made from 100% top-quality genuine cowhide leather.
Promising review: "Absolutely beautiful! The custom lettering came out perfectly, and it can easily hold two battery packs and all the cords we could ever need for traveling with cellphones, iPads, and our Switch. So pleased with the craftsmanship! Wonderful purchase <3." —Sarah Kavaljian
Get it from Mister Crafter on Etsy for $39.80+ (available in two sizes and two colors, personalization also available).