1.
A quilted chenille floor pillow to add comfy seating to your space instead of buying new furniture. You'll receive endless compliments when guests come over and lounge in your dreamy home!
2.
A cute handmade bubble candle that'll make the perfect centerpiece on your coffee table. There are many amazing scents (and colors!) to choose from OR you can opt for unscented.
Alphatox Gummies is a Cali-based small biz that offers a wide selection of gorgeous decorative candles.
Promising review: "Lovely candle, exactly what I was looking for. A wonderful addition to my home decor. With a little freebie! Love it! And the shipping was super fast! That's always a plus." —Tatiana
Get it from Alphatox Gummies on Etsy for $6.60+ (originally $12; available in dozens of colors and scents).
3.
A wood tree bookshelf because being a self-proclaimed bookworm doesn't mean you make boring decor choices! This is a unique way to store your fave titles *and* you'll free up some space on the other surfaces in your home currently cluttered with books.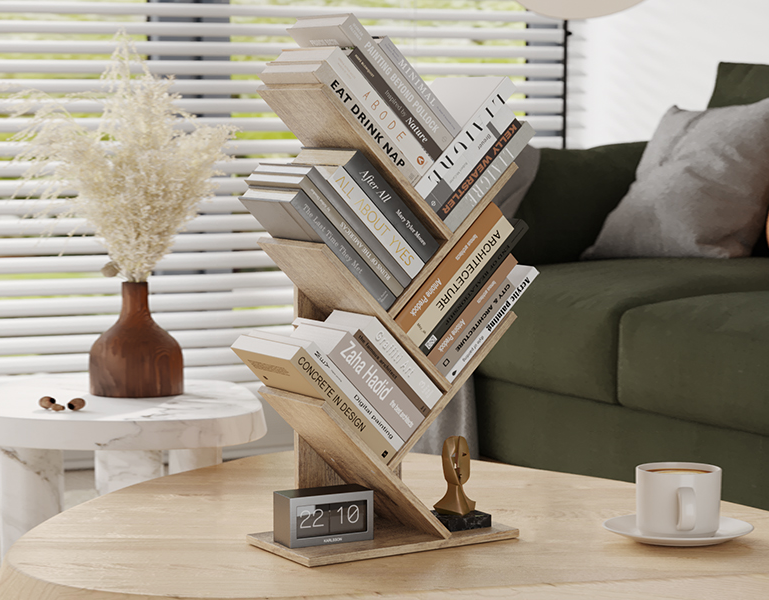 Promising review: "I love this so much! I'm always back and forth on reading and what I want to read and usually have multiple books and journals laying on my nightstand. This was perfect to organize them up and save space." —j.oldham

Get it from Amazon for $36.99 (available in two sizes and three colors). 

4.
A wooden alarm clock for elevating your bedside area with a touch of mid-century mod energy. It has adjustable brightness, two alarm settings, and displays both the day of the week and the temperature.

Promising review: "This clock is worth the money! Buy it. Bright display, stylish, good material. It was easy for me to set up. It really took no time because the instructions were very simple! It keeps time, date, and even temperature accurately! Buy this!" —Robin
Get it from Amazon for $24.99 (available in four colors). 

5.
A baroque mirror if your style involves vintage-inspired decor pieces that look like they belong in a haunted mansion — in the best, dreamiest way.
Promising review: "All I can say is woooow! This mirror is not only affordable, but the quality is amazing. It's heavy and not cheap-looking. The gold color is not so tacky, and it's done just right. My main concern was receiving a broken mirror but the packaging was great and arrived in one piece. Don't hesitate buying this gem, you need it!" —Celeste C
Get it from Amazon for $99.99+ (available in five sizes and five colors).
6.
Rainbow window film when you need some extra privacy and some playful light dancing around the room to lift your mood. It's kitty approved and will create excellent IG photo ops!
Promising review: "I was looking for privacy film for our windows but came across this and ended up buying it instead. I have it installed on the window in my bathroom. Super great for pictures and really pretty in general when the sun shines through!" —MK
Get it from Amazon for $8.99+ (available in 11 sizes).
7.
A blissfully plush checkered blanket to accomplish two very important goals: boost your bedroom or living room aesthetic *and* make nap time sooo much cozier. Reviewers say it's just as good as the Barefoot Dreams version without the hefty price tag.

Promising review: "This is the best and biggest blanket. I am so happy I impulse bought this, even if I was solely motivated by aesthetic. [Just like] Barefoot Dreams!!! So soft, so large, so cute, so obsessed. Worth every penny." —Nicole Jones

Get it from Amazon for $49.99+ (available in four sizes and seven colors). 
8.
And some corduroy pillow covers because your reading chair or sofa is probably long overdue for an upgrade. Rather than buying all new pillows, save your cash and throw these cuties on instead.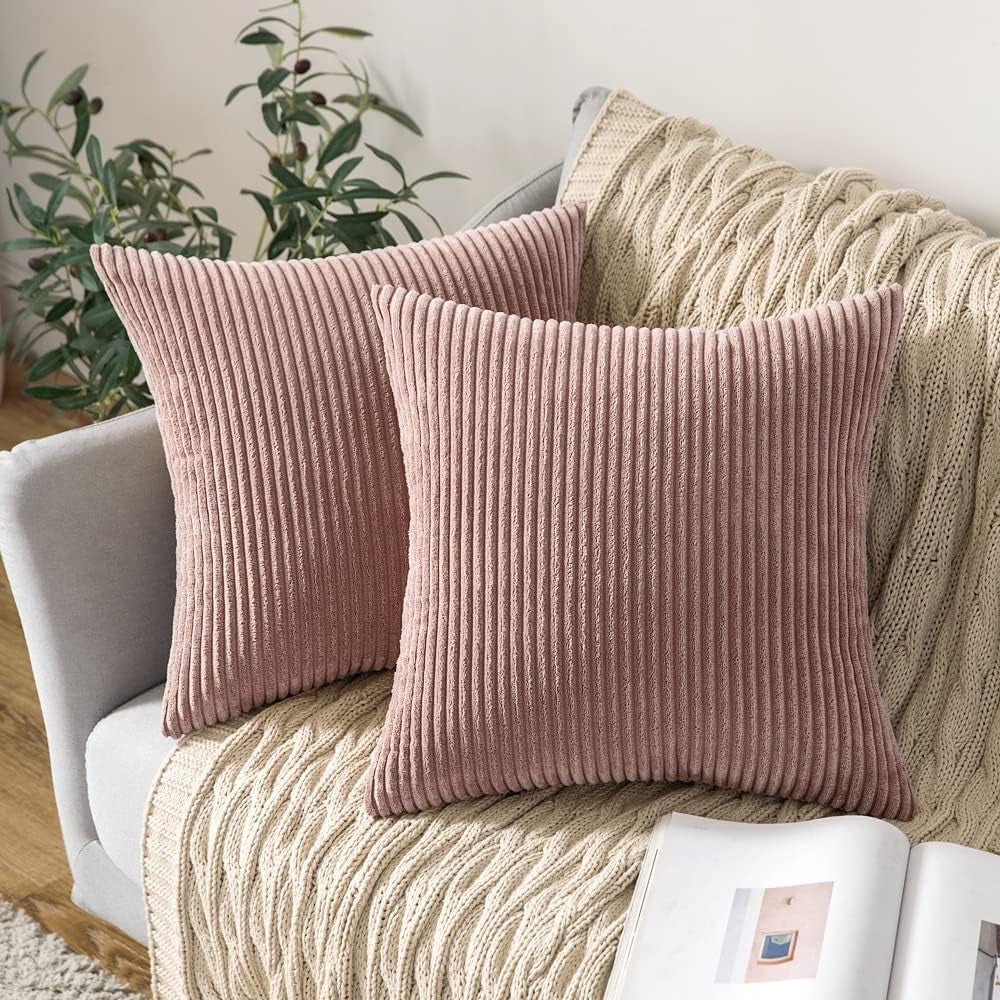 These are just pillow covers, so grab some pillow inserts, if you need 'em!
Promising review: "These pillow covers exceeded my expectations. I needed to cover up some older and worn decorative pillows, so I chose solid corduroy to accent my home colors. The cool thing about these covers is that, along with fitting well, the fabric is super soft! Most decorative pillow covers tend to be scratchy; we ACTUALLY use our pillows for naps, so this is great! The coverings easily slipped over my pillows, and the zipper closing worked with ease. The color was just as shown. I will definitely order these again." —zbergteacher
Get a set of two covers from Amazon for $13.99+ (available in nine sizes and 31 colors).
9.
A ~handy~ wall hook that'll give your entryway the flowers they deserve. Whether you need a bit of extra storage or want to add some quirky wall decor to the mix, this will do the trick.

Promising reviews: "This piece is so amazing. I can't wait to use it. I purchased one and loved it enough to purchase another." —DeeShopper
"This is exactly what I was searching for and I LOVE it!! Some comments mention that it is smaller than anticipated, and yes, it's petite. But it's so cool and unique that it stands out!! I can most definitely recommend this brass hand!" —GingerAdele
Get it from Anthropologie for $28 (available in three colors).

10.
A gorgeous storage ottoman, aka living proof that dreamy home accents *can* be functional. Pop your TV remotes, books, or candles inside and they'll be out of sight until you need 'em.
BuzzFeed Shopping senior writer Emma Lord says: "Another bonus? If you flip the lid over, it has a wooden base, so you can *also* use this as a teensy snack table. I recently got one of these for my new apartment to stash my candles and ~candle accessories~ in and it's pretty much become my favorite piece of furniture?? I use it to prop up my feet during work hours and sometimes if I want to eat on my couch I'll use it as a tray. It's also sturdy enough to sit on if I ever wanted to have guests over and needed an extra chair. It was RIDICULOUSLY easy to set up — I had it done in less than 10 minutes, and probably didn't even need the directions. It also just looks so darn cute (and comes in so many colors that I'm tempted to buy another!)."
Promising review: "I was using a small foldable step stool in my bedroom to reach the top shelves of my wardrobe. But you know, those things aren't pretty. It wasn't bringing me joy, just begrudging utility. This ottoman brings me joy. It's pretty, it's lightweight so I can move it easily to use it as a step stool, and the storage capacity is perfect for things like my nightly moisturizers, my Kindle and journals, and other little miscellaneous things." —Monica N.
Get it from Amazon for $34.99+ (available in two sizes and five colors).
11.
An ~eye-catching~ amethyst crystal sun catcher so you can instantly  make any room much more enchanting. I dare you not to swoon over the iridescent sparkles dancing around the room while you sip your iced coffee and admire your amazing decor taste.

Lillie Style is a small biz based in California that makes sun catchers!
Promising reviews: "This sun catcher is gorgeous. I put it in my window in my bedroom and it sends rainbows everywhere and it's wonderful. I'm very happy with my purchase!" —Taryn

"Absolutely beautiful item! Exactly what I was looking for. Twice a day the sun hits the suncatcher casting rainbows all over the house! Well done." —Audrey
Get it from Lillie Style on Etsy for $12.15+ (originally $20.25+; available in four styles or as a bundle).
12.
A marvelous yarn tapestry for incorporating some fun texture into your home's flawless aesthetic. Gallery walls are great, but this will give your space a cozy *and* unique feel.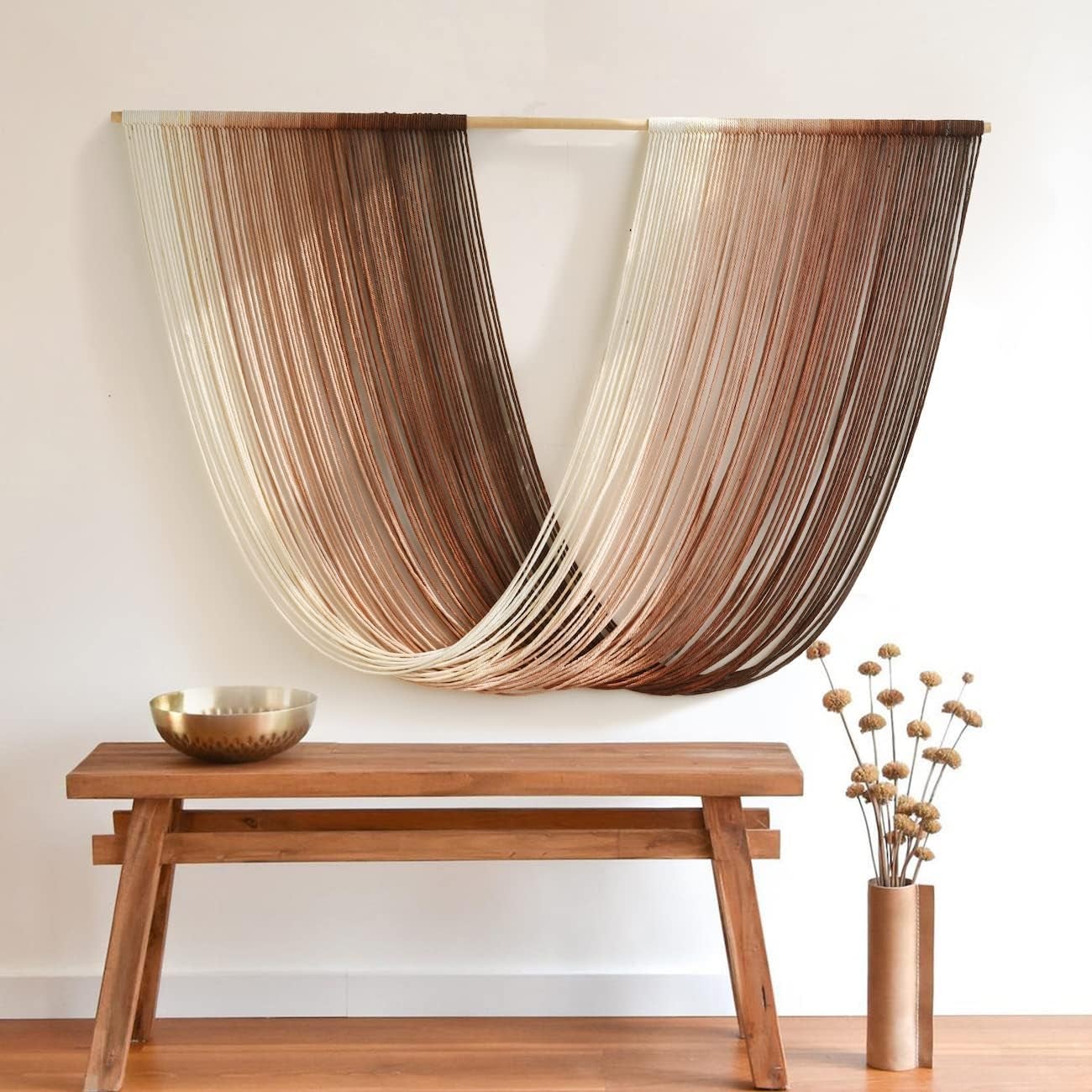 Promising review: "As I unwrapped the safety packaging, I found myself in awe at how beautiful this piece really is in person. You can tell it was put together by loving hands. They included the sweetest note with this piece that together with the care and time this purchase took, really made you a part of the family it came from. I don't consider myself someone who is attached to material things, but this art came with some strong positive vibes that we really needed in our household. I can't thank the creators enough for the opportunity to purchase this piece. It is now my favorite Amazon purchase." —Katie
Get it from Amazon for $55.50+ (available in eight colors/styles).