Herb Fried Shrimp & Cranberry Cocktail Sauce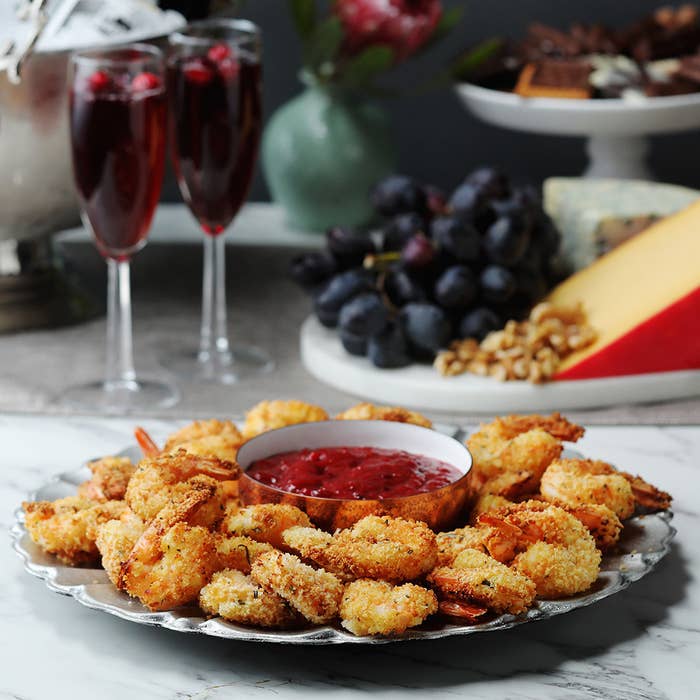 INGREDIENTS
Servings: 10–12
1½ lb shrimp
2 cups flour
1 tablespoon salt
1 teaspoon pepper
3 eggs, whisked
3 cups panko breadcrumbs
2 tablespoons minced rosemary
1 cup ketchup
3 tablespoons horseradish
3 tablespoons Worcestershire
½ teaspoon sugar
¼ teaspoon salt
¼ cup fresh cranberries
Philips Airfryer
PREPARATION
1. Preheat Phillips Airfryer to 360ºF. 

2. Set up 3 bowls. In the first bowl, whisk together flour, salt, and pepper. Place the whisked eggs in the second bowl. In the third bowl, mix together the panko and rosemary. 

3. Dip the shrimp in the flour, shaking off the excess. Then coat the shrimp in the eggs. Then coat the shrimp with the herbed panko breadcrumbs. Spray the coated shrimp with cooking spray on both sides. 

4. Place shrimp in the AirFryer tray, using both the top and bottom tray, being careful not to crowd them. Cook in AirFryer for 10 minutes, then remove and plate. Repeat cooking until all shrimp have been AirFryer.

Cocktail Sauce
1. In a food processor combine ketchup, and cranberries, pulse until smooth. Add horseradish, Worcestershire sauce, sugar and salt. Serve with shrimp!