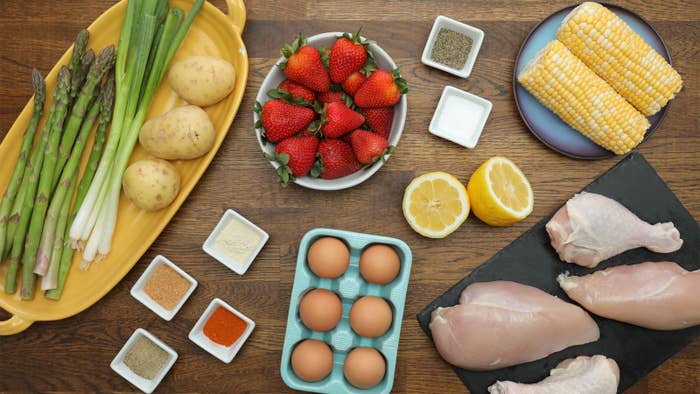 AIR FRYER CHICKEN
INGREDIENTS
8–10 assorted pieces of chicken (boneless/thighs/breasts)
6 eggs, beaten
½ teaspoon salt
1 tablespoon hot sauce
2 cups flour
2 teaspoons seasoned salt
1 teaspoon cayenne pepper
PREPARATION
1. Combine flour, seasoned salt, and cayenne pepper.
2. Combine eggs, hot sauce, and salt.
3. Dip chicken into eggs, then flour mixture, and repeat.
4. Spray chicken with cooking spray (optional)
5. Place a layer of chicken (3–4 pieces) into bottom of Gourmia Air Fryer, add double rack, and then add 3–4 more pieces on rack.
6. Set Gourmia Air Fryer to chicken preset and cook for 10 minutes. Remove tray and rotate all pieces, making sure to flip. (optional)
7. Return tray to Gourmia Air Fryer and cook for remainder of time, remove from tray/racks,and place on paper towels. (optional)
AIR FRYER POTATO SALAD
SERVES 4
INGREDIENTS
8-10 small yellow potatoes
2 tablespoons olive oil
2 eggs
¼ cup mayonnaise
¼ teaspoon celery salt
¼ teaspoon garlic powder
3 green onions, chopped
2 tablespoons dijon
2 tablespoons sweet relish
Salt
Pepper
Pinch of paprika
PREPARATION
1. Place potatoes around the edges of the fryer basket and put the two eggs in the middle.
2. Set fryer to 390ºF and cook for 15–20 mins until tender but not too soft. Set potatoes aside to cool slightly. Peel eggs, slice, and set aside.
3. When potatoes are cooled enough to touch, remove the skins by rubbing softly with a paper towel and then dice into cubes.
4. Combine mayonnaise, spices, mustard, and relish.
5. Combine potatoes with mayonnaise sauce.
6. Top with eggs and paprika.
AIR FRYER ROASTED CORN
SERVES 4
INGREDIENTS
4 pieces of fresh corn, shucked and trimmed to size
2 tablespoons olive oil
Salt
Pepper
Butter
PREPARATION
1. Drizzle corn with olive oil and season with salt and pepper (optional).
2. Place into the airfryer and set to 400ºF.
3. Cook for 10–12 minutes, flipping halfway through until evenly cooked and brown (optional).
4. Slather with butter and enjoy!
AIR FRYER ASPARAGUS
SERVES 4
INGREDIENTS
1 pound fresh asparagus, trimmed and washed (trimmed to fit tray)
Olive oil
Salt
Pepper
Lemon
PREPARATION
1. Drizzle asparagus with olive oil.
2. Place in airfryer (using rack if necessary).
3. Cook for 5–10 minutes (depending on thickness of stalks).
4. Serve with fresh lemon wedges (optional).
AIR FRYER STRAWBERRY SHORTCAKE
SERVES 6-8
INGREDIENTS
1 box yellow cake mix
⅔ cup water
¼ cup softened butter
1 cup heavy cream
4 tablespoons sugar, divided
1 teaspoon lemon juice
1 teaspoon lemon zest
1½ cups strawberries
PREPARATION
1. Prepare cake mix to box instructions, divide between two greased 6-inch pans.
2. Cook one pan at a time, at 320ºF for 15 minutes and then turn it down to 290ºF for another 15 minutes. Repeat with the other pan and place both aside to cool.
3. Mix sliced strawberries with lemon juice, zest, and sugar. Set aside.
4. Layer cake, whipped cream, strawberries, and repeat.
5. Chill for 30 minutes and serve.
6. Enjoy!