It goes without saying, that there is obvious racism in the way that our country treats its citizens. These videos show an example of that.
The reason I've put this information together here is because the video and article that are going viral are clipped short and taken out of context. I believe in making educated decisions and I want you to be able to do that too.
So... because I'm a curious individual, and I was displeased with the way this was presented, I wanted to find the original context. I have a pet peeve about such controversial things shown without it. It doesn't even reference the original posts.
My conclusion? The man who was thrown to the ground was obviously treated unjustly and unfairly. I'll leave you to make your own conclusions with a little bit of extra information not included in the video.
So if you read on you'll find some information about each of the videos: where they were filmed, some info about the area, and 2 angles of each situation.
After that I link to two more videos. One where a minority is stopped while openly carrying and answers all questions properly. Another where a black guy walks through a white neighborhood while carrying openly without being stopped at all.
The content is incredibly charged, focusing on only the action moments, missing about 10 minutes of other interactions between the officers and the citizens in each video.
Additionally, I couldn't find a single website reporting it that wasn't known for showing incredibly one-sided information, linked to the source, or shared any background on it.
That's why I'm writing this.
So here's the lo-down on the video:
These are videos from two separate occasions, taken a year apart, in two completely different locations.
The video of the white guy is taken in 2012, in Albany, Oregon. The white man is part of a group of 3 males. Only one has a gun, 3 have video cameras. They're walking in a pretty close group.
The video of the black guy is taken in 2013, in Sun Valley, Nevada, right next to Reno, NV. He's walking alone, with his wife following at a short distance behind him.
Throughout this I'll refer to Reno, NV because Sun Valley does not have its own police department, and uses police from Reno & Washoe County PD.
Caucasian Population in these cities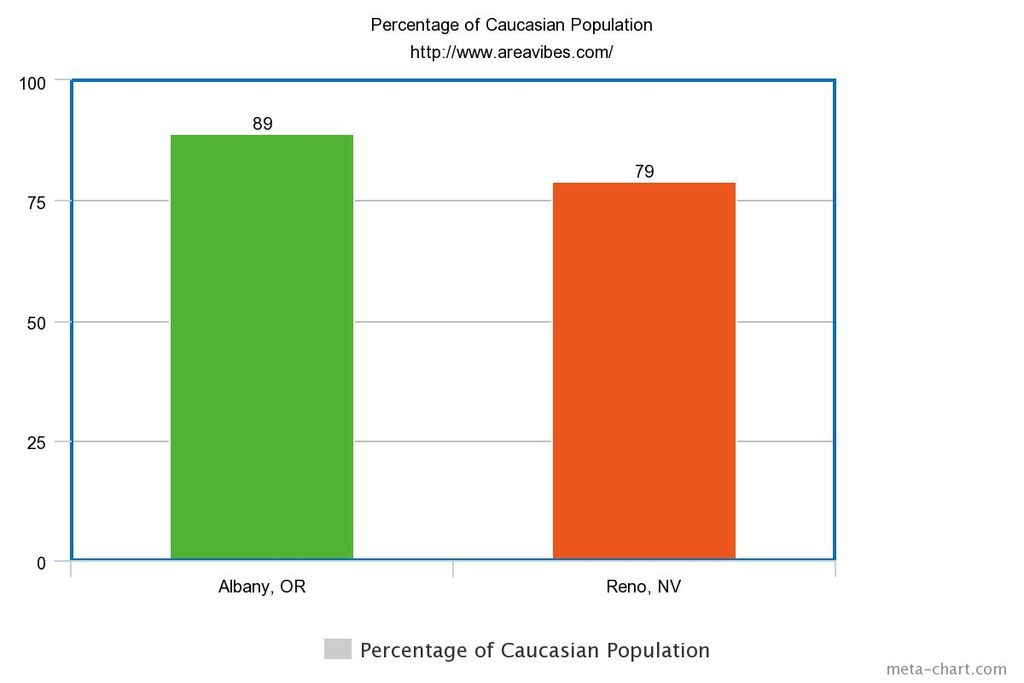 Crime Reports in these cities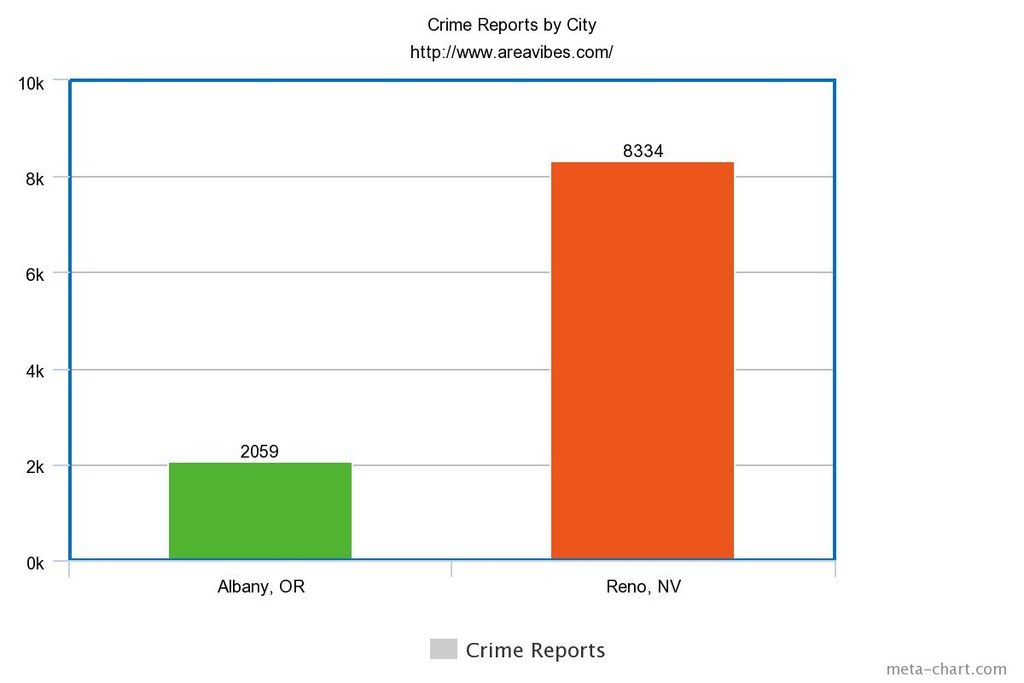 At this point, I start to think there might be some (notably unjust) predispositions to how police interact with those they come across.
Citizens of the United States should be able to predict how police will act in any situation
Let it be known, I'd like to hold our police to higher standards, and expect them to act with accountability no matter where they are. Inability to predict how police will act leads to fear, which leads to so much more.
Unfortunately, because we don't have this accountability, we see youtube filled with hundreds of videos of people testing their limits with police officers. Because even though we have laws which protect us and state what rights we do and don't have, we still don't know what's going to actually happen when we exercise those rights.
And now I'll share with you the original videos which were used as source material for the viral video at the top.
In both videos:
The citizens:
* Legally and openly carry an AR-15 weapon
* State they are recording
* Ask if they're being detained
* Legally refuse to provide identification
All actions they are completely within their rights to do.
It's immediately obvious that the policeman has no intent to harm or detain the citizen in this video. He approaches them, his weapon still holstered, and asks them the expected questions.
The guys are a bit too excited to be confronting an officer with their script ready in their heads. But they execute everything according to plan, if not a bit stupidly.
It's not clear if anyone outside the group brought them to the police department's attention. It seems the officer was just driving by and stopped them. In the other videos, they were called in.
He still tries to get their information, as much as he can. And he does eventually inspect the rifle, but offers the man a choice in taking it off himself or letting the officer remove it from his body.
This is one difference I've seen in this video versus videos where minorities are stopped while legally carrying. All the minority citizens are asked to keep their hands away from the weapon, while the white citizen is offered the option to hand it to the officer.
This situation is disappointing. It shows a clearly racist interaction with the police, where a weapon was immediately aimed at the civilian who was legally carrying his weapon. He was told he was being detained, but not arrested. And then backup was called.
In this video it's stated that another civilian called in saying they saw the man with the rifle and reported it.
I REALLY want to know what the first officer on the scene said into his communications-unit to elicit such a backup response. But I doubt we'll ever really know, unless someone wants to do some serious audio detective work on that video. Unfortunately the civilian is talking about his situation.
The civilian clearly explains his situation and the officer tells him "you have no idea what you're talking about."
So yes, this is racist and needs attention.
But now you know exactly what happened, where, and when.
Here are two more interesting videos where a minority is carrying a weapon openly and legally.
This man walks through Santa Ana, CA with a handgun and a rifle. Legally. They are registered to him.
Apparently he called himself in, to create a response. He is approached by several officers, he offers no personal information, refuses identification. All within his rights.
He is told not to reach for his weapons, they are inspected, and they are returned to his body by the officers, until one snarkily tells him to put it on himself. Then he is told he can go on his way.
It should be stated this is no longer legal to do in California.
It's a short video, and unfortunately I couldn't find the original source for this video. But I still find it very interesting that he's not stopped while several officers have noticed him. I am curious to know what happened after the video ended.
Apparently this man was also arrested previously during an open carry rally. [link]
This post was created by a member of BuzzFeed Community, where anyone can post awesome lists and creations.
Learn more
or
post your buzz!