Dwyane Wade Visited Florida's Stoneman Douglas School After One Of The Students Killed Was Buried In His Jersey
"Dwyane Wade had a longer, more personable conversation with us than the secretary of education," one student told BuzzFeed News.
by
,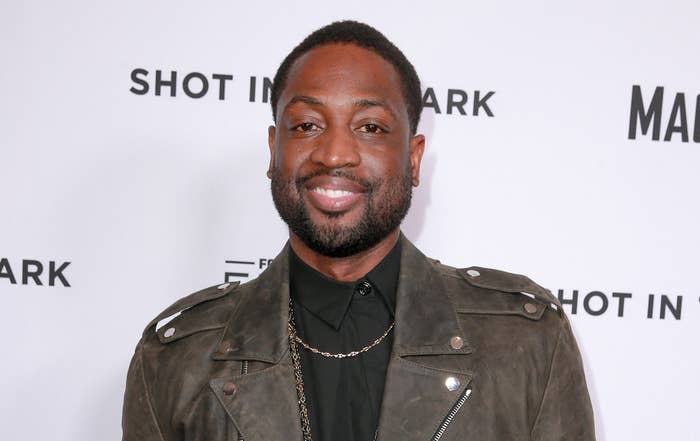 Wade has dedicated the rest of his season to Oliver's memory.
On Wednesday, stunned students at the Parkland school pulled out their phones as Wade toured through their cafeteria.
"I just wanted to stop by ... First of all, I'm so excited to be back in the city and the state," Wade said to massive cheers. "I just wanted to come here today and hopefully for a moment, for a second, bring a little of this — bring a little excitement.

"I just wanted to come and say I'm inspired by all of you," he continued.
"As someone out here in the public eye, I'm proud to say I'm from this state because of you guys and because of the future of this world because of you guys.
"So, I'll just say, thank you, man. MSD strong, all the way. Thank you all for the love."

BuzzFeed News has reached out to Wade's representatives for further comment.

Students expressed gratitude to Wade for visiting them and supporting their cause, and Wade — whose foundation provides services to children in the Chicago, South Florida, and the Milwaukee areas — said he was moved by their activism.
Earlier in the day, Secretary of Education Betsy DeVos also visited the high school, but students criticized her for refusing to answer questions about her stance on gun control in schools.
"Dwyane Wade had a longer, more personable conversation with us than the secretary of education," Jaclyn Corin, 17, told BuzzFeed News.
"It is a clear display of how much some politicians truly care about us. It's almost as if Trump sent DeVos here to make it 'seem' like the White House cares. He could've come to our school weeks ago himself when he visited Mar-a-Lago, but clearly he values golf over kids' lives."
Corin also tweeted about the two visits.
According to the MSD school newspaper, the Eagle Eye, Wade also met with leadership classes during his visit.

Senior Julien Decoste, a close friend of Oliver's, said he knew his friend was "up there going crazy right now, so I know he's happy."

It's not the first time Wade has found himself in the national spotlight over gun violence.
During the 2016 election, President Trump tweeted about the death of Wade's cousin in Chicago in a bid to win the support of black Americans.
"On one hand, your cousin's death is used as a ploy for political gain," Wade later said. "I was grateful that it started a conversation, but on the other hand, it just left a bad taste in my mouth because of what my family is dealing with."
Wade also connected the Parkland students' experiences with his own in Chicago, according to the Eagle Eye.
"Growing up in Chicago and seeing Chicago now today, I'm 36, and it hasn't changed … it's only gotten worse," Wade said. "I understand the power of my voice ... I speak for the ones that don't have a voice."
CORRECTION
Seventeen people, including students and faculty, were killed in the Parkland school shooting. An earlier version of this post said they were all students.