Cheesy Pull-Apart Bread With Tomato Soup Fondue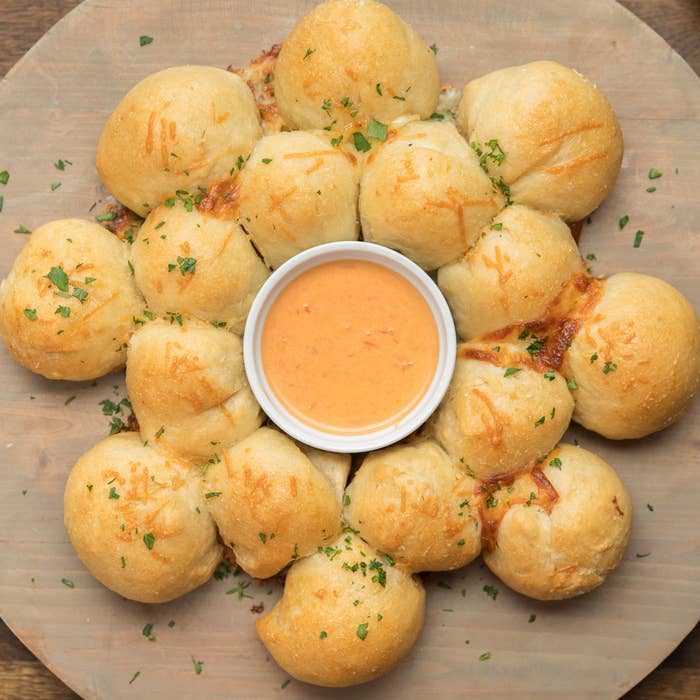 PREPARATION
Servings: 8–10
INGREDIENTS
Cheesy Pull-Apart Bread
24 ounces pizza dough
9 slices Cooper Sharp White American Cheese, stacked and cut into 1-inch cubes
½ cup butter
2 cloves garlic, crushed
½ cup grated parmesan
Salt
Tomato Soup Fondue
Olive oil
1 clove garlic, crushed
1 pint cherry tomatoes, finely chopped
½ teaspoon red wine vinegar
½ cup chicken broth
1 ½ teaspoons cornstarch
1 ½ teaspoons water
1 cup cubed Cooper Sharp White American Cheese
Salt
Pepper
Garnish
Chopped parsley
PREPARATION
1. Preheat oven to 375℉.
2. Cut the dough into 1–2 ounce pieces. Flatten one dough ball in the palm of your hand.
Place a cube of cheese in the center and fold the edges over to cover it, pinching to seal
it closed. Repeat with the rest of the dough.
3. Place a ramekin in the middle of a parchment-covered baking sheet. Place the dough
balls ½ inch apart and make two rings around the ramekin to form a wreath.
4. In a bowl, melt the butter and add the crushed garlic, then brush the garlic butter mixture
over the top. Sprinkle with parmesan cheese.
5. Bake for 20–30 minutes until the dough is golden brown.
6. To prepare the tomato soup fondue, add a drizzle of olive oil and the crushed garlic to a
saucepan. Sauté gently for 1 minute until fragrant.
7. Add chopped tomatoes and sauté for 6–8 minutes until soft.
8. Add red wine vinegar and broth. Simmer a few minutes longer until slightly reduced.
9. In a small bowl, mix cornstarch and water to make a slurry, then add to the tomatoes and
simmer for another minute until thickened.
10. Turn the heat to low and add cubed Cooper Sharp White cheese. Season with salt and
pepper. Stir until melted.
11. Once the wreath is out of the oven, spoon the tomato soup fondue into the ramekin and
brush the bread with another layer of the garlic butter mixture.
12. Finish with a sprinkle of chopped parsley.
13. Enjoy!