Winter Vegetable Chicken Pot Pies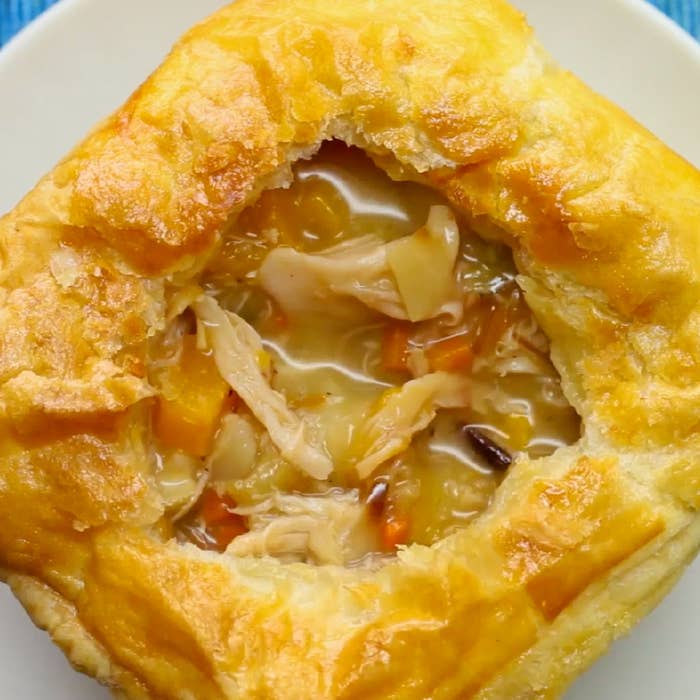 INGREDIENTS
Servings:  4
1 cup diced red potatoes
1 cup diced butternut squash
1 cup diced leeks
1 cup peeled diced parsnips  
2 tablespoons olive oil
Salt and pepper
3 tablespoons butter
1/2 cup diced onion
½ cup diced carrots
½ cup diced celery
2 tablespoons flour
2 sprigs thyme
16 ounces College Inn® chicken broth
1 tablespoon heavy cream
1 ½ cups cooked chicken
1 sheet puff pastry
1 egg, beaten
PREPARATION
1. Preheat oven to 425℉.

2. Place the potatoes, butternut squash, leeks, and parsnips on a baking sheet. Drizzle with olive oil and season with salt and pepper. Roast 25 minutes. Set aside.

3. Heat a large pot over medium heat. Add the butter and melt.  

4. Add the onions, carrots and celery. Cook until vegetables soften, about 3-4 minutes.  

5. Sprinkle the flour over the vegetables in the pot and cook about 1 minute.  

6. Add the chicken broth  and stir to combine. Sauce will thicken as it comes up to a simmer.

7. Fold in the heavy cream, cooked chicken, and roasted vegetables.  Season with salt and pepper.

8. Cut a sheet of puff pastry into 4 equal squares.  

9. Spoon the filling into 4 (6 ounce) ramekins. Top each with a piece of puff pastry.  

10. Brush the tops with egg wash. 

11. Bake at 425℉ for 25-30 minutes until tops of golden brown and puffed.