From Spotify to Tidal to Apple Music to iHeartRadio, there are so many music streaming services at our disposal in the year 2020, you'd be forgiven for letting one completely fly under your radar — in this case, a pretty major one: Amazon Prime Music Unlimited.
By upgrading to Amazon Prime Music Unlimited, however, you'll get access to, well, an unlimited library of songs (50 million to get technical on you) and a handful of curated playlists by real, live human beings.
Let it be known: Unlimited was delevloped with maximum integration in mind. Have an Echo/AVS device or Fire Tablet? Great. Not only will you be able to streamline the user experience and use your voice to control music playback ("Alexa, play 'Blinding Lights,' again!!"), but you'll also receive a reduced monthly fee, amounting to only $3.99.
There's even something audiophiles can appreciate: bright and crisp sound on every track with the option of moving to a Amazon Music HD plan for $14.99 per month or $12.99 per month with an Amazon Prime membership. While you already get pretty standout quality, HD will allow you to stream at 24-bit/192kHz, if this means anything to you!
Arguably, the shiniest feature of all is karaoke-like scrolling text that accompanies every song when you opt in to "lyrics." I finally sort of know what the Cocteau Twins are singing!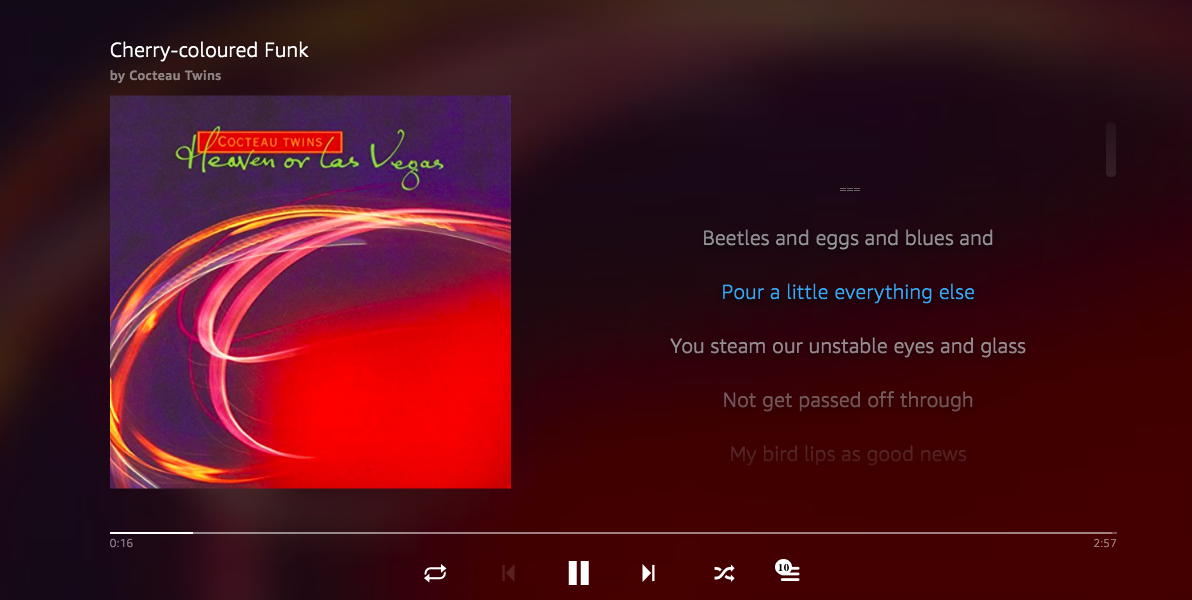 What are you waiting for? Get Amazon Music Unlimited for only $7.99/month for a monthly subscription or $79/year for an annual subscription, if you're a Prime member. Non-Prime customers pay $9.99/month. Or, if you want to do a bit of exploring first, sign up for a free 90-day trial. Happy listening from my WFH station to yours!