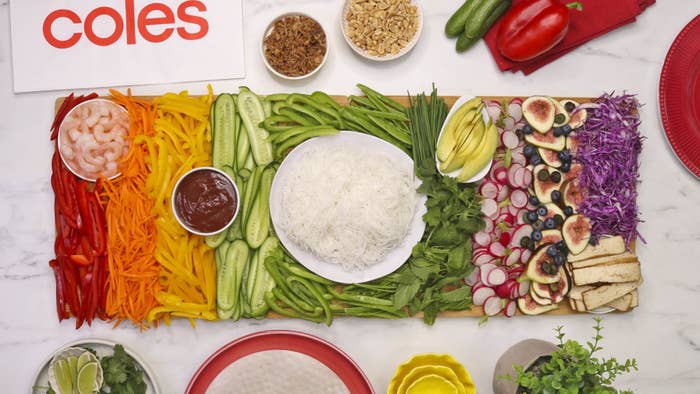 Ingredients
200g dried vermicelli noodles
375g rice paper wrappers
1 punnet Coles cherry tomatoes, halved

3 Coles carrots, peeled and shredded
1 punnet Perino gold tomatoes, halved
1 large Coles yellow capsicum, thinly sliced
1 large Coles red capsicum, thinly sliced

1 large Coles green capsicum, thinly sliced

2 Coles Hass avocados, peeled and sliced
1 cup Coles snow peas
1 packet Coles baby cucumbers, thinly sliced
1 Coles radish bunch, thinly sliced
¼ Coles red cabbage, shredded
3 Coles figs, thinly sliced
1 punnet Coles blueberries, halved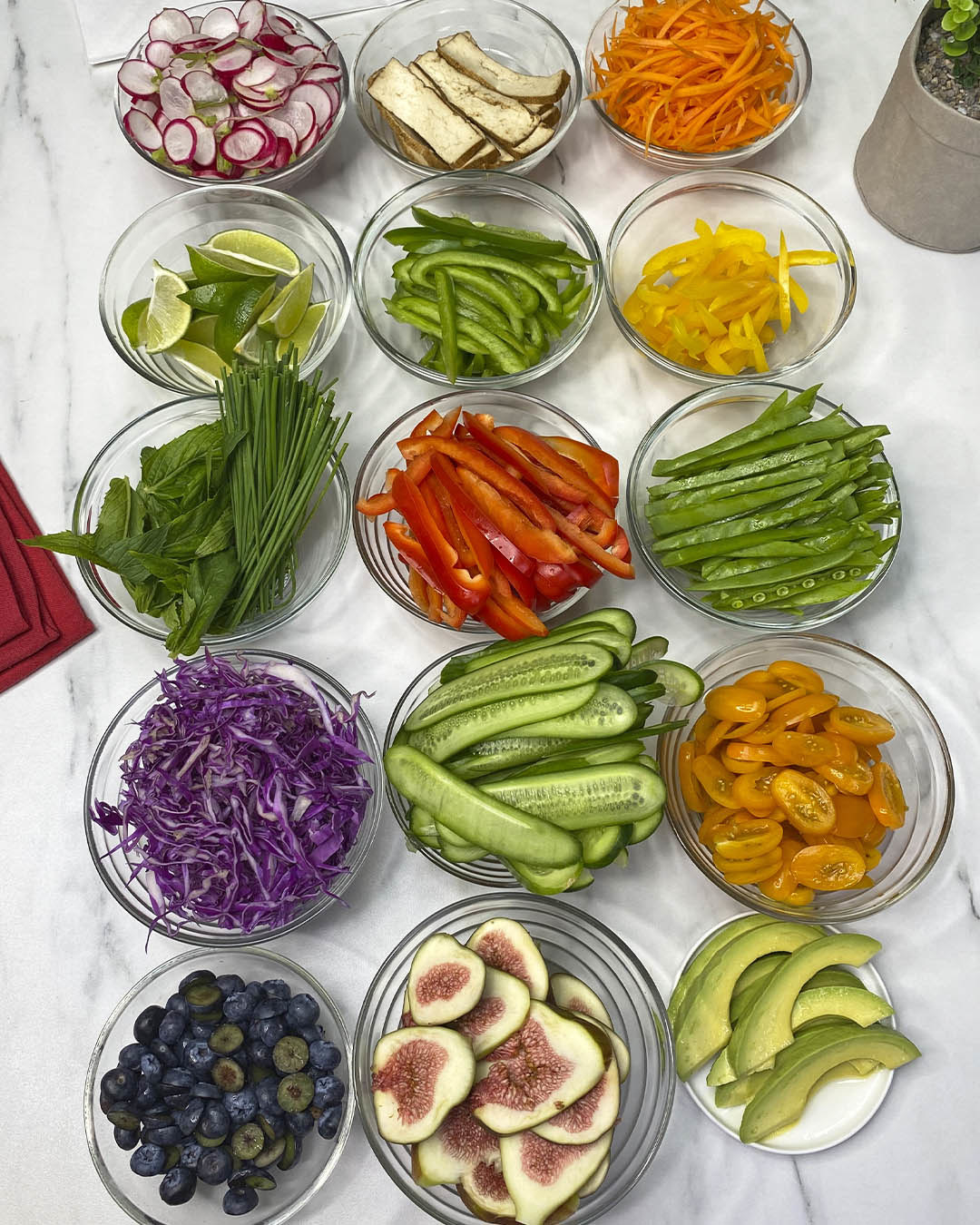 Method
STEP 1. Place vermicelli in a large bowl, pour over enough boiling water to cover completely and stand until vermicelli are tender (4 minutes). Drain well and set aside.
STEP 2. Cut and prepare all the vegetables and fruit and lay them out ready to arrange onto your serving board.
STEP 3. Slice the tofu block into thin slices.

STEP 4. Pour the sauces into small serving bowls.
STEP 5. Place the prawns into serving bowls.
STEP 6. To arrange the board, add the bowl of vermicelli noodles in the centre, and place the tofu and prawns at opposite ends to create an even spread.
STEP 7. Lay down the sliced fruits and vegetables in segmented colours to create a rainbow effect, starting from one end and making your way down, curving the produce around the bowls to fill up the entire board. Make adjustments where necessary and then add your garnishes in any empty pockets, or according to the colours of your rainbow.
STEP 8. To make the rice paper rolls, submerge the rice paper wrapper in warm water to soften for about 10-30 seconds and transfer to a clean surface. Place a small handful of noodles along the centre of the wrapper, add your choice of vegetables, fruit and protein, fold in ends, then roll to form a sealed wrap.
STEP 9. Dip in sauce and enjoy!