Glazed Grilled Chicken Kebabs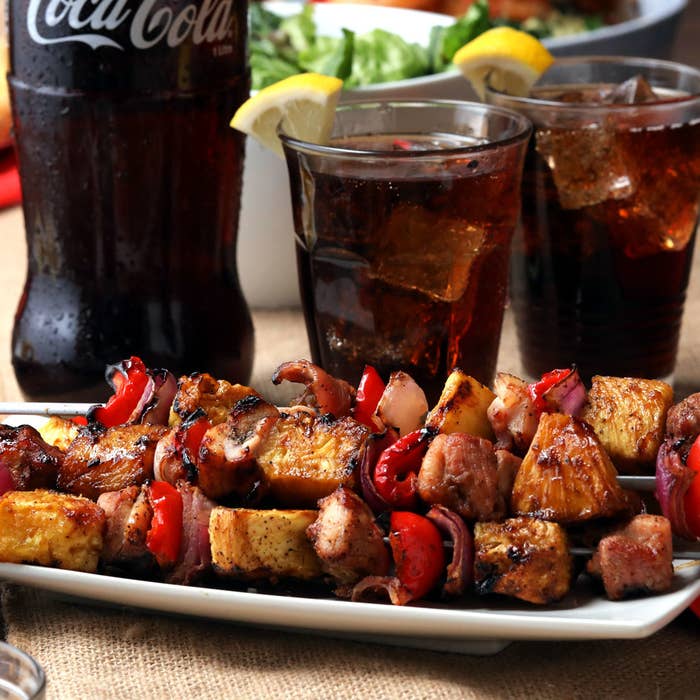 INGREDIENTS
Servings: 6
Sauce
750 milliliters Coca-Cola
2 cloves garlic
1 teaspoon fresh grated ginger
2 teaspoons ketchup
60 milliliters soy sauce
Kebabs
1 large red bell pepper, cut into large chunks
½ red onion, cut into large chunks
1 pineapple, core removed, cut into large chunks
675 grams boneless skinless chicken thighs
Salt and pepper, to taste
Wood or metal skewers (if using wood, soak in water for at least 1 hour).
PREPARATION
1. Pour the Coca-Cola into a small sauce pan and set to medium-high heat. Simmer the Coca-Cola until it reduces to a syrup, about 20 minutes. It should be thick enough to coat a spoon.
2. Turn the heat down to low. Add the soy sauce, garlic, ginger, and ketchup and stir to combine. Simmer 2-3 minutes. Remove from heat.
3. Alternate pieces of chicken, red onion, bell pepper, and pineapple on the skewers. Season with salt and pepper.
4. Heat a gas to medium heat and grill the kebabs, turning every 5 minutes until each side has nice grill marks.
5. The last 5 minutes of cooking, brush the kebabs with the teriyaki sauce and cook a few additional minutes on each side.
6. Serve hot. Enjoy!