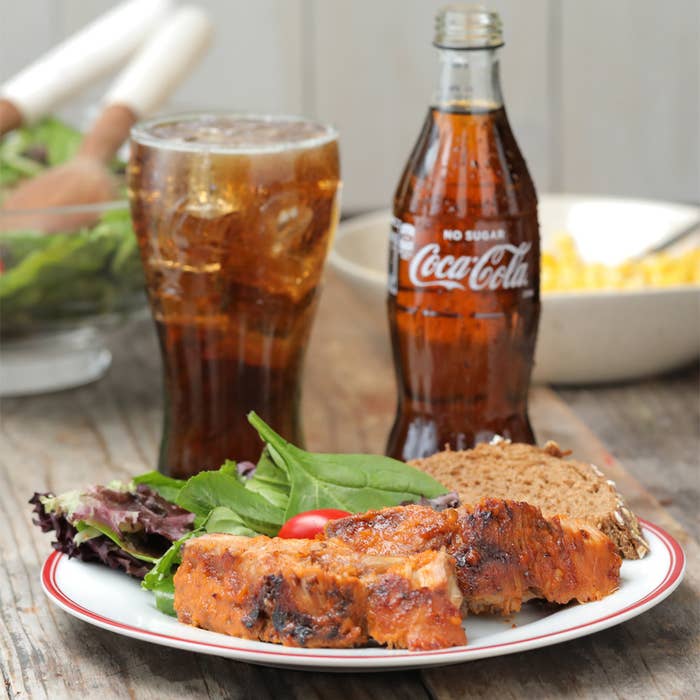 Servings 6
INGREDIENTS
2 x 330ml Coca-Cola Classic
1L Beef stock
1.7L water
1 cup brown sugar
1 large onion, quartered
6 cloves garlic, minced
2 bay leaves
1 tbsp whole black peppercorns
2 racks pork ribs
125g unsalted butter
1 small white onion, diced
1 clove garlic, sliced
1 cup spicy tomato sauce
1 ½ tbsp yellow mustard
¼ cup dark brown sugar
1 tsp Worcestershire sauce
PREPARATION
In a large pot add 1 x 300ml bottle of Coca-Cola Classic, beef stock, water, 1 cup brown sugar, onion, garlic, bay leaves, peppercorns and the ribs. Bring to a boil and reduce heat to a simmer, turning the ribs occasionally for 1 hour.
Preheat BBQ grill to high.
Meanwhile, combine the spicy tomato sauce, butter, onion, garlic, mustard, dark brown sugar, Worcestershire sauce, and 375ml Coca-Cola in large saucepan. Bring to boil then reduce to a simmer for about 25 minutes, stirring often until sauce has thickened. Season to taste with salt and pepper and let cool slightly. Using a blender, puree the sauce.
Remove the ribs from the pot, pat dry, and season with salt and pepper. Brush liberally with the sauce.
Grill, turning often, until charred on the outside, about 15 minutes. Reserve extra sauce for dipping and serve with Coke No Sugar.