68 Thoughts Everyone Had When They Were "The New Kid" In School
"Hey, are you new here?" No one knew your name, but everyone kept looking at you. The best way to handle it? Show everyone the real you. That's why CLEAN & CLEAR® is here to help.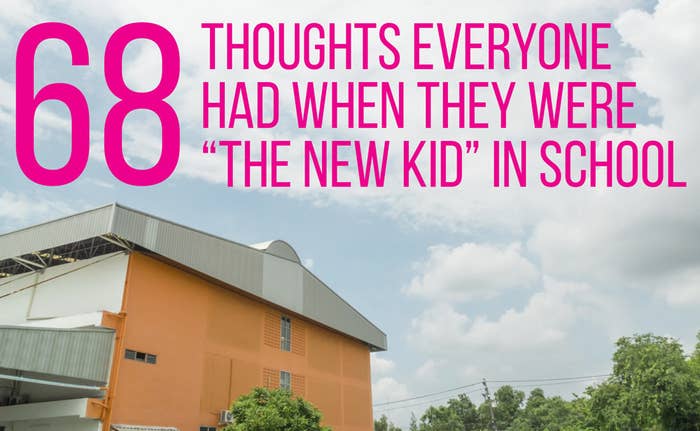 1. Everyone keeps staring at me.
2. I'll just smile 100% of the time.
3. Who loves giving casual head nods? Me, apparently.
4. Play it cool. Play it so cool.
5. Whatever happens, don't get stuck with a terrible nickname.
6. Just show the real you.
7. Wow. Is everyone just more attractive here?
8. This school reeeeeeally loves its school colors.
9. Phoenix is a strange mascot choice.
10. Hey, it's Alex!
11. WAIT. I'M IN A DIFFERENT SCHOOL NOW.
12. ALEX DOESN'T GO HERE.
13. I just waved to a stranger.
14. I just waved to a stranger.
15. I just waved to a stranger.
16. I am the coolest.
17. Hide. Find your locker and hide.
18. UGHHHHHH. I can't even get it open.
19. Guess I'll carry all my books?
20. This won't look awkward.
21. Maybe a jock will wanna help me?
22. OR I COULD JUST OPEN THE LOCKER THAT'S ACTUALLY MINE.
23. GUYS, I GOT THIS.
24. My jacket is too puffy.
25. My sneakers are stupid.
26. My lip gloss is not poppin'.
27. ...but there are club sign-ups!
28. I'm going to join EVERYTHING.
29. New year. New school. New me.
30. Yes, Attractive Editor Person, I'd like to join Newspaper.
31. The bell sounds so weird.
32. It's like a sad alarm clock.
33. I am kinda excited for class.
34. Is that crazy?
35. 'Cause I got that summer reading read.
36. Morning announcements are so awkward.
37. This day is FLYING.
38. I haven't even tripped once.
39. People don't push in the halls here.
40. We just walk like normal humans?
41. Lunch. Ugh. Why does it have to be lunch.
42. This cafeteria smells weird.
43. I will take that pile of food.
44. Oh man, there's literally nowhere to sit.
45. Maybe outside?
46. NOPE.
47. Well, I guess this spot on the floor isn't so bad.
48. Wait. Is that dude waving at me?
49. PEOPLE WANT ME TO SIT WITH THEM.
50. Friends? Are these friends?
51. OK, just keep playing it cool.
52. BYE NEW FRIENDS.
53. Mom will be glad to hear that.
54. How long before I'm no longer "the new kid"?
55. Longer than a day?
56. Probably longer than a day.
55. Whatever school I'm in... still bad at French.
56. No no no, I'm lost in this maze again.
57. Orientation really should have oriented me a little better.
58. If I lose my schedule or my map, I will be so lost.
59. By the next six weeks, I'll have this down.
60. Math? Is this Math?
61. OK. I'm going to sit in this seat and hope that math happens.
62. This teacher pronounced my name right?
63. She's clearly a genius.
64. I will never get used to that bell.
65. But the people? The classes? The school? I GOT THIS.
66. Yup. New kid no more!
67. Walkin' with all the confidence.
68. Wait. HELP. I'm lost again.