1.
Or a lightweight four-position suspension beach chair that's easy to transport and features tons of convenient perks (cupholder, back pouch, and pillow) at a more budget-friendly price point.

Note: This chair weighs only 8 pounds, is foldable, adjustable, and has back straps so it's easy to carry. 

Promising review: "Everything is easy, super comfortable and the backpack feature is so convenient. Super light, too! I liked it so much I bought another and all of my friends ask for the link to buy one." —G.L.A.
Get it from Amazon for $52.73.
2.
A set of two adjustable, zero gravity recliners with detachable cupholder trays and built-in pillows for optimal lounge potential. I can see you now: laid back, cold beverage by your side, catching some rays and much-needed Z's at the beach, by the pool, or chillin' in you backyard.
Note: These chairs can support up to 250 pounds.
Promising review: "My patio is decorated in lime green and orange. I bought two sets of these in those colors. They look amazing and feel super sturdy and comfortable. The "new" tray for drinks, phone etc. is SO much better than the old ones that slid out from underneath. At this price, and given the color choices, it is really a perfect upgrade for my needs!" –Jana Cooley
Get the set of two from Amazon for $99.99+ (available in 23 colors and designs). 
3.
A splurge-worthy Sunflow beach bundle, which includes a stellar beach chair and all of the bells and whistles you could possibly want with it. Shader attachment? Yup. Cupholder? For sure. Backpack straps, attachable dry bag, and sunglasses case? Yes, yes, and yes. Retro-printed towel and insulated water bottle? You betcha!
Note: The chair can support up to 250 pounds. The chair and all of its attachments are also all sold separately: check out the chair here and the attachments here. 

I own and adore this beach bundle. Though I haven't properly broken it in on the beach yet, I've enjoyed setting it up in my backyard on occasion and basking in my spring fever. The chair is comfy and well-made and all of the attachments are must-haves, IMO. The shader and back straps are super convenient, the size of cupholder is adjustable, the holders and baggies keep your goodies dry, and the towel and water bottle are simply adorable. As a New Jerseyian through-and-through, I am itching to use this bundle ~down the shore~ this summer. 
Get the beach bundle from Sunflow for $296 (the chair is available in 25 colors and prints).

4.
An Ostrich chaise lounge for the beach because – well – why not? This lounger even features a face cavity and arm slots, so you can read your book or scroll through your phone while your back gets some sun. FYI: a person to feed you grapes and fan you with a banana leaf is *not* included. 
Note: This chaise lounge can support up to 250 pounds. 
Promising review: "This is great. It's lightweight and folds up nicely to take in and outside when needed. It's comfortable and I'm excited to use it this summer."—Kristin campos
Get it from Amazon for $52.19+ (available in four colors and prints, and with or without an umbrella). 
5.
A chic, low-profile beach chair from Sunday Supply Co. to sit your buns in the sun in style! This lil' number has a fade-, water-, and tear-resistant cushion, so not only will your chair look good, it'll also be insanely comfortable and suitable for beach naps. 
Note: This chair can support up to 220 pounds. It also comes with a convenient carrying strap and storage pocket. Aaand you can even pair this chair with a matching umbrella.

Promising review: "I take this cutie chair with me to the beach almost every day. It's so stylish and lightweight. I love it!" –LIVVIIIIII
Get it from Sunday Supply Co. for $139 (originally $169, or check out their full selection of beach chairs here). 
And by the way, we've got you covered with plenty of other products that'll upgrade your next beach trip. 
6.
A totally groovy rainbow sling chair with a polyester, hammock-style seat that's giving off nothing but ~good vibrations~. Kick back and chill out with some tunes, man.
Note: This sling chair can support up 250 pounds, has three reclinable positions, and should be stored indoors when not in use. 
This retro artwork was done by Alisa Galitsyna, a Ukrainian artist living in Spain that creates art inspired by nature, textiles, interior design, and more. You can find her artwork on wall prints and canvas in her Society6 shop. 
Promising review: "Perfect!! Love my sling chairs!" –Mary H.
Get it from Society6 for $146.40 (originally $179).
7.
A portable sunshade beach chair, sure to provide some shady relief on those sweltering summer days (without having to dig an umbrella into the sand - huzzah!). It also reclines into four positions and has mesh backing for some breathable comfort. 
Note: This chair can support up to 250 pounds. It also has backpack straps, a cupholder, pillow, and a roomy storage pouch for of your essentials. 
Promising review: "This chair is awesome! A little stiff when first 'opening' the chair, but I am in love. My husband relies on a wheelchair, so I have to push him in a beach wheelchair over the sand. This backpack chair is light and easy to carry. I also love the shade so that I don't have to carry an umbrella. (Husband is a sun worshipper, so he doesn't need one.) This chair rocks and is a lifesaver! Worth every penny..." –Bevysc
Get it from Amazon for $69.60.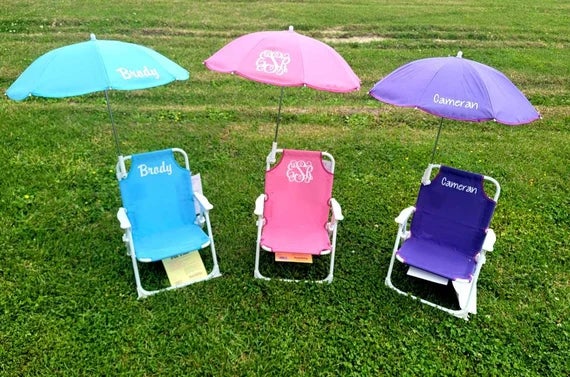 Kustom Creations Gifts / Etsy
Kustom Creations Gifts is a small business based in Louisiana that makes custom printed items like T-shirts, purses, party supplies, and – you guessed it – beach chairs! And if you like this, be sure to check out some of other genius beach products for parents.
Note: These chairs are recommended for children aged 2–4.
Promising review: "Loved my chairs for my twin granddaughters. The customer service was really great and I received them when I needed them (because we were leaving for the beach). Also the monogram was just what I ordered." –Linda kostorick
Get it from Kustom Creations Gifts on Etsy for $44.99 (available in two colors and in a wide variety of styles and fonts). 
9.
A Coleman camping chair with its own table and built-in cupholder, so there's less of a chance of you dropping your lunch in the sand. Just be sure to keep your food covered because seagulls can be ruthless.
Note: This chair can support up to 225 pounds.
promising review: "This is a great sturdy chair! I took it on vacation and to the beach and it was so easy to get in and out of! Opening was quick and easy, closing up was a bit tougher but not bad. I think it's what makes the chair so strong. The attached table was a nice convenient touch and added to the overall enjoyment of the chair." –SallySigns
Get it from Amazon for $65.99.
10.
A suspension beach chair with a tropical print made from UV-resistant fabric for some added protection against those toasty rays. You know what else protects against toasty rays? The insulated pouch on the back that'll keep your snacks cool and your drinks frosty. Beach bliss: achieved.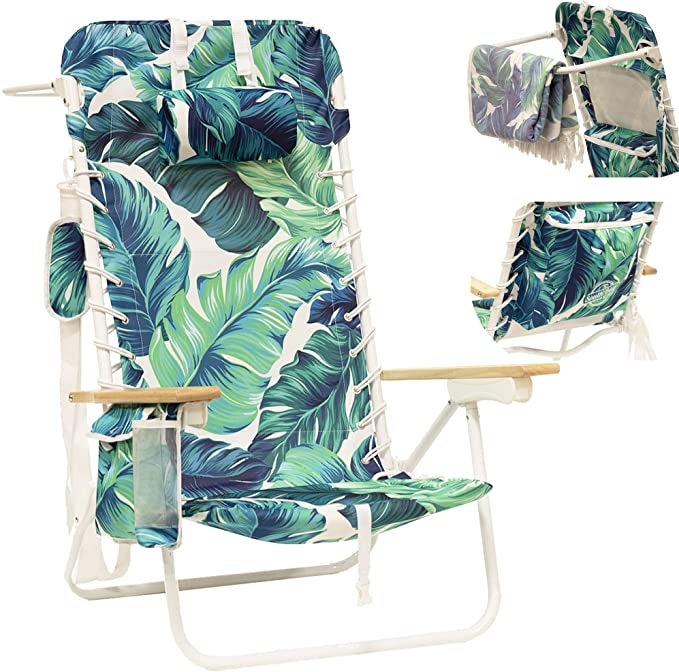 Note: This chair can support up to 300 pounds and reclines into three positions, has a drink holder, storage pocket, carrying straps, and a hanging rack for towels and wetsuits. 
Promising review: "This beach chair is a VIBE. Love the pattern and I have the matching umbrella to go with. I really appreciate the carrying strap for getting to the beach and the built in cooler." –V3nture
Get it from Amazon for $109 (available in six styles and as a two-pack). 
11.
Or a basic camping chair with a cooler pouch and a handy dandy carrier you'll bring along everywhere, whether it's a day at the shore or a picnic in the park.
Note: The standard size chair can support up to 250 pounds, while the XL chair can support up to 300 pounds. It also comes with a cupholder and built-in cooler pouch.
Promising review: "Bought them to take to the beach with us last year, but they are so compact, I just keep them in the trunk all the time now so when we pop over to the Lake for the weekend or head out to the mountains on a Saturday, they are easy to grab and pop open by the water. Love the cooler inside the arm rest. Have small ice packs that I put in there with my drink, then the cupholder is on the other arm rest." –Amazon Customer
Get it from Amazon for $26.99+ (available in three styles and two colors, as well as a size XL). 
12.
An Ostrich deluxe chair that'll make you wonder why your beach chairs of the past never included footrests (let alone footrests with three adjustable positions). 
Note: This chair can support up to 275 pounds. It also has five adjustable reclining positions (including "flat"), the signature Ostrich face cavity and arm slots, as well as a handy cupholder and carrying straps. 
Promising review: "We adore these chairs. We live in Florida and, as you can imagine, are at the beach quite often. Well for a good couple of years I've been saying that I was going to upgrade our beach chairs to optimize our beach days. I've been searching high and low for the right combination of features, including sturdiness, lightweight, and quality. These chairs fit the bill! The footrest was very important to me as was expected lifespan of the chair. To be fair, we've used them once and only time will tell if they hold up for years. Butttt, they ARE lightweight AND comfortable, while ALSO having a sturdy footrest. They are an investment for sure, but I'm very happy right now, so I had to come tell the internet lol." –Lauren S
Get it from Amazon for $112.46+ (available in five colors).
13.
A portable and inflatable Aero Chair, the ideal companion for your beach days, lake trips, and boat outings. It's made from durable materials that'll actually support your booty, so you won't feel like you're sitting on a flimsy pool floaty. 
Note: The chair can support up to 225 pounds, the chair XL can support up to 350 pounds, and the couch can support up to 500 pounds. It features a carrying strap, as well as a side storage pocket. You can also pick up some cool and convenient accessories for the Aero Chair, like a foot pump, cup holder, and a cooler.
Promising review: "This inflatable chair is very durable. I use it to hang out on my dock, but plan on buying the Bote inflatable dock to use it on there as well. The side pocket is great for storing cell phone and other valuables. I bought the cup holder as well. Love this chair!" –Kimberly R.
Get it from Bote for $169+ (available in two chair sizes).