Clamato Michelada with Mango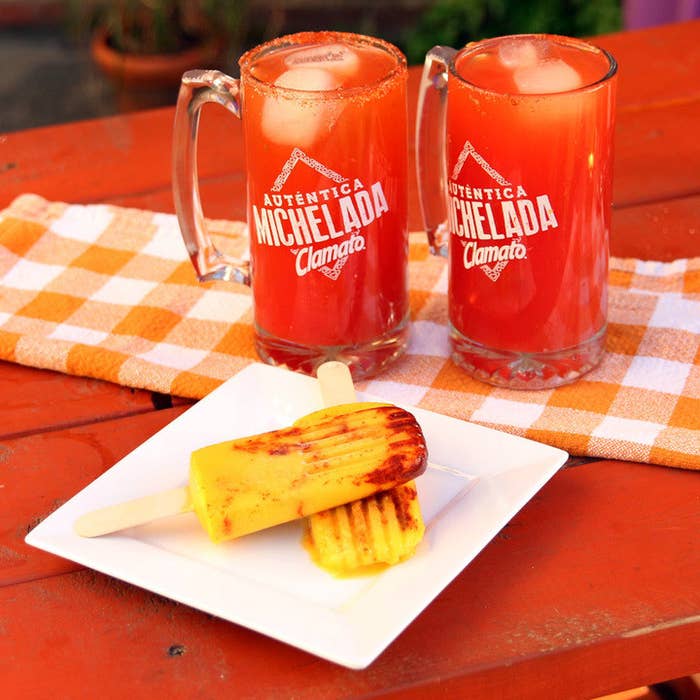 INGREDIENTS
Servings: Makes 6 popsicles
Mango Popsicles
2 cups diced mango
2 cups orange juice
2 teaspoons lime juice
1½ teaspoons chili powder
Clamato Michelada
Juice of 1 small lime
2 dashes hot sauce
¼ cup cilantro leaves
½ teaspoon salt
Pinch black pepper
4 ounces Clamato Original
1 (12-ounce) bottle of beer
Rimming Spice Blend
3 teaspoons fine ground sea salt
Zest of 1 lime
Large pinch of ground cayenne pepper
Lime wedges
PREPARATION
1. Blend the mango, orange juice, and lime juice until smooth. 

2. Fill popsicle mold halfway with mango. 

3. Dust ¼ teaspoon of chili powder into each of the popsicle molds.

4. Swirl chili powder with popsicle stick.

5. Fill mold with mango mixture.

6. Freeze for at least 3 hours. 

7. To rim glass combine salt, lime zest, and cayenne. 

8. Rub a wedge of lime over the top edge of each serving glass.

9. Dip rim of glass into juice lime, then dip carefully into zest blend.

10. In a shaker, muddle the lime juice, hot sauce, cilantro leaves, salt, and pepper. Add the Clamato and some ice. Shake thoroughly.
11. Strain into a tall glass over ice. Top with beer.
12. Garnish with the mango popsicle. 

13. Serve and enjoy!