Clamato Michelada with Grilled Shrimp & Pineapple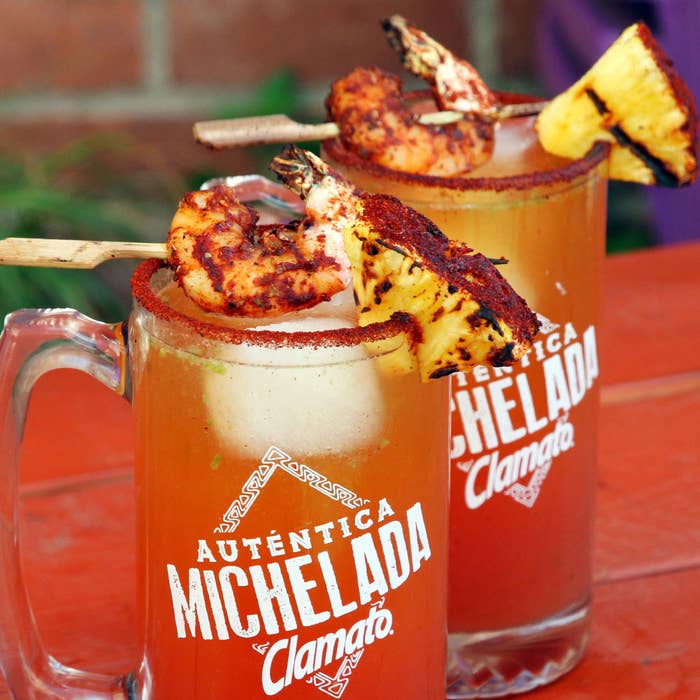 INGREDIENTS
Makes 4 servings of shrimp
Grilled Shrimp and Pineapple
¼ pound jumbo raw shrimp, cleaned, tails on
½ teaspoon chili powder
¼ teaspoon cumin
½ teaspoon paprika
¼ teaspoon oregano
½ teaspoon garlic powder
Salt and pepper, to taste
4 pineapple spears
1 lime wedge
Clamato Michelada
½ jalapeño pepper, seeds removed
1/2 cup Clamato Original
1/2 cup pineapple juice
½ teaspoon salt
Pinch black pepper
Ice
1 (12-ounce) bottle beer
Rimming Spice Blend
Chile powder
Lime wedges (as needed)
PREPARATION
1. Combine chili powder, cumin, paprika, oregano, and garlic powder. Sprinkle over the shrimp and season with salt and pepper. Toss to combine.

2. Heat a grill or grill pan over medium-high heat. Grill the shrimp 2–3 minutes per side until firm and pink. 

3. Squeeze the lime over the pineapple and grill until marked. Cut the pieces into a 1–2-inch piece.

4. Add the Clamato, jalapeño, pineapple juice, salt, and pepper to a blender. Blend thoroughly. 

5. To rim glass, put chili powder onto small plate.

6. Rim top of glass with lime wedge, then dip carefully into the chili powder.

7. Pour Clamato mixture in glass and top off with beer.

8. Skewer grilled shrimp and pineapple. Garnish the glass with the skewers. 

9. Serve and enjoy!