Authentic Clamato Michelada with Bacon Jalapeño Poppers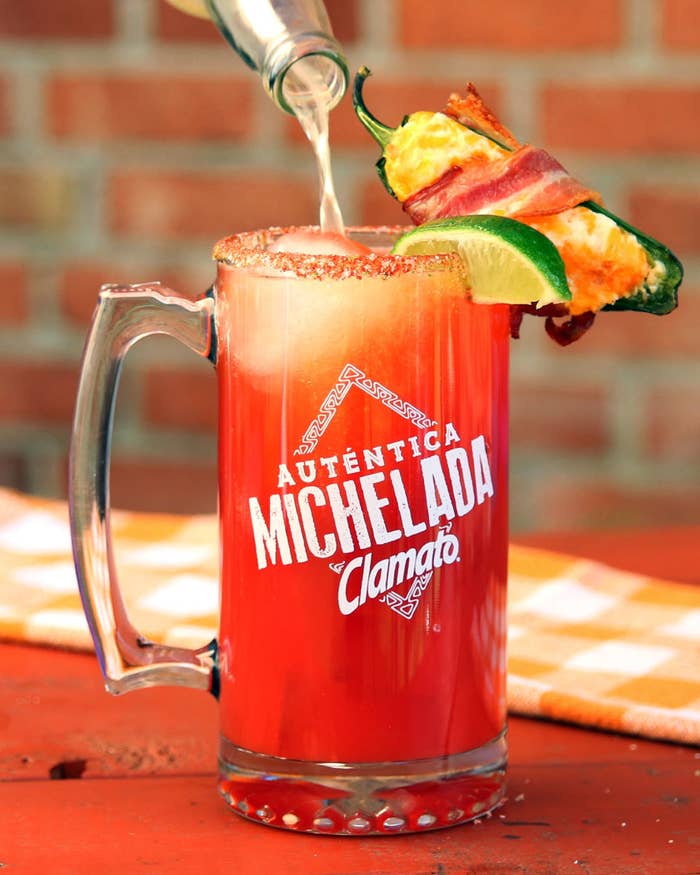 INGREDIENTS
Servings: 6 jalapeño poppers
Rimming Spice Blend
4 tablespoons kosher salt
2 teaspoons chili powder
Lime juice (as needed)
Authentic Clamato Michelada
Ice
4 ounces Clamato Original
Juice of 1 small lime
2 dashes hot sauce
1 dash Worcestershire sauce
1 (12-ounce) bottle of beer
Lime wedge, garnish
Bacon Jalapeño Poppers
4 ounces cream cheese, room temperature
2 ounces shredded cheddar cheese
1 clove garlic, finely chopped
1 tablespoon chopped cilantro
Salt and pepper, to taste
3 jalapeño peppers
6 pieces bacon
PREPARATION
1. Preheat oven to 400℉/200℃.

2. Cut the jalapeños in half lengthwise and remove seeds with a spoon (Wear gloves for safety when handling jalapeños).

3. Combine cream cheese, cheddar cheese, garlic clove, cilantro, salt and pepper in a small bowl.  

4. Fill each half of a jalapeño with cream cheese filling. Wrap with one slice of bacon.  Place on a baking sheet and bake 15-20 minutes until bacon is crispy.  

5. In a shaker with ice, add the Clamato Original, lime juice, Worcestershire sauce, and hot sauce. Shake well. 

6. To rim glass, combine kosher salt and chili powder onto small plate.

7. Pour lime juice onto a separate plate.

8. Dip rim of glass into juice lime, then dip carefully into spice blend.

9. Strain shaker into the glass over ice. Top with beer.  

10. Garnish with the jalapeño popper.

11. Serve and enjoy!