* Narration - Sin. I wonder what the narrator looks like??
* "The most extraordinary season ever" - Masterchef every season.
* Yes Im keen for Heston.
* They go to Japan yass.
* Fk I just had dinner but I'm getting so hungry just from the introduction
* It's filmed in Melbourne ew #sydney for life. #jks Melbourne is ok i guess
* Overly dramatic shots showcasing the kitchen for the contestants to cook in. Tomato's never looked so intimidating.
* Yes clapping for the judges.
* OH MY GOD MATT'S FACE!!! (I would be more shook but I have seen pics of him on fb)
* Gary's tie looks like Adriano Zumbo threw up on it when channel ten didn't re-new his contract.
* George looks classy as always - best dressed in my opinion.
* Matt's still rocking the cravats - Now that would be the most extraordinary season - we see what Matt's neck looks like (I think it would be terrifying honestly).
* No limits as to how many aprons (basically saying if you don't get one of these you're really shit - go try out for My Kitchen Rules).
* Dramatic shots of crowd.
* "You have to have balance you have to have steel" - George I am going to get this tattooed on my face.
* Shots of happy people clapping - bitch none of you have gotten in yet.
* Is it just me or is the waiting room less dingy than last year?
* Second chances are a thing.
* Michelle is 19 and a first year uni student? What a show off.
* Yeah like Michelle has been randomly selected to go first.
* Omg she is the golden ball gal from the ads!.
* "The golden ball just came into my mind. I don't know where the idea came from." (I tried to put in a gif of Jim from the Office as golden face and this point doesn't work if you can't see that lol)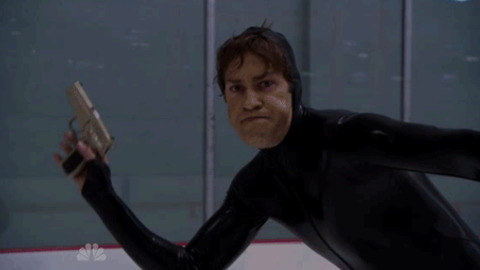 Final thoughts
* I enjoyed the episode - excited for them to get into the real kitchen.
* I think they should just get rid of everyone who has a second chance.
* None of the judges have seemed to gain an obscene amount of weight over the break so that's good. #proudofthem
Tweets I liked
This post was created by a member of BuzzFeed Community, where anyone can post awesome lists and creations.
Learn more
or
post your buzz!