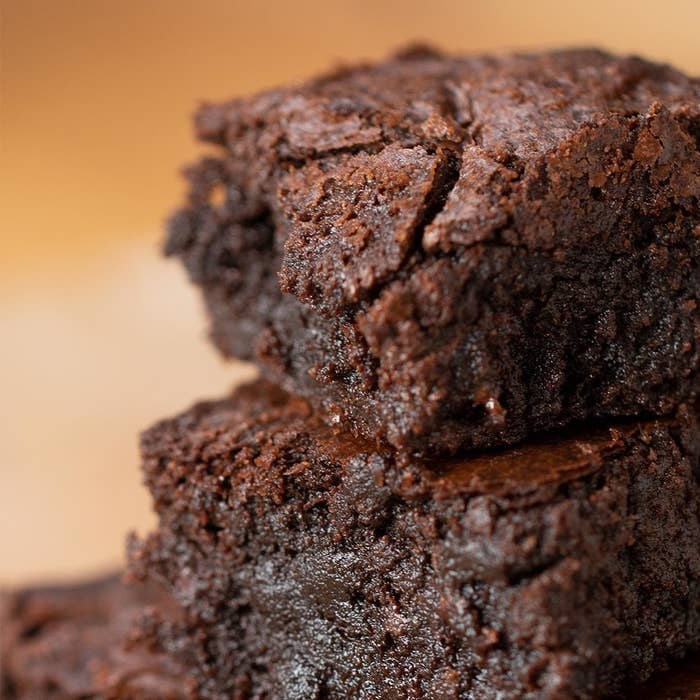 Ingredients:
for 16 brownies
1 cup unsalted butter, 2 sticks (230 g)
1 ½ cups semi-sweet chocolate chips, or dark chocolate chips, divided (260 g)
1 ½ cups granulated sugar (300 g)
¾ cup brown sugar (165 g)
1 tablespoon vanilla extract
1 teaspoon salt
3 large eggs
1 ¼ cups all-purpose flour (155 g)
⅓ cup dark cocoa powder (40 g)
nonstick cooking spray, for greasing
Preparation:
1. Preheat the oven to 350˚F (180˚C).
2. Add the butter and 1 cup (175 g) of chocolate chips to a large microwave-safe bowl. Microwave for 1½ minutes, then let sit for 3 minutes before whisking together.
3. Add the granulated and brown sugars, vanilla, and salt. Whisk to combine.
4. Whisk in the eggs until fully combined.
5. Sift the flour and cocoa powder into the bowl and fold in with a spatula. Add the remaining chocolate chips and fold to incorporate.
6. Line a 9-inch (23-cm) square baking pan with parchment paper and grease with nonstick spray. Spread the batter evenly in the pan.
7. Bake for 35-40 minutes, until a toothpick inserted in the center comes out with a few moist crumbs attached.
8. Let cool completely before cutting.
9. Enjoy!