Slow-Cooker BBQ Pulled Chicken, 4 Dishes
BBQ FOR DAYS.
Slow-Cooker BBQ Pulled Chicken, 4 Dishes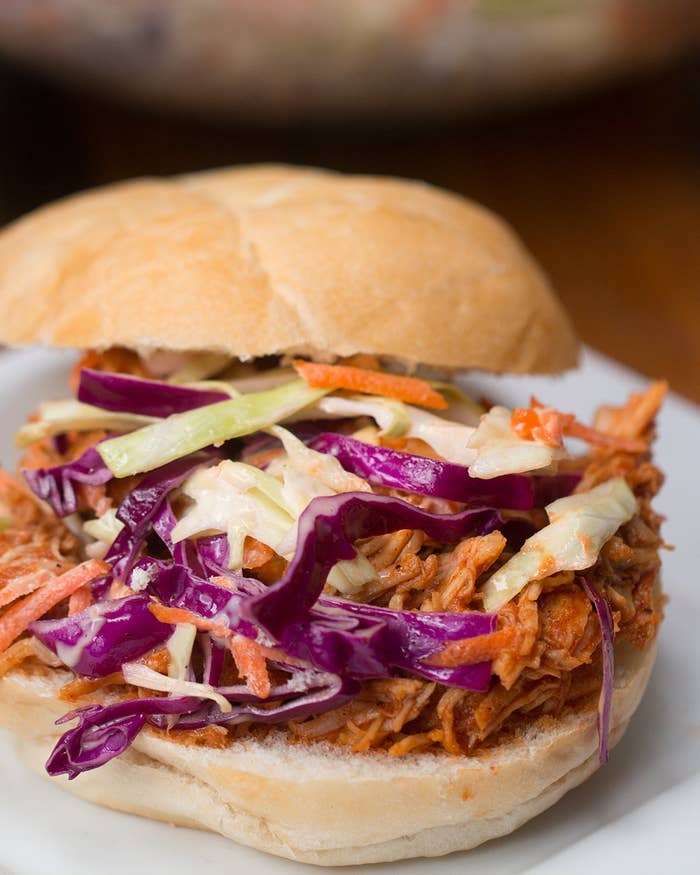 INGREDIENTS
Servings: 6-8
4 chicken breasts
8 burger buns
BBQ Sauce
1 ½ cups ketchup
¾ cup apple cider vinegar
½ cup dark brown sugar
1 teaspoon salt
1 teaspoon pepper
2 teaspoons paprika
¼ teaspoon cayenne
1 teaspoon garlic powder
2 tablespoons Worcestershire sauce
Slaw
¾ cup mayonnaise
2 tablespoons apple cider vinegar
2 tablespoons sugar
Salt, to taste
Pepper, to taste
2 cups green cabbage
2 cups red cabbage
1 cup shredded carrots
PREPARATION
1. Place the chicken breasts in the bottom of the slow cooker.
2. Cover the chicken with ketchup, apple cider vinegar, brown sugar, salt, pepper, paprika, cayenne, garlic powder, and Worcestershire sauce. Mix well, cover, and cook on high for 3 hours or on low for 6 hours.
3. In a large bowl, whisk together mayonnaise, apple cider vinegar, sugar, salt, and pepper. Add both kinds of cabbage and carrots to the bowl and gently toss with the dressing.
4. Shred the chicken breasts with a fork in the slow cooker.
5. Serve on a burger bun with slaw.
6. Enjoy!
Also a great for BBQ Pulled Chicken Pizza, BBQ Pulled Chicken Nachos, and BBQ Pulled Chicken Mac 'n' cheese.