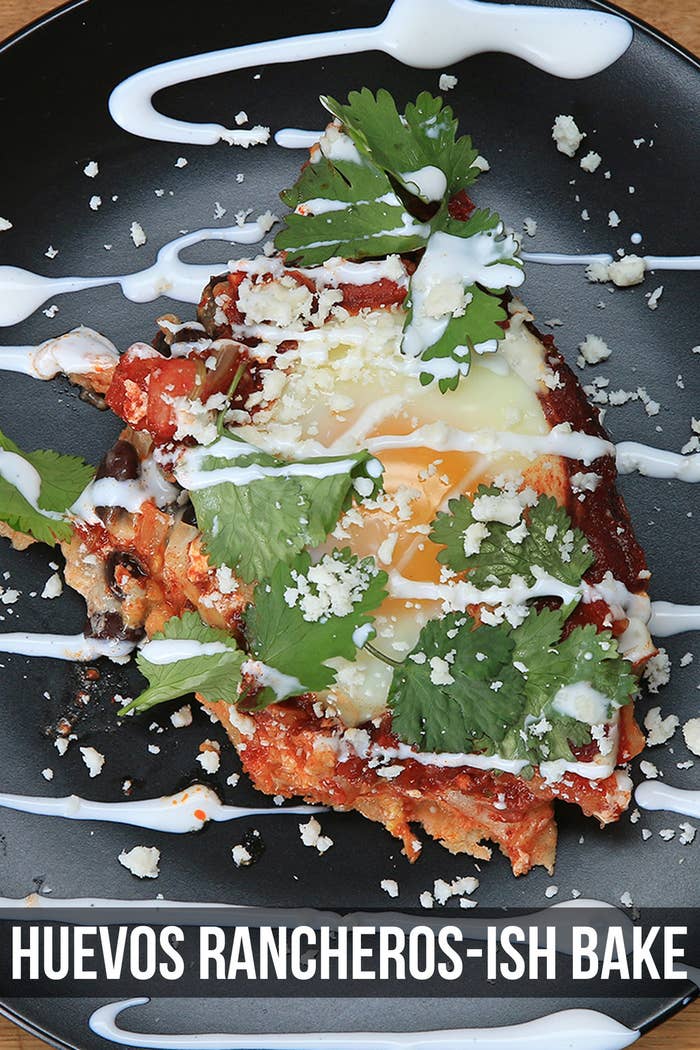 Here's what you need:
For Bake:
* 1 cup Vegetable Oil
* 5 Corn Tortillas (cut 4 of them in half)
* 14 oz. can Black Beans
* 1 cup Mexican Blend Cheese
* 1 1/2 cup Pico de Gallo
* 6 Eggs
* 1/2 cup Red Enchilada Sauce
For Toppings (Optional):
* Cilantro
* Cotija Cheese
* Cream Mexicana or Sour Cream
Instructions:
1. Preheat your oven to 375˚F/190˚C.
2. In vegetable oil, lightly fry your corn tortillas. Drain on a paper towel.
3. In a 9 inch cast iron skillet, arrange your lightly fried tortillas so they cover the bottom of the skillet.
4. Add black beans evenly over tortillas. (Some will fall in-between the tortillas, that's ok!)
5. Sprinkle Mexican blend cheese over the black beans.
6. Add pico de gallo on top of the cheese.
7. Using the back of a large spoon, create 6 wells in the pico de gallo for the eggs to rest in.
8. Crack one egg into each well (6 eggs).
9. Pour enchilada sauce over everything!
10. Bake for 20-25 minutes. Check on it often to make sure your yolks don't overcook!
11. Top with your favorite huevos rancheros toppings & enjoy!