College students' diets consist of pizza rolls, pizza rolls, and probably more pizza rolls. Here's a tasty homemade version you could make at home:
Homemade Pizza Rolls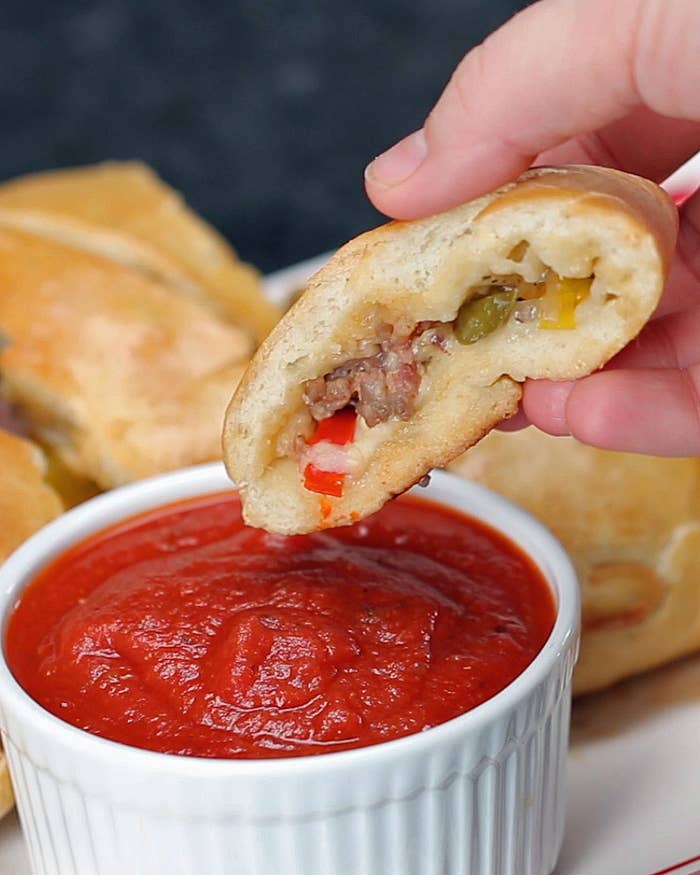 INGREDIENTS
1 Tbsp. olive oil
3 bell peppers, thinly sliced
1 onion, thinly sliced
1 tsp Italian seasoning
2 cloves garlic, minced
1 lb hot Italian sausage
1 lb pizza dough
4 slices deli ham
6 slices salami
3 slices provolone
1/2 cup shredded mozzarella
1 egg, beaten
1 cup marinara sauce (optional)
PREPARATION
Preheat the oven to 375˚F/190˚C.
Heat olive oil in a pan and add sliced peppers and onions. Stir and add Italian seasoning and garlic. Cook until peppers and onions are soft and set aside to cool. In the same pan, brown the sausage until it's fully cooked and remove from heat to cool.
Roll out pizza dough into an oval about 14 inches wide and about 8 inches long. Place rolled-out dough on a piece of parchment paper. Along the center of the dough, layer the sausage, peppers, ham, salami, provolone, and mozzarella. Fold the longer sides in first, one at a time, and pinch the edges to seal. Cut off any excess dough and pinch together. Flip it over and apply an egg wash to the outside of the dough. Carefully, make two to three inch slits on the top for ventilation. Bake for 30 minutes, or until golden (times & temperatures may vary depending on the oven). Cut into two inch pieces & serve with marinara sauce for dipping. Enjoy!
Want BuzzFeed Tasty right in your inbox? Sign up for our newsletter!