Croque Monsieur Sliders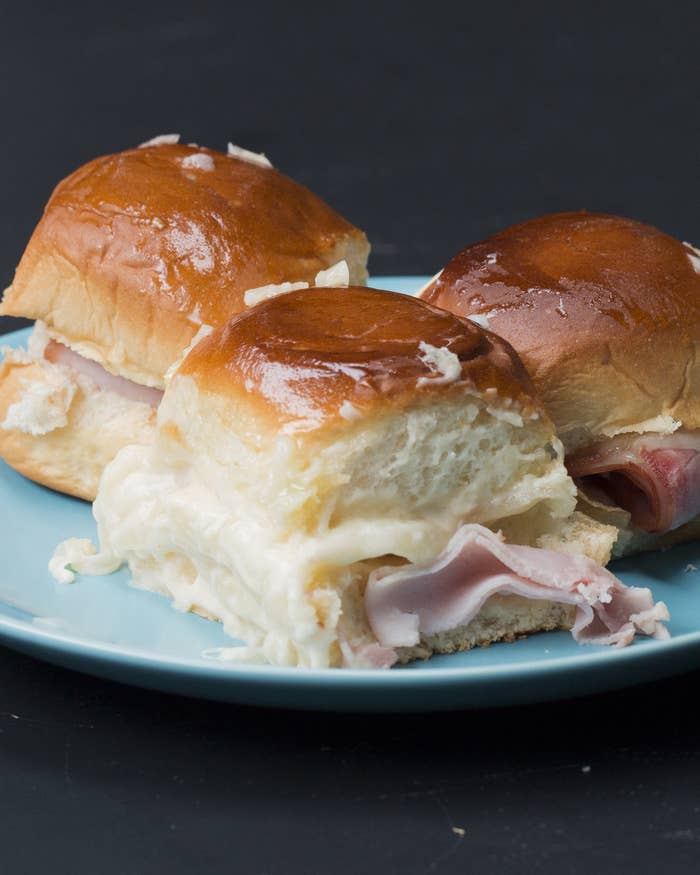 INGREDIENTS
Servings: 12 mini sandwiches
12 Hawaiian sweet rolls
12 slices deli ham
6 slices Swiss cheese
Sauce:
1 tablespoon butter
1 tablespoon all purpose flour
1 cup milk
Salt
1 tablespoon dijon mustard
To finish:
1 tablespoon butter
2 cloves garlic, finely minced
PREPARATION
1. Preheat oven to 375˚F/190˚C.
2. Slice the rolls in half
3. Fold one slice of ham and one slice of cheese and place on the bottom bun
4. To make the sauce, melt butter in a small saucepan and stir in the flour.  Cook 1-2 minutes on low heat, do NOT brown
5. Add milk and whisk to remove lumps
6. Sauce will thicken fully as it reaches a low boil
7. Add dijon mustard and salt to taste
8. Spread the sauce over the ham and cheese then put the tops on
9. Bake 8 minutes until lightly browned and melty
10. Melt butter and garlic in the microwave, brush over the top of sliders
11. Enjoy!