Cran-Apple Crisp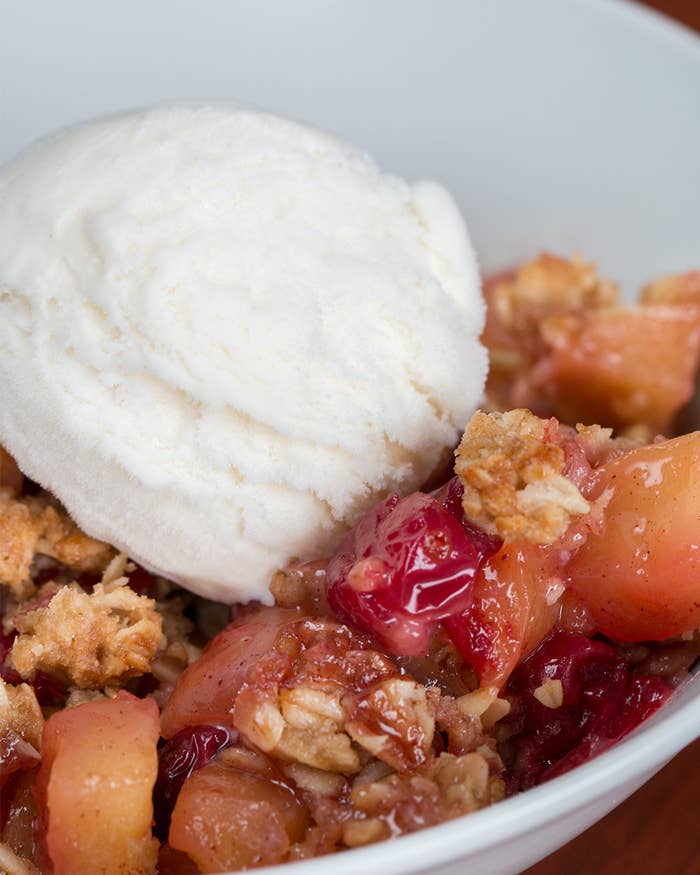 INGREDIENTS
Servings: 8
Filling
5 apples, diced
½ lemon, juiced
1½ cup cranberries
2 tablespoons cornstarch
3 tablespoons sugar
¼ cup maple syrup
1 teaspoon cinnamon
Topping
1 cup rolled oats
⅓ cup brown sugar
3 tablespoons flour
4 tablespoons butter
½ teaspoon salt
Ice cream
PREPARATION
1. Preheat oven to 350˚F/180˚C.
2. In a large bowl, gently combine apples, lemon juice, cranberries, cornstarch, sugar, syrup, and cinnamon.
3. Pour into a 9x13-inch baking dish and bake for 30 minutes.
4. In another bowl, combine oats, brown sugar, flour, butter, and salt until well-incorporated.
5. Sprinkle the oat topping evenly over the baked fruit and bake for another 15 minutes, or until the crust is golden brown.
6. Serve with ice cream on top.
7. Enjoy!
Inspired by Savory Nothings (http://www.savorynothings.com/skinny-holiday-fruit-crisp/#_a5y_p=5755779)
Want BuzzFeed Tasty right in your inbox? Sign up for our newsletter!