Cheesy Taco Breadsticks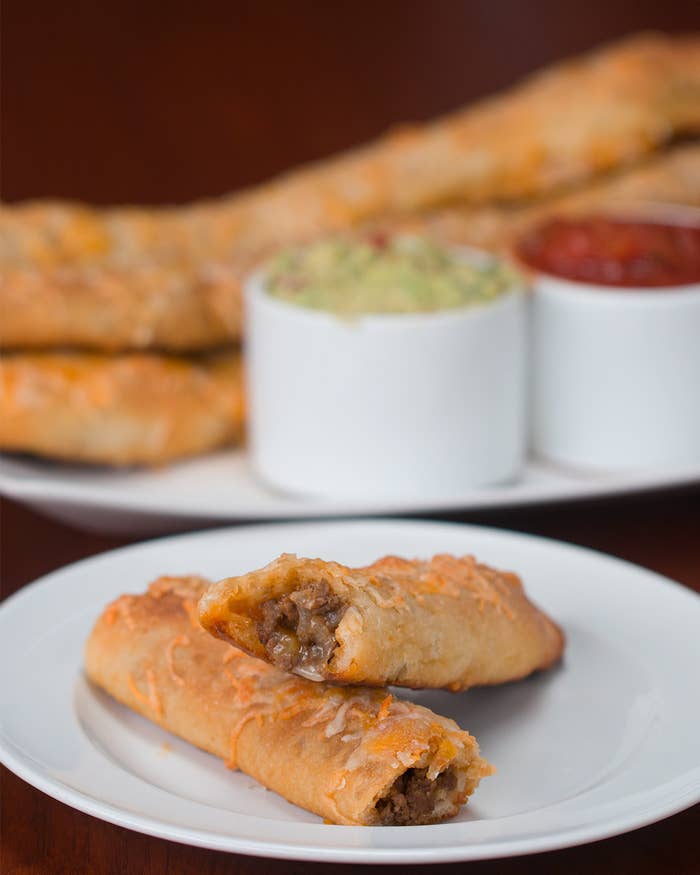 INGREDIENTS
Servings: 5-6
1 small onion, diced
1 tablespoon garlic, minced
1 pound ground beef
2 tablespoons taco seasoning
1 pound pizza dough, rolled out into a rectangle
1 cup Mexican cheese blend
1 tablespoon olive oil
Salsa for dipping
Guacamole for dipping
PREPARATION
1. Preheat oven to 425˚F/220˚C.
2. Sauté onions and garlic until transparent. Add the ground beef and cook until browned. Remove from heat and set aside.
3. On a floured surface, cut the pizza dough 5 strips and place spoonfuls of the beef mixture into the middle of each strip, followed by the Mexican cheese blend.
4. Fold and pinch the dough around the cheese and meat along the entire strip, ensuring to close off the ends.
5. Brush each breadstick with olive oil and transfer to a baking sheet.
6. Bake for 10 minutes, remove from the oven and top each breadstick with more cheese. Bake for another 5 minutes or until the cheese is golden brown.
7. Enjoy!
Inspired by: http://www.iwashyoudry.com/2016/08/29/cheesy-taco-sticks/