Blueberry French Toast Boat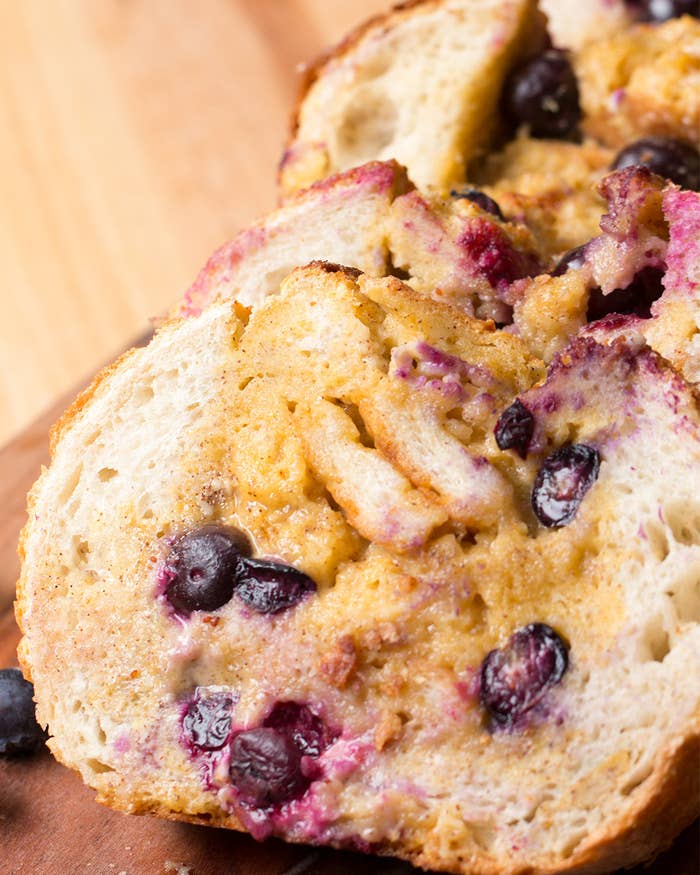 INGREDIENTS
Serves 5
4 ounces cream cheese, softened
¼ cup sugar
1 teaspoon cinnamon
4 eggs
½ cup heavy cream
1 loaf french bread (14-16 ounce loaf)
1 cup blueberries
Maple syrup, to dip
PREPARATION
1. Preheat oven to 400˚F/200˚C.
2. In a bowl, combine softened cream cheese, sugar, and cinnamon.
3. Add eggs and heavy cream and whisk until well combined. Set aside.
4. Cut a rectangle along the top of the loaf of french bread and pull out the part you cut along with the soft inside of the loaf. Set the "bread boat" aside.
5. Tear apart the rectangle and soft inside of the bread that you removed into little bite-size pieces.
6. Gently, fold the bread pieces and blueberries into the egg mixture until all of the liquid is absorbed.
7. Place the "bread boat" on a baking sheet lined with parchment paper and pour in the bread and egg mixture.
8. Bake for 30-40 minutes or until the top is golden brown. If the top is browning too quickly, cover the top of the boat in foil for the remaining time.
9. Let cool before cutting into slices and serve with maple syrup.
10. Enjoy!
Want BuzzFeed Tasty right in your inbox? Sign up for our newsletter!