Baked Chicken Fries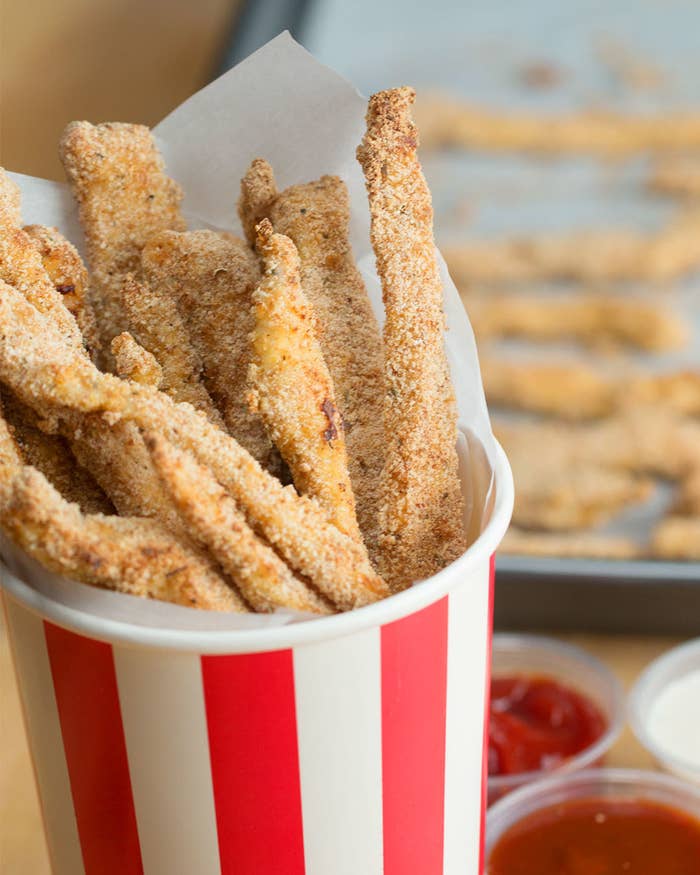 INGREDIENTS
Servings: 4-5
4 boneless, skinless chicken breasts
2 cups plain bread crumbs
1 cup flour
5 eggs, beaten
1 teaspoon salt
½ teaspoon garlic powder
½ teaspoon onion powder
½ teaspoon paprika
½ teaspoon dried basil
½ teaspoon dried oregano
½ teaspoon pepper
PREPARATION
1. Preheat oven to 375˚F (190˚C).
2. Slice chicken breast in half, and cut into thin strips about the thickness of a french fry.
3. Season bread crumbs with salt, garlic powder, onion powder, paprika, dried basil, dried oregano, and pepper. Mix well.
4. Dredge chicken strips in the flour first, then cover in egg, and coat with bread crumbs.
5. Place on a baking sheet lined with parchment paper and bake for 20 minutes, flipping halfway.
6. Enjoy!
Inspired by: https://www.hungryforever.com/copycat-burger-king-chicken-fries-recipe/ and http://wishfulchef.com/oven-baked-buttermilk-chicken-strips/