Apple Cinnamon Oatmeal Bars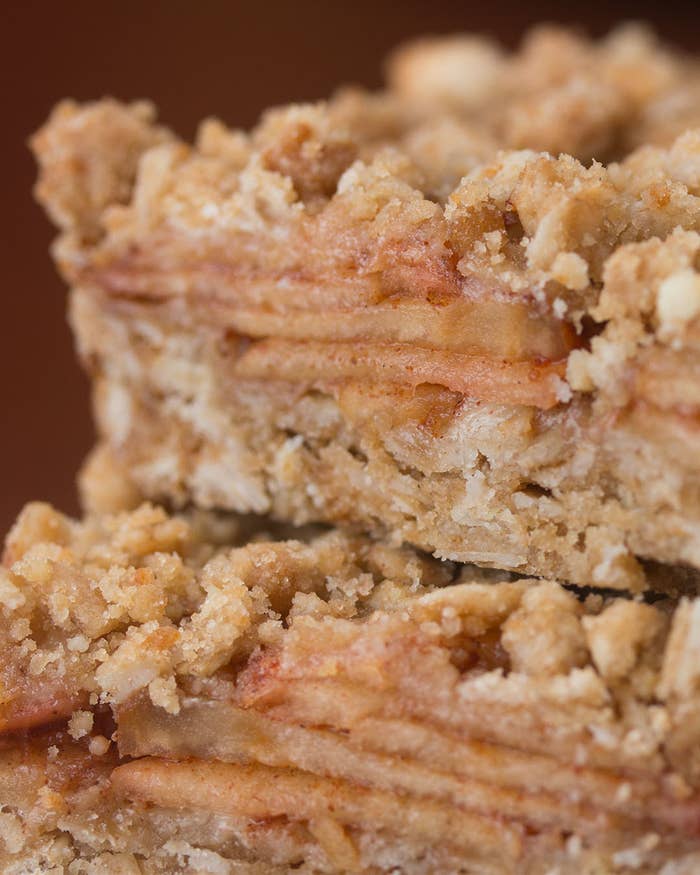 INGREDIENTS
Makes: 12-15 bars
3 apples, thinly sliced
¼ cup sugar
1 tablespoon cornstarch
1 tablespoon cinnamon
2 cups flour
2 cups old-fashioned oats
1 cup brown sugar
½ teaspoon baking soda
½ teaspoon salt
¾ cup butter, melted
PREPARATION
1. Preheat oven to 350˚F (175˚C).
2. Place apple slices in a large bowl and gently mix in sugar, cornstarch, and cinnamon. Set aside.
3. In another bowl, combine flour, oats, brown sugar, baking soda, salt, and butter. Mix until crumbly.
4. Line a 9x13-inch baking dish with parchment paper and pour ⅔ of the oats mixture in the bottom of the pan, pressing firmly to pack it down to make a crust.
5. Pour apples over the crust and spread in an even layer. Pour the remaining oat mixture over the top and spread evenly.
6. Bake for 30 minutes, or until golden brown.
7. Cool completely before cutting.
7. Enjoy!
Inspired by: http://delightfulemade.com/2014/08/20/blueberry-oatmeal-breakfast-bars/