Pizza-Stuffed Pretzel Bites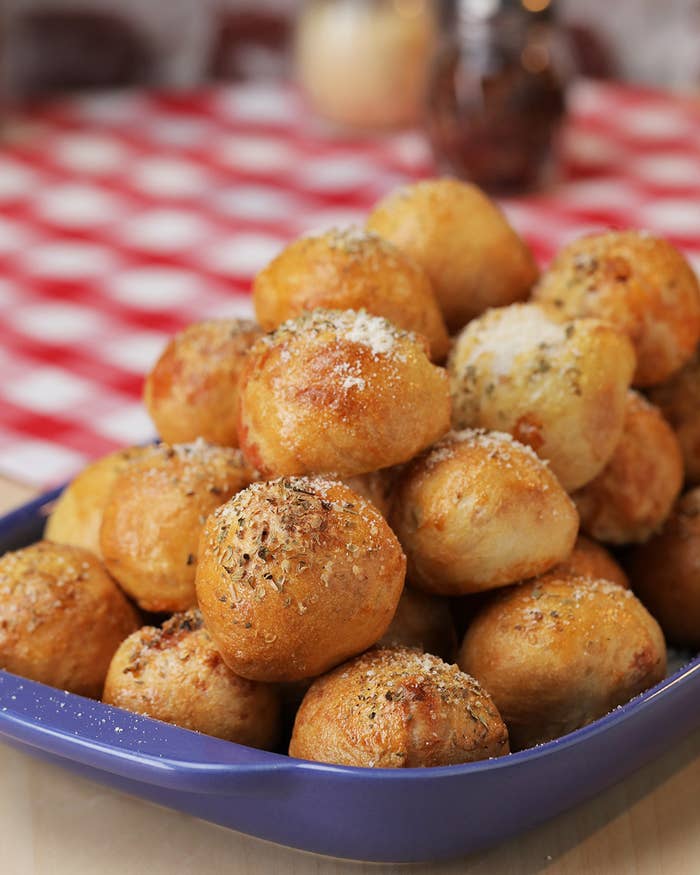 INGREDIENTS
Servings: approximately 16–20 pieces
1 pound pizza dough
½ cup marinara sauce
2 cups sliced pepperoni
8 ounces mozzarella, cut into cubes
Flour, for rolling
¼ cup baking soda
1 egg, beaten
1 tablespoon coarse salt
2 teaspoons dried oregano
1 tablespoon parmesan cheese (optional garnish)
PREPARATION
1. Preheat oven to 425℉/218°C.
2. On a floured surface, roll out a small piece of dough (about 1 ounce) into a circle.

3. Spoon ½ teaspoon of sauce into the center of the dough. Top with one slice of pepperoni. Top with 1 cube of mozzarella followed by another slice of pepperoni.

4. Fold in the edges and pinch to seal, forming a ball.
5. Bring a large pot of water to a boil with the baking soda. Boil the balls for 30 seconds.  Transfer to a parchment-lined baking sheet. 

6. Brush with egg wash. Sprinkle with coarse salt and oregano.

7. Bake 10–12 minutes until brown.

8. Garnish with parmesan cheese.  

9. Serve with marinara sauce for dipping.
10. Enjoy!