Mini Ham & Cheese Croquetas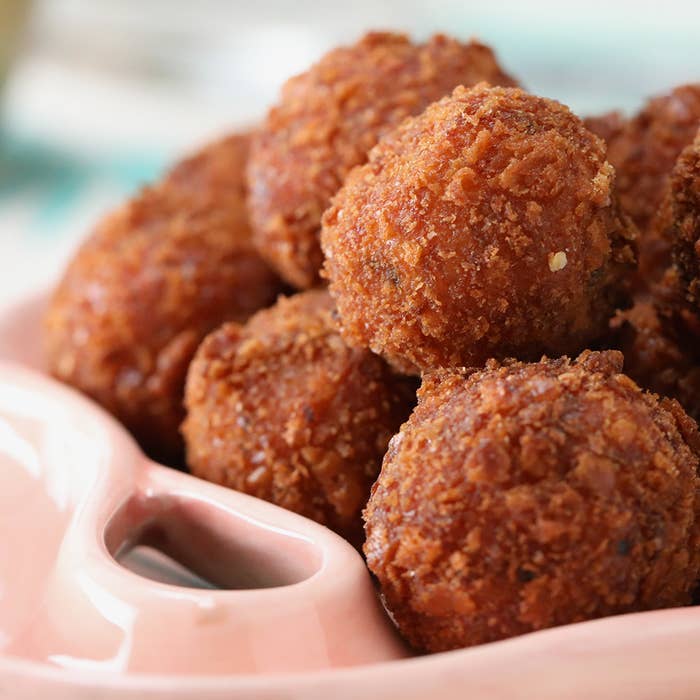 INGREDIENTS
Servings: 12
¼ cup onion, finely diced
2 cloves garlic, finely diced
4 tablespoons butter
1 cup milk
Flour Mixture
¾ cup flour
1 teaspoon ground oregano
¼ teaspoon cayenne pepper
½ teaspoon salt
1 cup ham, diced
1 cup Swiss cheese, shredded
1 tablespoon chopped parsley
3 eggs, beaten
2 cups butter cracker crumbs
Salsa Verde
1 bunch cilantro
½ bunch flat leaf parsley
3 cloves garlic
⅓ cup fresh orange juice
Juice of 2 limes
⅓ cup olive oil
Salt
PREPARATION
1. In a skillet over medium heat, sweat onions, parsley, and garlic in butter. Add milk and bring to a simmer. 

2. Reduce heat to low and add flour mixture. Stir into a smooth paste and remove from heat.

3. In a large bowl, combine flour paste, ham, and cheese. Cover and refrigerate for 2 hours.

4. Combine all salsa verde ingredients in a blender. Puree until smooth. Set aside in small bowl for dipping. 

5. Heat 2 inches of vegetable oil to 375˚F/190˚C in a large saucepan or Dutch oven. 

6. Place beaten eggs and cracker crumbs in separate bowls. Take one heaping tablespoon of the ham and cheese mixture and roll it into a ball. Dip in egg, then thoroughly coat in cracker crumbs.

7. Fry for 1 ½ to 2 minutes, moving occasionally with a slotted spoon or spider. Remove and let drain on paper towel.

8. Serve warm with salsa verde for dipping. Enjoy!