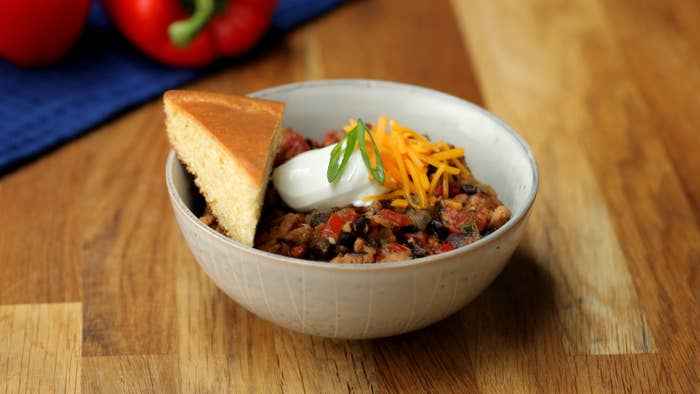 BEBOP CHICKEN CHILI
Servings: 8
INGREDIENTS:
1 tablespoon olive oil
1 large onion, diced
2 teaspoons kosher salt
2 tablespoons minced garlic
2 red bell peppers, diced
1 poblano pepper, diced
1 1⁄2 pounds ground chicken
1⁄4 teaspoon cayenne
1⁄2 teaspoon garlic powder
1⁄2 teaspoon onion powder
1 teaspoon dried oregano
1 teaspoon dried thyme
1⁄2 teaspoon freshly ground black pepper
1 (15-oz) can black beans, rinsed and drained 2 tablespoons dark brown sugar
1 bay leaf
2 teaspoons Worcestershire sauce
1 (14.5-oz) can diced tomatoes, drained
3⁄4 cup chicken stock
PREPARATION:
1. Heat the oil over medium-high heat in a large Dutch oven and add the onion when the oil is hot. Sprinkle with 1⁄2 teaspoon of the salt and saute for about 3 minutes, until the onion is translucent.
2. Add the garlic, bell peppers, and poblano, then cook until softened, about 5 minutes.
3. Once the vegetables are soft, add the chicken. Stir to crumble the chicken as it cooks.
4. Once the chicken begins to turn opaque, after about 3 minutes, add the spices, herbs, and the remaining 1 1⁄2 teaspoons salt. Stir to coat and toast the spices, then cook for about 3 minutes.
5. Stir in the remaining ingredients and bring to a simmer. Lower the heat to medium and cook for 15 minutes with the pot covered. Remove the lid and continue to simmer the chili for another 30 minutes, stirring occasionally. Season to taste and serve!