1.
An Airfly wireless transmitter so you can connect your wireless bluetooth headphones, like AirPods, to the airplane TV. Finally! You won't have to pack a separate set of wired airplane headphones (which don't have nearly half as good sound quality as your bluetooth ones anyways), or in my case, forget to pack that second pair and experience for yourself what it's like to watch a silent movie.

It also comes with a USB-C charging cable, travel pouch, keychain holder, quick-start guide, and a manual.
Twelve South is a small business that has been creating innovative tech accessories since 2009. 
Promising review: "Someone sitting next to me on a flight had this product so I asked them about it and it was highly recommended so I bought it. I love being able to use my Blutooth Bose noise-cancelling headphones with the movies on board. The sound quality is 100 times better than the plug headphones that are required if you don't have this product. I would definitely buy again!!" —Monica Buterbaugh
Price: $34.99+ (available in three styles)
2.
A waterproof phone pouch that's a real game changer for beach vacays. Thanks to this, you won't have to worry about your phone getting wet *and* you can snap some really cool snorkeling pics underwater!

It fits any phone up to 100 millimeters x 170 millimeters (or about 3.9 inches x 6.7 inches). It also keeps out sand, dirt, and rain. 
Promising review: "I lost my phone in the ocean over a month ago. A big wave knocked it from my grip and I thought it was lost forever. A diver found it in perfect condition, in 8 feet of water and a foot under the sand. Once it charged up, it was like nothing happened. If that doesn't convince you to buy this, I don't know what will! Highly recommend 👌" —Rachael
"Used it while snorkeling and it worked great for iPhone 13! If you open and close it consistently it may not work as well but for the price I would buy again for another trip." —Amazon Customer
Price: $7.99 (available in 14 colors)
3.
A compact iPhone portable charger for when your battery's in the red, and there's no open outlet in sight, whether that happens on a long layover, mid-flight, or when you're out touring the city.
It's able to charge an iPhone 8 1.5 times and a iPhone X one full time on a full charge. 
Promising reviews: "Perfect for keeping phone charged while out and about on vacation. I used this for my iPhone Pro. I love how compact it is and that I didn't need cords. This is essential for tiny purses. This could charge my phone at least once before needing another charge." —Jillypop
"This was the best gadget I bought for a long international trip! It's small, compact, fast charging, and easy to carry! It met all expectations and kept my phone juiced daily!!! Highly recommend!" —Colleen Flaherty
Price: $29.99+ (available in six colors)
4.
A RFID-blocking travel wallet since it has more than enough pockets for all your IDs and money, including space for your passport, credit cards, and cash, *and* has technology to block any personal info from getting skimmed by scammers looking to steal your identity!
The wallet features: passport pocket, boarding pass compartment, three credit card slots, an ID slot, SIM card pouch, a coupon ticket slot, cellphone pouch (max 5.8 inches), money/coins zippered pocket (fits US dollars), key holder, pen holder, and one slim pocket.
Promising review: "Essential for traveling! I absolutely love this wallet! I went abroad to France and was going to be spending a lot of time in the airport and in touristy areas, so I decided to look into getting an RFID blocking wallet to deter theft. I must say, I am very happy I chose this particular wallet! It is pretty big, but it fits everything I need inside! It made traveling so much easier! There aren't a lot of compartments for credit cards and such, but there is room to put a pen, your passport, cash, change, licenses, and even boarding passes. One of the best purchases I've ever made!" —Alicia
Price: $14.99+ (available in 37 colors)
5.
A luggage cup holder so you can navigate through the airport *without* spilling your coffee for once! Also super handy for water bottles and maybe even a croissant or other yummy pastry.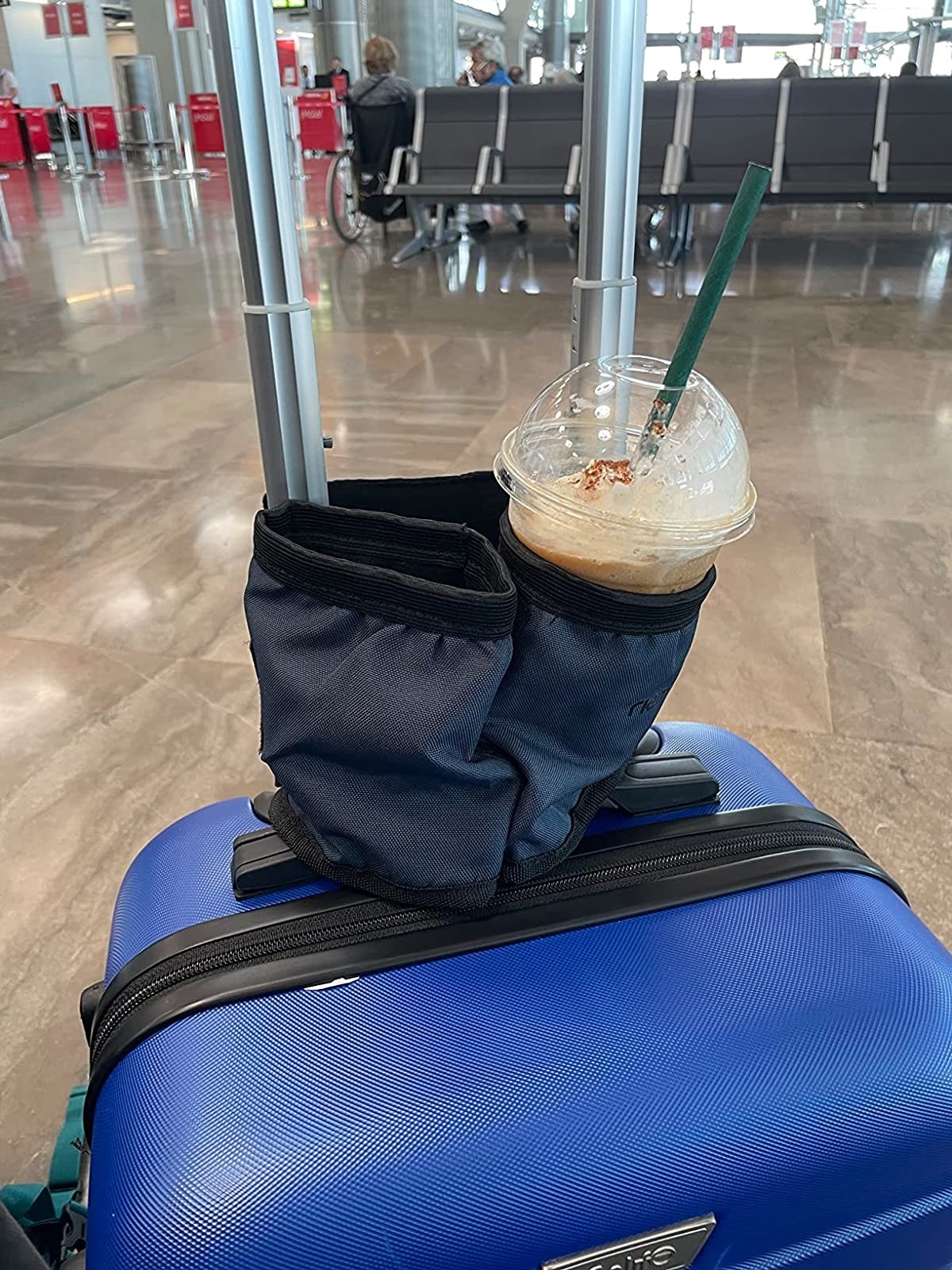 6.
A hands-free (rotating!) phone mount that will let you turn any ole backseat into your own private airplane TV, and one that's showing your favorite movies and TV shows, of course! Reviewers have also used this to clip their phone to all sorts of other surfaces too, like desks, armchair handles, luggage handles, and more.
Promising reviews: "So nice to not have to deal with holding the phone or propping it up! A travel essential!" —Fallen
"I bought this nifty gadget about six months for a multi-leg, ultra-long-haul trip and it more than held up the entire duration. I was able to finagle it to fit the tray tables on different planes and like others, I find the height just nice when clamped onto a stowed tray table. It also works on my roller carry-on handle during layovers. However, I find myself using it a lot outside of travel too! Work-wise, I've clamped it onto my office desk shelving to hold my phone at eye level beside my computer. At home, I simply clamped it to a deck of cards and it turns into a versatile stand that I can place on any flat surface. Heck, I've been using it to hold my phone comfortably at eye level while watching videos in bed. It's extremely well-built and I find myself fidgeting with it all the time. Thus far it still feels solid and I don't anticipate breaking it any time soon. Even if it does break, I'll be happy to buy another one or two of it!" —Earendil
Price: $12.97 (available in three colors and two-packs)
7.
A Trtl neck pillow featuring a design that's scientifically-proven to keep your head and neck in an ideal and ergonomic position as you sleep. In other words, you'll never again find yourself saying, Yeah, I just can't-sleep on airplanes.
Promising review: "This thing is the greatest thing invented since chicken and biscuits. It's like a nice scarf with just enough support to keep your neck just in the right position. I highly recommend it. Works great with big headphones, too." —Deana Hero
Price: $59.99 (available in four colors)
8.
Or, this bendy travel pillow if you'd prefer the freedom to twist it into whatever's the most comfortable shape/supportive position for you.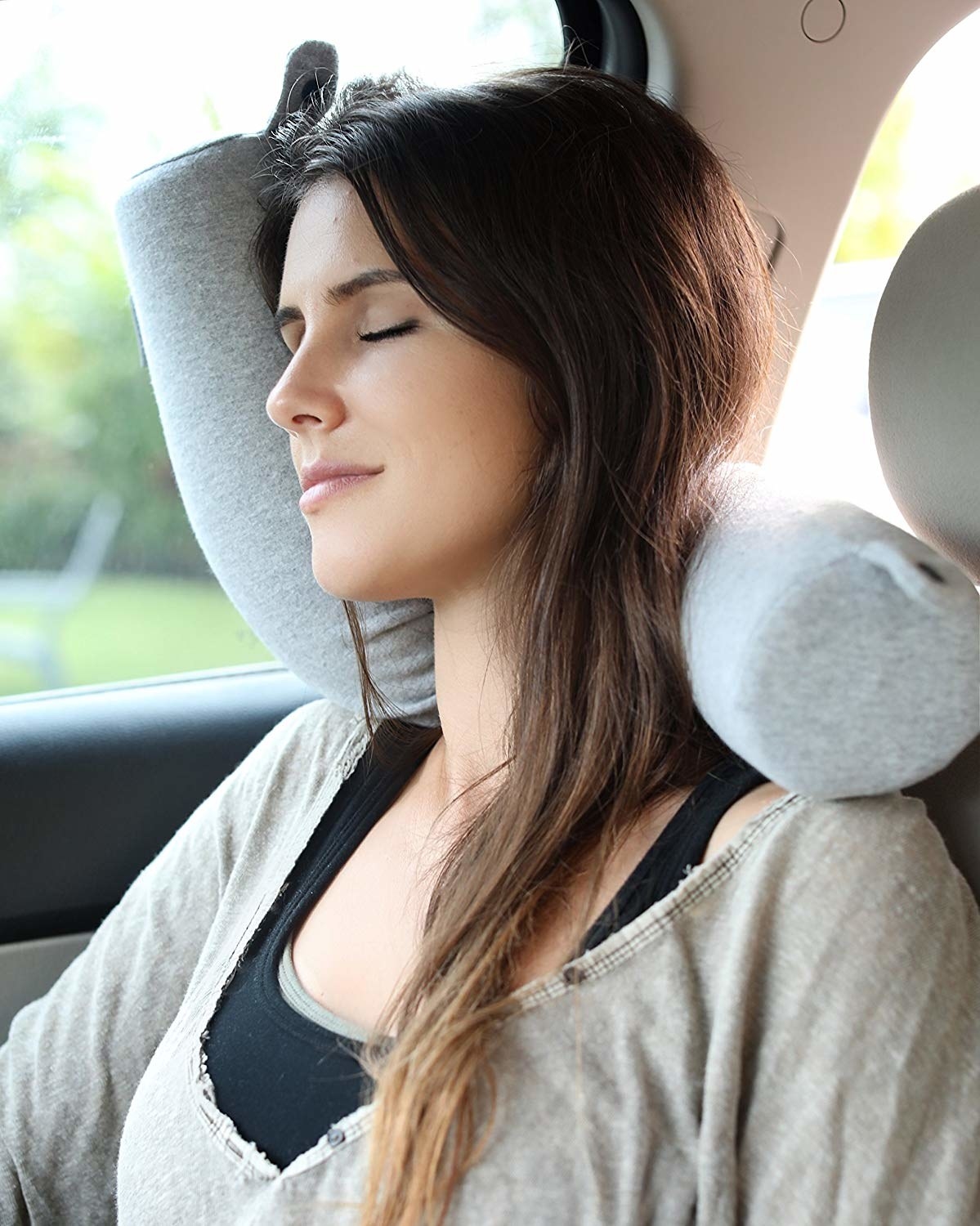 Promising review: "I'm a flight attendant and I travel with this pillow all the time! In hotel rooms I use it to support my neck, on the plane I use it to support my lumbar area. When I drive it helps my lower back. I love that it has a liner that can be removed to wash. I bought my boyfriend one too and it goes everywhere we do!" —Debbie
Price: $23 (available in eight colors)
9.
A digital luggage scale so you aren't nervously sweating when you show up to the counter to see if your bag is overweight. No more surprises for you!
You can also switch between pound and kilogram measurements. 
Promising reviews: "This is really essential travel gear. It will come in handy before your flight and to avoid the extra charges. The tech is great, has a nice sleek design, is very easy to use, and has a very clear LCD display." —kass77
"This scale works and was accurate on four flights. First flight was a test at 46 pounds, and Delta scales said it was 46 pounds. The next two flights were at 49 pounds, and both United and Delta found it to be 49 pounds. The bag on the fourth flight weighed 49, but the United scale found it to be 48 pounds. Four different airports and scales proved that this scale is a good, low-cost, must-have item for air travel." —Robert
Price: $8.99+ (available in four colors and also a two-pack)
10.
A contoured sleeping mask that comfortably molds to your face for complete blackout and utter relaxation. So yes, even if your seat mate just has to use the reading light on your redeye, you won't also have to stay awake.
Plus, it comes with a set of earplugs to block out all the noise around you!
Promising review: "This is an essential travel item for me. I purchased to use for travel. Best sleep on a flight I've EVER had. It helps me zone out. Loaned them to my daughter for her trip to Hawaii. She can NEVER fall asleep on flights but, with these, she slept like a baby! Adjustable and lightweight. Carrying bag can easily be dropped into travel tote or carry-on luggage." —Sharee A. Armstrong
Price: $21.99 (available in five colors)
11.
A memory foam foot hammock here to make sitting in a cramped airplane seat feel like lounging in a recliner instead. Truly! With this, you can literally stretch out your legs, kick up your feet, and relax! As a bonus, your feet might not feel so puffy and/or tingly by the end of the flight either.
Promising review: "This is an ESSENTIAL for a long flight. I wasn't sure about spending 'so much' on something that seemed not quite necessary. Five flights later (two flights over 10 hours long), and my husband and I are certain that we will never fly without these again. It is HUGE in making the most of pretty uncomfortable economy plane seats." —Chai Romo
Price: $21.99 (available in three colors)
12.
A set of packing cubes if you're finally ready to revolutionize your packing — these get rid of all the hassle while also letting you fit more clothes in the suitcase! A Win-Win if I ever saw one!
Promising review: "Never saw a need for packing cubes until a friend loaned me hers for my recent overseas trip. What a difference these made! While I didn't place all of my clothing in cubes, I did use them for my rolled up linen dresses and tops and another for all my underwear. Using the Pak meant I didn't have to unroll and hang up the dresses/tops every time we changed hotels. When we had a one-night stop, I just lifted out the (large) Pak and placed it on a shelf. Having all my underwear compressed into a bag enabled me to grab this essential item quickly and easily. As soon as we returned home, I ordered two sets to have for my use in the future. I now consider them absolutely essential for travel." —Delta Daughter
Price: $21.99 for four (available in 10 colors)
13.
A strap that quite cleverly clips onto any piece of luggage and can then be used to attach another bag or various accessories, like your neck pillow or water bottle, because let's face it, you usually have a million things to carry but only two hands. Alas.
Promising reviews: "A true travel essential! I'm obsessed with these travel straps, and they've made keeping my luggage organized an absolute MUST!" —Suzanne
"This is seriously so useful for traveling. I bought this last year and used it on my two Europe trips — six different countries and lots of bus, train, and plane journeys, and it made my life so much easier. I hooked it to my book bag and hooked my neck pillow, collapsible umbrella, and reusable water bottle to it. I even hooked my parka through it some. 110% recommend. It is super sturdy, and I never had any issues with it even with me dragging it along with all the stuff hooked to it." —Logan
Price: $8.49+ (available in two colors)
14.
A Master Lock portable safe to keep your most important belongings secure in the event that your lodgings don't have an actual safe. Or, you might want to use this on the beach to protect your phone and wallet when you decide it's time for a dip in the glittering turquoise waters.

Promising reviews: "I love this safe. It's the best travel essential I can recommend. Especially as a woman traveling abroad." —Amazon Customer
"This travel safe is great. It's extremely secure and not big or bulky. I used it for international travel. Easy to set, open, and close! Get it!" —KAJ121
Price: $21.98+ (available in three colors)