We hope you love the products we recommend! All of them were independently selected by our editors. Some may have been sent as samples, but all opinions and reviews are our own. Just so you know, BuzzFeed may collect a share of sales or other compensation from the links on this page if you decide to shop from them. Oh, and FYI — prices are accurate and items in stock as of time of publication.
Unless otherwise specified, all sizes in this post are listed in women's.
1.
A pair of super-sturdy, high-quality Chelsea boots everyone should own a pair of. You'll instantly realize how smart of a purchase you made when you discover these can go with literally any outfit you pick out.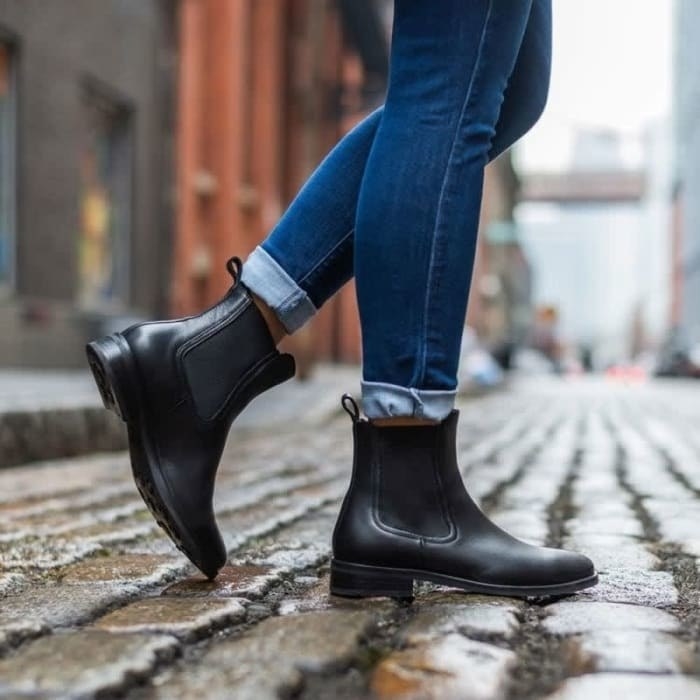 Promising review: "After a lot of worry about getting the right fit, I took the advice given by the reviewers and the company and ordered a half-size larger. They fit great! The leather is beautiful. They smell really good. They look very suave and debonair. I'm sitting on the sofa watching TV because I don't want to take them off. I debated a long time and worried a lot about buying these boots because of some of the negative reviews, but I'm glad I went with the majority of reviews. They were not too narrow and fit comfortably. They also were not too long. They are the look that I was going for. A dressier look than my normal work boots that I bum around in. I'm very happy with these classy boots!!" —CMaxDavis
Get them from Amazon for $160 (available in sizes 5–11 and in eight colors).
2.
A pair of espadrille platform sandals if you're looking for a little bit of height but still want to be comfortable. If I were packing for a week-long trip and I could only take one pair of shoes, this would be it. It's like having sandals *and* heels in one. Plus, have we mentioned how easy they are to walk in?!
Promising review: "They are truly the most comfortable pair of sandals I have ever owned, no exaggeration. I wore them for an entire wedding, no complaints. Walked two miles in them on vacation, no complaints. Ran through a lightning storm in them, NO COMPLAINTS! I would run a marathon in these if I needed to. Ankle strap is comfortable and stretches enough to put my foot in but fits just right to hold the shoe on comfortably. The two foot straps don't stretch, but aren't too tight. These feel even better than name brand shoes! I LOVE THEM!!! BUY THEM!" —tyler fisher
Get them from Amazon for $39.99+ (available in sizes 6–11 with wide options and six colors).
3.
A pair of braided strap Dolce Vita heeled sandals you've probably seen on the feet of nearly every single wedding guest this summer — and for good reason. They're as sturdy and comfortable as they are stunning and show-stopping. You won't even need to take them off at the end of the night when you're tearing up the dance floor!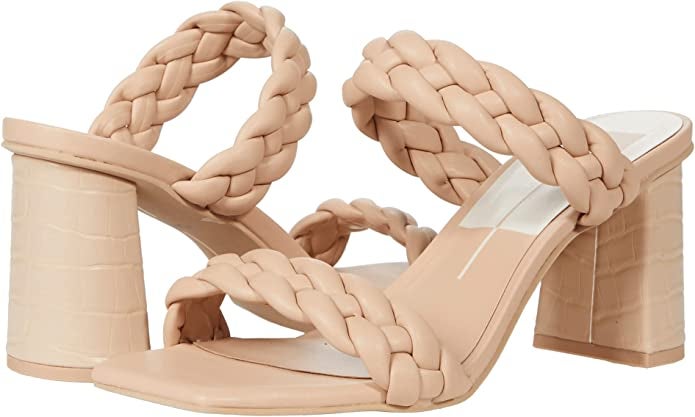 I own these in a nude color and my oh my, they are the absolute BEST pair of heels I've ever owned! They're pretty tall, which I was initially nervous about since I have pretty weak heels, but the two straps that fit perfectly snug around my foot make me feel so secure and I never felt like I was wobbling in them. I absolutely adore the chunky heel — it means I'm not rolling my ankle or sinking into the grass whenever I'm attending an outdoor wedding. Even if you don't have any weddings lined up, do yourself a favor and buy this shoe because it's truly the best heel you'll wear whether you're headed on a fancy date or a going to a company party.
Promising review: "First, Dolce Vita has a really hard doing anything wrong in my book, for my feet. These shoes are no exception. They take a little wiggle to get on, as expected with a Mary Jane strap, and once they are on they are SO COMFY. The angle of my foot feels really good, the solid block heel seems sturdy… I haven't put any miles on them but I can tell I'll be able to be the best bridesmaid all day in them. I snapped up the cork color way, but am seriously considering buying one or two more colors. SLAY." —Vita Hemphill

Get it from Amazon for $74+ (availabe in sizes 5–15 and 28 colors).
4.
A pair of elastic flat sandals that move *with* you, which means they might just be the most comfortable pair of sandals you'll ever own. And they're much easier to slip on than strappy sandals — no buckles or ties to worry about here! 
Promising review: "I love these sandals, especially for the price! I took them on a trip to Chicago and they were the most comfortable shoes I took on the trip. I walked 10 miles a day in these! They are super cute, too!" —JB
Get it from Amazon for $15.99+ (available in sizes 5–11 and in 14 colors/styles)
5.
A sustainable pair of Allbirds "Tree Dasher 2" sneakers — they do the nearly impossible job of supporting you during a run and also looking streamlined and polished when you wear them post-work out. Say goodbye to bulky, chunky, ugly workout shoes of the past.
6.
A timeless pair of Naturalizer pointed-toe pumps that you'll want to have waiting in your closet for any last-minute fancy dinners or important job interviews. You can rely on these babies for making you look put-together in an instant! 


Plus: Naturalizer is known for having some of the comfiest shoes on the market, and many reviewers say they still feel comfortable in these shoes even after a full day!
Promising review: "Best purchase of the year. Super comfortable high heels. I am in heels usually 8–10 hours a day. And I can be in this pair of heels all day with no issues. No pain from my bunions (I got wide fit for this pair of heels) and the extra cushion inside helps with the flat feet. I never minded paying a lot for my heels, branded ones, or ergonomic ones. But this is by far the most comfortable pair. Finally a comfortable pair of classic black heels without needing to give up on the looks or at the sacrifice of my feet. Super good buy!" —Barbsx

Get them from Nordstrom for $119.95 (available in sizes 4–13, three widths, and three colors).
Plus, here are some stylish white heels to round out your collection. 
7.
A pair of huarache sandals from Nisolo if you're looking for a go-to pair of sandals you can wear with any and all outfits during the summer. You'll be instantly impressed with how well-created these sandals are — in fact, they're so sturdy you'll be able to wear these for multiple summers to come.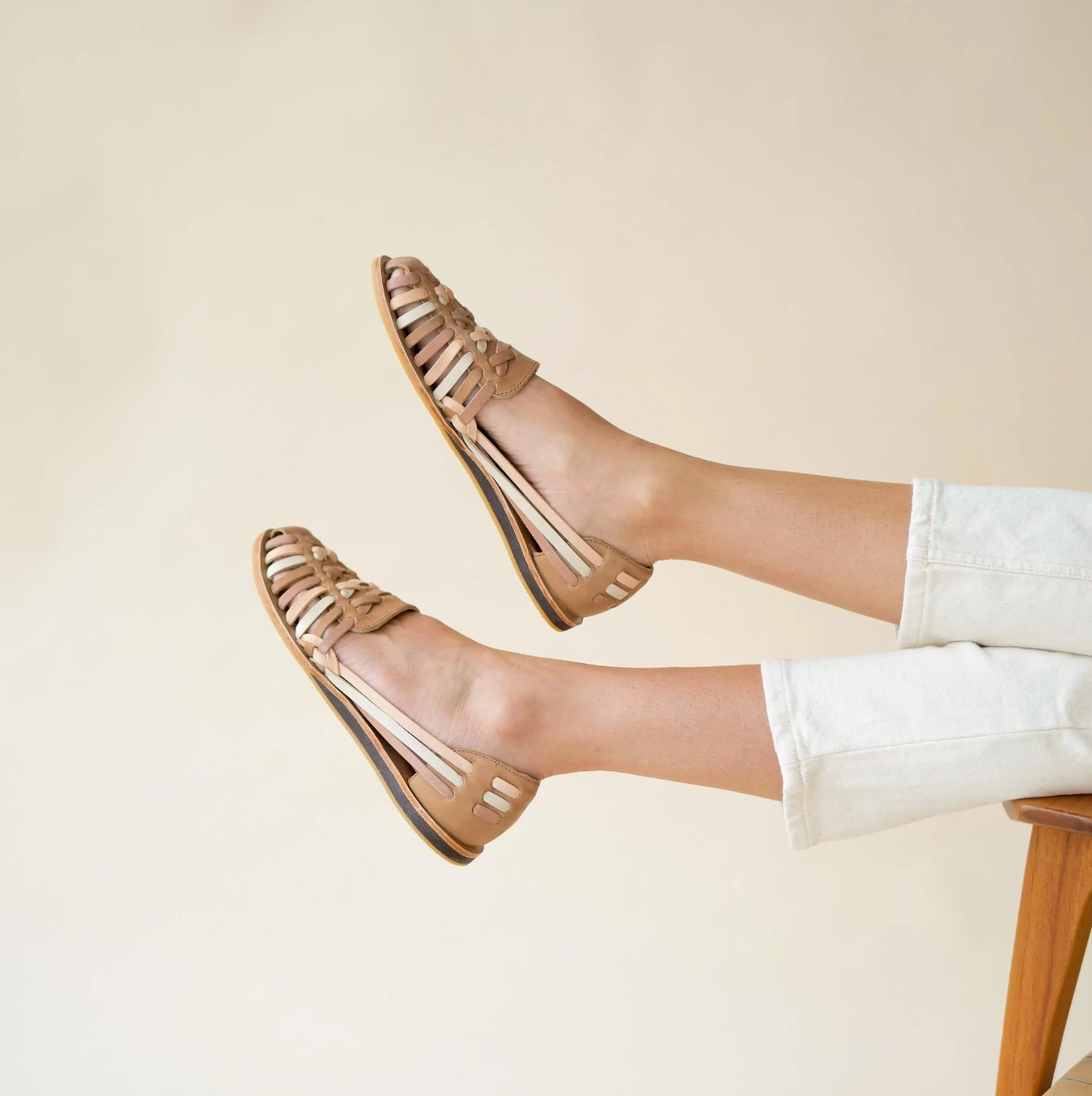 Every Nisolo purchase ensures a living wage to 100% of the people creating the products in their factory and enables the brand to pursue living wages throughout the rest of their supply chain.
Here's what BuzzFeed Shopping writer Mal Mower has to say about these lovely sandals: "I usually buy one pair of huaraches each summer and wear them EVERY day. This year I got this pair! I got them a few weeks ago (a pair for myself and a matching pair for my husband) and I'm a big fan! Once broken in they continue to feel sturdy and secure. I love wearing a shoe that looks light and summery, but also feels like my feet have real protection." 
Get them from Nisolo for $110+ (available in sizes 5–11 and 11 colors).

8.
Slip-on mules that are giving some serious cool fashion blogger vibes. They transition super well from summer into fall — just imagine how great they'll look with jeans and a flannel top! 
9.
A pair of strappy fisherman sandals with a super squishy, padded footbed so you can walk for miles in them. You'll love how they look great with a casual outfit or can be dressed up with a nice sun dress.
Promising review: "I wore these shoes walking around for 9 miles in Tangier today and my feet ARE NOT SORE AT ALL!!! These shoes truly are so comfortable. If you're looking for comfy travel sandals, do yourself a favor and just buy these already!" —Amazon Customer
Get it from Amazon for $28.32+ (available in sizes 6–11 and in 14 colors)
11.
Or a pair of durable Wonesion nonslip sneakers because who doesn't love making a statement with their footwear?! The best part is they provide insane support and cushion, so you'll be tempted to wear these nearly every day.

Promising review: "These shoes are amazing! When I first tried them on, I was a bit skeptical because of the support. It's something that I never felt wearing a shoe. I thought, 'Great, here comes a blister.' NOPE. The support in these shoes, is absolutely incredible. I'm on my feet A LOT while at work. During the 14 out of the 16 hours I work, I'm walking or running around halls to keep up with patients/clients. And let me just say WOW! The comfortability is astonishing. I figured that since they are a little heavy, that my feet would be tired, or even puffy and swollen – NOPE. ABSOLUTELY NOT. My feet feel great after I take them off. No blisters, the fit is great. I'm OBSESSED with these shoes. After Im done writing this review, I'm ordering another pair! These shoes are the real deal." —Kay

Get them from Amazon for $39.99+ (available in sizes 5.5–10.5 and 17 colors).
12.
A pair of Rothy's square Mary Jane shoes for a downright adorable footwear option that you can wear with jeans, dresses, shorts, you name it. The super soft material is actually made from recycled water bottles, and you can even wash these in the washing machine whenever you want to give them a little freshening up!


Note: Rothy's recommends going up half a size for narrow feet and a full size for wider feet.

My fellow shopping editor Natalie Brown has owned a pair of Rothy's for four years now, wears them constantly through spring, summer, and fall, and they still look brand-new!

Promising review: "These shoes are so comfortable. I am on my feet all day and I never experience discomfort in these shoes. They are also very cute. I have received lots of compliments." —Ryanne R.
Get them from Rothy's for $155 (available in sizes 5–13 and six colors).
13.
A pair of lightweight, waterproof slide sandals that are way more supportive than those flimsy flip-flops you've been holding onto. These will become your go-to beach or pool shoe, and even after you've spent the day soaking up the sun, you can still rock these comfy shoes with practically any outfit!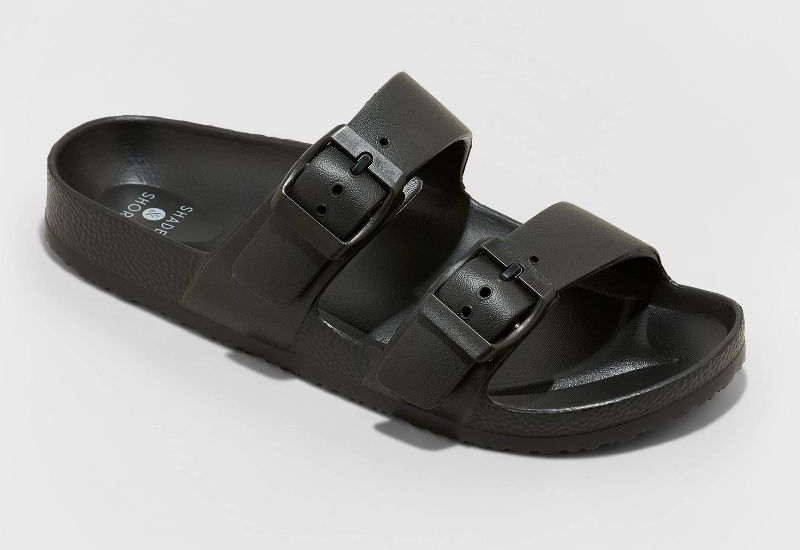 I bought these shoes about two years ago and I've officially thrown out all my flip flops that hurt my feet and give me blisters. I live about five minutes from a beach (which I love!) but the beach is extremely rocky and truly hurts your feet when you try to walk into the water. Now I just keep these waterproof shoes on my feet and get to slowly ease my way into the waves while everyone else struggles in pain! I also make sure to strap them a little tighter so they don't float off my feet. Even beyond the beach, I wear these whenever I'm running errands, taking a quick stroll around the neighborhood, or just to go hang out with friends. They're the perfect practical shoes!
Promising review: "These sandals are so comfortable. They're all I wear in the summer. The green go with everything. I have them in 6 different colors. Don't even hesitate, buy them now!" —Megan
Get it from Target for $10 (available in sizes 5–12 and 12 colors).

14.
A pair of fun heeled sandals adorned with a bow made out of pleated fabric. You'll feel like a little kid playing dress-up in the best way possible as you strut around town in these showstoppers.

That's me on the right wearing them to my bridal shower! Nearly every attendee complimented me on them and asked where I got them! Not only are they cute, they're so dang comfortable — I was standing for at least three hours in them and never felt fatigued. I loved them so much, I bought them in gold as well and wore them to a wedding where I was a guest — I danced the night away and never felt those typical foot aches you get with heels! Plus: I felt extra confident in those shiny shimmering shoes! It's safe to say I'll be wearing both pairs of these shoes for many, many events to come. 
Get it from Lulus for $38 (available in sizes 5–11 and six colors/patterns).

You strutting down the street in your new favorite pair of shoes: