Before you start shopping, a reminder that summer is here and with it = Amazon Prime Day. You need to be a member to take advantage of all the deals, so sign up here!
To see our coverage of all the best Prime Day deals, come back to BuzzFeed Shopping on July 11th and 12th 🛍️

1.
A personal umbrella that clips onto the back of your beach chair so you can make sure you have access to shade, even if everyone else in your group prefers to lay in the sun all day.
Promising review: "My wife likes no sun, so this allows us to pull a beach chairs together and I can set it up and 'boom' no sun for her. The clamp holds up in wind and the adjustable angles that the umbrella has allows you to sort of aim the shade. Great product and it fits into a suitcase!" —Quarrelman
Get it from Amazon for $27.99+ (available in two sizes and nine colors).
2.
A waterproof pouch to keep your cellphone dry, even if you take it in the water. Want to take pictures or answer a text? The clear sleeve still gives you full touch-screen capability!
It also comes with a lanyard so you can wear it around your neck.
Promising review: "This product is incredible. I purchased to use while in Key West for an iPhone 6, iPhone 6 plus, and Galaxy S6 Edge and it fits perfectly for each phone (but a little more snug with the iPhone 6 plus). It is completely waterproof and takes great photos and video through the case but you have to press record prior to submerging the case underwater. My family went snorkeling and kept the case with the phone inside submerged almost the entire time and had no issues with leakage. My family and I got stopped numerous times being asked where we purchased this product. Perfect even if just on the beach and you do not want to get sand or sunscreen on your phone and want to still take photos/text/browse the internet while on the beach. I will be purchasing this for everyone in my family as it has become a travel must-have! I highly recommend this product." —Jennifer Roman
Get it from Amazon for $7.99+ (available in 14 colors).
3.
A massive sand-free beach blanket that actively repels dirt and sand — a true beach miracle!! Now you can lay out and read your book without getting thousands of grains of sand stuck to your body. And let me emphasize again how big it is!! Your whole family could hang out on this thing!
Parents especially love this because babies and toddlers can lay on it without getting sand in their mouths.

Promising review: "I walk to the beach and the park with my baby all the time and was sick of my butt getting wet when we sat on the grass and the baby getting all sandy when sitting on towels. I decided to search Amazon for some kind of beach blanket. This blanket wasn't really what I was looking for, but it did not disappoint! First of all it's HUGE. I still haven't used it open all the way yet. It's compact and easy to carry, I love that there are pockets to weigh it down with sand, that sand rolls right off, and that I can just stuff it right back in the little bag without having to fold it strategically when I'm done. I can take the baby to the beach and lay her on her tummy without worrying about sand getting on her hands and face. Great product!!" —Adriana
Get it from Amazon for $23.99+ (available in two colors).
4.
A sun visor as stylish as it is effective at getting the sun out of your face and the sweat at bay. If traditional baseball caps make your head too sweaty, you'll love how the open design of this visor allows the breeze to hit your hair and neck.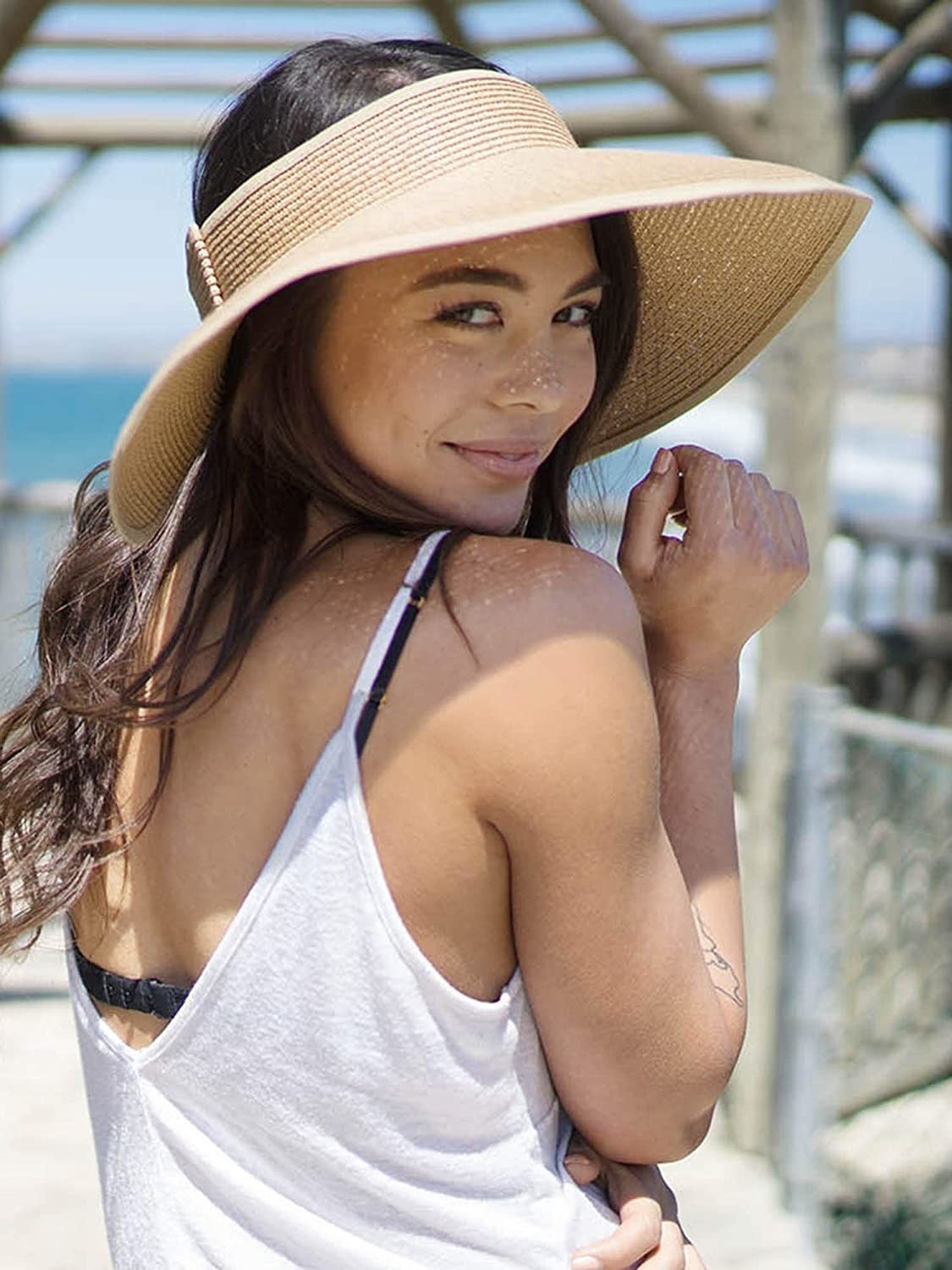 The wide brim provides much more UV protection than regular caps!
Promising review: "I have long hair and always avoided hats because I hate having my hair sweating against my neck in a low bun or ponytail. With this sun visor-summer hat combo, I can keep my hair in a top knot and still keep my face and neck protected from the sun while catching a nice breeze. This is perfect (although a little large in circumference and I have a big head 7 3/4 hat size) and it's adjustable and can fit any head size. It rolls up well and has an elastic to keep it rolled. I'll be recommending this item to all my friends!" —Amazon Customer
Get it from Amazon for $19.79+ (available in 14 colors).
5.
A set of beach cup holders — just stick them right into the sand, and your drink of choice stays upright and sand-free. There's even a slot on the side to hold your phone or sunglasses!
6.
A beach chair that sits low to the ground so you can still have that relaxing feel of sand on your toes and legs while sitting upright. It also comes with a cup holder (important!) and a sleeve on the back to hold your towel when you're not using it.
Promising review: "Love these chairs! Got two for a trip to the beach and they're very comfortable. They fold up easily and are very compact and easy to carry/pack, just throw it on your shoulder with the strap on the bag and your hands are free to carry other things!" —Toni Wheaton
Get it from Amazon for $42.99.
7.
Or a chaise lounge chair if you love to lie on your stomach while on the beach but wish it was more comfortable. This chair has an opening for your face and arms, which means you can now comfortably read a book while lying facedown. Brilliant!
Plus, when you flip back over, there's a pillow that covers the hole to keep your head comfortable. 
Promising review: "Perfect for the beach. I absolutely love it. It's easy to carry and unfold. One of the best things I have bought for the beach. I would definitely recommend to anyone. And super cool to have the hole to put your head to lay on your stomach. I love it!!!" —Love hot reads
Get it from Amazon for $52.19+ (available in eight colors and patterns). 
8.
A towel designed to be fast-drying, lightweight, and actually repel the sand instead of attracting it like most beach towels do!
It's made of a polyester microsuede material that absorbs quickly and dries fast. It also has an anti-microbial finish to keep the towel clean longer.
Rumpl is a small business based in Portland, Oregon that makes stylish, cozy "sleeping bag blankets" meant for indoor and outdoor activities as well as packable beach towels.
Promising review: "This towel dries better than a conventional towel! Not only that but it was completely dry and ready to reuse in about 10 minutes. Normally we'd go through a stack of beach towels in one day. The towel itself is big but it packs up compact leaving more room in your bag for other things. It's soooo soft, made very well, and the pattern is gorgeous. I will be replacing all of my towels with these!!" —Danielle W.
Get it from Rumpl for $50 (available in 25 other patterns) or from Amazon for $50 (available in three patterns).
9.
Or a pack of beach towels if you have a big family and just need a lot of towels that will last throughout many summer seasons. Reviewers say these hold up well wash after wash.
Promising review: "We live just 300 yards from the beach and we go through beach towels quickly. We use them, out visiting family and friends use them, we use them around the pool as well. So many of the 'tourist' towels really don't stand up to the wear, but these do...they are actual towels and not beach front souvenirs! Absorbent and soft the colors stay vibrant; they're great towels." —Dr.L.
Get a set of four towels from Amazon for $40.99+ (available in 10 color combinations and in a pack of 24).
10.
A pair of beach socks because sometimes the beach can be very rocky, rough, and hot and you need to keep your feet protected! When you're done using them, they roll up for easy storage.
Promising review: "These were perfect for my trip to Kauai. The beach we were near had hidden rocks in the sand — big volcanic rocks that hurt to step on, except for me in my fancy shoes. I wore them almost constantly for a week and they held up great under all kinds of stress. I'd totally buy them again. I only wish I had ordered them for everyone in my group." —The Vincents
Get them from Amazon for $9.88+ (available in women's sizes 4–13.5, men's sizes 3–12, and 44 designs).
11.
Or Seastar neoprene slingback sandals that look like regular shoes but are actually water shoes! Yep, you can wear these straight into the ocean! They have some really great traction on the bottom, so you don't have to worry about tripping on a slippery rock. 
Promising review: "I loved my first pair so much that I bought two more pairs! I have always loved classic espadrilles but can't wear them in rainy weather. These you can wear no matter what. And they are soooo comfortable! That makes them perfect for traveling — especially as they are lightweight — but I want to wear them all the time so bought more. They look great with skirts, pants, jeans or beachwear. The stretchy fabric and stretchy sling back heel make for comfort no matter how much feet may swell in hot weather. I just love these and am thinking about a fourth pair!" —Merlyn Greenwood

Get them from Amazon for $124.95 (available in women's sizes 6–12 and seven colors) or from Sea Star Beachwear for $125 (available in sizes 6–12 and eight colors).
12.
This sunscreen from Black Girl Sunscreen that doesn't leave behind that dreaded gooey, milky look that most sunscreens do. This formula goes on completely sheer, and it's infused with jojoba and avocado to help keep your skin hydrated.
This sunscreen is paraben-free, fragrance-free, oxybenzone-free, octinoxate-free, silicone-free and aluminum-free.
Promising review: "I used to dread wearing sunscreen because of that horrible ashy cast it gave my brown skin. Now? I actually look forward to putting this stuff on. I love how moisturizing it is and that it is completely sheer. What is advertised to do it actually does. I layer this on top of my moisturizer. You do need to work it in a little bit but it absorbs into the skin nicely. To all my brown/black ladies/fellas, what are you waiting for? Buy it!" —MD
Get it from Target for $15.99.
13.
Or Neutrogena Beach Defense Water Resistant Sunscreen reviewers say doesn't melt off even if you sweat a lot in it, making it perfect to wear during really hot days at the beach. Plus: it doesn't leave that dreaded white cast on darker skin tones like so many other sunscreens do!
Promising review: "The BEST sunscreen I have ever used! I am always prone to burn any time i get out in the sun. I decided to take a trip to the beach this summer, and just went kayaking for four hours on the water in the BEAMING sun and in the MIDDLE OF THE DAY. I put sunscreen everywhere except for my chest. Wanna know where my skin is resembling that of a cherry? My chest. The rest of me? TANNING WITH NO BURN WHATSOEVER!!! I was shocked. I love this product and will forever recommend it for the rest of my life. Stay safe and stay unaffected from the sun you guys!!!" —Channing C. 
Get it from Amazon for $9.58. 
14.
And a Solar Buddies refillable roll-on sunscreen applicator if applying sunscreen on your kid is always a battle. Now all you have to do is add the sunscreen to this bottle and let the sponge on the other end easily apply it. And your hands won't get super messy! Win, win!
And if you want to see it in action, check out how easy it is to apply sunscreen in this TikTok video. 

Promising review: "Trust me, this is worth every penny! I am going to be completely honest, when I saw how long the shipping was going to take, I hesitated, but I originally saw this item on TikTok and knew it would make life SO MUCH easier when it comes to putting sunscreen on myself and my kids. I have to say, I am NOT disappointed!! The wait was 100% worth it!! The sunscreen goes on so smoothly and evenly, and I feel like I will be saving soooo much sunscreen now that I'm not just squirting a huge glob in my hands and spending so much time trying to rub in a ridiculous amount into mine and my children's skin. Also, my sister-in-law hates the feel of sunscreen on her hands, so this was perfect for her. My only regret is that I wish I would have bought a couple more so that I could have different ones for each of the sunscreens we use! But I will be recommending these to everyone! THANK YOU!!" —Carmen
Get it from Amazon for $15.98+ (available in three colors).