1.
Tock the Learning Clock, which might just be the cutest way imaginable to teach your kids how to tell time. Tock will challenge your kids to match the clock hands to the digital display it shows, and when they get it right, it'll reward them with a fun song. And when they're not playing with it, it functions as a normal clock!

It even has an "OK to Wake" green light that'll light up at whatever time you can set up and let your kid know they're allowed to leave their bed and start the day. Might save parents from some really early mornings!
Promising review: "My daughter loves Tock the Learning Clock. She especially loves the quizzes and that it makes learning the time super fun. Tock also sings and lights up. As parents we LOVE the volume control and that it is an Ok to Wake clock!! Bonus!!" —Stephanie G.

Get it from Amazon for $24.99+ (available in blue or pink).
2.
A Melissa & Doug loom if your kiddo is more of an old soul and is already expressing interest in making their own blankets, scarves, or purses. Just set this up at the kitchen table and they'll be weaving away and picking up the skills for a new hobby in no time.
The loom comes with an oversized wooden needle, craft materials, an illustrated design booklet, and 91 yards of rainbow yarn. Recommended for ages 6+.
Promising review: "My granddaughter loves it. She is 8 years old and had no problem watching a YouTube video and getting started. She is on her third project and can do this without any help. I have purchased other looms that where not as user-friendly and are collecting dust. Great loom, would not hesitate to buy it." —lily
Get it from Amazon for $30.99.
3.
A Learning Resources Botley The Coding Robot 2.0 activity set that doesn't even require a screen to help then learn the basics of coding — yes, really! They can program Botley to follow a sequence of up to 150 steps. They'll love seeing the little robot battle obstacles and follow courses they've mapped out for it.
Promising review: "I purchased this toy for my daughter who just turned 5. She absolutely loves playing with Botley and the coding is very straightforward and easy for her to understand. She loves that she is able to program different codes to turn Botley into a frog, train, ghost, and more. I love that she is able to learn how to program things in a sequence and use if/then logic when playing. This is a great toy for children who love to learn about technology, and I love that it's a screen-free activity that encourages children to use their thinking cap and imagination during playtime!" —Southern Made Simple
Get it from Amazon for $53.18.
4.
Or this DIY robot kit to pique their interest in STEM at an early age. They'll love how satisfying it is to build their own robot from scratch and see it move across the living room floor. Best part? You won't need to run to the store to get batteries — this baby is solar-powered!
The kit includes 190 pieces, a solar panel, and detailed instructions.
Promising review: "I purchased this as a gift for an 8-year-old boy. He loves to build, loves robotics, dinosaurs, and Godzilla. :) He LOVES this set! He sits for hours on end, which is an amazing accomplishment for any 8-year-old, playing with and building all the different robot toys. And, this isn't just for little boys. A friend's 8-year-old daughter loves them, the 48-year-old parent loves them, and the 75-year-old grandpa loves them. Fun for the whole family!"—MBC
Get it from Amazon for $24.99.
5.
A Hand2mind Numberblocks MathLink Cubes activity set that will help develop counting and basic math skills as they play with these adorable blocks based off the popular BBC series. They'll love stacking the colorful blocks super high!
Promising review: "My 3-year-old daughter is so into numbers and counting. She really loved it especially she can see it on Youtube as well. We enjoyed putting up the stickers. It was easy to put them together." —Amazon Customer
Get it from Amazon for $24.99.
6.
A 14-piece, nontoxic Hape wooden tool box and accessory play set if they're always asking to help with DIY projects. This will teach them basic skills like hammering, using a screwdriver, or tightening with a wrench, which means it'll engage their hand-eye coordination while having fun "fixing" things!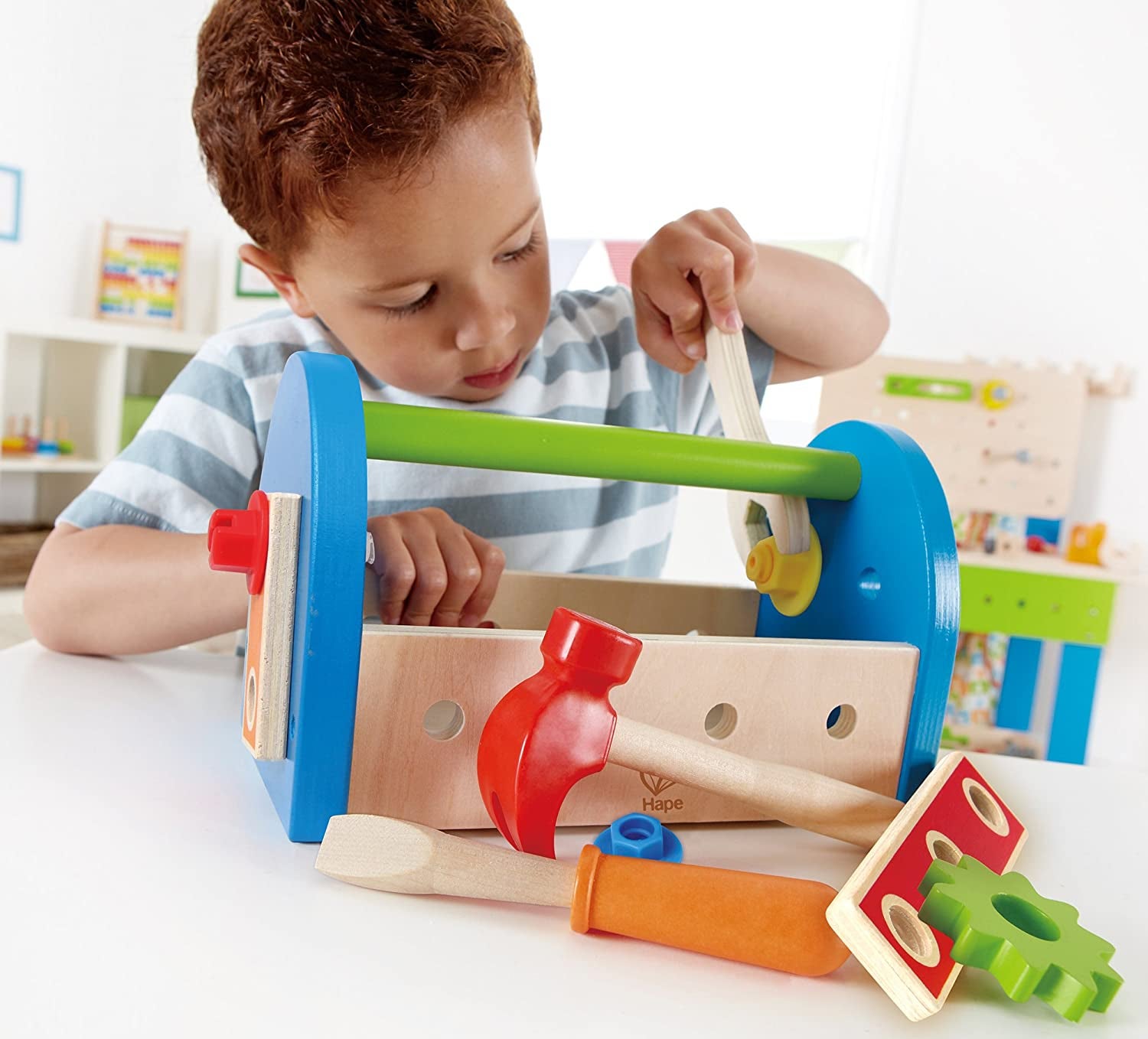 Includes: wooden tool box, hammer, screwdriver, wrench, three sets of screw and screw caps, board connector, two gears and plastic nail. It may also be one of the toys that'll make the kids put down the iPad.
Promising review: "After watching his dad and me put together his new toddler bed, my son got super excited over 'helping' to fix things, but of course letting him use real metal tools wasn't something I wanted to do just yet...so I was trying to choose between a plastic set of tools that were cartoonish styled, and this wooden set that was a little more expensive. I am soooo glad I got this set instead! It's not been out of the box more than 30 minutes, and he has learned how to hammer in 'nails,' take them out again with the back of the hammer, use a wrench and screw driver in tandem to work a 'screw' and 'bolt,' as well as put gears on the side of the kit so that they spin each other. The tools are all very well made but not heavy, so there's no fear of him breaking stuff if he decides to run around hammering things." —Khestra 
Get it from Amazon for $17.94.
7.
A three-string Loog Mini acoustic guitar — it comes with flashcards of chord diagrams and access to the Loog guitar app so they can actually start learning how to play at a young age. Look at that little rock star in the making!!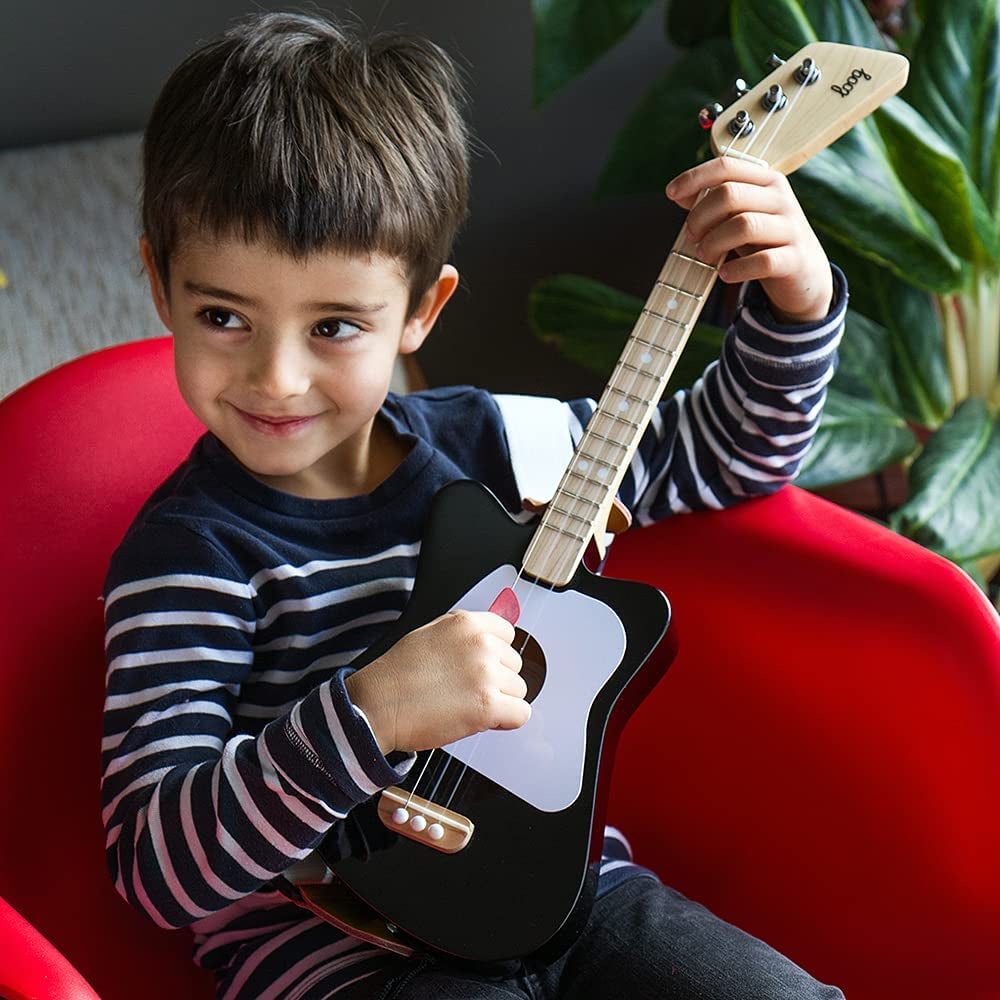 Promising review: "My daughter and I are learning how to play the guitar together. Even if we don't become rock stars the quality time we are spending together is all the justification I needed to make the purchase. The strings are perfect for her little fingers." —JSpriggins
Get it from Amazon for $89 (available in six colors).
8.
A "Role Play Fingerprint Kit" so they can pretend they're Nancy Drew or the Boxcar Children as they learn to find and collect fingerprints around the house. Fair warning: now they'll know exactly who ate the last cookie out of the cookie jar! (Looking at you, pops.)
Costume set also includes spy glasses, a hat, jacket, and magnifying glass.
Promising review: "My daughter asked for a 'spy kit' for her birthday and this was the best option I could find. The detective uniform was a bit big for her size but she loves wearing it anyway. The spy glasses are cool and allow her to see what's behind her. And she's already used the fingerprint kit to see if her brother was in her room without her permission! She loves it and it made her birthday wish come true. There is a lot of value included in the box and provided hours of fun." —JMS427
Get it from Amazon for $26.
9.
A Craft-tastic "Make a Fox Friend" craft kit — it comes with all the tools necessary to create their own fox stuffie as well as a wardrobe of clothes and accessories for the fox. It'll teach them the basics of sewing, and it comes with a tote so they can keep all their new crafts in one place.
Promising review: "This craft was a hit! The fox was very easy to put together and it turned out so cute! You have to make the tutu by tying a bunch of knots but other than that all of the clothes are ready to go and do not require sewing! The fox came with a little fabric bag to conveniently store it for travel. The materials in the craft are good quality and hopefully will last a while. My daughter loved this little cute fox!" —Olivia O.
Get it from Amazon for $19.99 (also available in bunny and mouse).
10.
A Melissa & Doug wooden lacing shoe so they can practice the highly important skill of tying their shoes. They'll be so proud of themselves when they master this milestone and can tie their real shoes all on their own!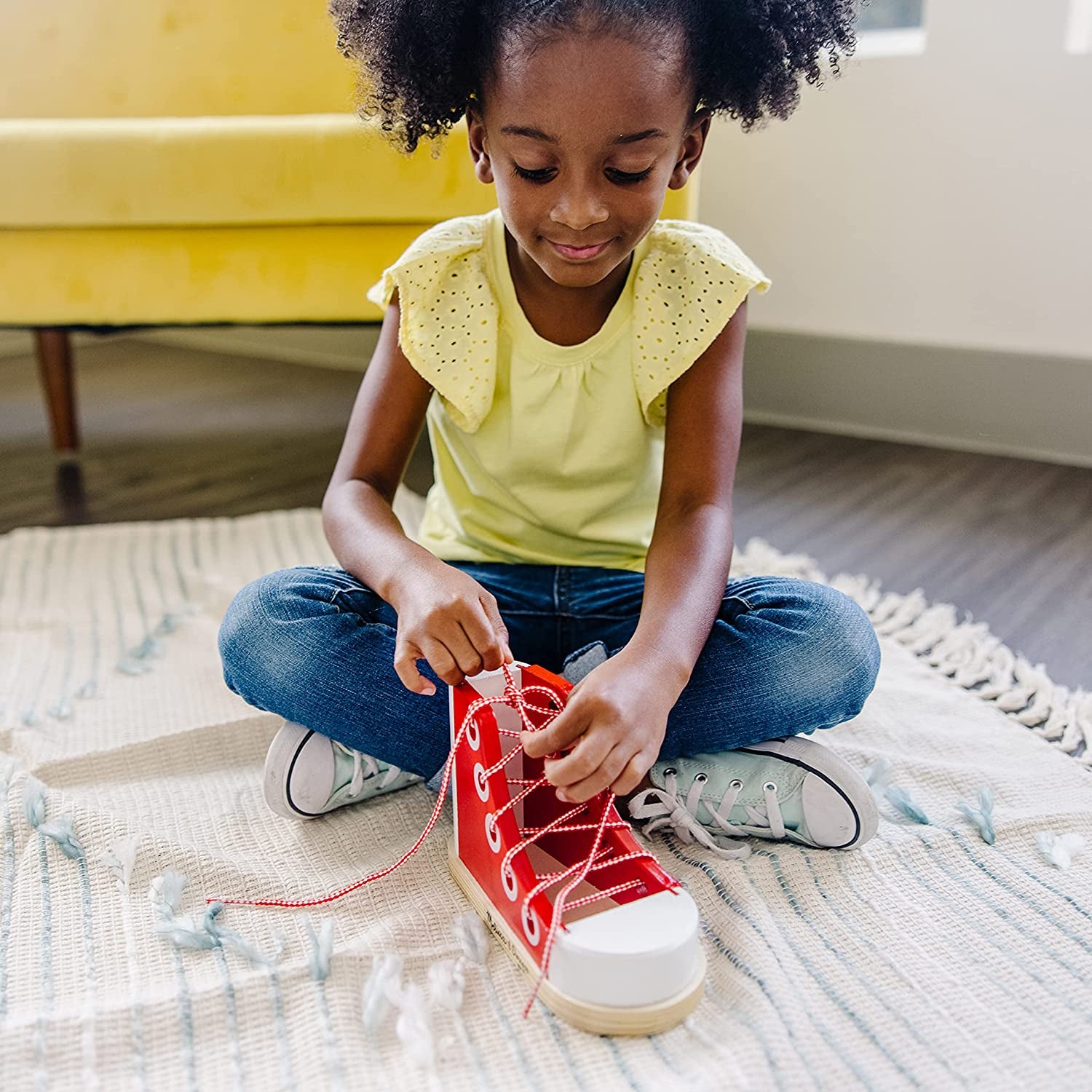 Promising review: "Learning how to tie shoes is a challenge and something that my students are struggling with this year in first grade. I already had one of these shoes from teaching pre-school. When the opportunity came to get more, I took it and now students use the set we have to practice their skills. The shoes come with a card that shows the steps, however students have shown me many different techniques that work for them. These shoes are very sturdy made of wood. Highly recommend for at home or classroom learning use." —Ashley

Get it from Amazon for $11.49.
11.
An Educational Insights GeoSafari Jr. talking telescope if your little genius is constantly asking you about stars and constellations. This comes with built-in photos from NASA and 240 facts and quiz questions to keep their curiosity alive. AND! The telescope talks in four different languages!
Promising review: "My kids (ages 3.5 and 5.5) love this telescope! They kept saying it's so cool as they looked through all the different images of space, planets, and stars. They are at an age where they are starting to get really curious about the solar system so they ask a ton of questions. We love how this talking telescope teaches them five facts about each image. The telescope is the perfect size for preschoolers and it is the perfect way to introduce them to space. I love how after they have learned everything, there is a quiz mode (with five questions for each image!) that they can do. Also, it is pretty cool that the audio can be switched to four different languages and the guide is also multilingual. The telescope is high quality and durable and I know my kids will be using this for a while. It is also teaching them to take turns and share since they have to wait their turn. Highly recommend for your toddlers and preschoolers as they start to learn about the solar system." —JC Mommy
Get it from Amazon for $35.
12.
Or a set of handcrafted, nontoxic constellation blocks so they can learn all about the constellations while they play and build towers. Once the sun goes down, they'll love rattling off everything they learned and pointing at their favorite constellations when you head outside.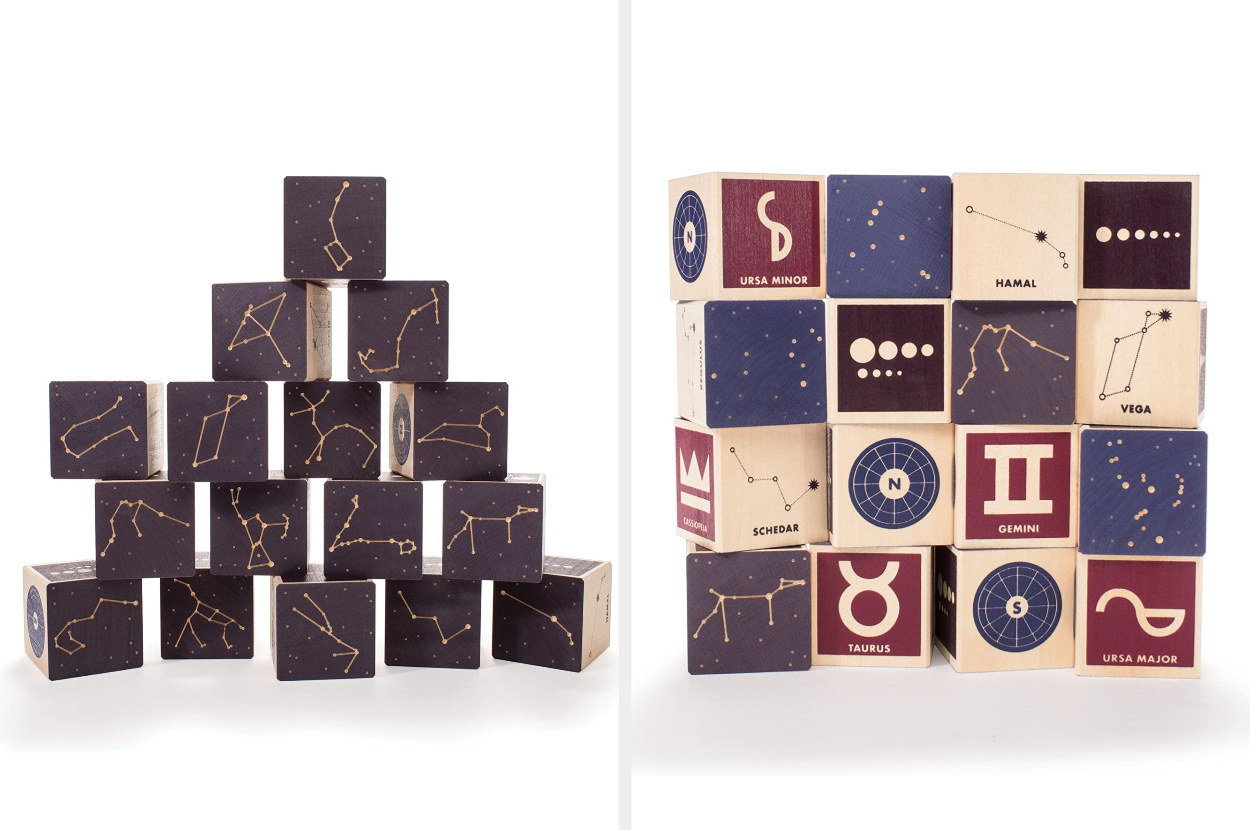 Uncle Goose is a Grand Rapids, Michigan-based company that sells classic wooden block toys, most of which have an educational element.
Promising review: "I got these blocks and the planet and moon phase sets for my 3-year-old who loves all things space. He loves them, he counts all the stars on the constellations and carries them everywhere. They are a good size for building and seem sturdy but we've only had them about a week so I'll update if they don't hold up well, I like that the images are all painted on and not stickers." —Melissa
Get it from Amazon for $27.
13.
A puzzle to help kids master the spelling of common four-letter words. This also help develop their problem-solving skills as they work to figure out which pieces go with each word and drawing!

14.
A sports center for even the smallest of athletes to get some practice time in. They'll improve their gross motor skills as they score goals and slam dunk, and they'll be endlessly entertained by the LED scoreboard and the 50+ songs, sounds and phrases the center emits.
Promising review: "I bought this as a Christmas gift to my 16-month-old grandson. He loves it...we can spend hours kicking the ball or playing basketball. It was definitely his favorite toy and it is great for keeping him busy. It is also educational as it teaches kids how to count and ABCs. I highly recommend this item." —Maurice Horn
Get it from Amazon for $44.99+ (available in two colors).