1.
An in-flight phone mount so you don't have to awkwardly hold your phone in your hand the whole trip as you're trying to watch the TV show you downloaded before takeoff. Now, you can pop it up on the seatback in front of you so your neck is in a comfortable viewing position, and your hands are free for snacking.
Promising review: "I bought this nifty gadget about six months ago for a multi-leg, ultra-long-haul trip and it more than held up the entire duration. I was able to finagle it to fit the tray tables on different planes, and like others, I find the height just nice when clamped onto a stowed tray table. It also works on my roller carry-on handle during layovers. However, I find myself using it a lot outside of travel too! Work-wise, I've clamped it onto my office desk shelving to hold my phone at eye level beside my computer. At home, I simply clamped it to a deck of cards and it turns into a versatile stand that I can place on any flat surface. Heck, I've been using it to hold my phone comfortably at eye level while watching videos in bed. It's extremely well-built, and I find myself fidgeting with it all the time. Thus far it still feels solid and I don't anticipate breaking it any time soon. Even if it does break, I'll be happy to buy another one or two of it!" —Earendil
Get it from Amazon for $12.97 (available in three colors).
2.
A Trtl neck pillow that's 10 times more comfortable than those cheap, flimsy pillows you buy at the airport minutes before your flight. It's designed to keep your head in a comfortable position the entire time you snooze, which means no painful bobble-heading.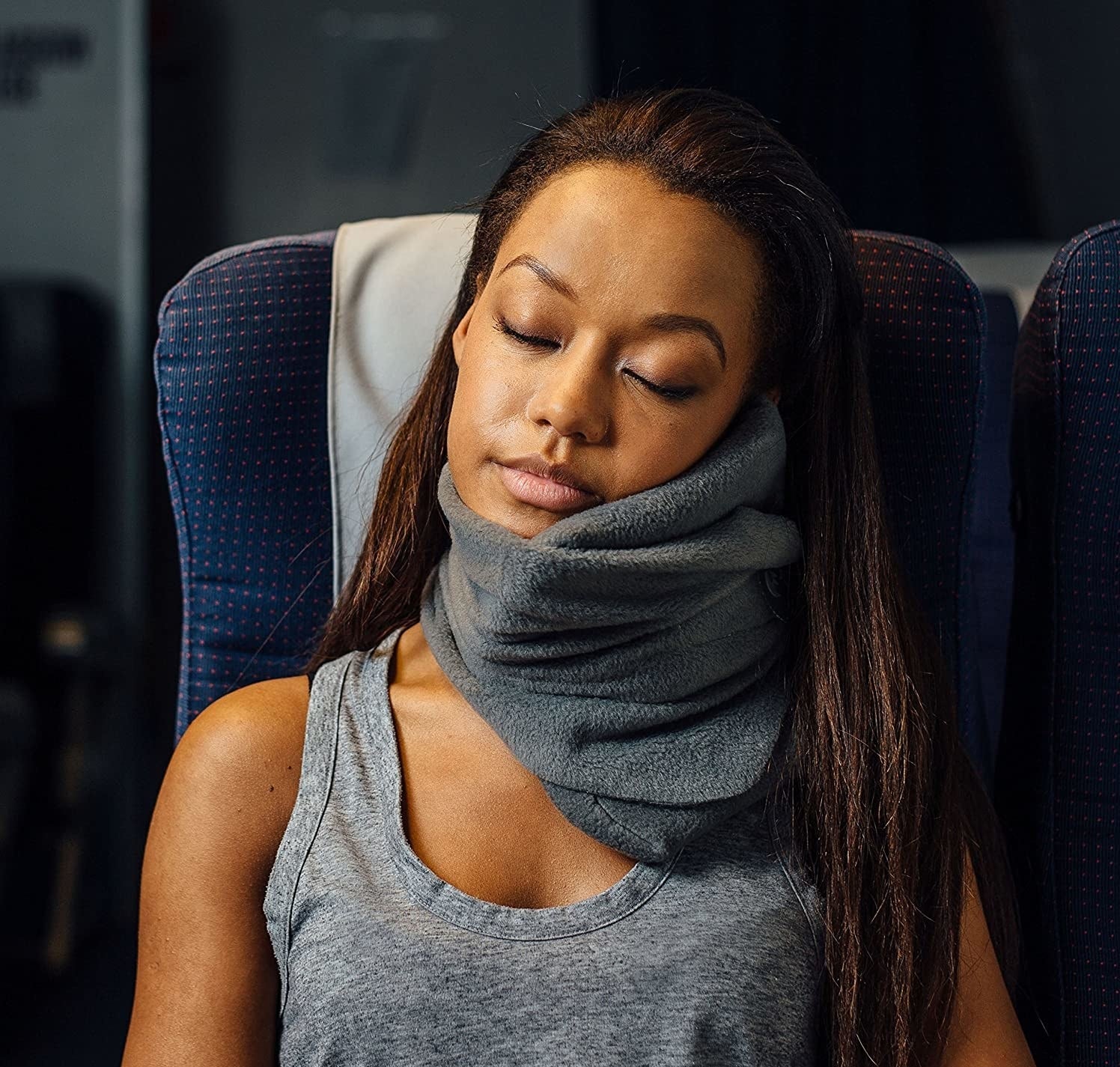 I've used this for the past few years and swear by it! Before this, I always found traditional neck pillows uncomfortable and would end up ditching them halfway through the flight and getting frustrated. The Trtl pillow is adjustable — you wrap the pillow around your neck and secure it with Velcro, and if you find it's too loose, just make it a bit tighter! I've truly never slept better on a plane than with this pillow.
Get it from Amazon for $59.99.
3.
Or a twistable memory foam pillow you can contour to fit any sleeping situation you find yourself in during traveling. It's especially great for long road trips!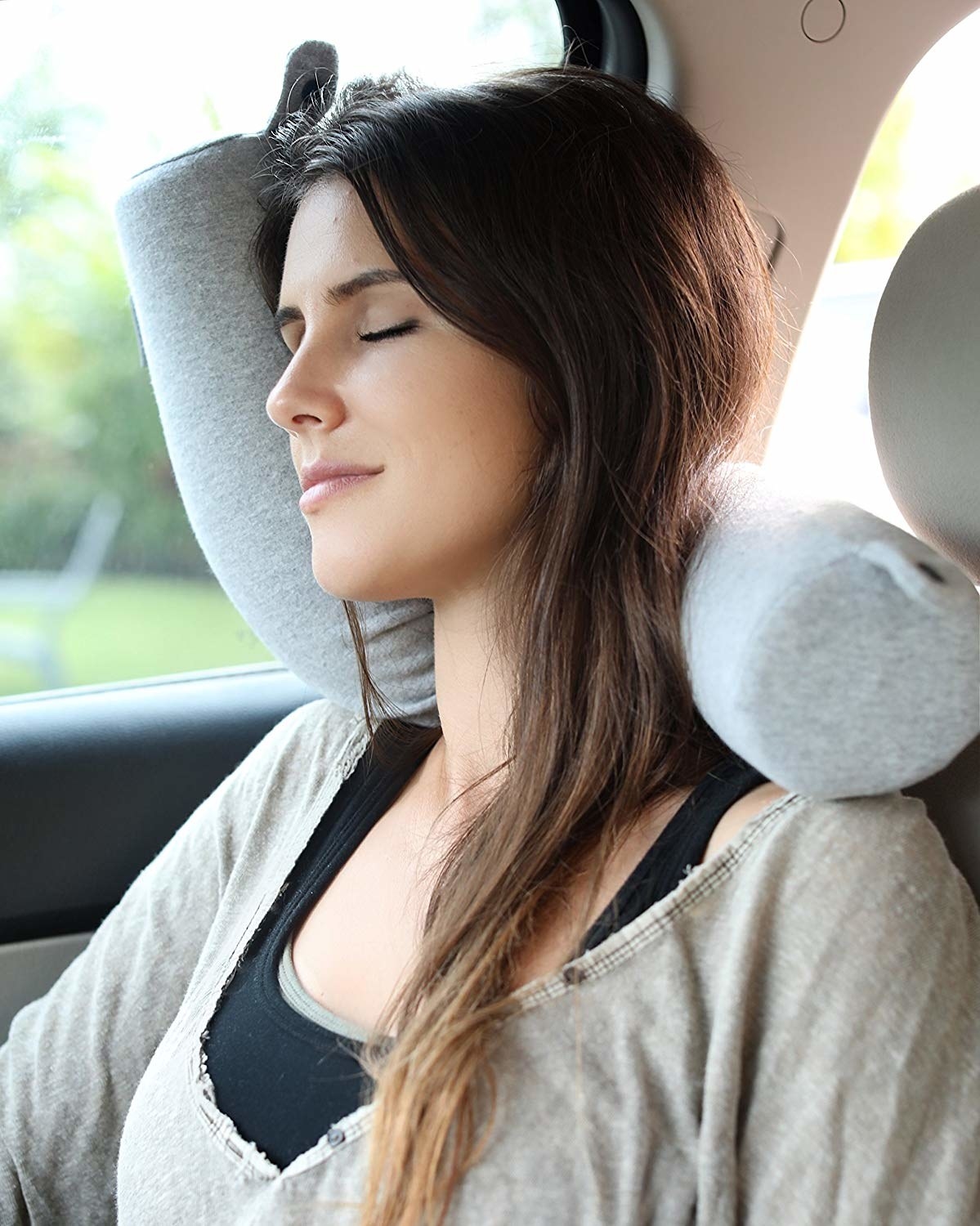 Promising review: "Most travel neck pillows make me feel completely overwhelmed, and this is especially great for those with shorter necks. It gives you control and once you get the positioning that you prefer, it is really comfortable and provides the right support in the right places. Also, (and this was a selling point in the beginning,) having used this on several long-haul flights, I loved that after each trip, I could easily unzip the cover and throw it in the wash." —ltny
Get it from Amazon for $24.99+ (available in four colors).
4.
A pair of quick-dry water shoes so you can keep your delicate feet protected in whatever body of water you're enjoying on your trip.
I wore these on my recent honeymoon to Positano, which is known for its beautiful albeit rocky beach, and I was so happy I could comfortably walk along the beach and head into the water! I kept seeing so many people without water shoes in so much intense physical pain while trying to walk on those rocks, and even though I felt a bit goofy wearing the water shoes, I was blissfully enjoying my vacation without any pain, which is a travel win in my book. We put them out on our balcony after using them and by the next morning, they were completely dry!
Promising review: "Buy these, you will love them! I love to walk barefoot on the beach but isn't always the wisest decision. I read so many positive reviews and thought why not. I got my first pair and fell in love with them. I don't have to wear my sandals and leave them at the bottom of the steps. I can walk on the pavement to the beach and across the parking lot. I loved them so much that I bought a pair for my husband, sister, friend and an extra pair for me. My husband was very skeptical and he loved them too. I would absolutely recommend theses." —Lauren A. Eason
Get it from Amazon for $10.68+ (available in seven sizes and 44 colors).
5.
A Beis backpack I'm convinced is the best travel backpack to ever exist. Thanks to multiple zippers, compartments, and the ability to be zipped all the way open like a suitcase, you can easily pack everything you need for a quick weekend trip. It also has a super sleek, stylish design that'll complement any outfit you wear, and this roomy backpack still somehow is compact enough to fit underneath the seat in front of you!

I bought this backpack after hearing my BuzzFeed colleague Elizabeth Lilly singing its praises (her pictures of this backpack are featured above!), and I'm so happy I decided to purchase it! I really put this to the test during a quick trip to Disney World a few months ago. I was only going for three days, and I was traveling on a budget airline that only allowed me to bring one personal item. As a chronic overpacker, I was worried if the Beis backpack would be big enough to fit everything I need, but I was so pleasantly surprised that I was able to fit three shirts, a pair of leggings, a pair of shorts, a dress, my underwear and bras, a pair of pajamas, and an extra pair of shoes in here, not to mention all of my toiletries and electronics!! I even had room to spare to bring back a few souvenirs. I loved how you could zip it open like a suitcase to easily access whatever you need while on the go. The clear zipper compartments allow you to see what's inside without having to rummage around, and the laptop sleeve in the back will keep your electronics protected. Needlessly to say, I will be taking this backpack on many trips to come!
Get it from Beis Travel for $78 (also available in beige). 

6.
A combination travel blanket/pillow/poncho because it's inevitable that your flight is going to feel like the Arctic. Now whenever you get chilly, you can wear this super comfortable blanket without worrying it'll fall off your shoulders as you move around or fall asleep. It can also be folded up to act as your pillow or can be placed behind your back for lumbar support!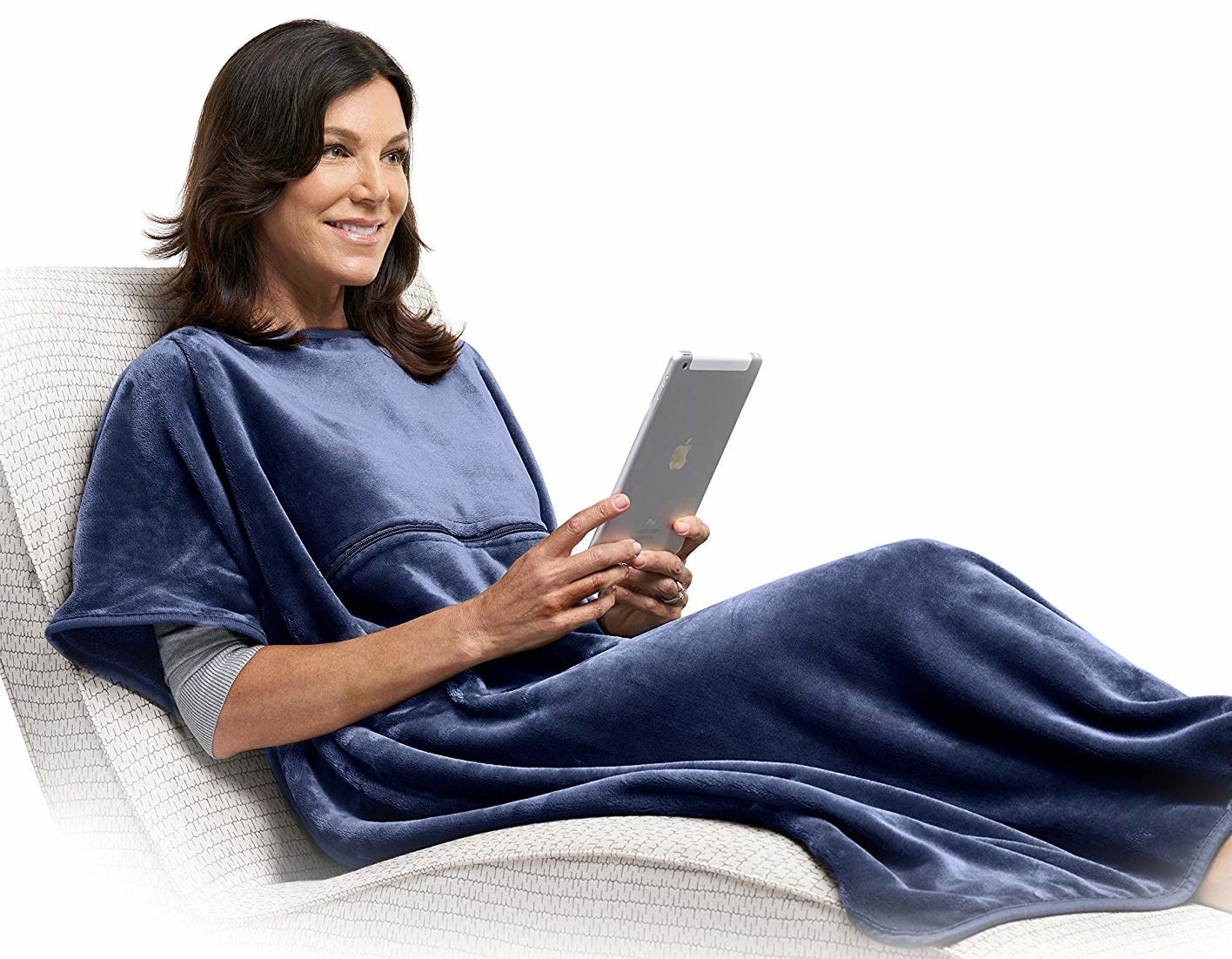 P.S. It's also machine washable!
Promising review: "I purchased this for my 13-hour flight and would highly recommend it. The blankets provided by airlines are usually reused and made of itchy fabric. They also tend to slide off while I'm sleeping and fall to the floor several times, making them unsanitary to use. This Travelrest blanket has a slit that you put your head through. It rests on your back shoulders and stays on until you take it off. There's a front pouch that you can put your valuables in... this was very useful. Without this, I used to put my passport, wallet, phone, etc in the seat pocket in front of me...which is risky since the stuff can fall out of those pockets (very easy to lose/forget things). Also very lightweight and soft." —sartra

Get it from Amazon for $29.95 (available in two sizes and two colors).
7.
A set of decibel-reducing noise-cancelling earplugs for drowning out the sound of crying babies, the flight's loud jet engine noise, and even your seat neighbor snoring like a freight train.
Promising review: "These are genius little earplugs. After a transcontinental flight across the US and various shorter flights of two to four hours over the last six months, I can say that these little plugs are the most comfortable I have ever found. They're even more comfortable than foamies. These plugs dull necessary sound less than foamies, so I hear better without all the noise. My ears are comfortable the entire flight. I've never seen anything better, and I've been flying for 50 years." –Oldma
Get them from Amazon for $28.95.
8.
A mini white-noise machine, because a good night's sleep is important, especially if you're traveling for business or have a full itinerary the next day. You'll slumber peacefully as this machine drowns out the sounds of rowdy next-door neighbors or loud street noises.
Promising review: "I travel a lot for work and need some kind of noise to cover up sounds from the hallway in hotels. This little device is the best one I've found. I've found one of the sound options that sounds just like an AC unit that puts me to sleep in an instant. And no worries that the hotel AC stops running in the middle of the night as they usually do and you wake up to a silent room and can't go back to sleep. The sounds on this little guy are the best ones I've heard. Buy this for travel and you won't be sorry!" —KJ
Get it from Amazon for $24.99 (available in two colors).
9.
An absolutely brilliant hoodie from Pond Los Angeles that has a sleeping mask built in to the hood. Are you about to be the most comfortable and well-rested person on your flight? Yes, yes you are.
It also has a secret pocket hidden inside the kangaroo pocket so you can safely store your keys or phone. Reviewers say it's oversized, so if you want a snugger fit, size down.
Pond Los Angeles is an Asian- and woman-owned small business that creates bags and clothing perfect for traveling. 
Promising review: "I fly a lot and am constantly trying to find a hoodie with a big hood to cover my eyes so I can catch up on some beauty sleep on flight. I saw this product on Instagram and knew it would be a game changer. I was able to use it recently for the first time on an early morning flight and let me tell you, it is EVERYTHING I was looking for and more. It's comfy, cozy, oversized, and the eye covers make you feel like you're in a whole other world and not packed like a sardine on a plane. My over-ear headphones fit perfectly under it and I got the best sleep I've had on a plane — EVER!" —Heather G.
Get it from Pond Los Angeles for $102.40 (originally $128, available in women's sizes XS–XL; also available in black and oak).
10.
A luggage-mounted cup caddy because the airport can be stressful, and juggling your coffee and breakfast while trying to lug your suitcase around can be even more stressful. Now you can safely tuck your cup in this caddy and have both hands free to maneuver your luggage around the airport!
Promising review: "So handy. We travel all the time, and this is perfect for holding drinks while we are at the airport. Love it." —Bruce V. Hartley
Get it from Amazon for $15.99 (available in 28 colors/patterns). 
11.
A resealable travel-size pack of antibacterial wipes to eliminate all those invisible germs that are sure to be lurking on your tray table, your armrests, your seat....ugh I shudder just thinking about all that grime!
12.
A portable charger that can hold around five full charges for your cellphone. It has two USB ports, so you could even charge two devices at once. Never be with a dead electronic device again!
Promising review: "This is honestly the nicest power bank I've ever owned. Its design is stunning, the tiny texture provides a nice feeling holding it, and it's one of the quicker 20,000 mAh chargers (receiving and delivering power). I love that it accepts usb-c charging and that it has two out ports. I bought it because I love attending music festivals and needed the extra battery life, which this is perfect for!" –Andrew
Get it from Amazon for $36.52.
13.
A Dagne Dover duffel bag roomy enough to carry all of your necessities but small enough to fit under the seat in front of you. Anything that can help you avoid fighting over overhead bin space is a win in my book!
BuzzFeed's Emma McAnaw says: "My Dagne Dover duffel fits soooooo much more than it seems (especially when you fight to the death to fit everything like I do), and it's a super easy carry-on! I just put it under the seat so I don't have to fight people to get the overhead bin space. Also, I've gotten away with bringing it for free on airlines that try to charge for carry-ons because it looks so small."
Get it from Dagne Dover for $125+ (available in five sizes and eight colors).
14.
Or this leather duffel bag to match the refined, worldly traveler that you are. With a huge main compartment plus extra pockets on the side and front, this durable bag has enough room to comfortably fit a week's worth of clothes!
Promising review: "So worth the money!! I have been searching for a nice leather duffel bag. I have found a few that I wanted to buy but couldn't bring myself to pay $300–$400 for one right now. I figured I'd check Amazon and came across this bag. I read all the great reviews and figured why not? I was skeptical though because the bag was under $100. Let me tell you every review is spot on. Such a nice bag. Big too. I'm in love with it. This company does a great job. Quality stitching, leather, zippers, etc. Don't hesitate; it's well worth the money!!!" —john
Get it from Amazon for $69.99+ (available in four sizes).
15.
An anti-blister balm because vacation time is too precious to spend it walking around in shoes that rub your ankles raw! This works best if you apply it at the beginning of the day before you start walking because it will create a barrier between your shoe and your skin.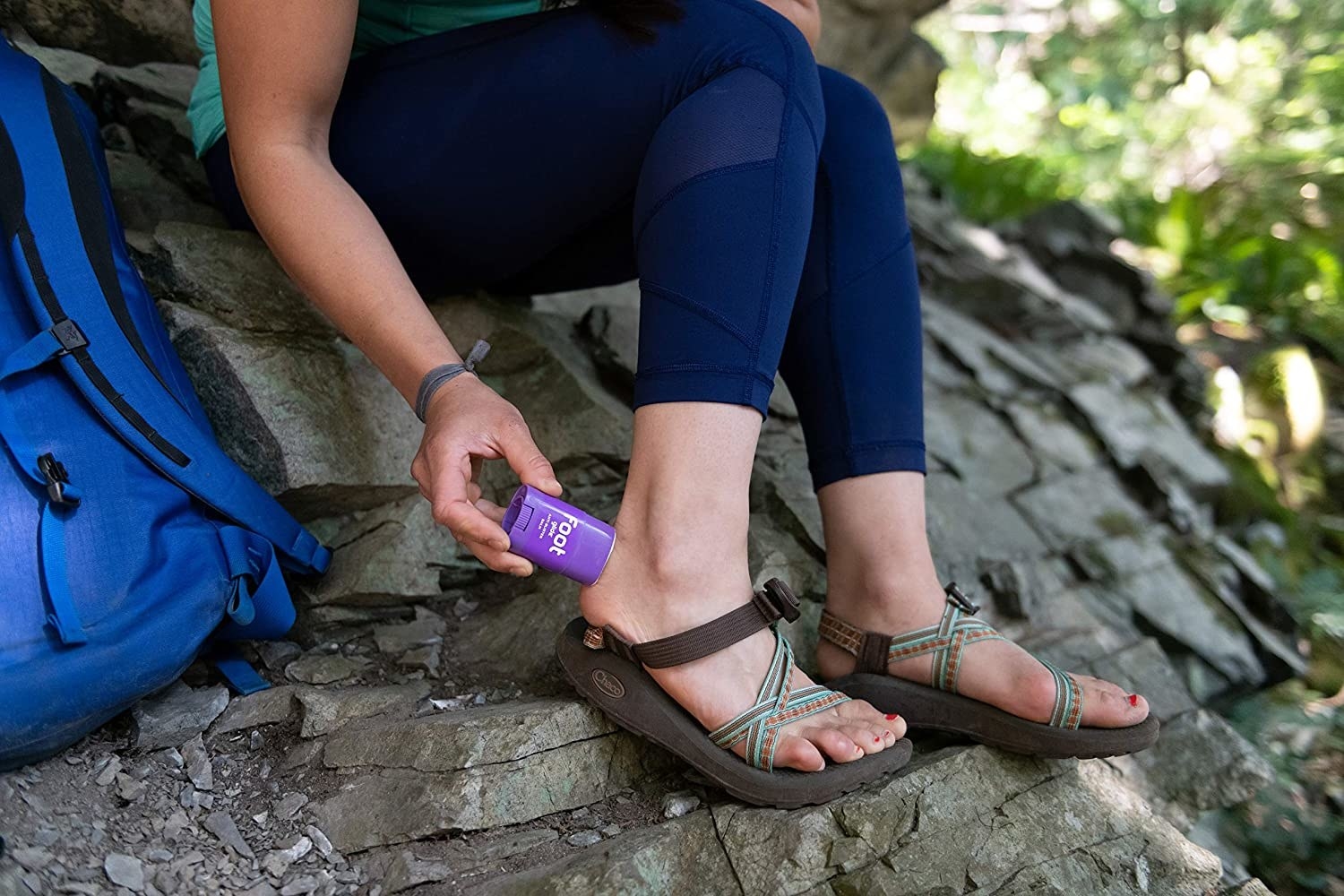 Promising review: "This stuff is amazing! I wore heels that always give me blisters for eight hours, and I didn't get a single one when using this balm. It really worked! I plan on getting it again and again. I always have it in my bag at work just in case. I did find it necessary to reapply if I took my shoes off and put them on again." —Donna

Get it from Amazon for $9.