We hope you love the products we recommend! All of them were independently selected by our editors. Just so you know, BuzzFeed may collect a share of sales or other compensation from the links on this page if you decide to shop from them. Oh, and FYI — prices are accurate and items in stock as of time of publication.
1.
A tiny cleaning ball designed with a sticky inner sphere that will pick up all those loose crumbs that somehow always appear at the bottom of your purse. 
Once it loses its stickiness, just wash it off with water, and it'll be good to go again!
Promising review: "This little ball is genius!! Rolls around in my purse; which I live out of. It picks up a lot lint, debris or even crumbs. Easy to find with the bright pink. Just remove and wash and it's ready to go again. The price was great and something I can use for years. If you live out of your purse this a must-have!!" —dj3biggs

Get it from Amazon for $12.99 (available in pink and black). 

2.
A tube of Glossier's Balm Dotcom that can moisturize chapped lips while also giving them a subtle hint of color. You'll want it keep one (or maybe five) in your bag because you'll love how hydrating it is!
Promising review: "I use this on my lips once in the morning and once at night and that's it! My lips are baby soft the entire rest of the day and I haven't had any issues with chapped lips since I started using it! You only need a small amount too which is so nice. I love the mint one and will definitely buy again and try other flavors." —Gretchen
Get it from Glossier for $12 (available in 10 flavors).
Read our full review of Glossier's Balm Dotcom here! (#1 on the list).
3.
A versatile clip so you never have to deal with the ~dreaded~ act of having to place your bag on a filthy floor again. Use this to hang it on grocery carts, doors, the edge of a table, really anywhere! 
When you're done, just slip it back into your purse! Easy as that.
Promising review: "I have a very heavy, large purse that is a bottomless pit. One time I put my purse on the back of my chair at a cafe and the whole chair flipped over, that is how heavy my bag is. I was looking for something so that I could hook my purse on things so it wasn't sitting on the floor and was more accessible. I love this little gadget. I have used it on everything from bathroom stalls to tables to grocery carts. This thing really grips. All of my girlfriends love it and have gotten it for themselves." —Jennifer
Get it from Amazon for $16.99 (available in eight colors).
4.
A three-pack of Tide To Go because a ketchup stain down the front of your favorite white shirt shouldn't have the power to ruin your entire day! 
Promising review: "These were a lifesaver. I was walking to the bus and decided it was a great decision to drink coffee while walking. Like a scene from an infomercial, I spilled coffee all over my white shirt. Yes, the classic coffee on the white shirt. Luckily I had one of these in my bag (I put one in each of my most-used purses in anticipation of my clumsiness). I went into a store bathroom and quickly scrubbed the Tide To Go on my shirt. All of the coffee blobs went away and once the awkward wet splotches dried up, my shirt was perfectly white again. You've got yourself a big fan, Tide." —NAD
Get it from Amazon for $7.74.
5.
A portable charger if you're constantly on the go and don't have time to recharge your phone by plugging it in. Now, if you notice your phone's at 3% in the middle of an important work call, you can just plug it into this. Crisis averted.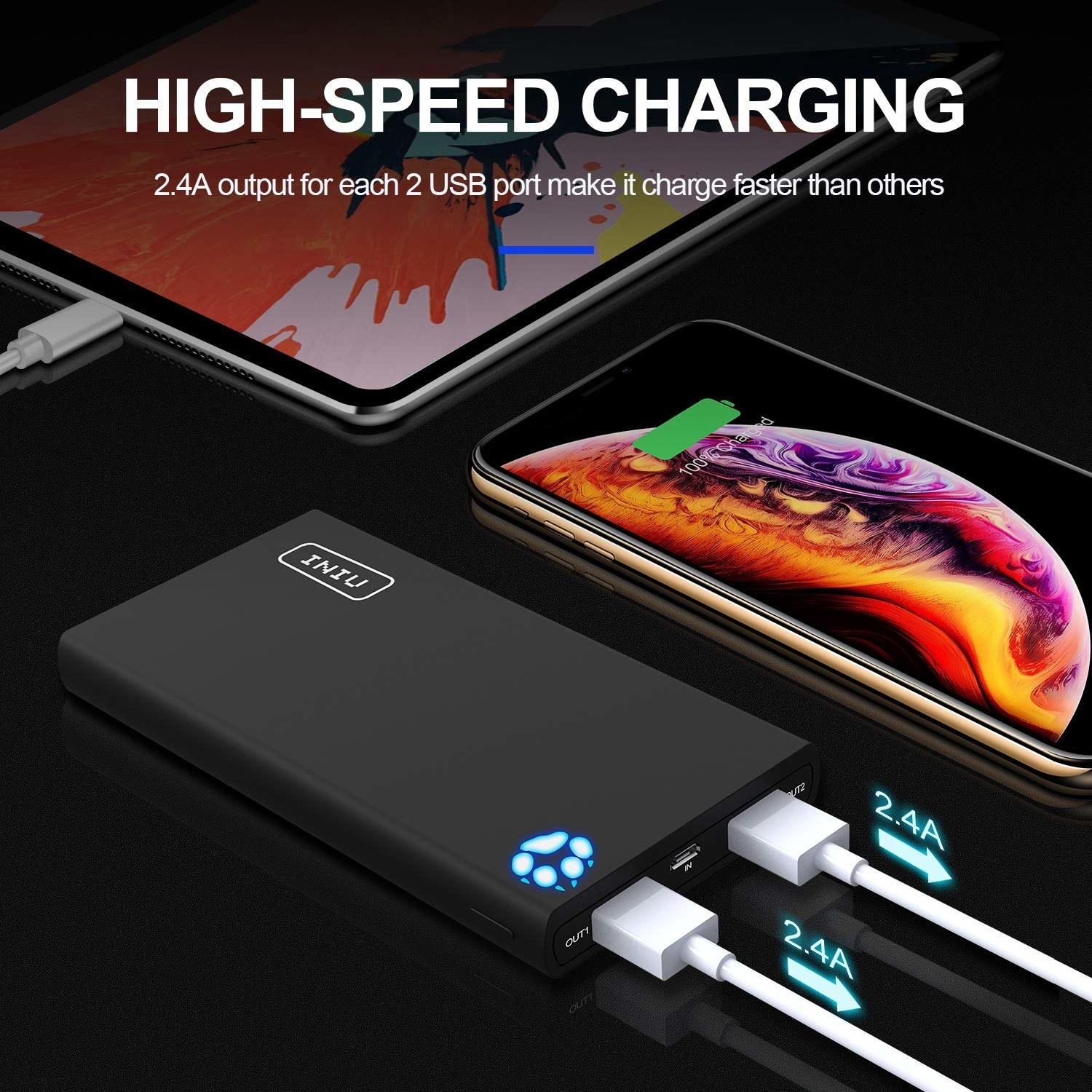 This has two USB ports to charge two devices at a time, and it holds enough juice to charge *over* THREE iPhone 8s.
Promising review: "I love this portable charger! I didn't think it would be a good idea, because normally portable chargers die within the first charge. I have charged my phone over four times and haven't had to re-charge this yet! That is including just leaving it in my bag for weeks until I need it again. It will not disappoint! I love it!" —MacMak
Get it from Amazon for $19.99+ (available in four colors). 
6.
A reusable Revlon Volcanic Face Roller anyone with skin that tends to get oily will appreciate. Just roll this across any shiny parts of your face, and watch in amazement as all the oil disappears!
Promising review: "This little face roller is AMAZING. I have combination/oily skin so using this as a refresher has been perfect. I even purchased one for my brother's girlfriend who has similar skin. It really does clear up the oil and make your face feel/look less oily. I used to carry around those face dab wipes that soak up the oil, but it can be so annoying using those/carrying them around." —Leighann Larsen
Get it from Amazon for $9.44+ (available in two colors).
7.
A set of reusable silicone straws that open up so you can easily clean them after each use. Never get stuck having to use those flimsy paper straws again — just whip this out of your bag for an ideal sipping experience!
Promising review: "I never thought I'd be writing a review for straws, but here we are. These are FANTASTIC. I try to be as eco-friendly as possible but was ready to give up. I've tried metal straws, but they are tough to clean, and I don't love metal against my teeth. I've tried other reusable plastic and silicone options, but they don't work for thicker drinks like smoothies. These actually address all of my issues. I've used them for thick smoothies that I drink daily and just for other everyday drinks like water. They couldn't be easier to snap open and clean, dry, then easily snap back into shape to use again." —M. Alexandria
Get a set of eight from Amazon for $10.19 (also available in other quantities and colors).

8.
A set of hair claw clips for a cute way to keep your hair out of your face at a moment's notice. Bonus: they'll keep even long, thick hair securely in place all day long.
I've owned this set for about a year and I am reaching for them constantly! I used to be someone who would tie my hair up in a messy bun whenever I'm doing things around the house, but I noticed how that would really start damaging my hair after a while. Instead, I just clip my hair back with one of these, and my long, thick hair stays in place without the claw jamming into my head. I have some other clips lying around that I should probably get rid of because I only ever exclusively use these!
Promising review: "I will admit I bought these from seeing them on TikTok and I needed new clips for my thick hair. I am not disappointed and beyond glad I got them. The colors are gorgeous and they stay put without hurting my head. I'm very impressed." —Jessica
Get a four-pack from Amazon for $11.99+ (available in 19 different color sets).
9.
A super-sleek retractable lint roller that barely takes up any space in your bag, but will be a lifesaver when you realize you brought along all of your dog's loose hair on your work pants.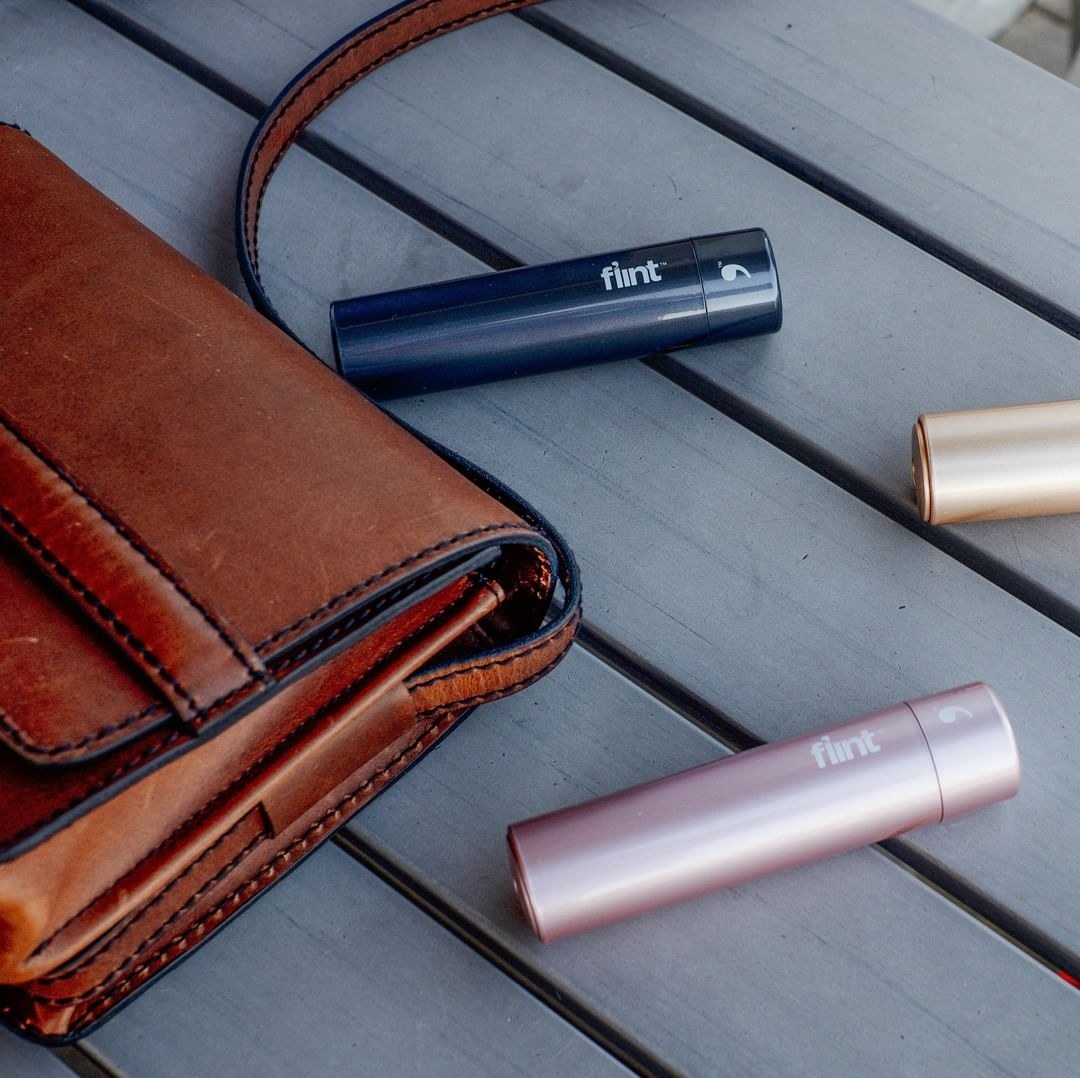 Promising review: "Fits perfectly in my purse or desk drawer. I have three dogs and wear black slacks almost every day, this lint roller is a lifesaver for me! No more showing up to work covered in dog hair!" —Texas Mommy of 2
Get it from Amazon for $8.15+ (available in five colors).
10.
A pack of reusable grocery bags — yes, you should carry a bag within your bag! Hear us out — they fold down to about the size of your palm, which means you can always have them stashed away in your bag in case of a last-minute shopping trip.
The bag can hold up to 50 pounds, and they're machine washable.
Promising review: "I purchased these bags because I have quite a walk from my garage to my house. These bags are AMAZING! I stuff them full and they never tear. I also get water by the gallon and these bags hold them. They make my life easier!! Try these bags, you will love them!" —MB
Get a set of five bags from Amazon for $14.99+ (available in 40 color sets).
11.
Travel-sized Poo-pouri to spray in the toilet *before* you use it to eliminate any unwanted smells from stinking up the whole bathroom. Trust us — you'll want to keep this tucked away in your bag for on-the-go stinky situations!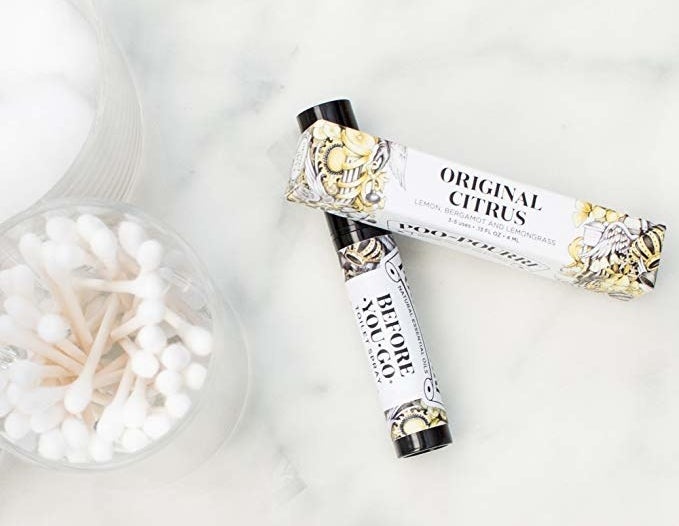 Promising review: "I have these sprays in every bathroom in my home. I also keep one at work, although I had to start hiding it in the bathroom because apparently other people love it as much as I do and decided to take it home with them. I highly recommend. So much more effective than the 'courtesy flush.' By the time you do that one, the problem is already 'out there.' With Poo-Pourri, it never has a chance. I haven't met a scent I didn't like so far. What a great idea!" —Kindle Customer
Get it from Amazon for $8.17.
12.
A package of dissolving soap sheets for the times you really need to wash your hands but all you have is water. This is especially great for parents of toddlers who are always getting into messes when you're out and about — just pull one of the sheets out, pour some water on your hands and rub, and you'll have gentle soap ready to get all that stickiness off their little hands in a pinch.

Goodnest is a new brand of baby care products that uses sustainable and reusable packaging for all their products, and all of their baby care is free from parabens, phthalates, dyes, synthetic fragrances, silicones and sulfates Also, the company will donated a month's worth of clean water to someone in need for each item purchases.

Get 20 sheets from Target for $6.99.
13.
A mini umbrella so tiny, you can always have it in your bag and not even notice it's in there. This is essential for anyone who lives in a city — nothing's worse than getting caught in a surprise downpour without an umbrella!
Promising review: "This is a great quality umbrella. It's super affordable, lightweight, and comes in several colors as well! All the other ones I found on Amazon were $15 and up. I'm super glad I found this product, as it's been raining a lot here recently and I found myself without an umbrella." —Krissy D. 
Get it from Amazon for $12.99+ (available in two sizes and 14 colors). 
14.
A multi-tool that looks like a key but is actually much more than meets the eye. It has over 16 uses — a bottle and can opener, a wire bender and stripper, wrenches, a ruler and protractor, and even a screw driver! It's like a whole toolbox that can fit in the palm of your hand.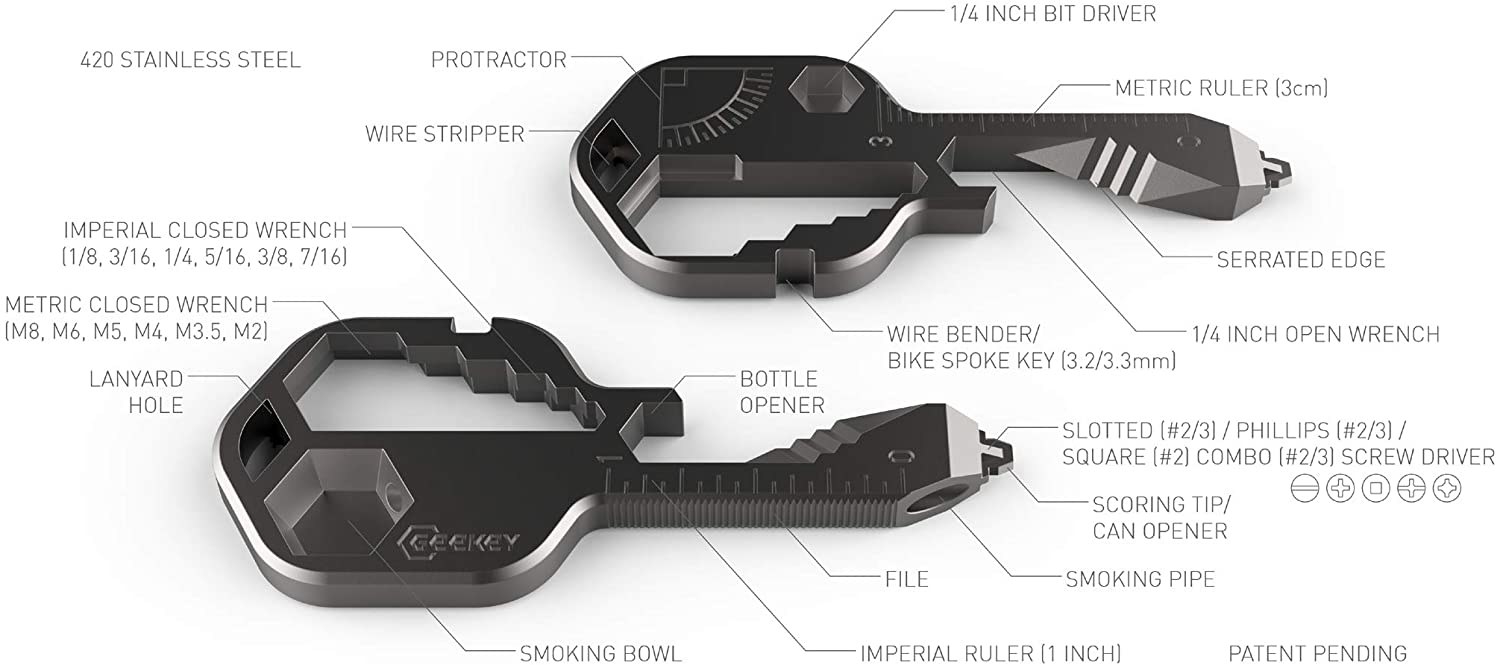 Promising review: "I always want to carry something that will get me out of a pickle. With microtools, I often carry two. My world is just an ongoing lab to test which microtools work best. This tool has NEVER been cut from the rotation since I received it. I've also used the smoking pipe, and it worked perfectly and was super easy to clean with a standard pipe cleaner. Get this!" —krakatoa
Get it from Amazon for $19.99.
15.
A small waterproof pill box that allows you to tote around things like ibuprofen, allergy meds, or anything else you might need to avoid any aches, pains, and discomfort during the day.
Promising review: "Great size to fit all pills needed for a getaway, dinner out, or even just to carry for emergency. I am able to carry it in my pocket if needed. The removable divider is great for washing the case. It closes tightly so I don't have to worry about losing any pills input in there. Highly recommend for your meds or vitamins." —M.O
Get it from Amazon for $9.99+ (available in six colors). 
You when someone asks if they can borrow your Tide To Go pen: