1.
A milk frother for making fancy lattes from the comfort of your own home. Yes, your local coffee shop might miss seeing your face every morning, but now you'll be saving money while still enjoying professional-quality drinks every day.
It comes with both heating and frothing whisks.
Promising review: "Finally — a frother worth the money! This frother is superior to several others I have had in a couple of ways. The markings are clearly visible inside unlike others which you can barely see. It's stainless steel, so it is a breeze to clean. Previous frothers were made of plastic and even with rinsing in hot soapy water immediately I still had to scrub and use a wire brush to clean the little frothing wheel. It is quick and quiet, makes incredible foam and is very well made. I use 1 cup of milk for my lattes — other frothers have a 3/4 cup limit — and this holds more. You can use 1 1/4 cups for frothing without spillage. Have had it for several weeks and couldn't be more pleased. Really hoping it holds up to daily use unlike others I've tried which quit after a year or so. It is a little heavy for travel — I take it with me on trips — but it's a reasonable trade-off. I look forward to my morning latte and don't need to use the handheld battery-operated gadget that is hit or miss. Yay!" —Helene Haviland
Get it from Amazon for $56.95+ (available in two styles).
2.
A waterproof Kindle Paperwhite so you can finally read that juicy thriller you've been wanting to start for ages. The anti-glare display on the screen mimics the look of words on actual paper, providing the optimal outdoor reading experience this summer.
Promising review: "I love the Kindle e-readers. Previously, I had the 7th generation that I bought back in 2013. You just can't beat the backlight with the kindle e-readers; they are the best on the market in my opinion. I bought this mainly for the waterproof feature. It also has more storage space and some of the features (Goodreads, for example) have been updated. Another huge plus is having audiobooks on this kindle (though you do need a Bluetooth headphone set). I listen to a TON of audiobooks, so this is super useful for me. The battery lasts much longer than my old Paperwhite and it is notably lighter than my old one. For me, this was well worth the money because of the type of reader I am. The only minor gripe I would have is that sometimes I accidentally touch the screen and it goes on to the next page before I am done reading (an issue I had with the previous Kindle Paperwhite too), but it's a minor more logistical issue." —Phoebe
Get it from Amazon for $109.99+ (available in two storage sizes and with or without Kindle Unlimited).
Check out our full review of the Kindle Paperwhite here.
3.
A pair of Powerbeats Pro wireless earbuds great for workouts thanks to the hook design that keeps them in place no matter how many reps you're pushing through. You'll get up to nine hours of use on a single charge *and* they're sweat resistant, so you can rely on them to hold up even on your long-run days.
Here's a part of a BuzzFeed Shopping editor's review for these splurge-worthy bbs: "These Beats headphones have been a real game-changer for me. The sound quality is SO MUCH better than my cheap headphones, which has actually really improved my experience while working out. I find it easier to stay motivated now that my music is *crystal clear* (and I can't hear myself wheezing). They can hold a charge for a pretty long time, as long you always store them in their charging case. I usually use them for a full work day without needing to re-charge them. Plus, they're really comfy in my ears and never fall out, thanks to their clever hook design (if you have comfort issues with Apple headphones, these will probably feel better)!"
Get them from Amazon for $149.95 (available in three colors).
Check out the full review of these headphones in "10 Things To Try in March."
4.
Or these noise-canceling Bose headphones to tune out the loud neighbors or mind-numbing construction outside your window as you attempt to work from home. Or you can use them to jam out to whatever Taylor Swift album she decides to drop this week while tuning out all your problems.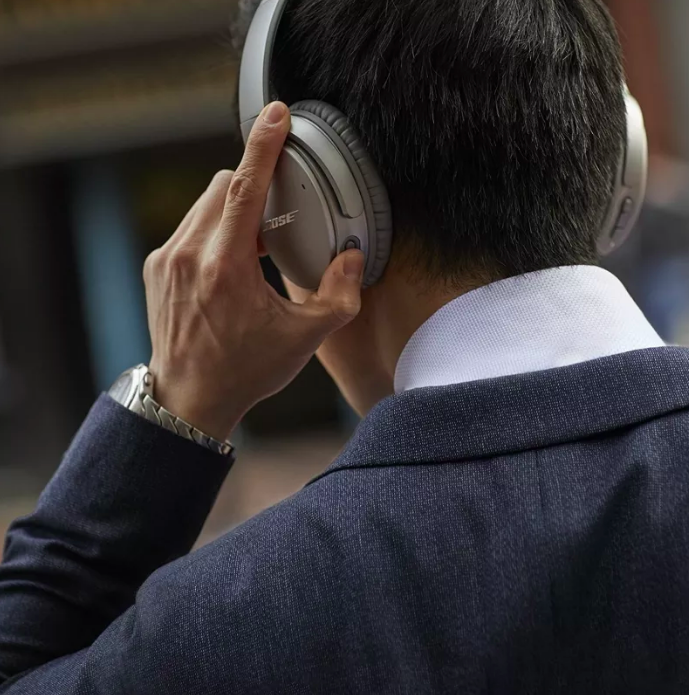 Promising review: "Worth the money. I've wanted these Bose headphones for years but was hesitant to spend the money on them. These are my favorite headphones. They are comfortable, the battery lasts forever, and the noise-canceling feature is amazing. When I turn on the noise-canceling I can't hear anything around me. It completely blocks all the noise in my house. That doesn't make my housemates happy because I can't hear them even when they yell for me, but I love it. These headphones make life a little more relaxing especially during this time when everyone is home all the time. The sound quality is amazing too. I use these to listen to music and watch movies and they work great for both. Highly recommend." —Chelse Adkins
Get them from Amazon for $359+ (available in two colors).
5.
OR! a pair of AirPod Pros anyone will fall in love with instantly, whether it's because of the charging case that holds 24 hours' worth of charge, the impressive noise-cancelling technology, or the in-ear fit that will stay put even if you fall asleep while wearing them. (Speaking from experience here!)
Promising review: "I wish I could give more than 5 stars. I'm a very picky person when it comes to what sounds are flooding my ears and I tell you, I've owned Bose and thought those were the game changers. I was more than pleasantly surprised at how these sound and fit. I've never used any Apple products in my ears, especially with the price of Apple nowadays. These are hands down the best earbuds I've ever owned! They stay perfectly in place through some rigorous working out as well!" —Renee N. Fregy

Get it from Amazon for $229. 
Check out our full review of the Apple AirPods Pro here.
6.
A trio of professional-quality knives because nothing's as satisfying in the kitchen as slicing, dicing, and cutting your ingredients with a razor-sharp edge. A priceless investment for anyone who spends a lot of time in the kitchen, this knife set is sure to last you years and years.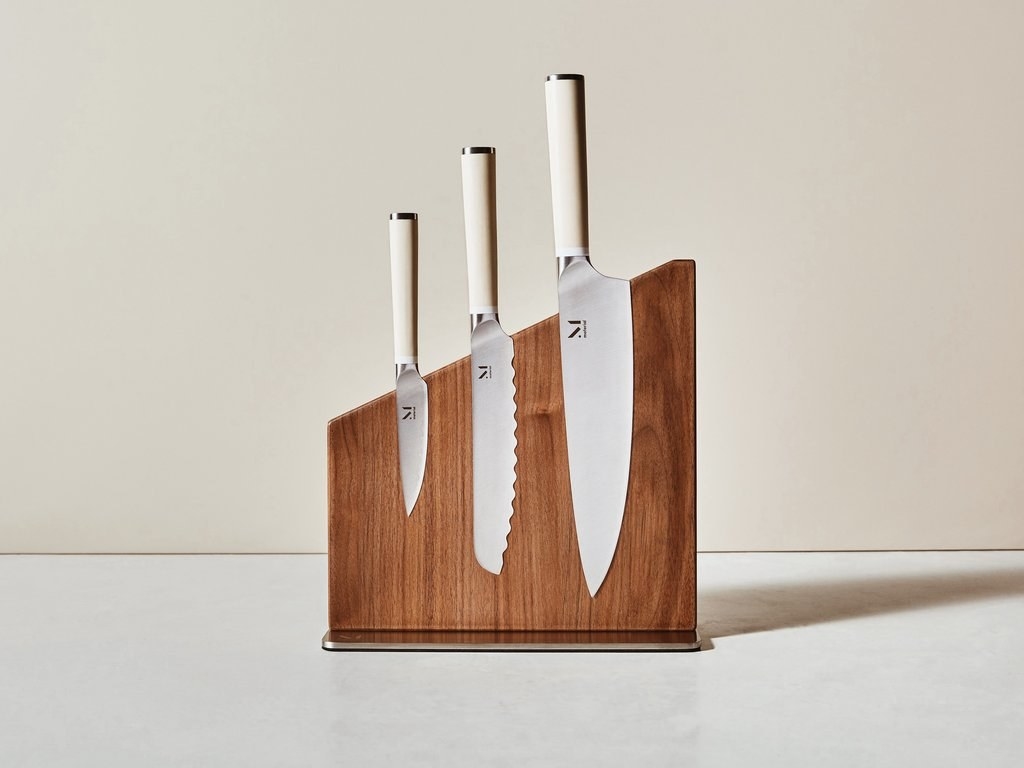 The set comes with the Almost 4" Knife, the Serrated 6" Knife, and the 8" Knife.
Material Kitchen is an Asian-owned small business that sells high-quality kitchenware meant for home cooks.
Promising review: "This is our first set of 'adult' kitchen knives. We wanted to ditch the large block of knives and go with a cleaner look. The knives are so beautiful and the block is gorgeous. It's an investment that is well worth every penny." —Stephanie M.
Get the three-piece knife set from Material Kitchen for $155 (available in three handle colors) and get the stand for $90 (available in two colors).
7.
A Spa candle from Hotel Lobby Candle — this company makes indulgent-smelling candles that are meant to transport you to a 5-star resort, even if you're just in your living room. This scent in particular evokes the relaxing, calming feeling you get as you enter a fancy spa thanks to the blend of eucalyptus, water mint, sage, jasmine, and amber.
8.
Or a candle from Harlem Candle Company that just exudes sophisticated coziness. When they're done burning the candle below, it can be transformed into a fancy cocktail glass.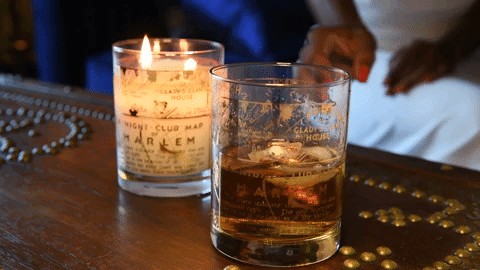 This is a Black woman-owned company founded in 2014 by Teri Johnson to help embody her love of jazz music and Harlem. 
Here's what my colleague Sally Elshorafa says about her candles from Harlem Candle Company. "The soy vegetable wax blend candles are made with one-of-a-kind fragrance oils. I recently burned through a tin of the Holiday scent and it lasted SO much longer than other candle tins of that size. I'm currently on the Speakeasy candle that smells incredibly luxurious and rich. If I'm awake and in my apartment, a candle is lit. But I think I'll ration the Speakeasy beaut to keep it around even longer."
Get the 22K Nightclub Map of Harlem Savory Luxury Candle from Harlem Candle Company for $65, their Speakeasy candle for $48, and check out more scents.
9.
A blanket from Rumpl designed to go everywhere you go: camping trips, on the beach, on a road trip. Built to feel like a sleeping bag, it's packable, insulated, repels sand, and is made out of 100% recycled material. OH! And you can wear it over you like a cape thanks to a front loop closure.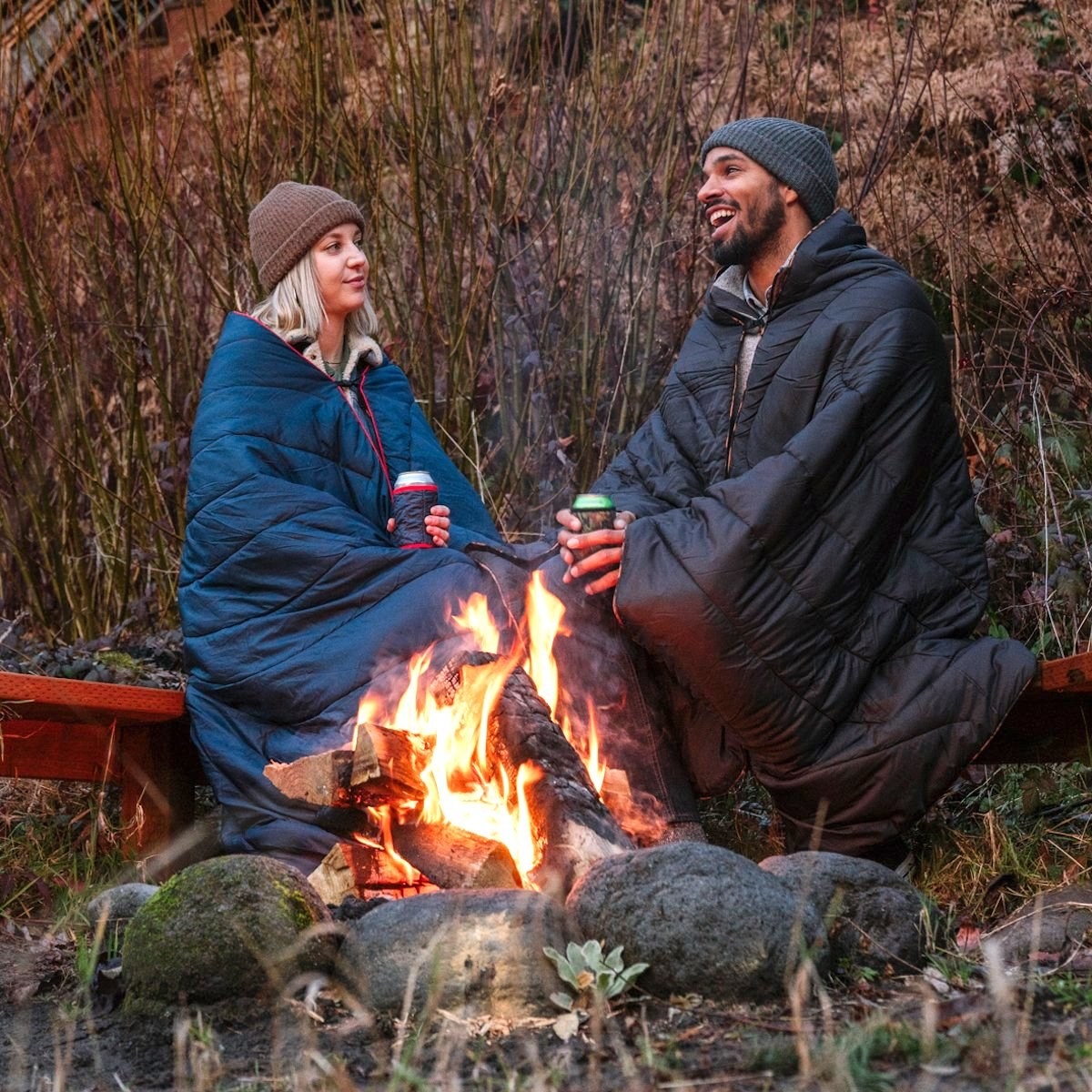 Rumpl is a small business based in Portland, Oregon that makes stylish, cozy "sleeping bag blankets" meant for indoor and outdoor activities.

Promising review: "I recommend this for ANYONE who gets cold easily, who has to sit at baseball or soccer games in the cold, or just wants to warm up quickly. It's really warm and windproof and goes the job wonderfully well! I was hesitant at the price, but it is well worth it!" —Tina W.
Get it from Rumpl for $99+ (available in two sizes; check out all the color options here).
10.
An ice maker that sits on top of your countertop and makes gloriously perfect cubes as you go about your day. Leave those flimsy ice cube trays in your past because this is the ~cool~ upgrade you've been looking for.
The maker can hold up to 70–80 cubes of ice, and it will alert you if it needs water, if ice is ready, or if it needs cleaning.
Promising review: "We desperately needed a way to have more ice at our summer home, and this was the best purchase we've made to fix this! So easy to use and continually makes ice all day like we want it. We put the ice into the freezer as it continues to make it, so we never run out! So much better than constantly making trips to the gas station and spending money on bags of ice! So worth the purchase!" —Jackie
Get it from Amazon for $89.99+ (available in two colors).
11.
A mixed set of stunning stemware because have boring, clear wineglasses when you can have these brightly colored beauties?! Even if you're drinking a $10 bottle of wine, it'll feel like a first-class ~experience~ when sipping out of these!
Estelle Colored Glass is a Black woman–owned small business that creates vintage-inspired hand-blown pieces in beautiful jewel tones.
Get a mixed set of six from Estelle Colored Glass for $185 and check out their other glassware here.
12.
A silk pillowcase that'll protect your hair from tangling, matting, and getting all frizzy. (Goodbye bed head!) The ultra-soft fabric doesn't absorb moisture from your skin, so you'll also wake up to a super-hydrated complexion.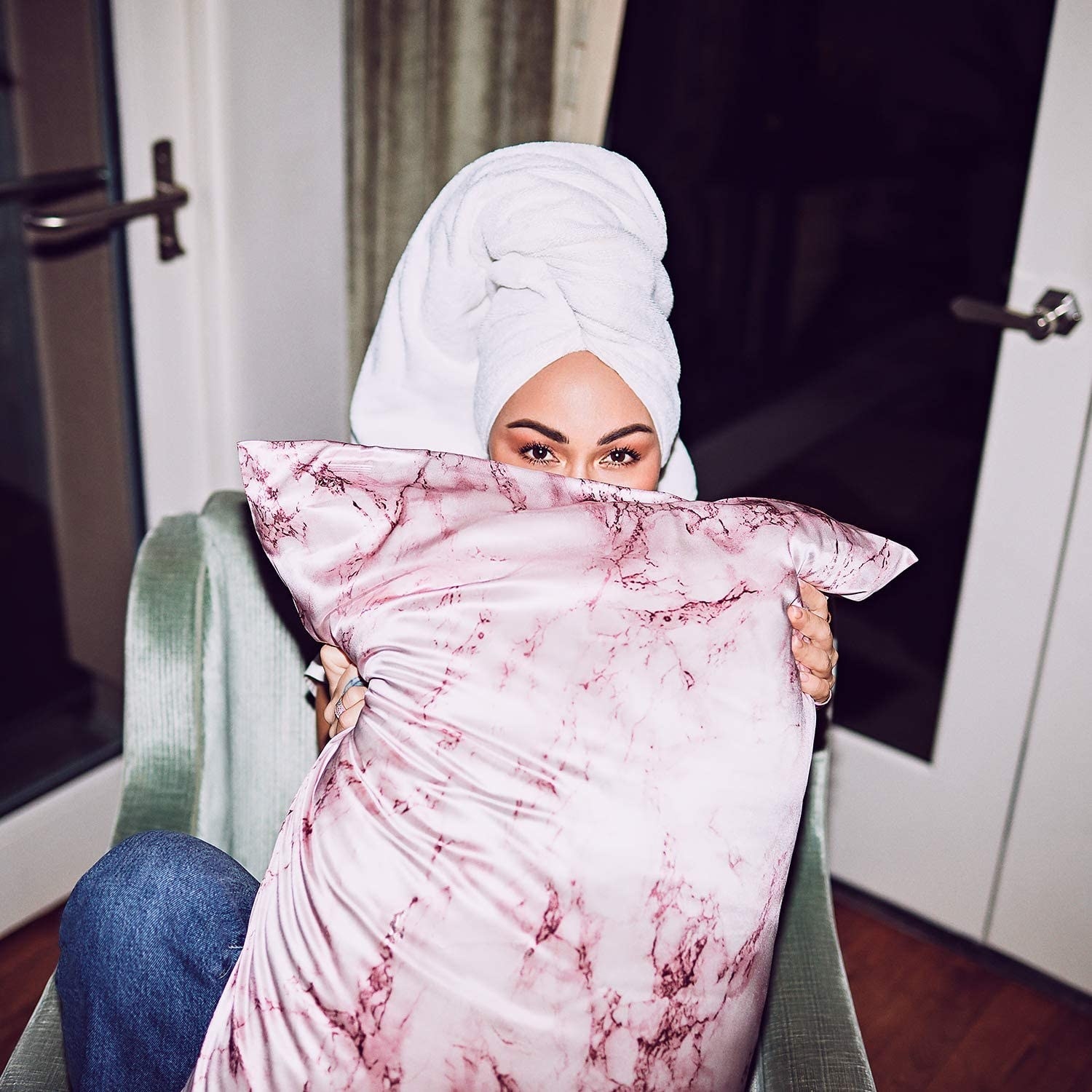 Promising review: "Worth the money my curly girls! I have bought so many silk pillowcases that were either too slippery or not as silky as they claimed to be. This one lives up to the hype! No slip and protects my coarse, curly hair. By the time you waste your money on trying to find the perfect silk pillowcase, you could just buy this one. Sometimes more expensive is worth it. Side note. I washed mine on delicate cycle as instructed and then let it air dry." —karen
Get it from Amazon for $87+ (available in two sizes and 15 colors).
13.
A leather duffel bag to match the refined, worldly traveler that you are. With a huge main compartment plus extra pockets on the side and front, this durable bag has enough room to comfortably fit a week's worth of clothes!
Promising review: "So worth the money!! I have been searching for a nice leather duffel bag. I have found a few that I wanted to buy but couldn't bring myself to pay $300–$400 for one right now. I figured I'd check Amazon and came across this bag. I read all the great reviews and figured why not? I was skeptical though because the bag was under $100. Let me tell you every review is spot on. Such a nice bag. Big too. I'm in love with it. This company does a great job. Quality stitching, leather, zippers, etc. Don't hesitate; it's well worth the money!!!" —john
Get it from Amazon for $69.99+ (available in four sizes).