1.
A set of Bottle Bright tablets for anyone who can't remember the last time they actually cleaned their water bottle with anything other than, well, water. It's also great for cleaning a coffee mug that you might have left out for a few days that now has a ~questionable~ substance at the bottom.
Promising review: "I seriously can't believe how well these little tablets work. I had the most disgusting Hydro Flask coffee mug; I tried everything — bottle brush, different kinds of soap, vinegar, EVERYTHING — and there was still a seemingly impenetrable layer of black sludge inside. It grossed me out so much that I bought ANOTHER Hydro Flask to replace it. Eventually they both got black inside, so I tried these little magic tablets. I let a tablet sit in each of my mugs for an hour or two, and the black sludge rinsed out COMPLETELY, without even scrubbing. They look brand-new. What a magical product. No weird smell or taste afterward, either. I liked it so much that I used it on another Hydro Flask I use primarily to hold my Bloody Mary mix in the fridge. I couldn't put anything else in it because it would always taste like spicy tomato juice. Bottle Bright to the rescue! No residual smell or taste anymore. AMAZING, AMAZING AMAZING." —Amazon Customer
Get a set of six from Amazon for $8.
2.
Sunny & Honey Carpet Miracle cleaner for those heavy-duty carpet-cleaning jobs you thought you'd need hire a professional to do. Watch in amazement as your carpet literally changes color!

It's from a family-run small business that specializes in cleaning products, especially ones for homes with pets!
Promising review: "I cannot believe how incredible this carpet cleaner is!! I have four dogs, five kids, and a large home with very light carpet. This carpet cleaner literally is magic. It has gotten out red wine, coffee, raspberry stain on white carpet, old urine stains that were found WAY after the fact, and the list goes on and on. I use it in a spray bottle as a pretreat to shampooing and most often the stain is completely gone before I even shampoo it. When I say gone…I mean GONE! And that's with no scrubbing. It disappears like magic! To say that I'd buy it again is such an understatement. I can't be without it!!" —Angela Raab
Get it from Amazon for $19.97.
3.
Or this carpet cleaner for tackling the most intense spills and stains you thought there was no coming back from. Instead of placing a piece of furniture over the stain and forgetting about it, use this miracle cleaner instead!
Promising review: "This stuff is magical for pet stains! Specifically for cat food/vomit stains. You don't have to scrub or anything. I put on a pair of vinyl gloves, spray a generous amount on the stain and kind of rub it in with my fingers, and then blot with paper towels. That's all it takes — the stain vanishes. For real, you guys!!!" —Hannah O
Get it from Amazon for $12.23.
4.
A jar of internet-beloved The Pink Stuff, capable of removing set-in rust stains in your kitchen sink, burnt-on food in your oven, and dark scuffs on your wall. It's harder to find something this miracle cleaning paste can't do!
Promising review: "THIS STUFF IS MAGIC. If you're questioning getting this to clean harder stains or anything, this is your review to read! I was a little skeptical because I've tried many things to clean my shower door with the hard-water stains and nothing really ever got it completely clean...this stuff did! I wish I would have taken before pictures. It did take a couple applications and some scrubbing, but honestly I didn't have to scrub hard, just used a wet cloth and this and my shower door is now completely clean without any hard water stains! I'm obsessed. Now to see what else I can clean with it." —Rachel Anne Deaton
Get it from Amazon for $8.75.
5.
A tube of Burt's Bees After Sun soother if you find yourself feeling a bit burnt after a long day soaking up the sun. Apply this all over the sunburnt area as soon as possible for sweet relief from the pain, itching, and heat.

Psst — a lot of reviewers mentioned this also helped prevent peeling and itching!
Promising review: "I've had this bottle for over a year! It's lasted with my family through Disney World, Destin spring break, and every time we go to the pool! I've had some bad sunburns, I slather this on and reapply after it's soaked in and I wake up with a deep tan. Whatever is in it is like magic! The smell is kinda weird to me, but as well as this lotion works it could smell like cough syrup and I'd still happily use it." —Natalie Smith
Get it from Amazon for $7.69.
6.
An oven scrub cleaner because it's prime time for that burnt cheese that's been stuck to the bottom of your oven since early 2019 to finally go away.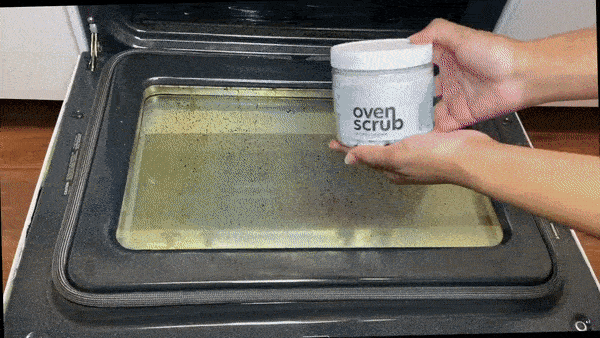 This oven scrub is made out of 100% plant- and mineral-derived ingredients. To clean your oven, apply the scrub over the oven surface including the interior glass, scrub with a metallic or scouring sponge, then use a damp microfiber cloth to wipe the surface.
Cleaning Studio is a small business based in Fairfield, Connecticut, that specializes in natural cleaning products and microfiber cloths.
Promising review: "OMG! Seriously what kind of magic is in this jar?! This stuff is amazing! :) I have tried so many different natural cleaners from DIY to ordering online. This! This is the only oven cleaner you need! It works amazing and with little effort. Best of all it's natural and smells great!" —Amanda Tompos
Get it from Cleaning Studio on Etsy for $17.99+ (available in plastic or glass jars).
7.
Super-effective washing machine cleaning wipes for getting into all the nooks and crannies where grime can get trapped in your washing machine. You'll be amazed at how much dust and dirt you unearth with these!

Promising review: "I live in an apartment with community laundry machines. It's the worst. The stuff I have found in there will haunt me forever. These wipes were a game changer. I always sanitize the machine prior to use, but these wipes have allowed me to clean out all the gunk from other people's clothes, and mildew. They're magic." —Annette Meireles
Get a pack of 24 from Amazon for $5.11.
8.
A popular streak-free antifog spray so your glasses will stop fogging up every time you wear a mask. Hooray — now you can protect yourself against the virus and be able to see clearly!
A heads up that this works *super* well for some reviewers, but not all — note that this is meant for non-antireflective-coated lenses, and the instructions for use are very specific. To apply, spray a small amount on both sides of your lenses, and use your fingers to rub it across the whole area. Let it sit for a full minute, then wipe with a dry soft cloth. Once they're fully dry, you should be good to go!
Promising review: "One thing I was super worried about when needing to start wearing face masks per CDC guidelines was my glasses fogging up. I hate contacts and no matter what design of mask I tried, my glasses always ended up foggy. Enter this magical product and it's a problem no more. I'd happily pay triple what I paid for it. Worth stocking up on!" —Michelle Salemka
Get it from Amazon for $8.95.
9.
A bunch of Miracle-Gro "food spikes" for anyone who just can't manage to keep their plants alive. This fertilizer is formulated specifically for indoor plants, and one spike lasts up to two months!
They're especially great for ficus, snake plants, crotons, spider plants, or pothos plants!
Promising review: "LOVE THESE! People will remark on your plants when you start using them. These make a huge difference if you haven't been feeding your plants — super easy to use — just stick them in your plants and forget about it. I put new ones in all my plants about once a month. They're like magic!! I give them away as gifts, they're that great. :)" —Vicki Huntman
Get a set of 24 from Amazon for $2.79.
10.
A produce-saver storage container if you're sick and tired of discovering that the fruit you bought four days ago has already gone bad. Reviewers say this food container will prolong the life of your fresh produce for WEEKS longer than normal!
Promising review: "These work like magic! One way or another, I always used to end up with moldy produce in my fridge. Not anymore! I put two packs of strawberries in the larger container and they lasted for significantly longer than they would have in their regular store containers. I was completely amazed. I am definitely going to buy more sizes for the rest of my produce!" —Alyssa Nunez
Read BuzzFeed's review of these "miracle" produce containers for more deets.
Get it from Amazon for $13.92.
11.
A bedsheet detangler that'll prevent your bedsheets from getting bunched up in the washing machine and dryer. They actually make your sheets dry faster with less wrinkles!
These detanglers from Wad-Free aren't recommended for use with bamboo, eucalyptus, or rayon sheets.
Wad-Free is a small business that invented this laundry gadget to prevent sheets from tangling, twisting, and balling up during the laundry process.

Promising review: "I don't know what kind of magic makes these things work, and I don't care as long as it keeps my sheets from tangling up in the washer and dryer. This saves me so much time in the laundry room. I have king-sized sheets that always end up in a twisted cocoon of wetness in both my front-load washer and my dryer. Before I always had to stop the dryer and untangle everything — now I just toss them in with no worries. I admit when I first purchased it I expected it wouldn't work, but was willing to try if there was a slim chance it might. After washing and drying three separate loads of sheets with Wad-Free I purchased two more sets of Wad-Free for my parents. Friends and family are definitely getting this for the holidays come December." —ZombieQT

Get it from Amazon for $18.99.

12.
A set of dishwasher-cleaning tablets so you can at long last eliminate that weird white film inside your dishwasher. This will get it back to smelling fresh and looking sparkling.
Promising review: "Absolute magic. I always approach with a healthy dose of skepticism whenever taking advice from BuzzFeed, Tiphero, etc. but this time I took a chance and could not be happier. I recently bought a condo that was not well maintained and struggled cleaning many of the appliances. The dishwasher was caked in deposits from years of operation without proper care. Two of these pods, as suggested for heavily soiled scenarios, turned back the clock. It looks brand new inside. BRAND NEW. The plastic, the walls, everything. For those who spend hours a week cleaning, you will be amazed by this product. 10/10 would buy again and again and I'm telling everyone I know about this." —Jason

Get a six-pack from Amazon for $5.99.
13.
Glossier's Boy Brow that's a cult favorite beauty product for a reason — it makes your eyebrows look so much fuller and bolder, and it won't get stiff or crusty like other brow products can.
Promising review: "I've been eager to get my hands on this product for months now! Honestly the easiest brow product I've ever used and it's seriously magic. My brows looked instantly fuller! They weren't crusty or stiff and the applicator is amazing! My favorite thing about Boy Brow is the texture, no crusty brows here. This product has changed my entire makeup routine!" —Jordanne
Check out BuzzFeed's full review of Glossier's Boy Brow for more deets!
Get it from Glossier for $16 (available in five shades).
14.
A Schick Silk Touch-Up Tool to remove any peach fuzz on your skin so your foundation looks smoother. You can also use this for quick hair removal in between waxing appointments.
15.
A deep-conditioning hair mask if you can practically hear your hair whispering to you, "Help me! I'm dry and damaged!" Just put this super-hydrating mask on your hair for five to 10 minutes after shampooing, and you'll come out of the shower with smoother, healthier, and frizz-free locks.
Briogeo is a Black-owned, woman-owned small business that specializes in cruelty-free, gluten-free, mostly vegan hair products. Every product is also six-free, which means it has no harsh sulfates, silicones, phthalates, parabens, DEA, or artificial dyes.

Promising review: "MY HAIR HAS NEVER BEEN SOFTER! Seriously, this stuff is magic. My hair was so soft using this product and never felt greasy like a lot of other products will make my hair feel. I have straight, fine hair and it was awesome!" —mhopp
Get it from Briogeo for $38.