Leftover Mashed Potato Cakes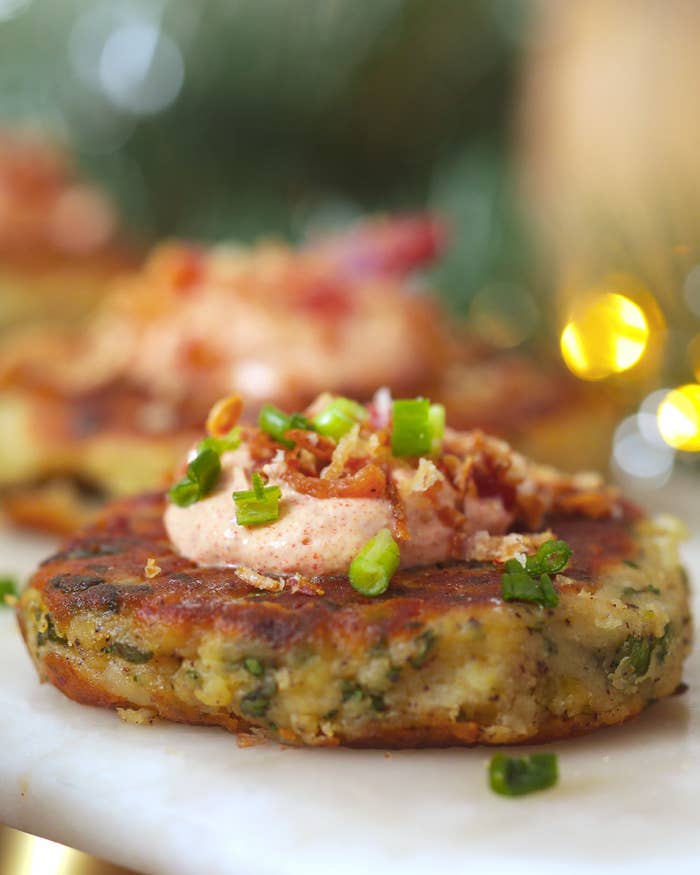 Here's what you need
Mashed potato cakes
8 strips bacon
½ cup chopped green onion, divided
1½ tablespoons chopped garlic
2 cups cold leftover mashed potatoes
½ cup flour
2 teaspoons salt
1 teaspoon pepper
2 tablespoons fresh parsley, chopped
2 tablespoons fresh basil, chopped
2 eggs
Vegetable oil
1 cup shredded sharp cheddar
Fried shallots
2 cups shallots, thinly sliced
2 cups vegetable oil
Smokey sour cream
½ cup sour cream
1 teaspoon smoked paprika
½ teaspoon cayenne
½ teaspoon garlic powder
½ teaspoon onion powder
½ teaspoon salt
Here's how you do it
1. In a cast iron skillet, fry bacon until it is crispy and then drain on a paper towel before roughly chopping and setting aside in a bowl. Pour grease out of skillet, leaving about 1 tablespoon in the pan.
2. Add garlic and ¼ cup chopped green onions to the skillet and sauté for one minute.
3. In a large bowl, add leftover mashed potatoes, garlic green onion mixture, half the bacon, salt, pepper, parsley, basil, and eggs. Blend well with a wooden spoon. Chill in the refrigerator for 1 hour.
4. Fill a medium saucepan with 2 cups of vegetable oil and add sliced shallots. Place over medium heat and cook about 15 minutes, stirring occasionally. Remove the shallots from the heat when they are light brown. Strain and dry on paper towels.
5. Wipe out your skillet and add 1 tablespoon vegetable oil, keeping it over medium low heat.
6. Wet your hands and scoop out a ¼ cup of the potato mixture and roll it into a ball between your palms. Then, using your thumb, press a deep indent into the ball.
7. Spoon 1 teaspoon of sharp cheddar into the indent and close the potato around it so it is stuffed.
8. Place in the skillet. Using the back of a spoon, flatten the potato pancake until it is ½-inch to ¾-inch thick. You may need to dip the spoon in water if it's sticking.
9. In batches of about six (adding more vegetable oil if needed), fry the potato cakes for 3 minutes on each side until they are golden brown and cooked through.
10. In a small bowl, combine all of the ingredients for the smokey sour cream, and season to taste with salt.
11. To serve, place potato cake on a plate, add a dollop of smokey sour cream, and sprinkle with the shallots, remaining bacon bits, and chopped green onions.
12. Enjoy!