It happens to all of us. You open Netflix and a trailer for some featured movie or show starts playing on its own. So, you watch and usually you're like, "Yep, I've gotta see that," or "Nah, not for me."
However, sometimes it's not a clear "yes" or "no," and you can't decide if it's worth your time or not. That's what seems to be happening to folks with Netflix's Murder Mystery.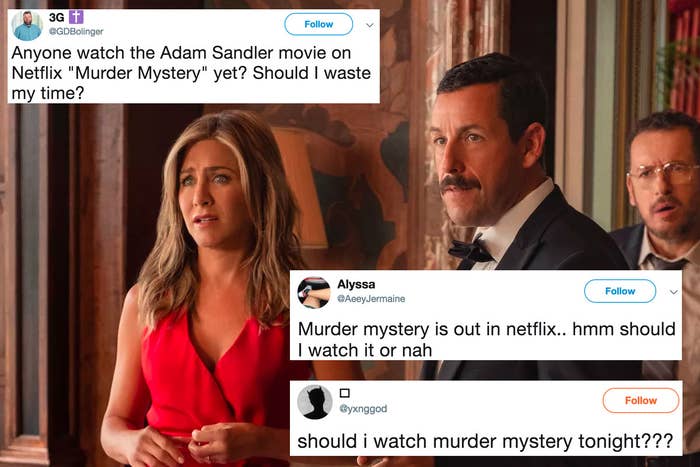 Since some people couldn't decide if they wanted to watch or not, I chose to sacrifice 97 minutes of my time to let y'all know what this movie is about and if it's worth your precious time.
The movie stars two big names (Jennifer Aniston and Adam Sandler) and here's how Netflix describes it:

So Audrey (Jennifer Aniston) and Nick (Adam Sandler) are about to celebrate their 15th anniversary, and she's bummed that he still hasn't given her the Europe trip he promised on their wedding day.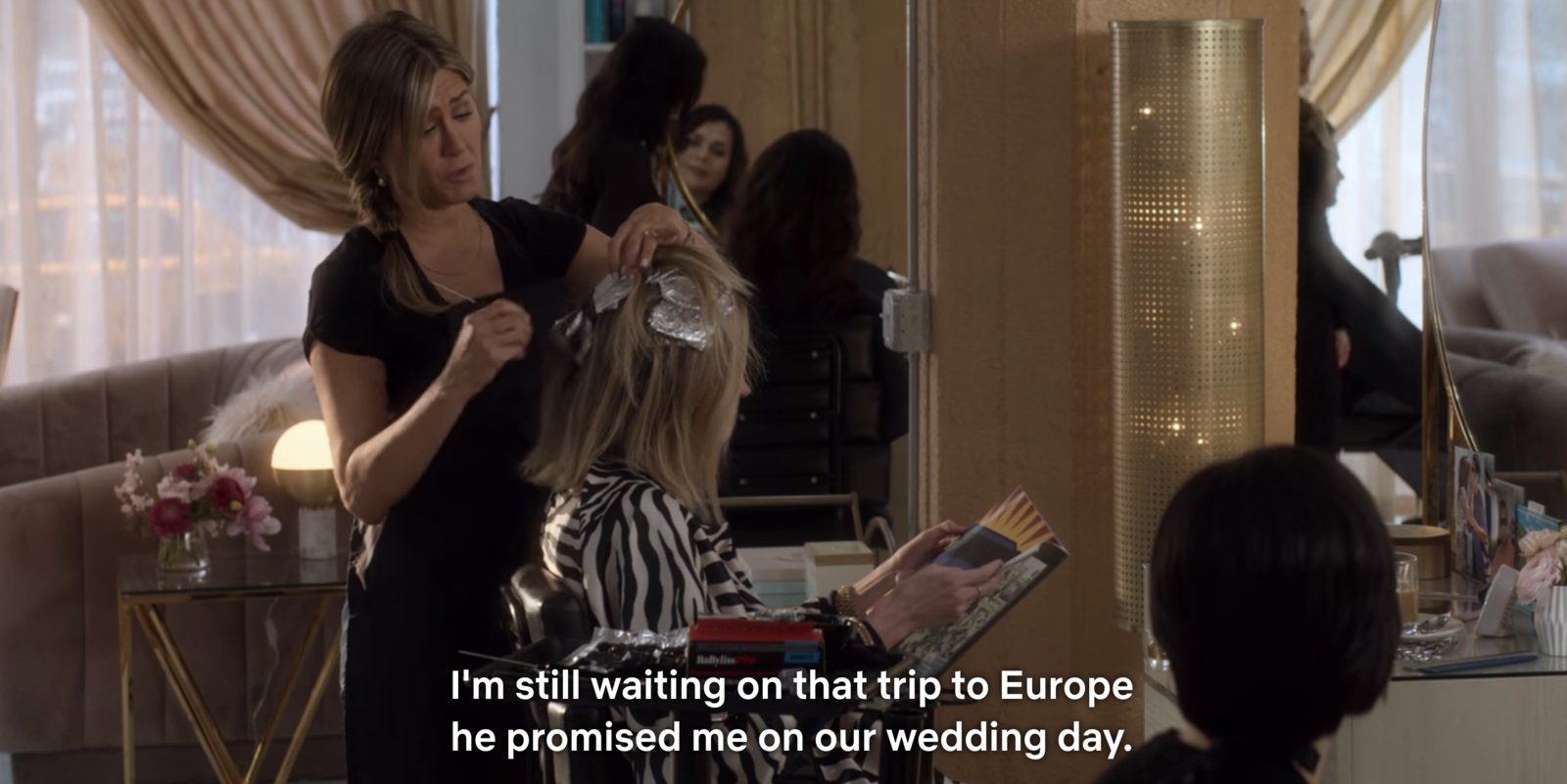 These two are just too famous because my brain keeps being like, "Why is Jennifer Aniston calling Adam Sandler 'Nick?'"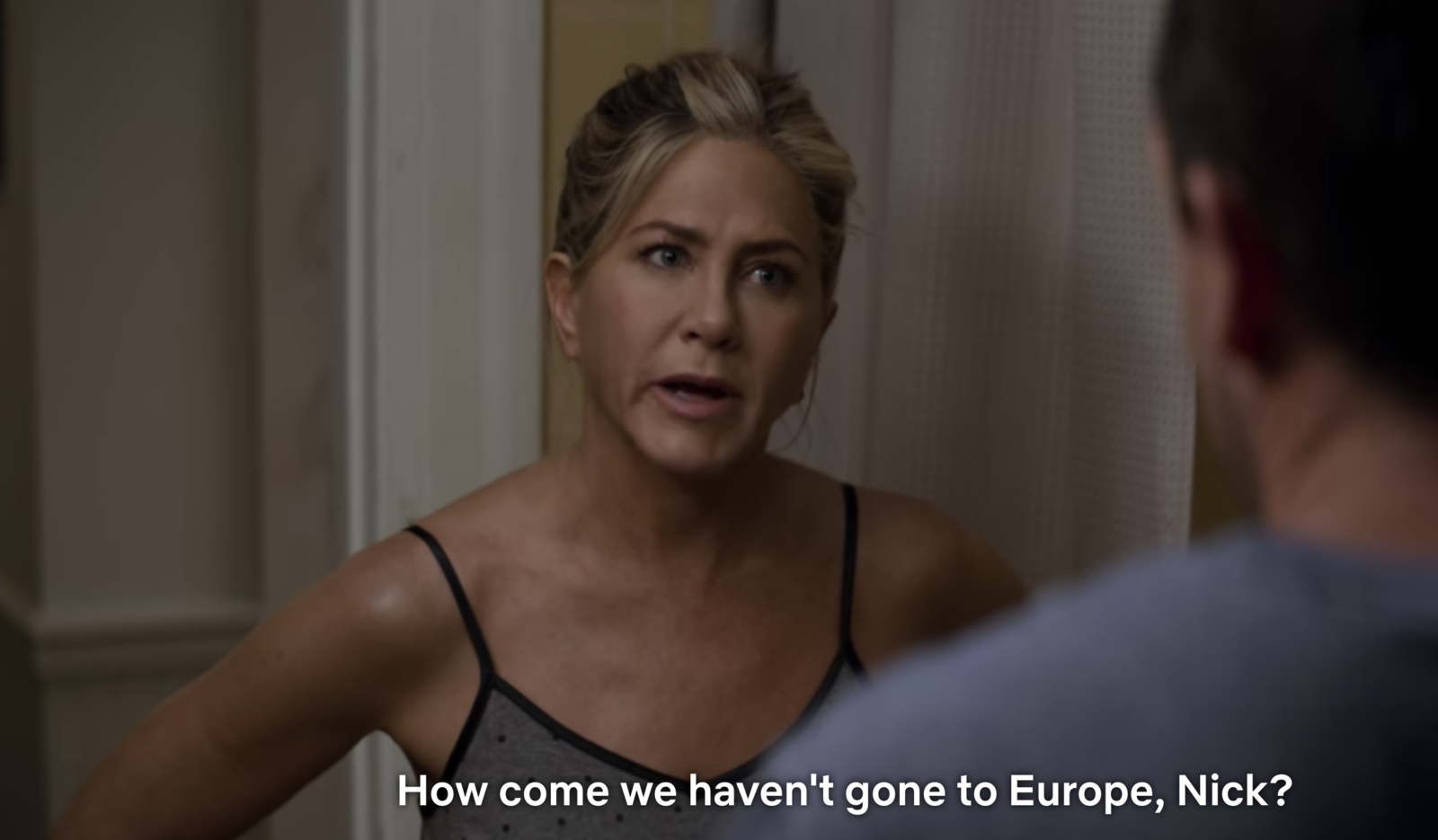 Anyway, Audrey confronts Nick about never taking her on the European trip he'd promised her, so he lies and says he's actually got the trip planned and it was a surprise.
I'm not sure if this is intentional, but it feels like Audrey kind of hates Adam Sandl— I mean, Nick. It seems she's either having to talk to him like a child (whenever he's being ridiculous) or annoyed with his existence (like when he falls asleep and loudly snores).
During the flight, Audrey wanders to a first-class bar where she meets some rich dude named Charles Cavendish.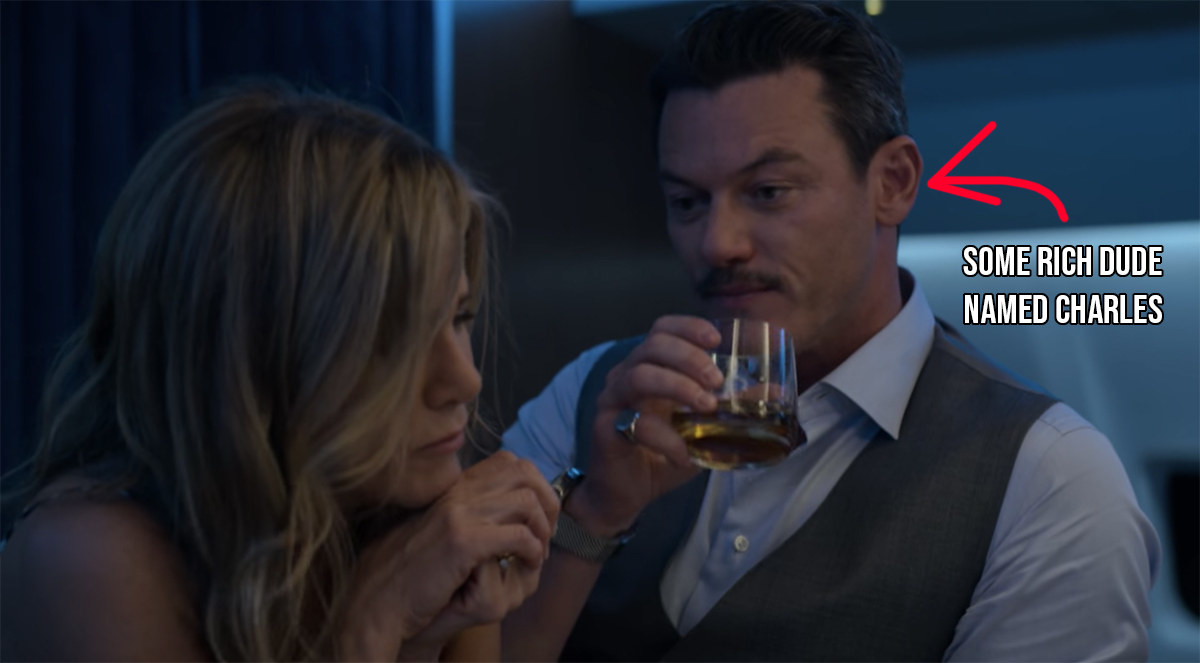 Charles invites the couple onto his yacht once their flight lands. At first Nick is reluctant, but then he agrees because that's the plot of this movie and Adam Sandler is following the script. I mean, because Nick realizes a yacht would be more fun than the bus trip he had planned.
The first 20 minutes of this movie feel like Allegra and Claritin went in halfsies on one big allergy medicine ad.
There's a dude with a fake hand on the yacht which is definitely a reference to Chubbs from the Adam Sandler classic, Happy Gilmore.
They quickly introduce some other characters on the yacht who are part of, or closely associated with, this wealthy family, and it feels like being rushed through a bunch of introductions to strangers at a party.
It's about 30 minutes in at this point, so I'm going to fire up the "Is this worth your time?" meter. Right now, we're tilting in the wrong direction.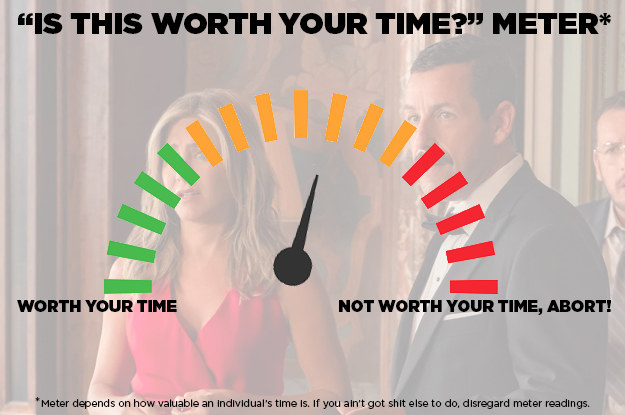 This man below is Malcolm. He's very, very rich and is the source of this yacht group's funds. He's giving a speech to everyone when it suddenly turns into a roast — he calls them all leeches and tells them they've been written out of his will. Except for Suzi, who he is going to sign his will to.
Right before Malcolm signs his will over to Suzi, the lights go out and when they turn back on, Malcolm is dead with a knife in his chest.
Since Nick's a cop, he tells them to preserve the crime scene and instructs everyone to go chill until they return to land.
Audrey and Nick are chillin' in bed (as one does moments after being in the same room as a murder) when suddenly there's a gunshot.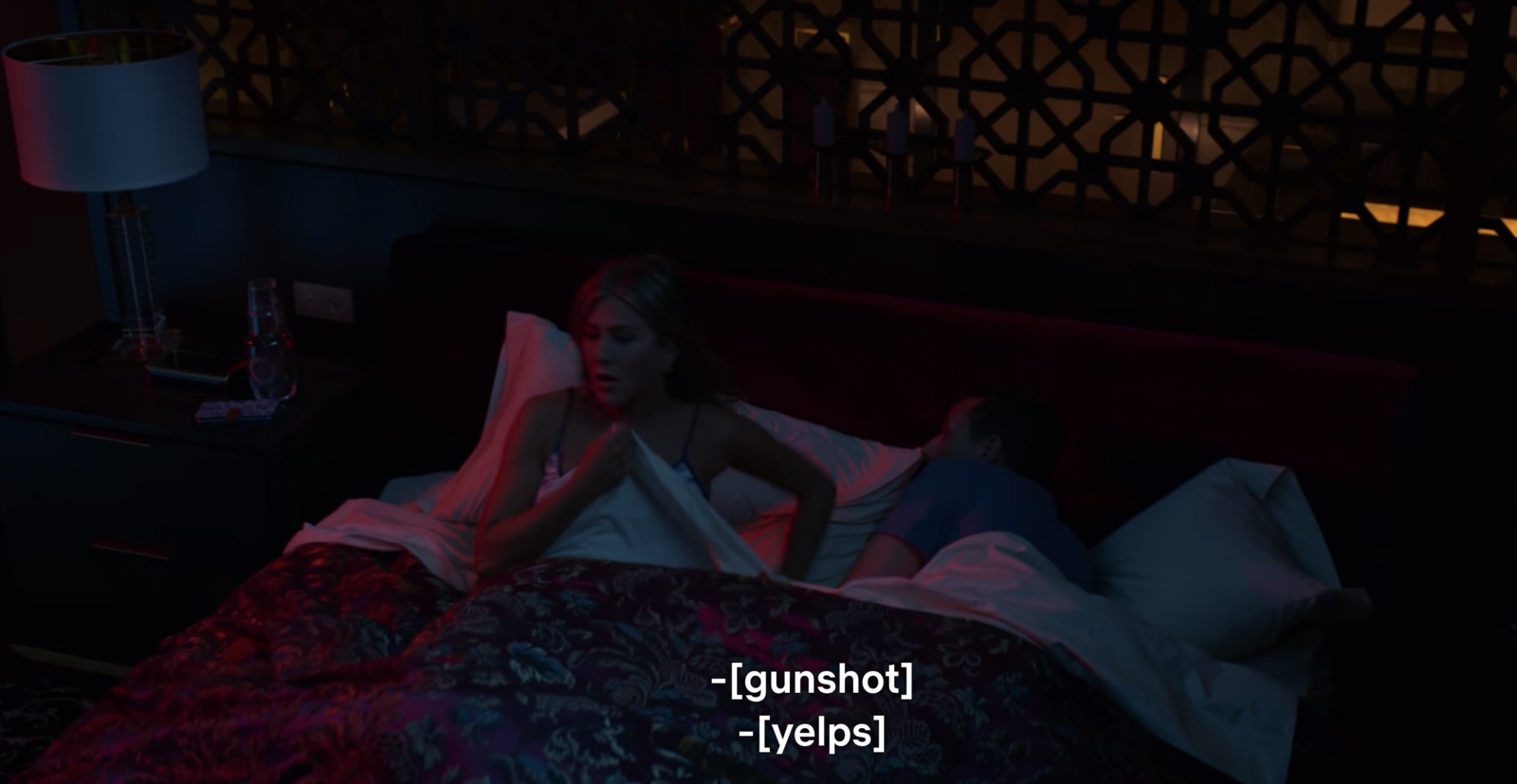 Malcolm's son, Tobey, is the victim now.
The advertisements continue.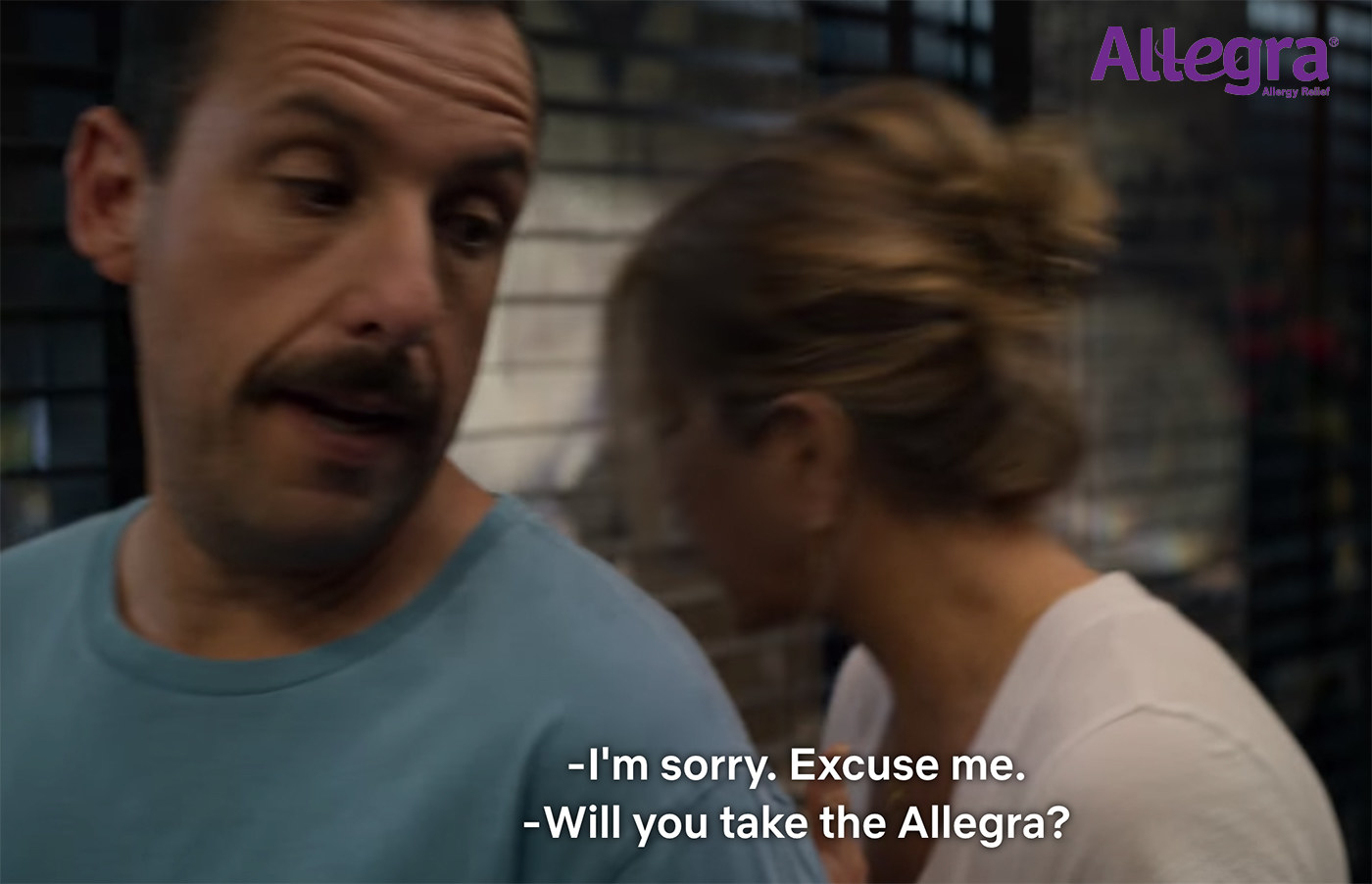 When they get back to land, an investigator questions everyone on the boat and they all point their suspicions to Audrey and Nick.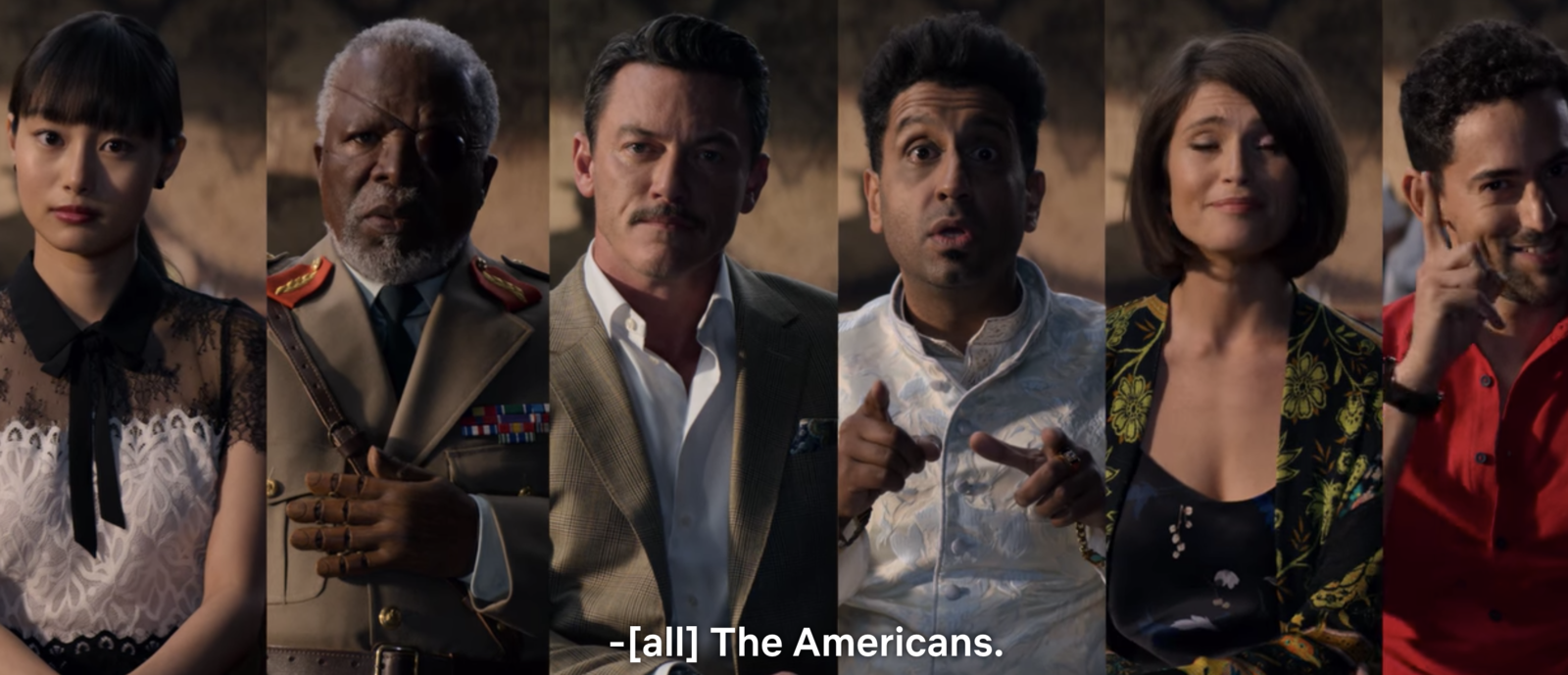 Nick and Audrey are now the prime suspects, so they try to prove their innocence (often resulting in them looking more guilty).
THIS IS ABSOLUTELY OUT OF CONTROL.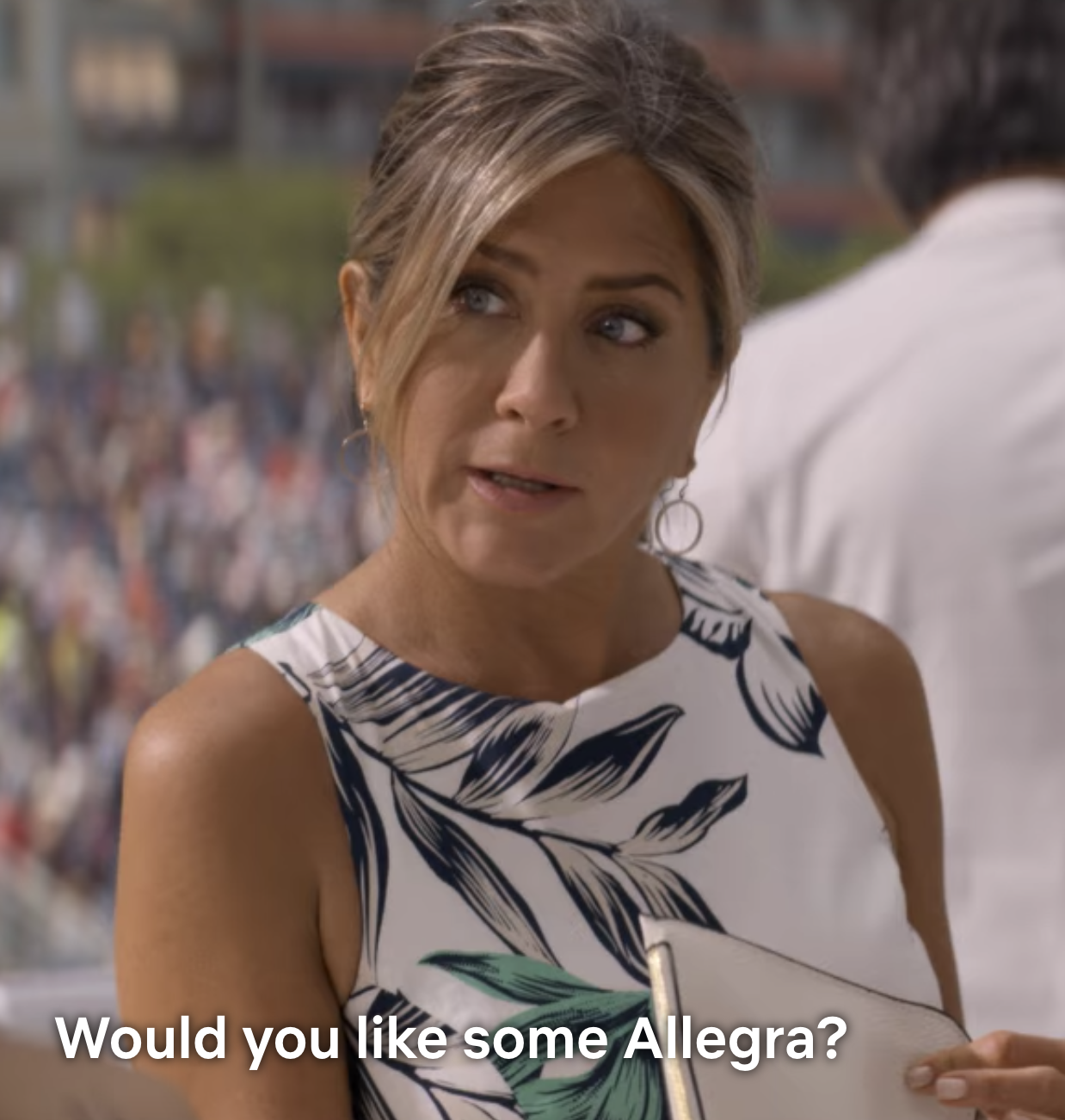 OF.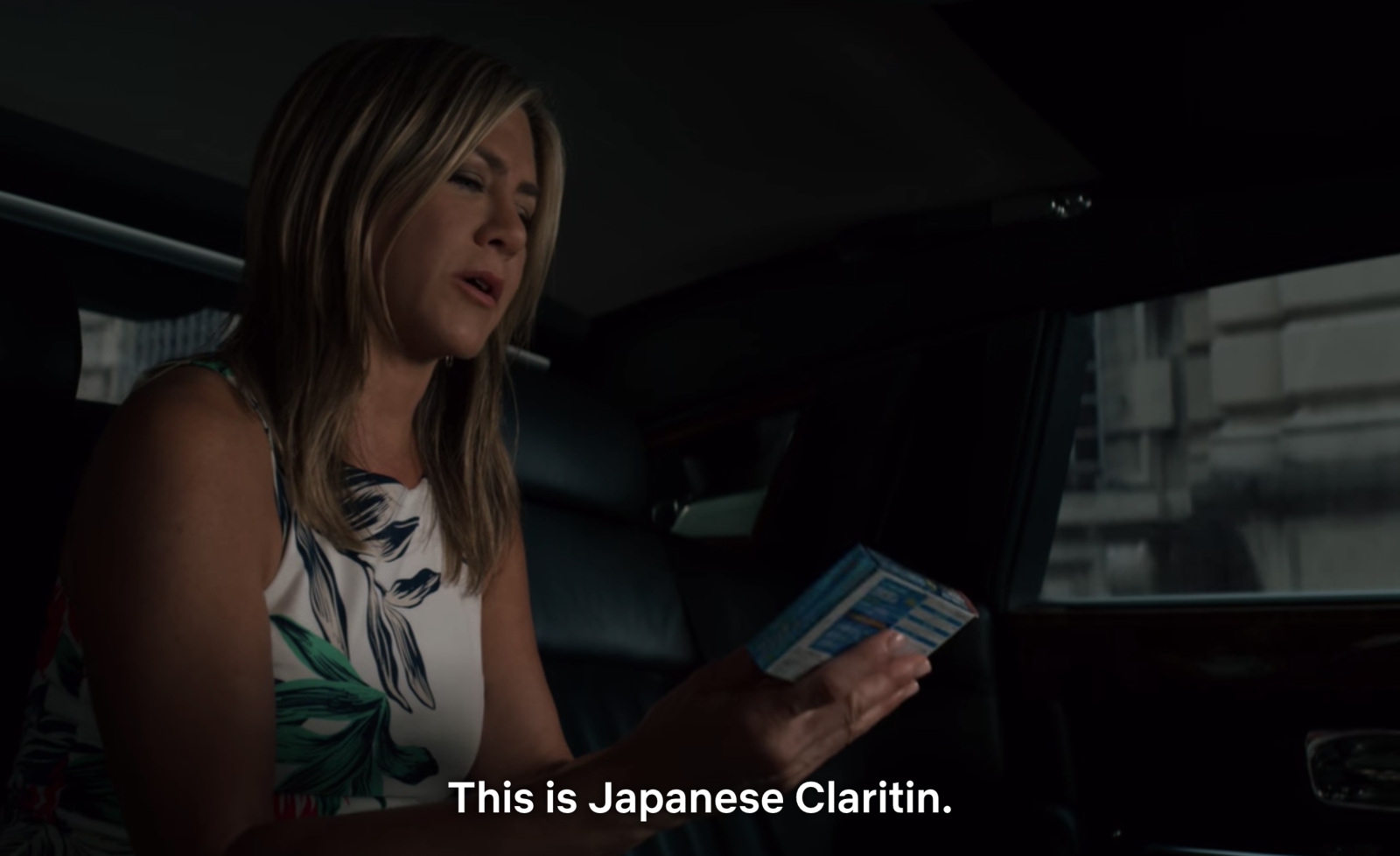 CONTROL.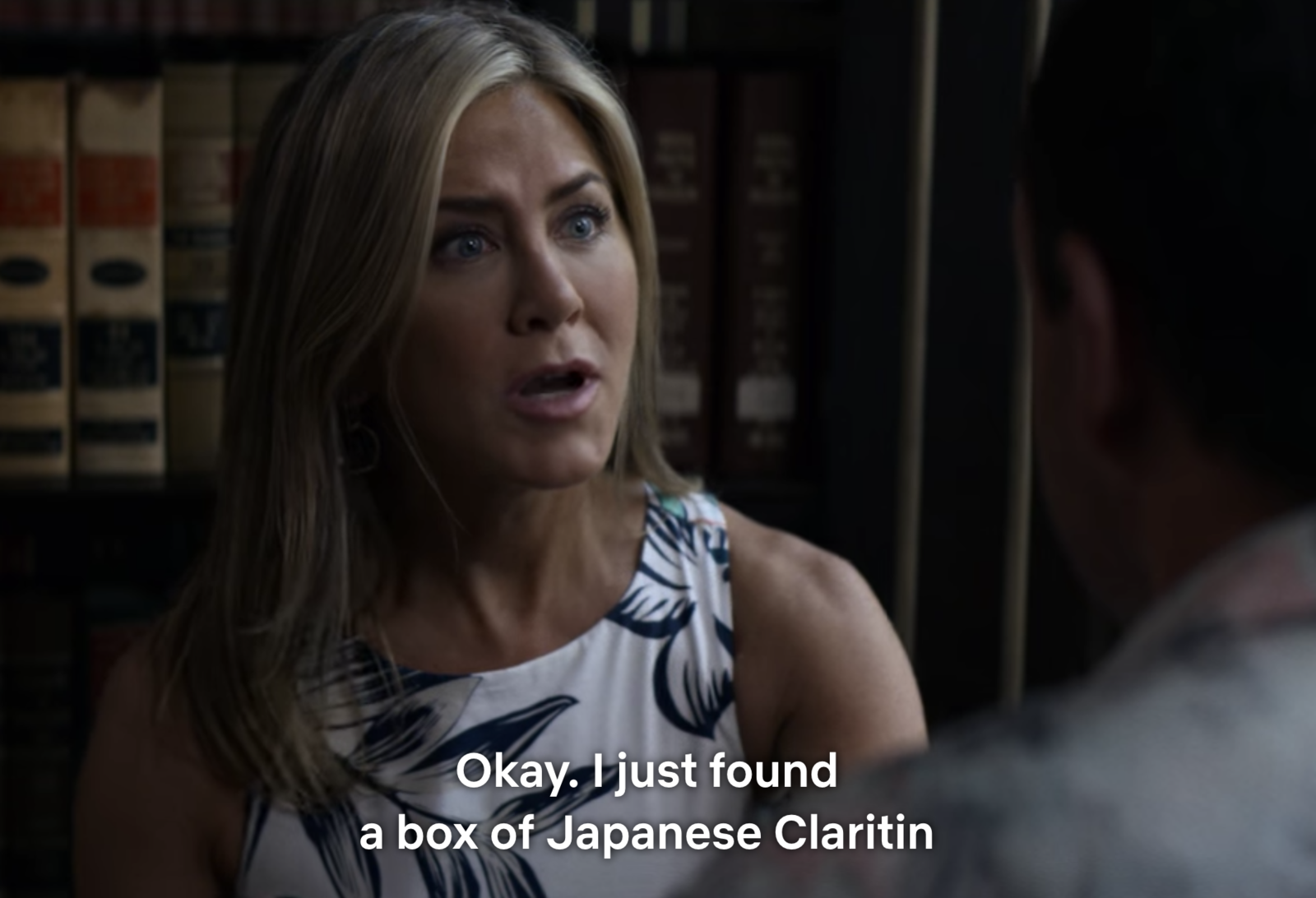 We're teetering, folks.
Here's a moment from the movie that made me chuckle, but STOP READING HERE IF YOU WANT TO WATCH FOR YOURSELF TO SEE WHO COMMITTED THE MURDERS.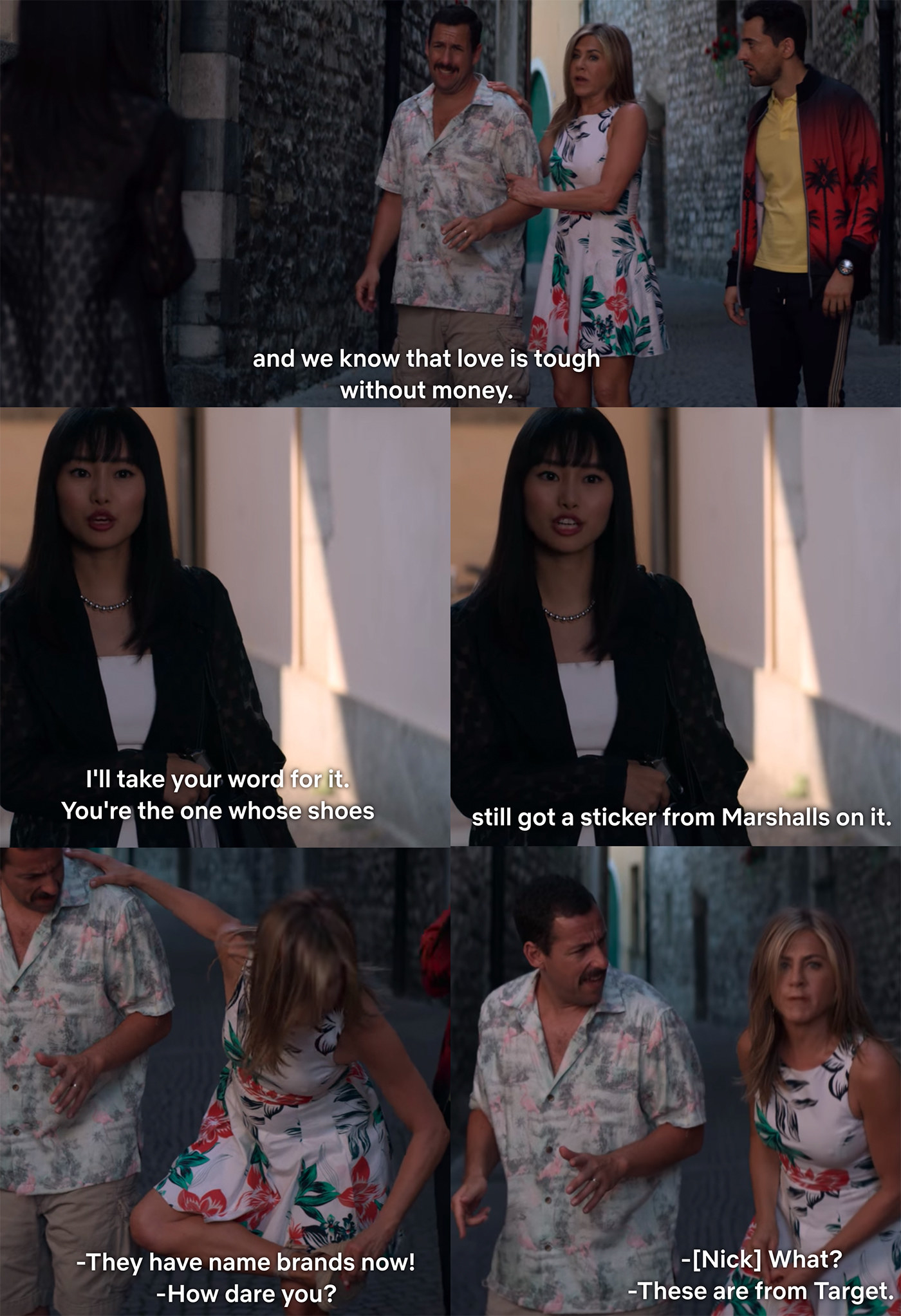 There are still like 18 minutes left when they catch the murderer, so you know there's more to it, and it turns out this character below was helping her with the murders.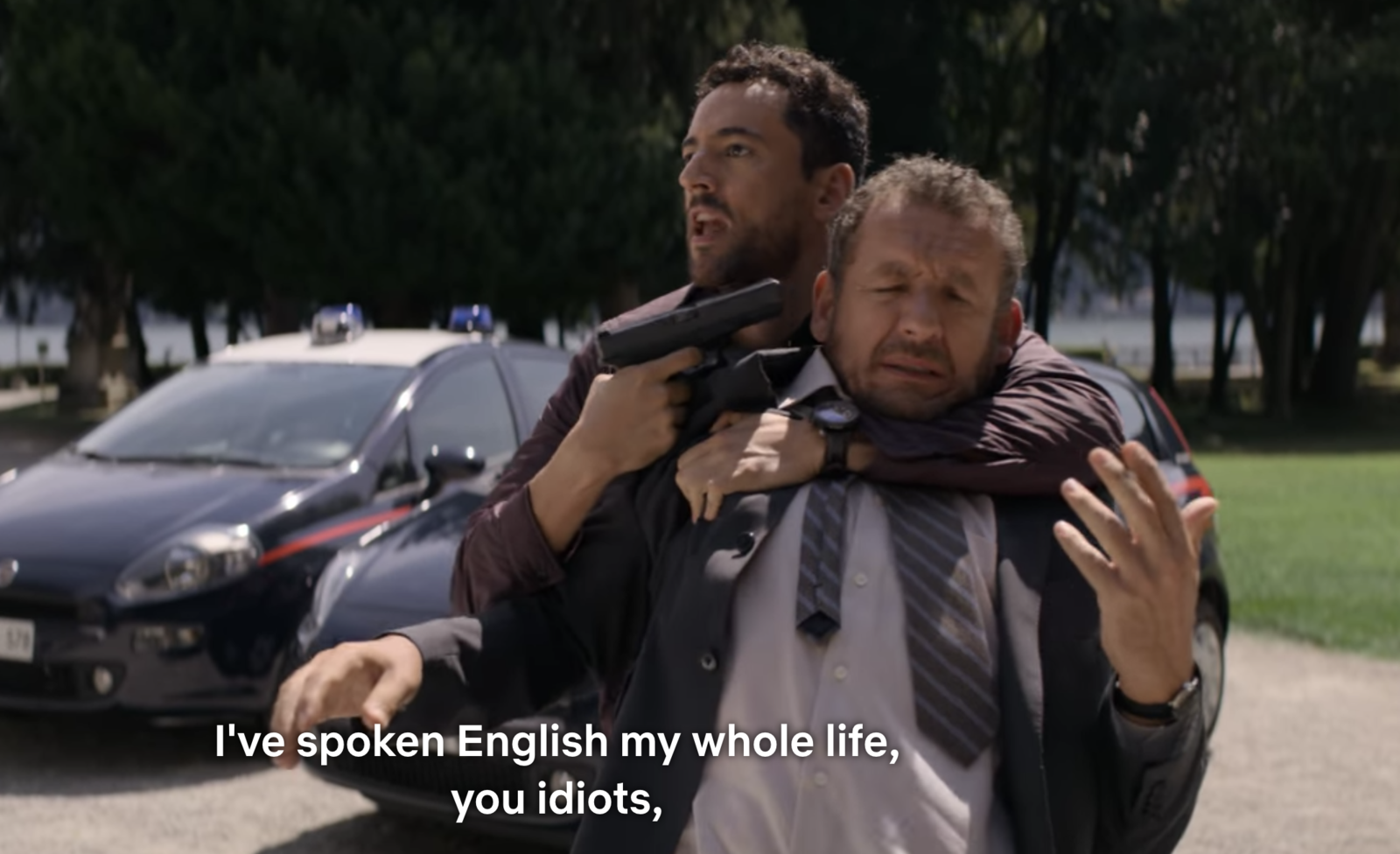 Anyway, there's a high-speed chase.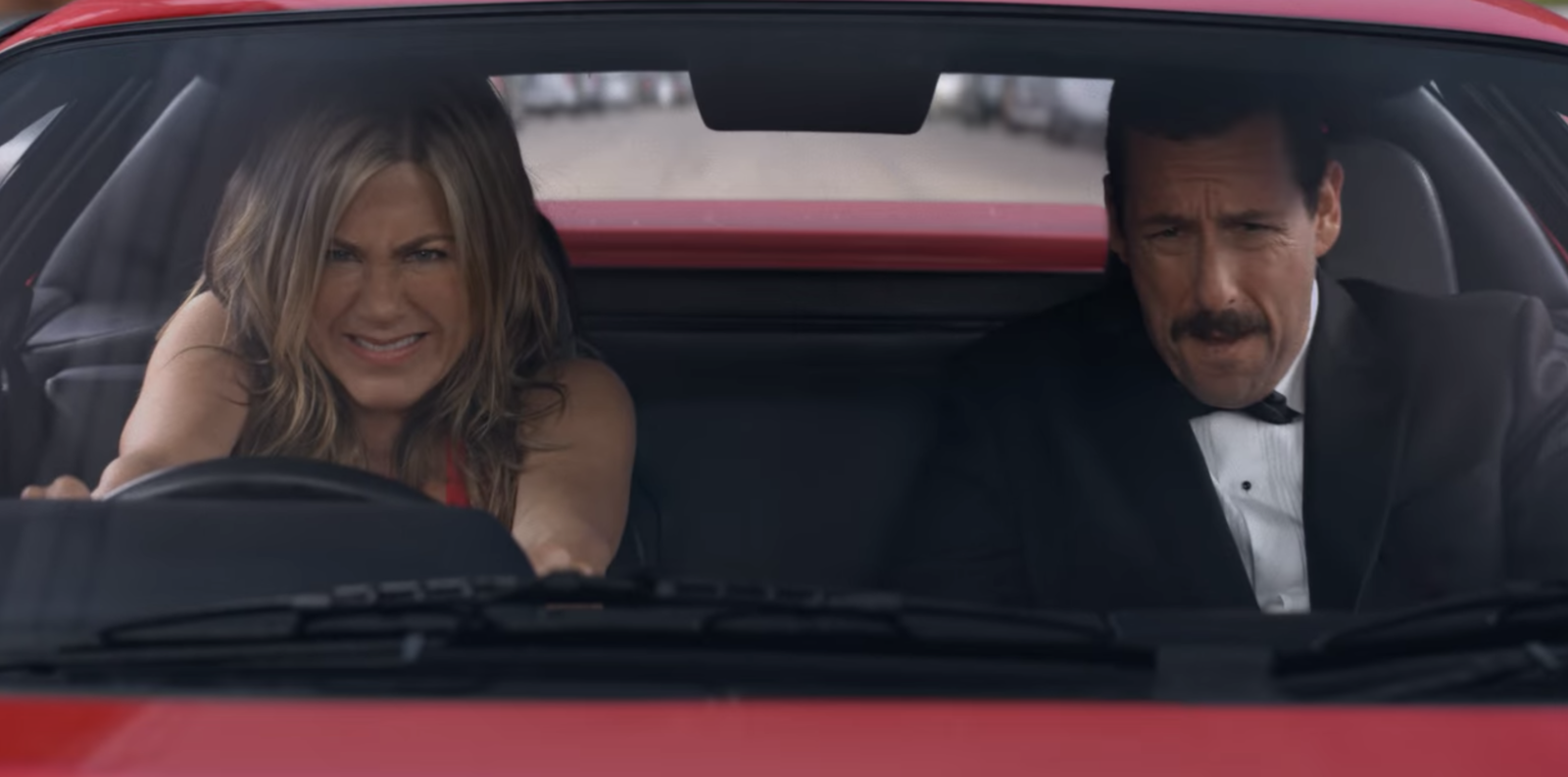 Then the other killer gets hit by a bus. Classic!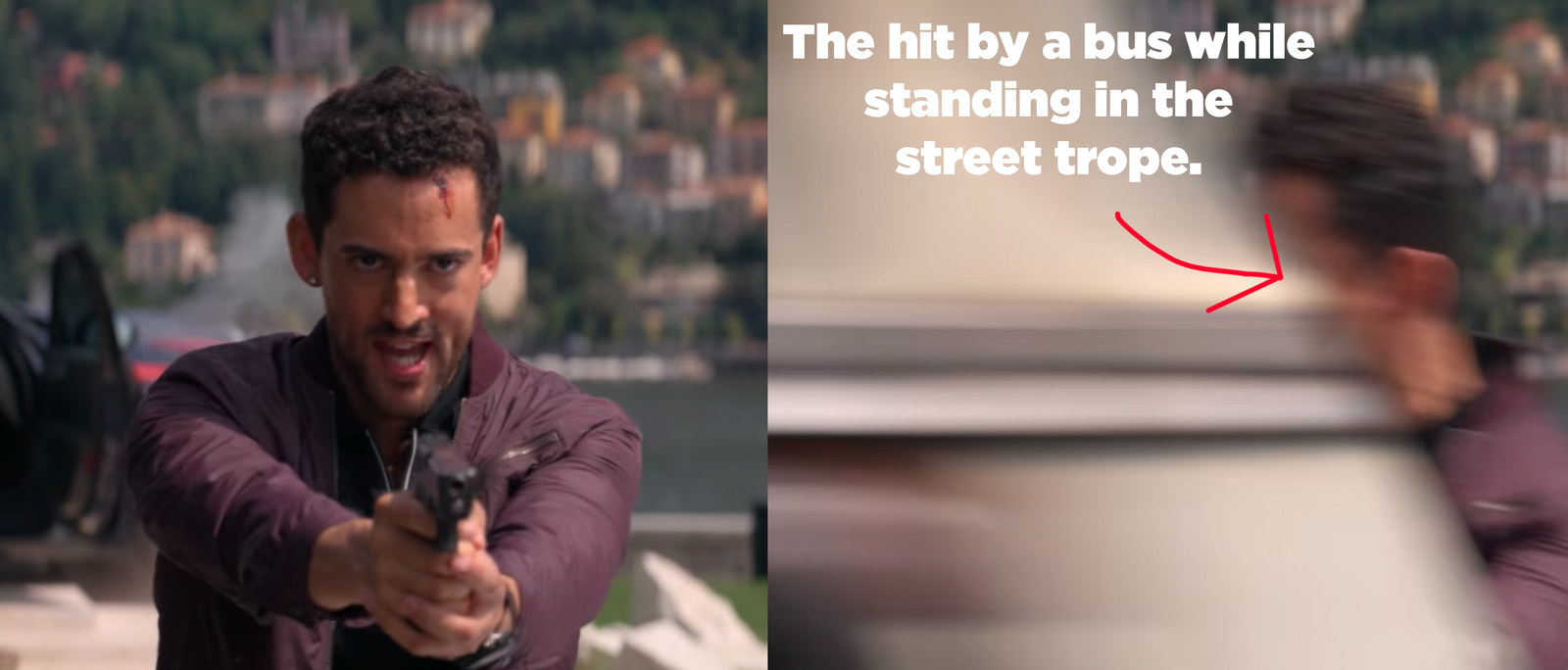 FINAL THOUGHTS: