Netflix Has A Docuseries Called "Tiger King" And Everyone's Talking About It, So I Watched And This Is Everything That Happens In Episode 1
WARNING: This is a full recap of Episode 1 and IT CONTAINS SPOILERS.
If you keep hearing about Tiger King: Murder, Mayhem And Madness, you aren't alone. I got multiple texts about this series, I kept seeing it pop up on Twitter, and it's been atop Netflix's US listings, so I figured it was time to give it a shot.

Here's how Netflix describes the docuseries:

We're introduced to Joe Exotic, a man who runs Greater Wynnewood Exotic Animal Park (a big cat zoo). Early on, we hear people describing Joe and they make him sound...WILD.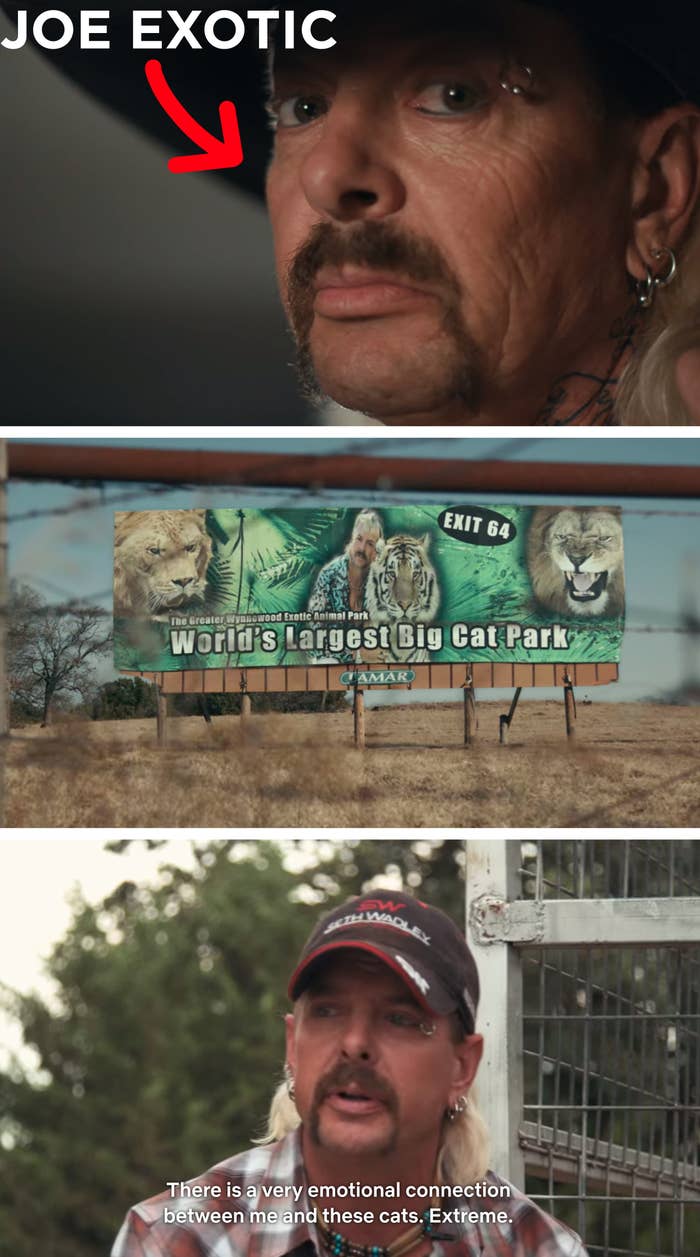 Not WILD like he's so quirky and does a bunch of random things, like make country music and host a show that streams on the internet, which he actually does...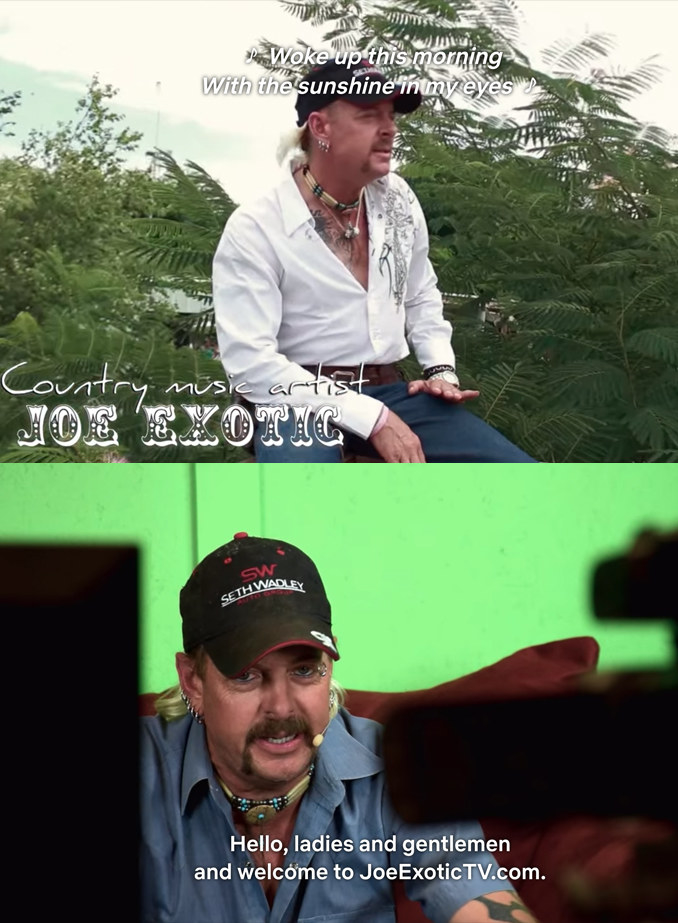 But WILD like even reporter Rick Kirkham finds Joe Exotic especially crazy, and Kirkham has done some really crazy shit!

Joe Exotic definitely seems close to/comfortable with his animals. We see him playing with full-grown big cats and showing less caution than I would around an unfamiliar chihuahua.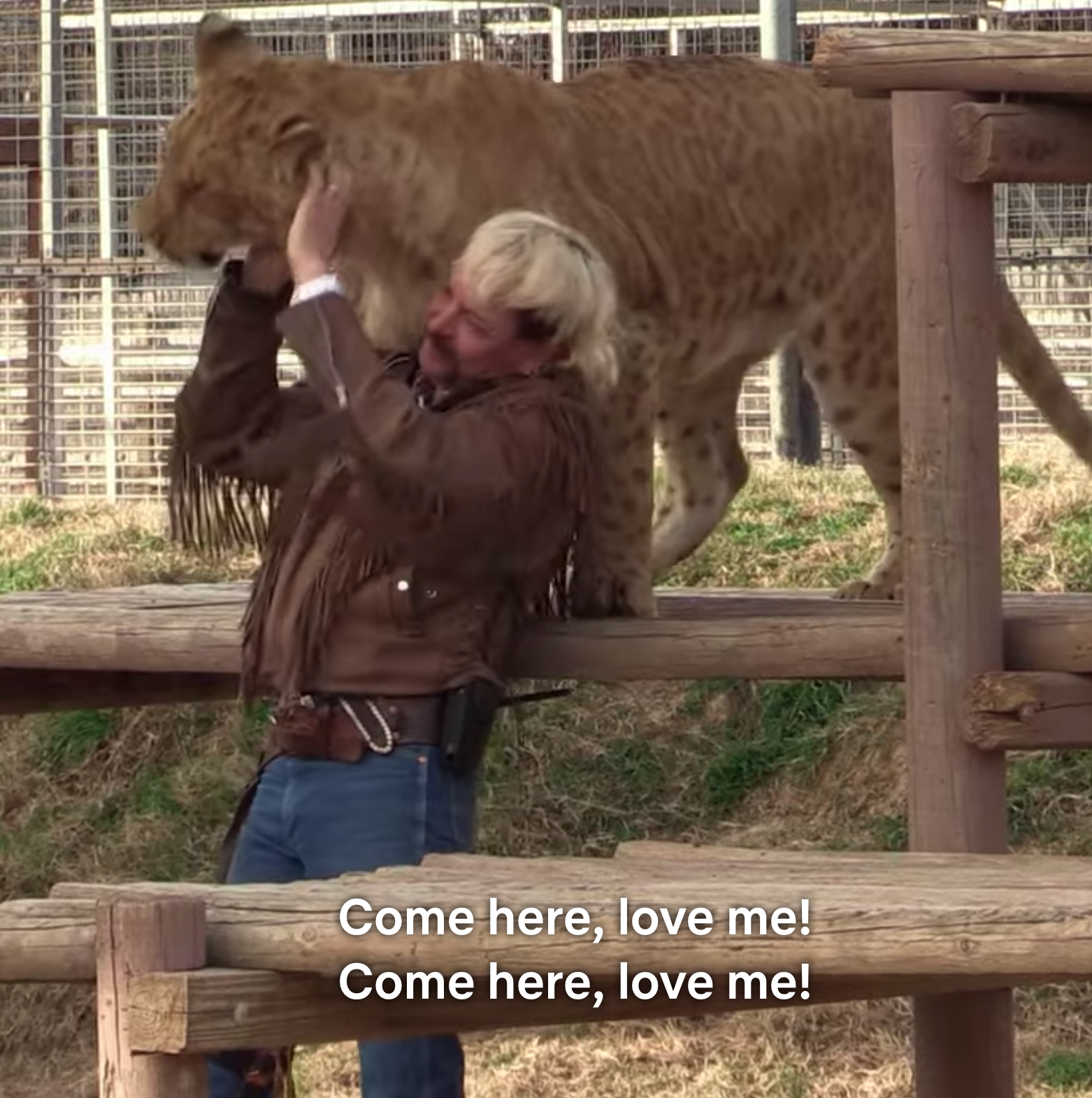 However, Joe Exotic has an enemy, and her name is Carole Baskin. Carole has a rescue sanctuary dedicated to providing big cats with a home, and she is very against keeping big cats captive and caged.
To say that Joe is obsessed with Carole Baskin is an understatement. He talks about Carole...A LOT.

Meanwhile, Carole just seems like she genuinely loves her some cats. She's got cat decorations in her home, cat dishes, cat furniture, and a closet full of cat print clothes.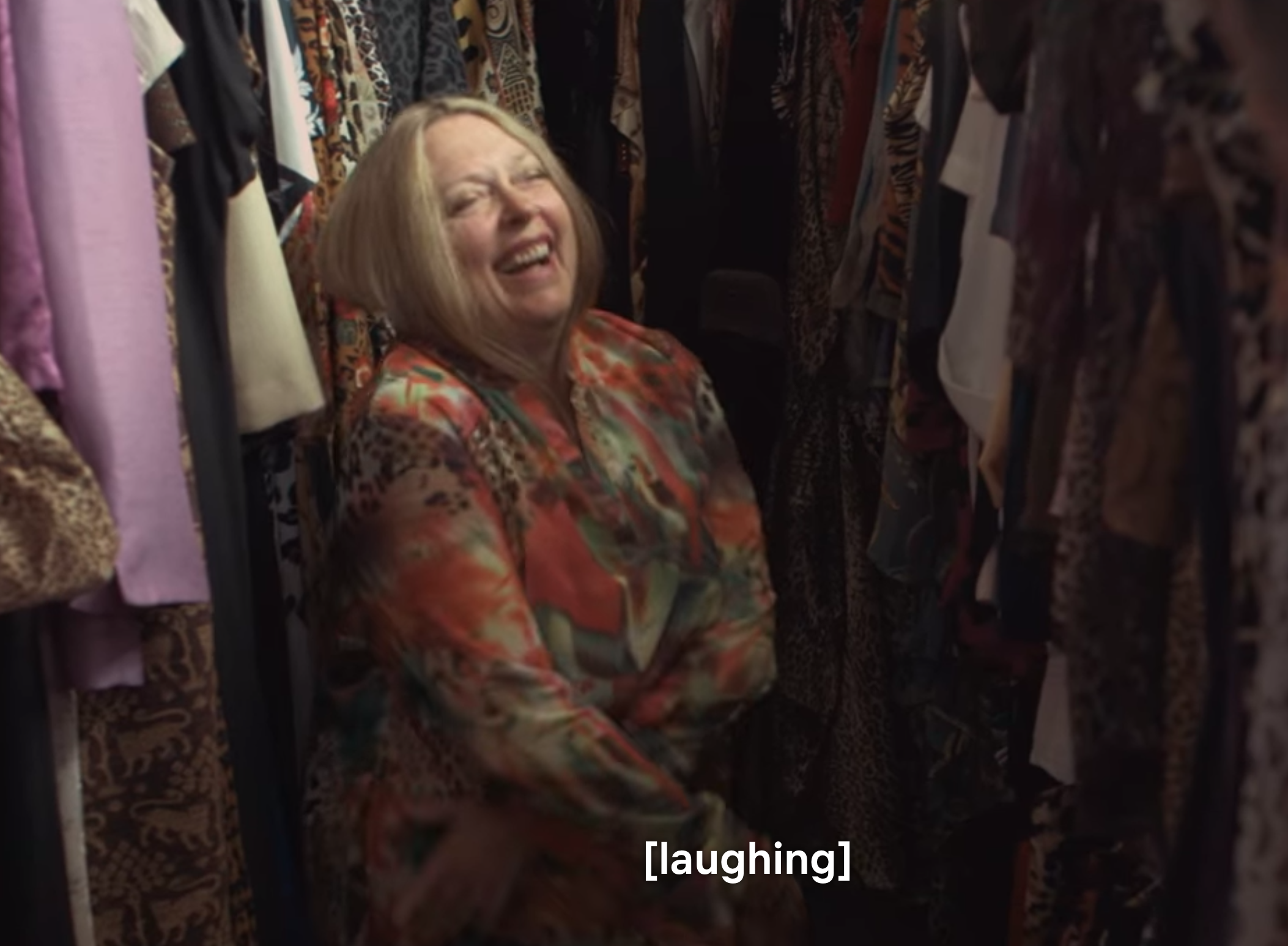 While Carole is against Joe running a zoo with exotic animals, he has his arguments for why what he's doing is not wrong and perhaps even beneficial. For example, he believes showing families these animals up close and personal gets their undivided attention, which he can use to tell them to save the rainforests that tigers live in.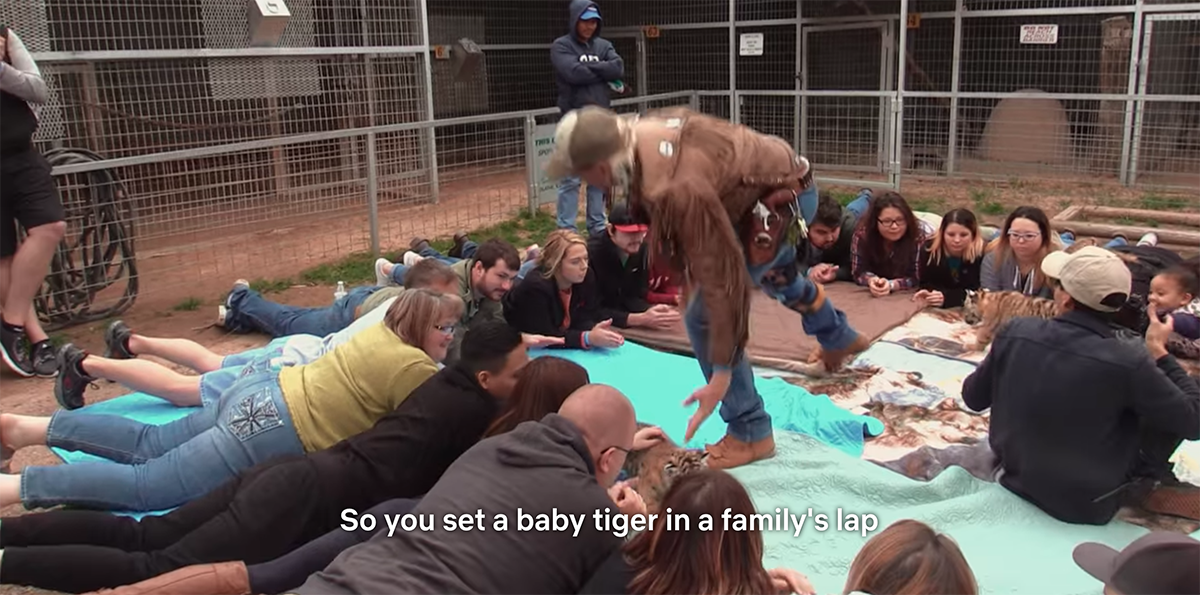 There was a stretch where Joe was making money going to malls around the country and letting people pet cubs, but Carole and her online base of supporters would overwhelm these malls with calls, texts, emails, etc. until eventually, they stopped hosting Joe.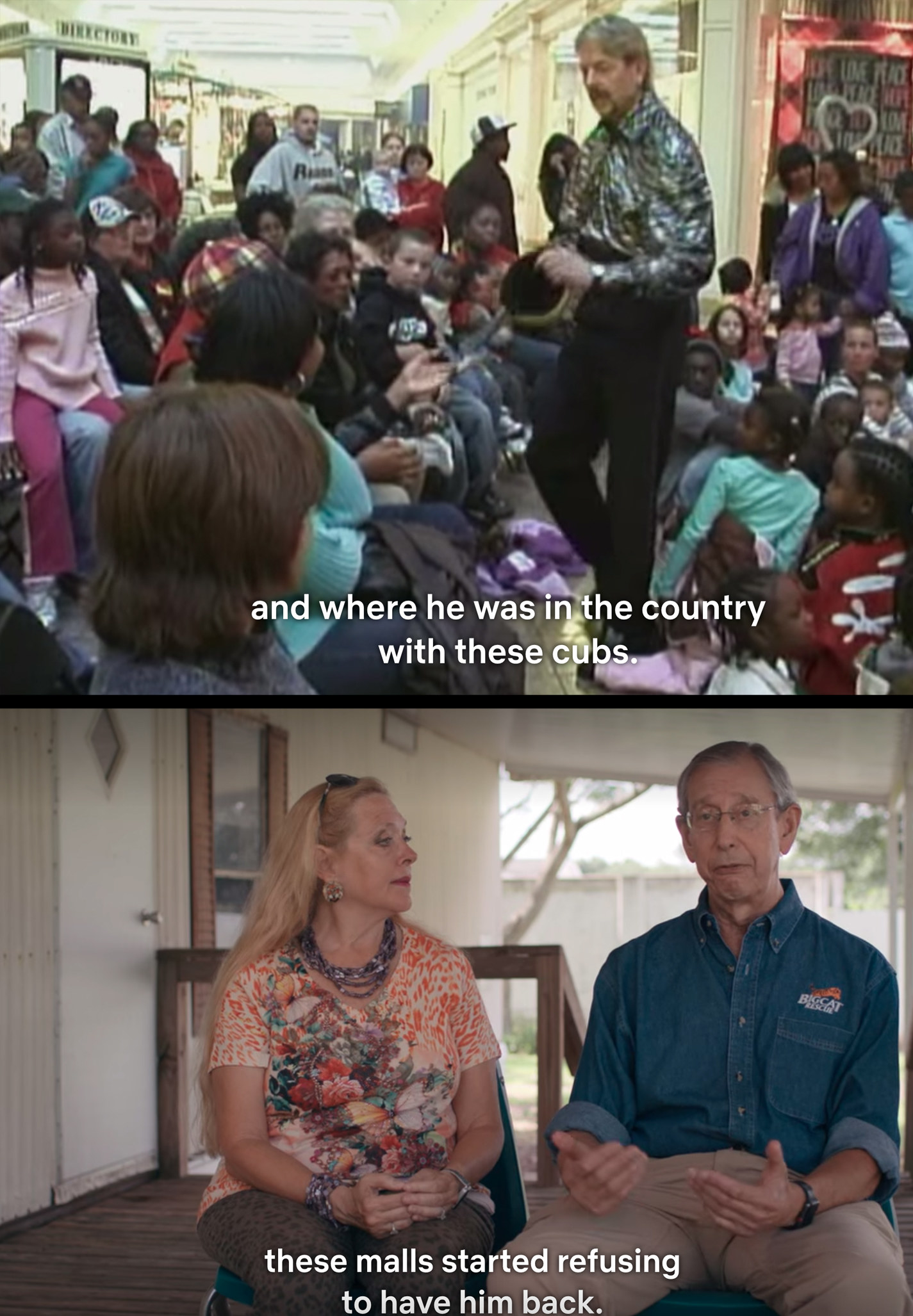 Joe still found other ways to make money at his zoo, which offered things like tiger selfies. Carole is critical of folks who pose with these exotic animals for photo ops because she says it drives more breeding of "big cats who will never live free."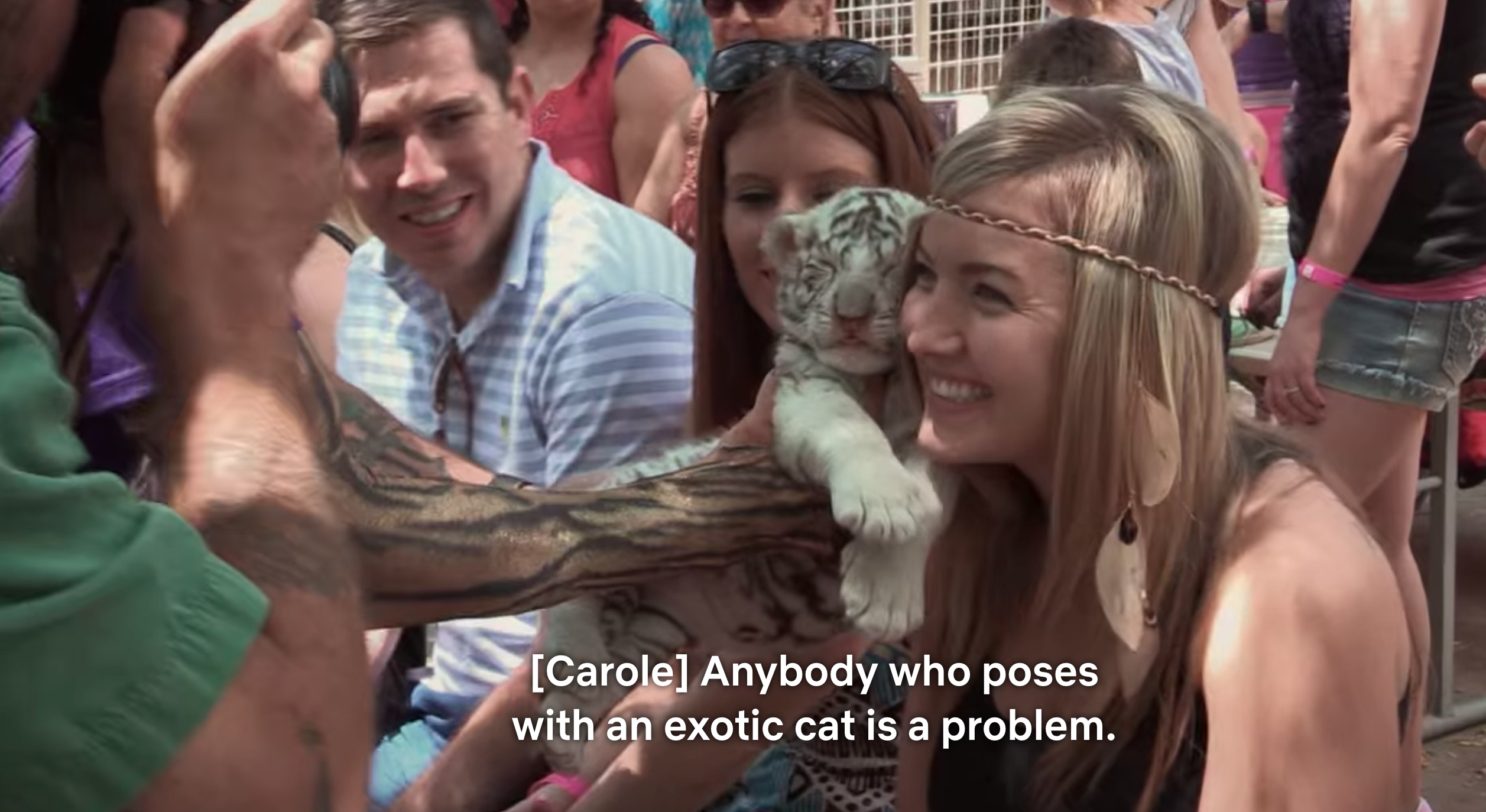 Carole also says that people "pimping out" tiger cubs can only use them "from the time that they're a few weeks old until they're about 12 weeks old." At that point, she says they're capable of TAKING A FINGER OFF, far too risky to be posing nestled up close to folks.
OK, now we're starting to see more of Joe's aggressive side. A broadcast where he says if anyone ever tries to come take his animals, it'll "be a small Waco."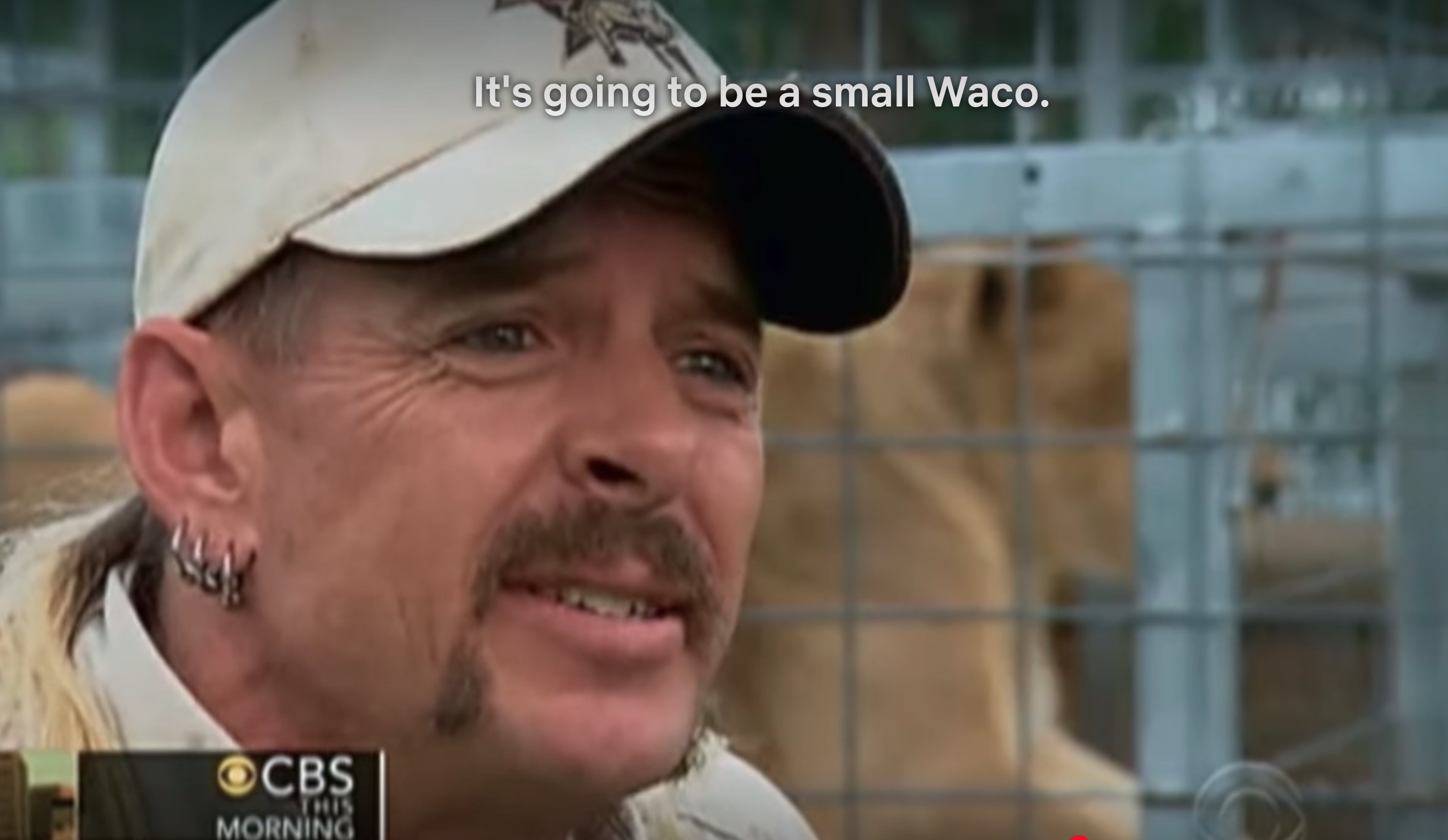 He also said this...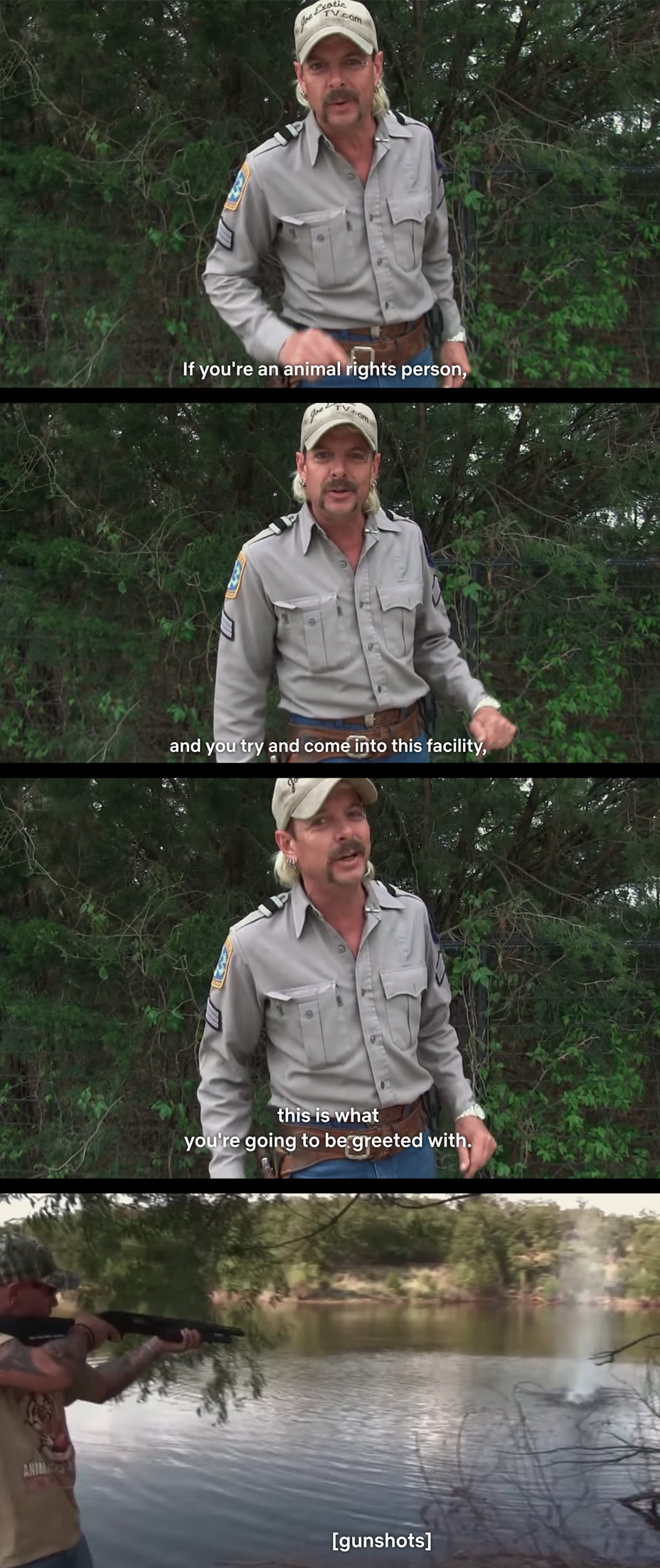 And this, in regards to the city he resides in.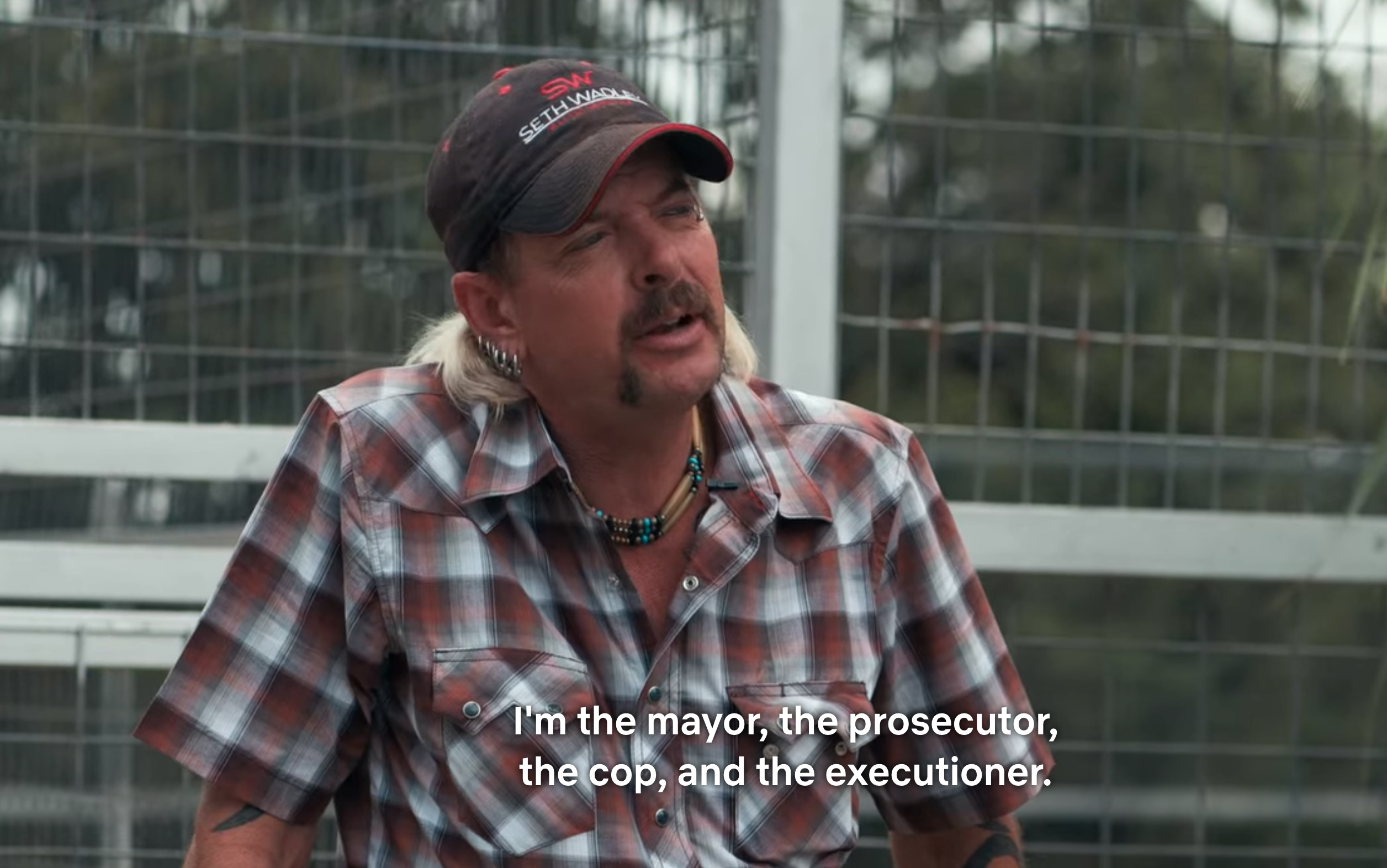 Joe said "Carole Baskin" again, everybody take a shot.
We see Joe take verbal jabs at Carole, implying she uses her supporters for money, and claiming this is a cage she keeps a mountain lion in.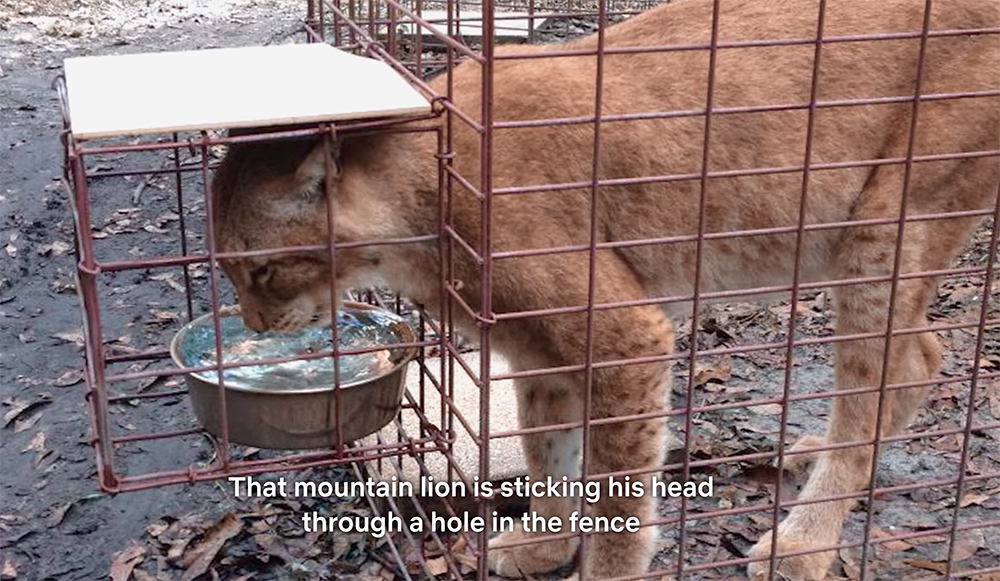 Carole says Joe had a 20-week-old cub bite a little boy on the leg at his zoo, and she's working on something called the Big Cat Safety Act, which would "end ownership of big cats as exotic pets, and prohibit exhibitors from allowing the public to have contact with them."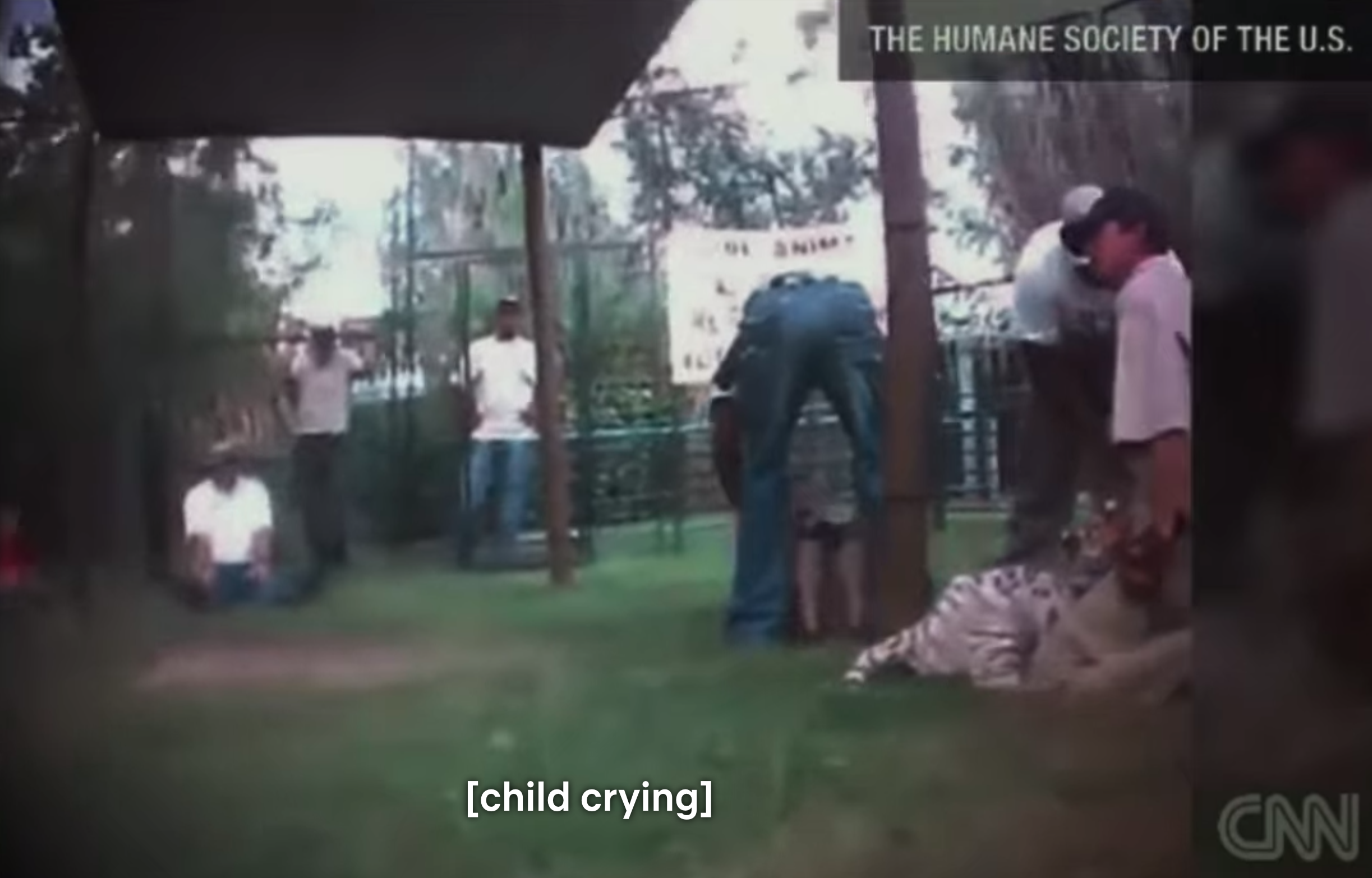 The way Joe talks about Carole continues to be increasingly concerning.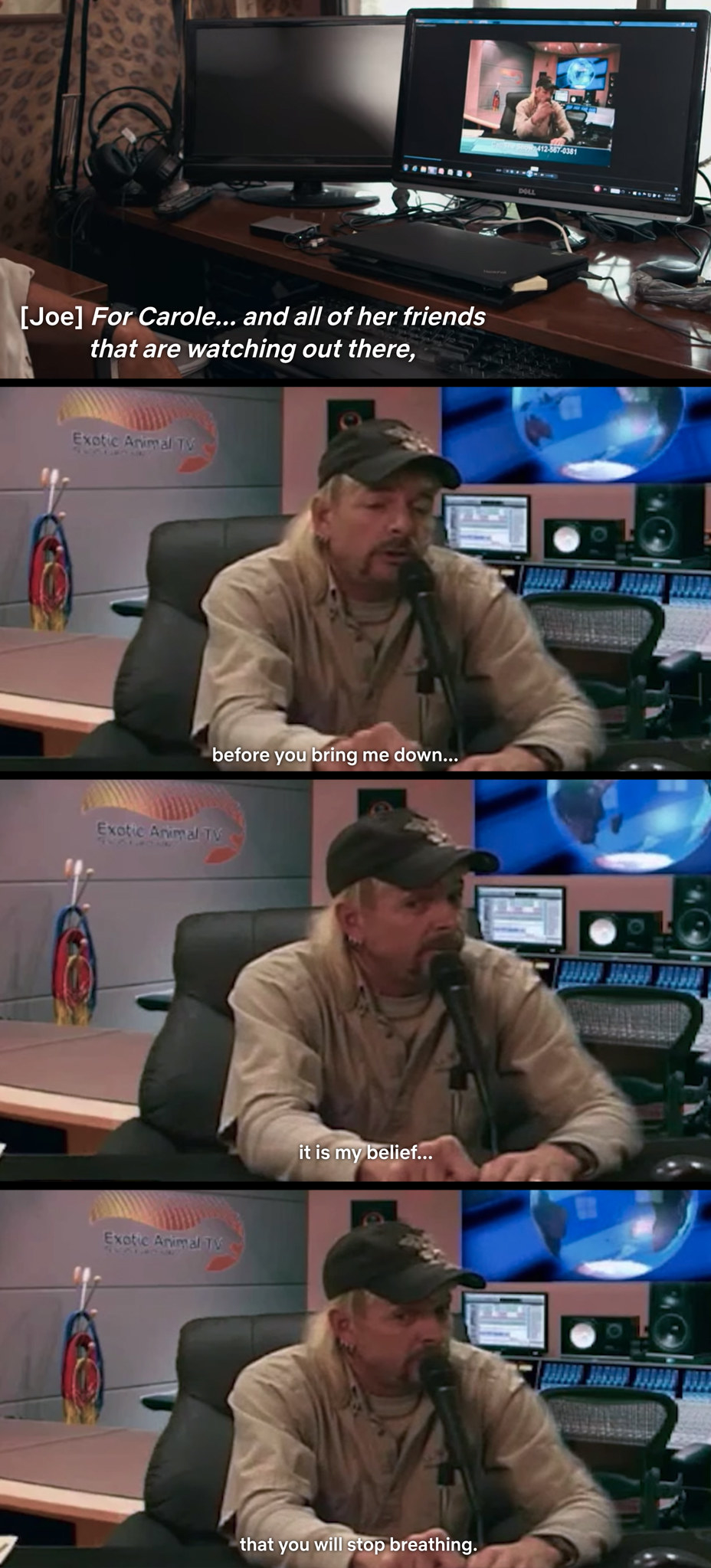 Rick Kirkham sums up this episode thus far.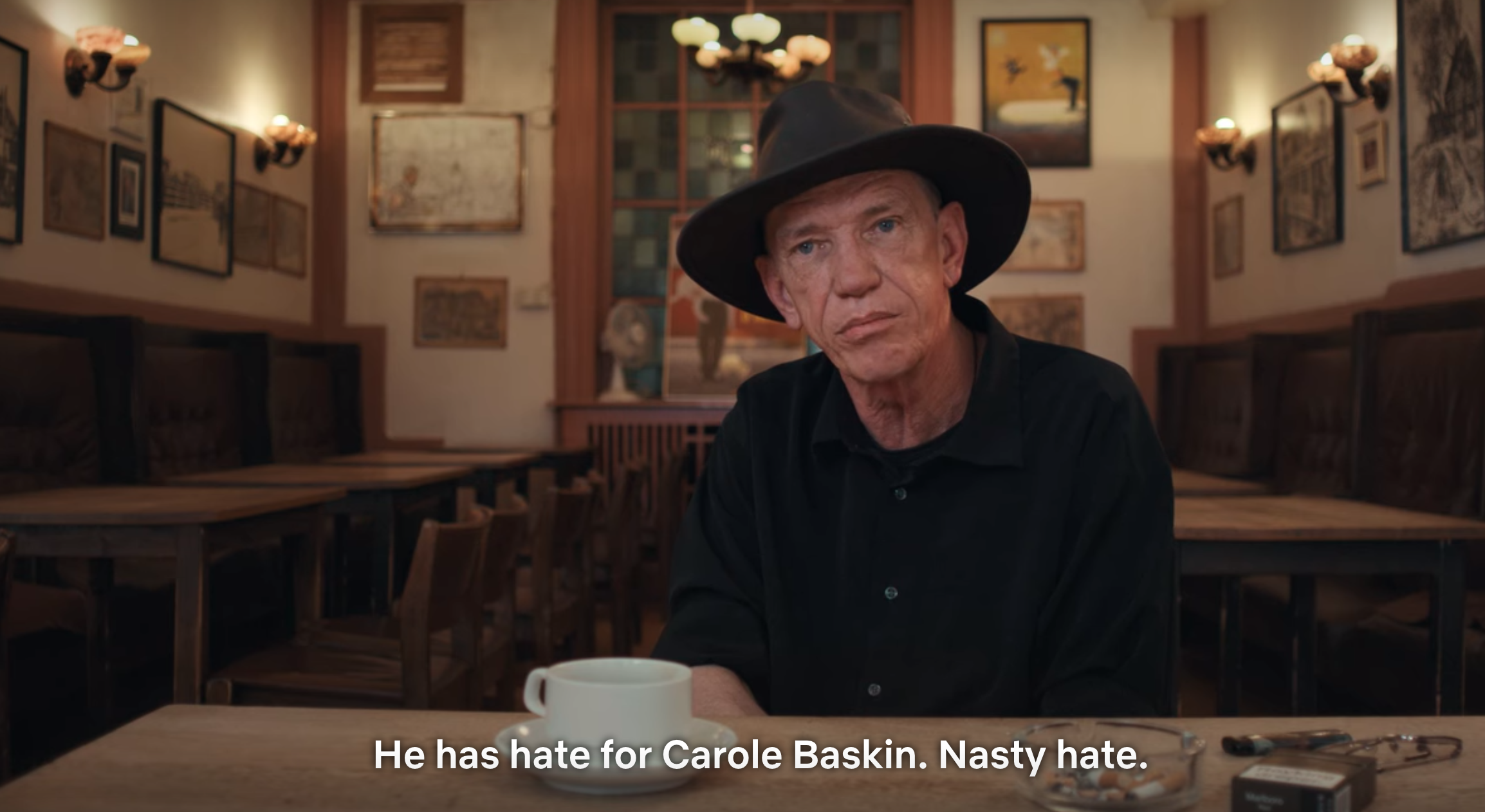 The episode ends FOUR YEARS LATER with Joe Exotic speaking from jail. He says he isn't going to "go to prison and lose everything" for "things other people did." In closing, Joe says that before this is over, he is going to "shut down everybody." Ominous.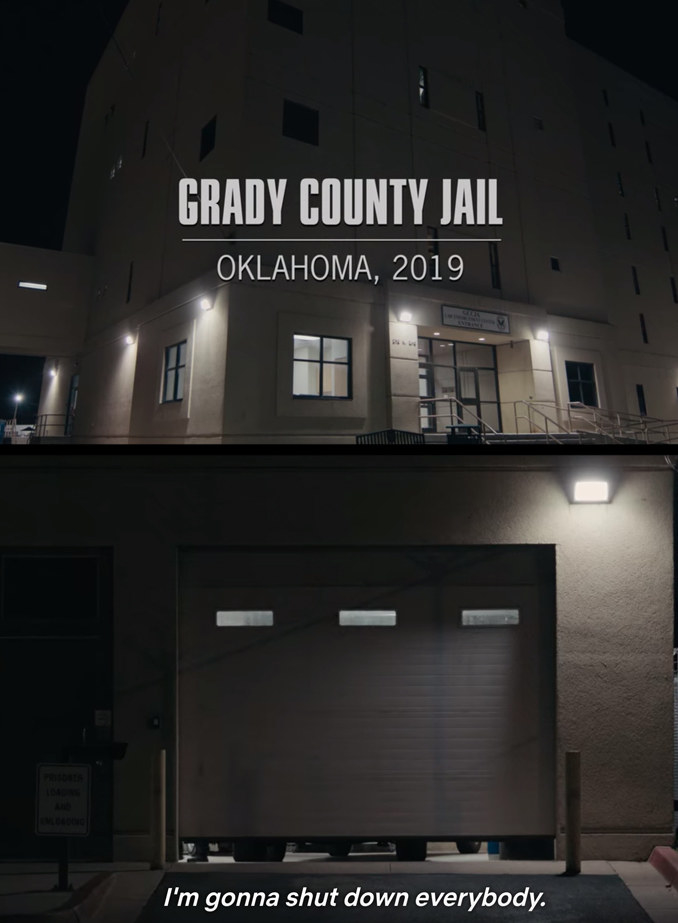 FINAL THOUGHTS: