1.
A two-pack of acrylic shelf dividers that'll help you keep your closet goods from toppling onto each other. We love a borderline invisible storage solution.
2.
A set of space-saving bags for storing puffy jackets, blankets, and other cold weather items you simply won't need during warmer months. This'll cut your wardrobe in half — literally. 
Promising review: "I've just downsized from a large home in the suburbs to condo living in downtown. Purging and getting rid of so much stuff that I've accumulated throughout the years was life-changing! I had quite a bit of really nice bedding that I wanted to keep, but had very little storage space. I decided to order these jumbo bags for King down duvets, thick blankets and king sized pillows. I was amazed at how much these held, how easy they were to pack/vacuum and how much I could fit in such a small space!" —Raquel Moss
Get it from Amazon for $22.99+ (available in four sizes).
3.
This drawer organizer so you won't be late for class because you couldn't find your favorite undergarment. Now, you'll never have to excavate your favorite pair of underwear from the sea of bras and socks.
Promising review: "I LOVE LOVE LOVE these organizers!! I almost did not purchase them due to the reviews saying that larger than a C cup would not fit into the bra organizer. At just $13 for four organizers I took my chances and ordered two sets of four. I figured, worst case scenario I would have to cut the dividers out of the bra organizers. I'm not sure if its just the larger band sizes that wont fit in these bra organizers? I am guessing if you wear a 36 band size or above that the organizer maybe too narrow to fit the bra. However, I believe you could fold in the extra band and fit them in. I had no problem fitting DD cups into these. I wear a 32DD and the bras fit beautifully in the organizers. I ordered another set for tank tops and other extras I did not think of before. I will also order my boyfriend the brown ones for his drawers." —Elizabeth L Blackwell
Get a set of four from Amazon for $14.97 (available in seven colors).
4.
A set of honeycomb organizers that'll be way cuter than the mugs you're using to hold school supplies right now. The key to decor is organization.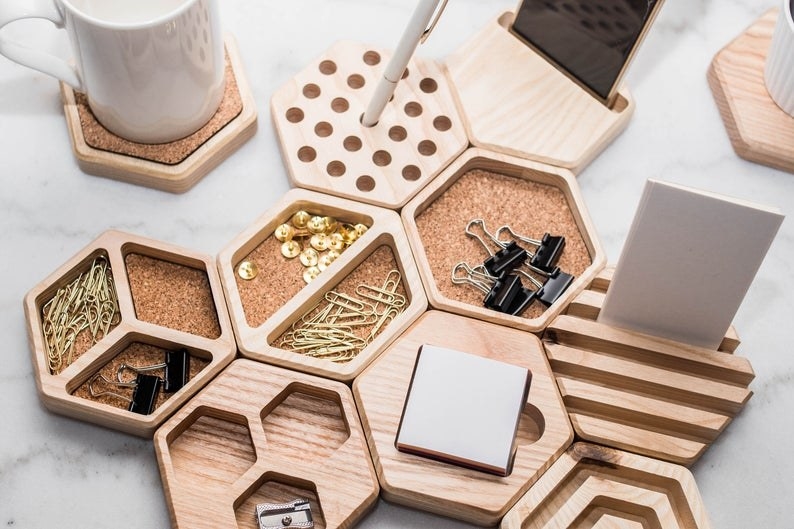 Promising review: "My husband loved these so much for his desk! The perfect little addition. The best part is how quick Ewart Woods answers questions." —Sharon Katz
Ewart Woods is a small business based in Riga, Latvia. They specialize in woodworking and aim to bring functional and well-made wood design to the world.
Get it from Ewart Woods on Etsy for $9.91+ (available in four sizes and three materials).
5.
An easily hangable T-shirt organizer to hang anything that doesn't fit into your overflowing dresser or chest. This organizer leverages vertical space and hooks to create more space.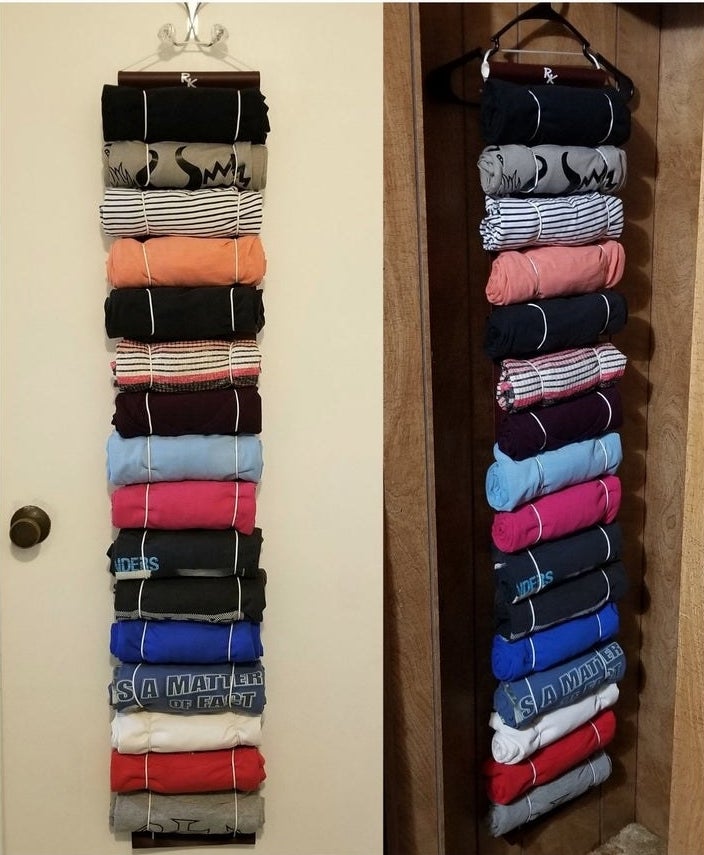 Promising review: "I've been looking for a way to store my T-shirts and save space and this is exactly what I need. It's great quality and I will most likely be ordering another one soon!" —SueAlex Wright
The Roll Keeper is a small Etsy shop based in Kelso, Washington.
Get it from The Roll Keeper on Etsy for $16.99 (available in two colors) or Amazon for $19.99.
6.
A set of bed risers because a 5 extra inches of underbed storage space can make a world of difference.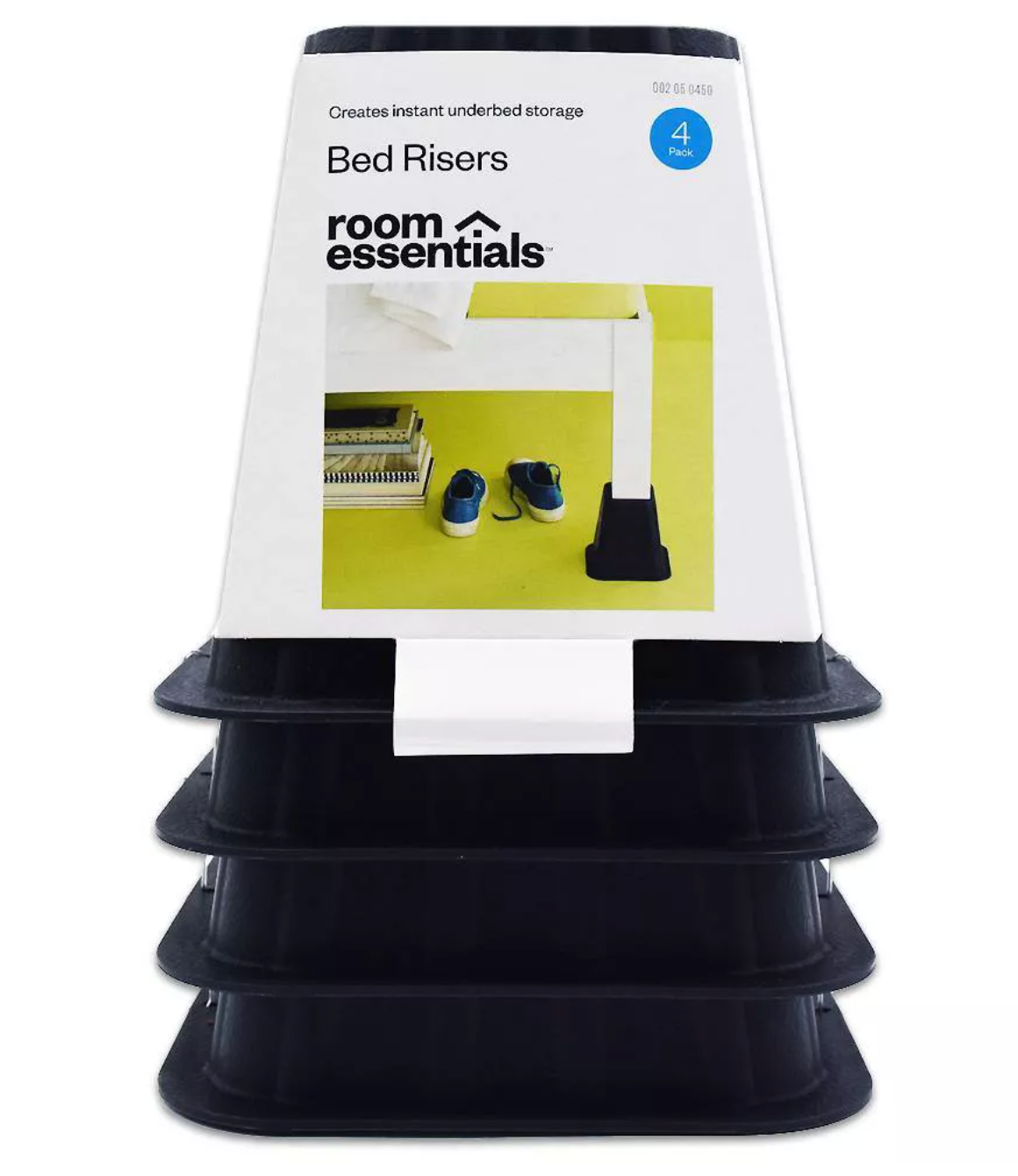 Promising review: "This product is great. It does the job with no problems. I used just two of my risers to lift the head of my bed. My doctor told me to elevate the top of my bed because it would help with acid reflux. Instead of using bricks or a bed wedge, I had an idea to try the risers. It seems to be helping. I have only used them for a few days so and they seem to be working." —MJ
Get a pack of four from Target for $8.
7.
A nifty phone mount because you wouldn't want to miss a deadline or the most recent Housewives of Potomac episode. Keep your phone and assignments in your line of sight.
Promising review: "The cellphone holder works great! It's very sturdy and does exactly what it says it does. It's helped me a lot during meetings." —TexasMom3486
PhoneMountPeople is a small Etsy shop based in Nashotah, Wisconsin.
Get it from PhoneMountPeople on Etsy for $19.99 (available in two colors).
8.
An organizer tray so you can store your larger kitchen essentials alongside your flatware, which is especially handy when sharing a small communal kitchen. I just bought one of these for my small kitchen and it didn't disappoint!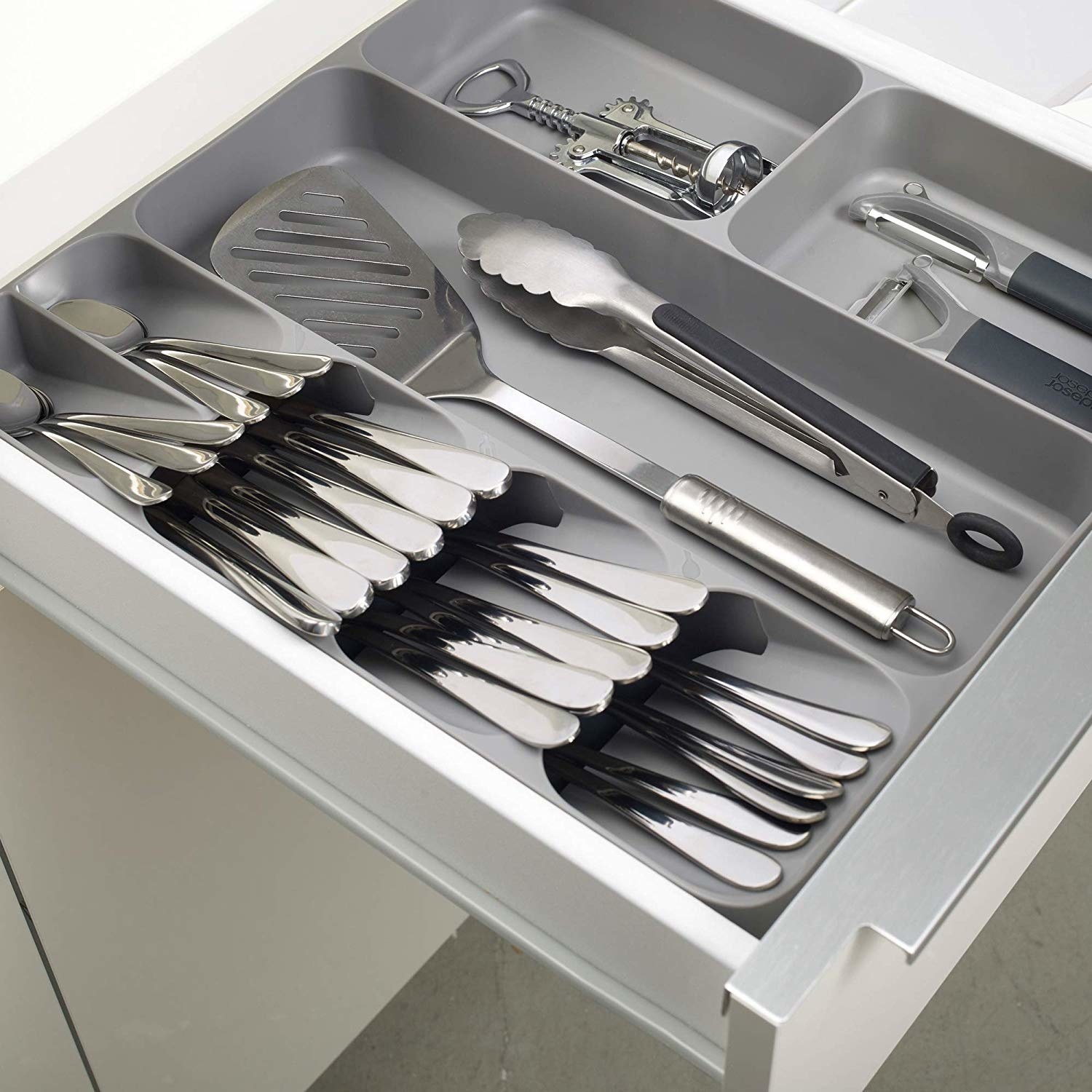 Promising review: "I loved this so much I bought one for the bestie who just bought a new house. My silverware drawer is organized for the first time in forever!" —Amazon Customer
Get it from Amazon for $21.99.
9.
An over-door organizer for storing school supplies, accessories, and other small things you can't fit in a drawer.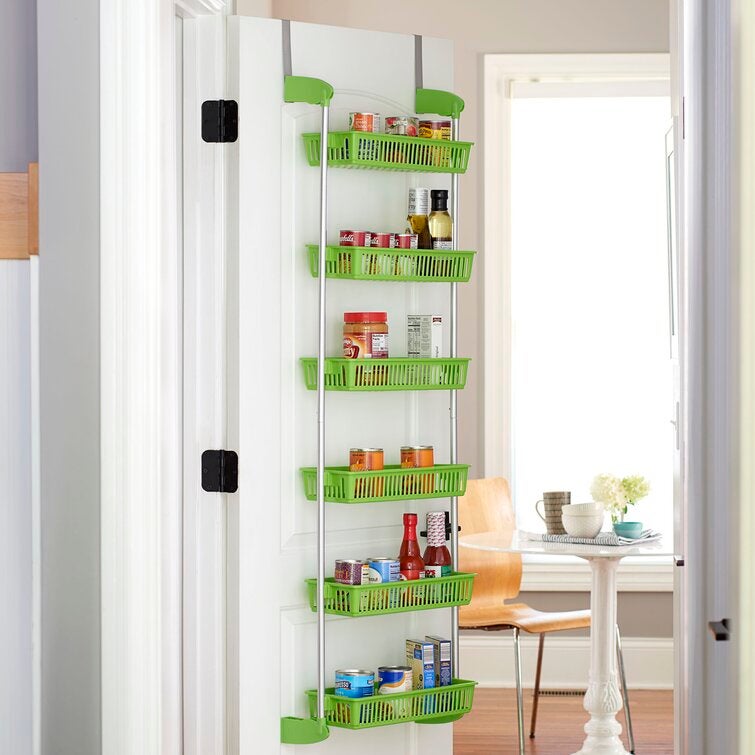 Promising review: "This organizer hooks over the door of my pantry...no screws in the door! It was really easy to assemble and I moved all my spices and herbs into the baskets. It's exactly what I was looking for and well worth the money."—Sally 
Get it from Wayfair for $54.99 (available in three colors).
10.
A hanger stacker so that your closet will look ten times less cluttered. Everyone who has a minuscule cramped closet knows the struggle.
11.
A carousel makeup organizer so you can actually *see* 👁👁 your bathroom counter. Finding cosmetics on something that spins is much easier than rummaging through a makeup bag.
Promising review: "I love this thing! My husband got me a new vanity for my birthday, so I ordered this to go with it. It holds all my makeup and I put everything in order of when I use it so I just spin it, use what I need, then spin it again. It makes my morning so much easier." —MB
Get it from Amazon for $20.99+ (available in five colors).
12.
A set of magic hangers to get maximum usage out of your tiny closet space without wrinkling your clothes.
Promising review: "OK, I know the headline is dramatic, but I cannot say enough about how these hangers have transformed my tiny, odd-shaped closet. I was so desperate for more space, I was considering spending big bucks to have a professional come in and redesign the space. Then I found these and it's like my hanging space quadrupled! It feels downright luxurious in my closet now. I can see all my clothes and nothing is squished together like it used to be. I can also comfortably add a substantial amount of clothing and would still have room to grow. BUY THESE IMMEDIATELY!" —milanina77
Get it from Amazon for $15.99+ (available in two sizes).
13.
A handy mobile shelf that'll squeeze the most out of those teeny crevices in your dorm. You can store canned food, seasonings, hair supplies, accessories — anything really. With four wheels, this mobile unit is totally easy to move.
Promising review: "Excellent storage space. I cleared up two kitchen shelves by moving items to this unit. Place heavy items on the bottom so that it is not top-heavy. The shelves are deep so it's not practical to place short size items. I used oatmeal boxes, cereal boxes, protein shakes, and my collection of gluten-free flours." —Shark
Get it from Amazon for $30.99.
14.
A cap holder to showcase the vast collection of baseball hats collecting dust on your chair.
Promising review: "I bought this for my husband. He collects hats and I didn't want all of his hats taking over the bedroom. I spent a lot of time looking for the perfect hat holder and (finally) went with these. I put them up on our bi-fold closet door. They were quick and easy to install. He loves the way all of his hats are in one place and easy to get at. I love that we no longer have hats all over. They make it a win-win!" —WeekendWarrior2017
Get it from Amazon for $10.95.
15.
A storage bench for those in desperate need of extra seating and a place to store towels, magazines, or other things you don't feel like displaying.
Promising review: "Great buy. I thought it would be flimsy since it was inexpensive but that's not the case. I have received many compliments and feel secure when I sit on it. I use it for the foot of my bed and it matched perfectly with my charcoal fabric headboard. This ottoman has exceeded my expectations." —SARAH
Get it from Amazon for $44.99+ (available in four styles, two sizes, and five colors).