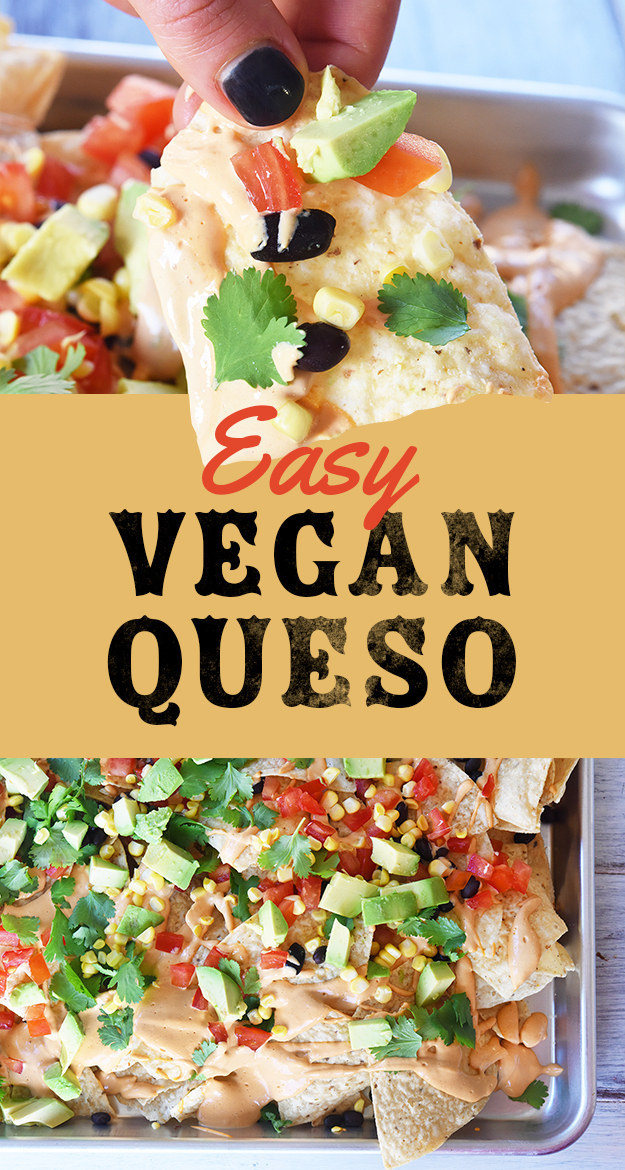 Loaded Vegan Nachos with Vegan Queso
Makes 10 servings
Estimated active time: 10 minutes
Estimated total time: 10 minutes
recipe by Summer Anne Burton and Christine Byrne
Makes 10 servings
INGREDIENTS
1 12-ounce bag tortilla chips
3 to 4 cups vegan queso (recipe above)
1 large, ripe avocado, diced
3 large, ripe beefsteak tomatoes, cored, seeds removed, diced
1 15-ounce can black beans, rinsed and drained
½ cup cilantro leaves, roughly chopped
PREPARATION
Spread the tortilla chips on a large, rimmed baking sheet or serving platter. Pour the queso all over the tortilla chips — if you want, you can pour half on and serve the other half on the side, for dipping — then top with the avocado, tomatoes, black beans, and cilantro leaves.
Vegan Queso
INGREDIENTS
1 cup raw cashews
½ cup nutritional yeast
1 cup unsweetened soy milk (or other non-dairy milk)
8 ounces vegan cream cheese
1 small tomato, chopped (about ½ cup)
1 teaspoon salt
½ teaspoon paprika
½ teaspoon cumin
PREPARATION
Add all ingredients to a high-speed blender and puree on high until smooth and warm, about 2 minutes.