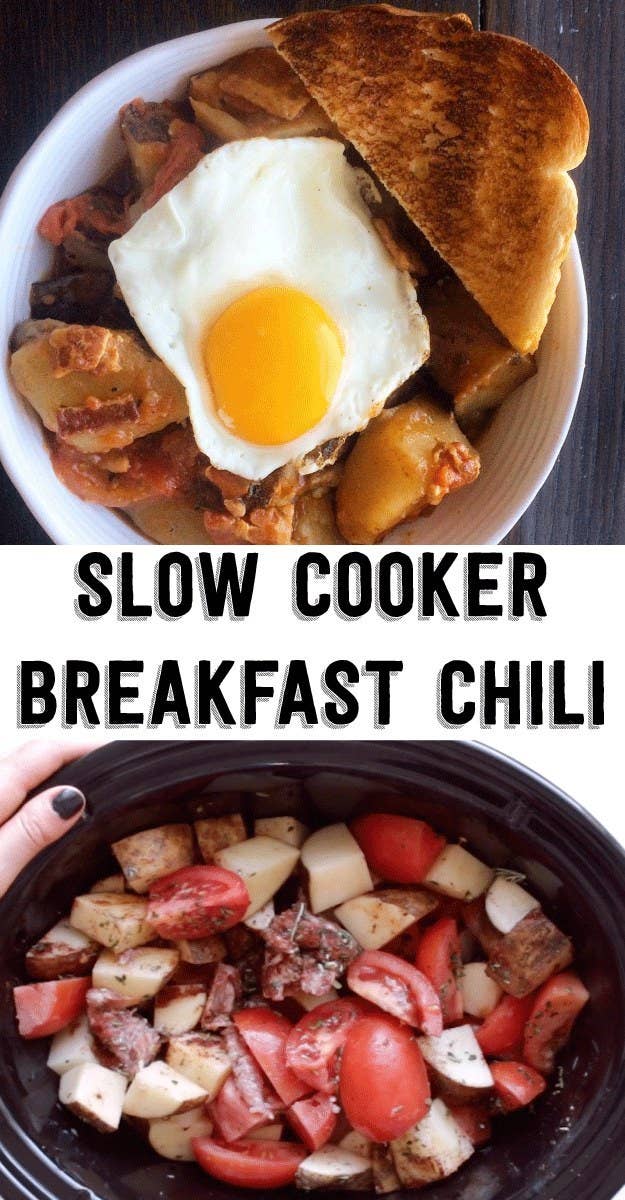 Slow Cooker Breakfast Chili
Makes 6 servings
recipe by Christine Byrne
INGREDIENTS
½ pound bacon, cut in ½-inch strips
1 pound pork breakfast sausage, removed from casings
1 ½ pounds russet potatoes (about 3 large), washed and cut in rough 1 ½-inch pieces
1 pound roma tomatoes, cored and quartered
1 tablespoon chili powder
Salt and pepper
2 tablespoons cornstarch
6 fried eggs, for serving
6 pieces of toast, for serving
PREPARATION
Heat a large skillet over medium heat, then add the bacon and cook, stirring occasionally, until the bacon is crispy and most of the fat has rendered out, 7 to 8 minutes.
Pour the cooked bacon and all the bacon fat into the slow cooker. Add the sausage, potatoes, tomatoes, and chili powder, and season with salt and pepper. In a small bowl, stir together the cornstarch and 2 tablespoons water until thoroughly mixed, then pour the mixture into the slow cooker. Cover and cook on high for 4 hours (or on low for 8 to 9 hours).
When the chili is cooked, divide into 6 serving bowls. Top each bowl with a fried egg and serve with a piece of toast.